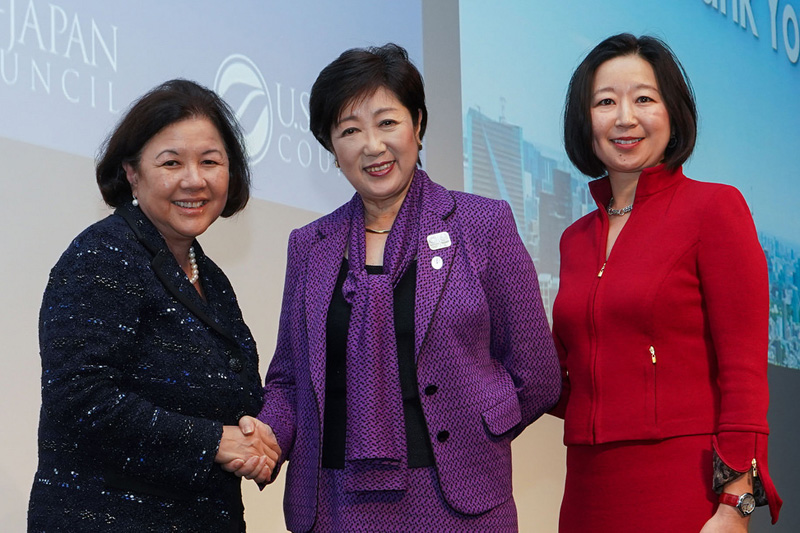 TOKYO – The U.S.-Japan Council (USJC), together with the U.S.-Japan Council (Japan), held its ninth Annual Conference from November 8 to 9 in Tokyo, Japan. (USJC is a nonprofit educational organization striving to strengthen U.S.-Japan relations.) More than 700 leaders from Japan and the United States attended the conference, which was themed "Partnering for Impact Today, Investing in a Sustainable Tomorrow." Issues they discussed included how to further develop philanthropy and the NPO sector in both countries, how to create a more sustainable future for all, as well as how to continue to strengthen the U.S.-Japan relationship regardless of political trends. The Conference also highlighted women and millennial leaders, as well as those who lead in diverse areas such as sports and technology.
The conference explored the many ways Japanese and American leaders can ensure a long, sustainable future for the United States and Japan. As the two Distinguished Speakers, Yuriko Koike (Governor of Tokyo) spoke about the Tokyo 2020 Olympic and Paralympic Games, and Kanetsugu Mike (President & CEO of MUFG Bank, Ltd.) spoke about the importance of innovation for both countries to continue to thrive. Peter Fitzgerald (President, Google Japan G.K.) and Dr. John Maeda (Global Head of Computational Design + Inclusion, Automattic) were among the leaders discussing technology from the angles of design thinking and diversity. Peter Landers (Tokyo Bureau Chief, The Wall Street Journal), Dr. Yoichi Funabashi (Co-founder and Chairman, Asia Pacific Initiative, and Former Editor-in-Chief, The Asahi Shimbun) and Dr. Takako Hikotani (Gerald L. Curtis Associate Professor of Modern Japanese Politics and Foreign Policy, Columbia University) discussed the U.S. midterm elections that took place just a few days prior, and how U.S.-Japan relations will remain solid regardless of domestic politics. Toshio Arima (Chairman of the Board, Global Compact Network Japan) and Hiroko Kuniya (Journalist and Goodwill Ambassador for Japan, UN Food and Agriculture Organization) discussed how the two countries can collaborate to fulfill Sustainable Development Goals (SDGs) on a global level.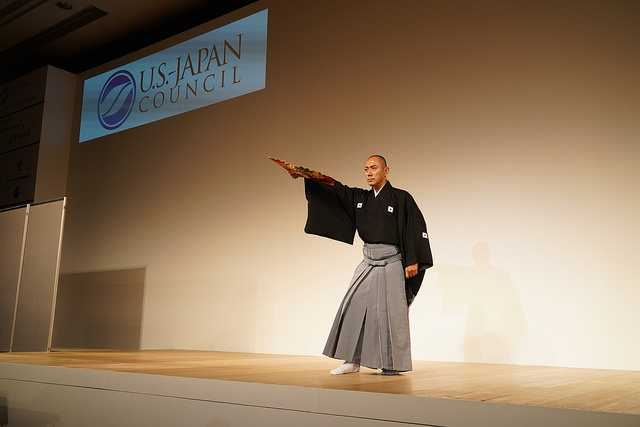 Others focused on the importance of fostering the next generation of leaders who continue to strengthen our bilateral relations. Students who participated in exchange programs of the TOMODACHI Initiative—a public-private partnership led by USJC and the U.S. Embassy, with strong support by the Government of Japan—shared how their time abroad transformed their lives. U.S. Ambassador to Japan William Hagerty congratulated TOMODACHI alumni at a reception dedicated to their continued success. Millennial Japanese American leaders who are alumni of the TOMODACHI Emerging Leaders Program discussed how diversity and inclusion will continue to play a crucial role in both countries.
At the same time, speakers recognized that success is only possible because of the groundbreaking work of current and past leaders. A video message from Prime Minister Shinzo Abe praised the efforts of Japanese Americans in strengthening U.S.-Japan relations. A session on "Gannenmono," the first group of Japanese immigrants to arrive in Hawaii 150 years ago, showed how the solid ties between Hawaii and Japan is based on personal relationships built within the community. Ebizo Ichikawa, Kabuki Actor, gave a special performance during the TOMODACHI Reception to showcase the Japanese traditional art to a global audience. The Japan Film Premiere of An American Story: Norman Mineta and His Legacy celebrated the life and career of Secretary Mineta (President & CEO, Mineta & Associates, LLC; Former Secretary, U.S. Department of Transportation; Former Secretary, U.S. Department of Commerce) as a pioneering Japanese American politician committed to justice and bipartisanship.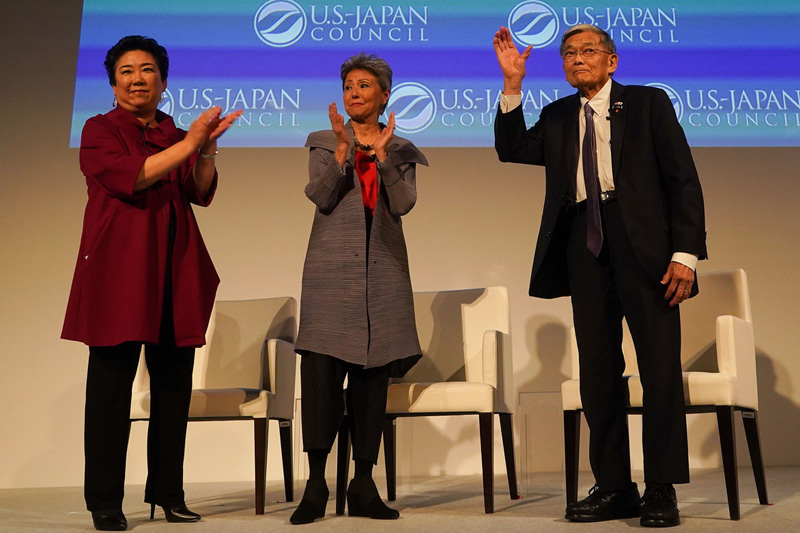 Other panel discussions, workshops and interactive fora centered on topics such as sustainable business practices, women in leadership, and efforts to work with aging populations. Japanese prefectural governors Ryuta Ibaragi (Governor of Okayama Prefecture), Dr. Heita Kawakatsu (Governor of Shizuoka Prefecture) and Hidehiko Yuzaki (Governor of Hiroshima Prefecture) discussed regional collaboration through activities like USJC's Governors' Circle initiative, and TED-style talks by various industry leaders also analyzed U.S.-Japan relations through their respective fields.
For more details of the Conference, please see:
http://www.usjapancouncil.org/2018_us_japan_council_annual_conference
Please click here to see more photos.
About the U.S.-Japan Council (USJC)
The U.S.-Japan Council is a Japanese American-led organization fully dedicated to strengthening ties between the United States and Japan in a global context. By promoting people-to-people relationships through its innovative programs in networking and leadership, the Council serves as a catalyst to inspire and engage Japanese and Americans of all generations. The Council was founded in 2008 and is headquartered in Washington, DC with staff in California, Hawaii and Tokyo. In 2012, the U.S.-Japan Council (Japan) was created to support the administration of the TOMODACHI Initiative, and in 2013, it became a Public Interest Corporation (Koeki Zaidan Hojin). The U.S.-Japan Council (Japan) maintains an office in Tokyo, Japan.
Media Inquiries:
Shiori Okazaki
Director of Communications
[email protected]
+1-202-223-6843