Eighteenth Business Advisory Board Meeting Welcomes JAXA Vice President Dr. Koichi Wakata
The 18th U.S.-Japan Council Business Advisory Board (BAB) Meeting was held at the Tokyo American Club on September 11, featuring Dr. Koichi Wakata, Vice President and Astronaut of JAXA and Director General of the Human Spaceflight Technology Directorate, as the keynote speaker. Over 50 industry leaders from diverse fields gathered to listen to Dr. Wakata speak.
The event began with opening remarks by member of the USJC Board of Directors Scott Sato and member of the USJC Board of Councilors Ernest M. Higa. Representative Director of the USJC (Japan) Board of Directors Royanne Doi touched on recent USJC activities, such as the California-Japan Governors' Symposium and the TOMODACHI Generation Alumni Summit, as well as the upcoming Annual Conference in Los Angeles and USJC Kansai Business Forum in Osaka.
Two BAB members then introduced themselves, showcasing the diversity of USJC and BAB membership. Mr. Yasuhiko Saitoh, President of Shin-Etsu Chemical Co., Ltd., explained how his company finds solutions to real-world problems, and has expanded to three locations in the U.S. in 45 years. Mr. Toshikazu Tagawa, CFO of the Japan SR Association, provided members with a pin for the Rugby World Cup and encouraged members to support Japan in its first game against Russia.
Dr. Wakata, the only Japanese astronaut to have spent almost 350 days in space, began by briefly touching upon the history of the space race, following its evolution from a competitive state in the 20th century to a collaborative one in the present. Currently, the international community is collaborating on the "Gateway" project, a low-orbital hub for spaceships aiming to reach the moon and Mars.
Dr. Wakata described the intensive training that he underwent in Wyoming and Florida to mimic spacelike conditions, as well as JAXA's emphasis on teamwork. He also discussed the relevance of space exploration to life on Earth, such as research regarding human physiology. He also discussed how, despite previously being a public enterprise, space exploration has become increasingly private, as companies such as SpaceX devise new methods and technologies.
Two TOMODACHI alumni asked Dr. Wakata how going to space affected his perspective about worldly issues. He responded that the isolation of the ISS and the need to conserve resources made him reflect on the small size of Earth and, in turn, the finiteness of its resources. He concluded that it was crucial that we conserve what we have on Earth before it is damaged beyond repair.
Click here to see more photos.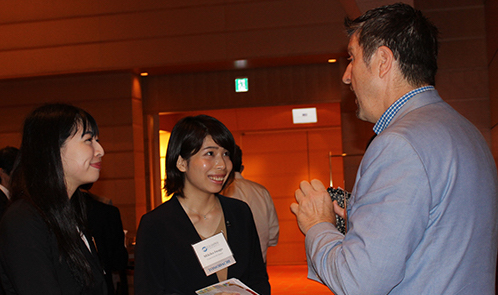 TOMODACHI News
Japanese Mitsui Delegates Visit Silicon Valley and Washington, DC
The Japanese delegates of the 2019 TOMODACHI-Mitsui & Co. Leadership Program learned about innovation, entrepreneurship and leadership while visiting Silicon Valley and Washington, DC earlier this month.
In Silicon Valley, they met with Dr. Daniel Okimoto, Co-Chair of the Silicon Valley Japan Platform and member of the USJC Board of Councilors; USJC Board Member James Higa, Executive Director, Philanthropic Ventures Foundation & Mentor in Residence, Index Ventures; and Council Leader Suzanne Basalla, Chief of Staff at the Toyota Research Institute, who each spoke about their work and careers, as well as their passion for U.S.-Japan relations.
The delegates also visited Mitsui Moon Initiative/IDEO, Google and Salesforce, where they learned about design thinking and the companies' latest initiatives, and met one of the American Mitsui '19 delegates, Angel Chiang, at Dropbox. For their final night in the Bay Area, Consul General of Japan in San Francisco Tomochika Uyama hosted a reception, which was attended by many USJC members and friends.
In Washington, DC, they heard about security issues from USJC Board Member Dave Boone and took a tour of the Pentagon that was led by Council Leader Bruce Hollywood. ​Others they met included Jun Aketa, General Manager of Mitsui & Co. (U.S.A), Inc. in Washington, DC; Jim Heller (Director, Office of Japanese Affairs) and Katherine Tarr (Coordinator for Japan & Korea, Office of Public Diplomacy) at the U.S. State Department; Minister Takeshi Komoto at the Embassy of Japan; and Jane Nakano, Senior Fellow of the Energy and National Security Program at CSIS. They also visited Senator Mazie Hirono's office and met with their Chief of Staff Alan Yamamoto, and took a tour of multicultural food startup Foodhini, meeting with their CEO.
During a networking breakfast in DC, the delegates shared their motivations for joining the program, and what skills and insights they hoped to take home with them to Japan. Yukina Setogawa, an employee of the Hokuriku Electric Power Company, said that the Program was inspiring her to set bold goals in her professional career.
Ken Shimizu of Toyota in the Powertrain Production Control Department discussed the importance of bringing innovation and new ideas to business. American alumni of the program, Danielle Reed (Mitsui '18) and Judy D'Agostino (Mitsui '19), also shared their experiences and how it affected their lives personally and professionally. The delegates also enjoyed meeting DC-based members, including ELP and TOMODACHI alumni.

Click here to see more photos from the breakfast.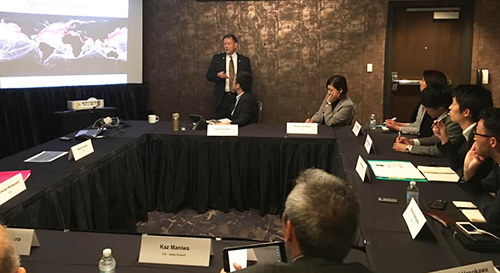 JALD News
JALD 2019 Reunite in Seattle
Many thanks to Council Leader Joy Goto (JALD '19) for this article, and other JALD alumni for the photos!
From September 12 to 15, the 2019 Japanese American Leadership Delegation (JALD) convened for a reunion in Seattle. This was the first time a JALD group self-organized a reunion and met outside of the USJC Annual Conference. This reunion was six months after our life-changing JALD trip to Tokyo and Kumamoto, and was attended by Andy Fujimoto, Joy Goto, Mark Nakagawa, Vickie Sakurada-Schaepler, Mariko Silver, Bryce Suzuki, Britt Yamamoto, Kelly Yamasaki and Kaz Maniwa (Senior Vice President at USJC).
The morning of September 13, Britt Yamamoto, our Seattle host, took the group on a walking tour of the International District and the historic Panama Hotel in the Seattle Nihonmachi. The Panama Hotel was built in 1910 by Seattle's first Japanese architect (Saburo Ozasa) in what remains as a working hotel, a community meeting space, and a living museum of pre-WWII artifacts from the local Japanese American community.
In the afternoon, the group was privileged to meet Densho Executive Director, Tom Ikeda (JALD '08) and to hear about the origins and continuing work of the Japanese American digital archives and oral history projects. He showed a powerful clip of an interview from a 442nd Nisei veteran, Rudy Tokiwa, that gave the JALD 2019 group a glimpse of the impact of oral histories that forever remain a part of Japanese American experience and resonate with today's "Never Again is Now" theme.
In the evening, the JALD 2019 group was invited to a reception hosted by USJC and Seattle-based nonprofit iLEAP at the Wing Luke Museum. Consul General Yoichiro Yamada, friends of the USJC, JALD alums, iLEAP staff, and friends of the community attended the reception. A JALD panel (Joy Goto, Mariko Silver, and Kelly Yamasaki) moderated by Britt Yamamoto was asked about how JALD has affected their lives, their impressions about womenomics in Japan, and the structural and cultural differences they observed during their trip.
The following morning, the Seattle Japan Business Association (JBA) hosted a brunch. Akira Taniguchi, President of the JBA, welcomed the group to Salty's on Alki, a beautiful restaurant overlooking the water. About 20 JBA representatives from Boeing, Mitsubishi Corporation, MUFG, Sojitz, New York Life Insurance, Toray, Lasher and other Japanese businesses in Seattle met with the 2019 JALD and Consuls Ayako Tsuyada and Tadashi Yamamura.
Our reunion concluded with a dinner hosted by Consul General Yamada, organized by Senior Consul Takeshi Murazawa and Senior Assistant for Political Affairs, Hiro Tojo. The JALD 2019 thanked the Consul General, MOFA, and USJC, sharing impressions and surprises from the trip. Our final get-together reaffirmed our commitment to bridge connections with Japan and to continue to cultivate these important ties in our own communities and with each other.

Reflection from Bryce Suzuki (JALD '19)
The following article is part of a year-long series by participants of the 2019 Japanese American Leadership Delegation (JALD).

With then Foreign Minister Taro Kono, a Friend of the Council
Participating in the 2019 Japanese American Leadership Delegation (JALD) was an extraordinary experience, for which I am deeply grateful. Not only did I learn immeasurably from high-ranking business and government leaders in Japan, I was continually impressed with each of my fellow delegates and our delegation leader, Kaz Maniwa of the U.S.-Japan Council.
Prior to the JALD trip, I had visited Japan many times and maintained ties with family in Japan throughout my life. Despite my deep existing relationship with Japan, I came away from this journey with a new perspective and richer appreciation for Japan and U.S.-Japan relations. I now understand why JALD alumni so often describe the experience as "life changing," a "watershed moment," and "once in a lifetime."
The delegation was given remarkable access to top Japanese government and business leaders, including Her Imperial Highness Princess Takamado, members of Prime Minister Abe's Office, top ministry officials, National Diet members, city and prefectural leaders in Kumamoto, and leaders of some of the world's largest and most successful corporations. From my experience as a lawyer, I'm no stranger to the corporate boardroom nor the halls of government, but during this delegation trip, I often had to pinch myself to ensure I wasn't dreaming as we sat with an imperial princess or sang karaoke with top elected and ministry officials.
I returned from the delegation with a renewed sense of identity as a Japanese American. Growing up in a rural community as part of the only Japanese American family in town, I had virtually no exposure to other Japanese Americans.
Upon moving to Arizona after law school, I became deeply involved in the local Japanese American community for the first time. As the only living JALD alumnus from Arizona, I feel a tremendous responsibility to Arizona's Japanese American community. JALD has plugged me into an amazing network of Japanese American leaders and allowed me to begin developing relationships with leaders in Japan. I am enthused about the opportunity to contribute to the Japanese American community, nationally and in Arizona, and to help strengthen U.S.-Japan relations.
I am grateful for the support of those who made my participation in JALD possible, including Honorary Consul of Japan for Arizona, Kelly Moeur; the Consul General of Japan in Los Angeles; and Consul Shigeru Kikuma, who accompanied the delegation to Japan and provided invaluable guidance throughout the trip. It was a tremendous honor to be part of such an impressive group of Japanese American leaders, whom I now count as lifetime friends.
ELP News
Reflection from Hisae Uki (ELP '18)
The following article is part of a year-long series by participants of the 2018 Emerging Leaders Program (ELP).
Aloha from California! It's hard to believe that it's been almost a year since my experience with the U.S.-Japan Council Emerging Leaders Program (ELP) in Tokyo.
Finding My Own Leadership Style

Through the Emerging Leaders Program, I had the opportunity to meet and connect with inspiring individuals. From meeting with these individuals, I realized that we all want to make an impact, big or small, and lead in ways that are aligned with who we are. I was inspired as I found myself in a community of people with the same passions and goals, both through my cohorts in the Emerging Leaders Program and with respected and established leaders. Through this community, we can work together to figure out how we can lead and be impactful as well.
I left Tokyo feeling confident in myself and inspired to do a little bit more for my community. As a second generation Japanese working for my family business, I'm now even more motivated to be a leader and be involved with my community, whether it's through Japanese American organizations or local professional organizations. Since the 2018 Annual Conference in Tokyo, I spoke for the first time on a panel for the Hawaii Society of Business Professionals and continued to stay involved with the U.S.-Japan Council by participating in the U40 Summit in Hawaii.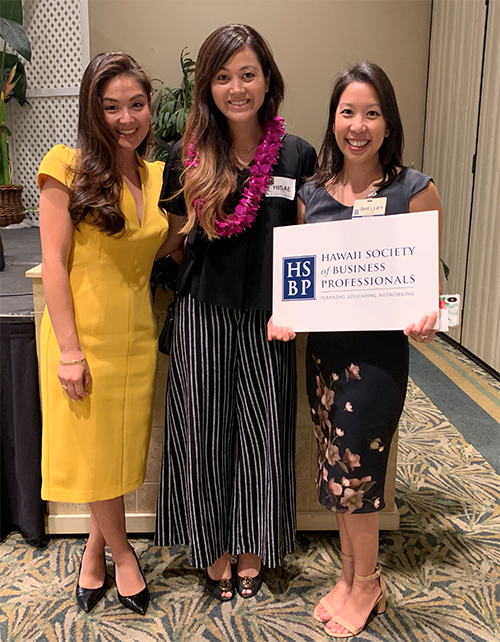 Lifelong Friendships
One of the biggest things I am thankful for was the opportunity to build lifelong friendships through the Emerging Leaders Program. It's amazing what connections you can make in such little time but I believe that meaningful friendships just naturally develop when we come together and bond by sharing thoughts and creative ideas on how we can make an impact. From Hawaii, to California and to Japan, I'm thankful for my new friendships.
Gratitude
I am thankful to the U.S.-Japan Council, its sponsors and Kaz and Allison for allowing me to be a part of the ELP program. I was and still am moved by how our sponsors really believe in the young, next generation leaders and I hope I can one day pay it forward just as they have to us. I truly had a wonderful experience that I will never forget.
Announcements
New Speakers Confirmed for the 2019 Annual Conference!
U.S.-Japan Council 2019 Annual Conference
Bold Ideas, Bolder Leadership: The Next Stage of U.S.-Japan Relations
Loews Hollywood Hotel, Los Angeles, California
November 4-5, 2019
New Speakers Confirmed!
Koine Iwasaki, Professional Dancer
Yuka Seki, Medical Doctor and Natural Food Chef
Takeshi Komoto, Minister for Economy, Trade and Industry, Embassy of Japan in the United States of America
Mark Takano, U.S. House of Representatives, (CA-41)
Bobby Webster, General Manager, Toronto Raptors
Only four weeks left to register for the 2019 USJC Annual Conference in Los Angeles! Held in Hollywood, the center of global entertainment, this conference will highlight diverse leadership styles that transform bold ideas into reality. We will also celebrate USJC's 10th anniversary, and offer leadership training under USJC's new Leadership Workshops.
We also encourage you to enjoy the Japan Cuts Hollywood Film Festival, presented by the Japan America Society of Southern California from November 1 to 3, prior to the conference.
Don't miss our lineup of unique speakers and timely topics.
Speakers Include:
Kazuo Hirai, Senior Advisor, Sony Corporation
John V. Roos, Partner, Geodesic Capital
Takeshi Uchiyamada, Chairman of the Board of Directors, Toyota Motor Corporation
Amy Webb, Founder & CEO, Future Today Institute
Maia & Alex Shibutani, Champion Ice Dancers
Other Speakers Include:
Bill Allen, CEO, Los Angeles County Economic Development Corporation
Rina Brannen, Head of Development, 3AD Media
Sewell Chan, Deputy Managing Editor, Los Angeles Times
Bill Imada, CEO, IW Group, Inc.
Marc Knapper, Deputy Assistant Secretary For Korea and Japan, Bureau of East Asian and Pacific Affairs, U.S. Department of State
Masaharu Kohno, Executive Board Member, Tokyo Organising Committee for the Olympic and Paralympic Games
Aiko Lane, Executive Director, U.S.-Japan Business Council, U.S. Chamber of Commerce
Fue Lee, State Representative, House of Minnesota Representatives
Shohei Narron, Technology Alliances Manager, Looker
David Ono, Anchor, ABC7 Eyewitness News
Mariko Fujimoto Rooks, Vice President, Yale Students of Mixed Heritage, Yale University
Maria S. Salinas, President & CEO, Los Angeles Area Chamber of Commerce
Michelle K. Sugihara, Executive Director, CAPE (Coalition of Asian Pacifics in Entertainment)
Adele Yoshioka, Executive Vice President, International Distribution, CAPE (Coalition of Asian Pacifics in Entertainment)
Member News
Steve Sakanashi Featured in The Japan Times
USJC Associate Steve Sakanashi (ELP '15), founder of Sekai Creator and Director of Global Innovation at Fusion'z Holdings, grew up in the United States with little connection to Japanese culture or language. He first visited Japan when he was 19 years old, and immediately felt a special connection. He went on to establish Sekai Creator, a startup entrepreneurship program for Japanese students, to encourage youths to dream big. Click here or on the image above to read his story.
Paul Yonamine Presented with 2019 Bridge Award
On September 17, over 800 guests gathered in Honolulu for the Japan-America Society of Hawaii's 43rd Annual Dinner. The 2019 Bridge Award was presented to Paul Yonamine, Chair of the USJC Board of Councilors, for his leadership in strengthening the bilateral relationship between Japan and the U.S., including Hawaii. Council Leader Duane Kurisu was also honored at the event as a keynote speaker.
Erika Ninoyu Selected as Asian Pacific American Institute for Congressional Studies Fellow
Congratulations to USJC Associate Erika Ninoyu (ELP '16) for being selected as a Congressional Fellow by the Asian Pacific American Institute for Congressional Studies (APAICS)! Erika is a musician-educator, cross-cultural leader, and community-organizer. She is the founding president of the Japan Alaska Association and an advocate in the Japanese American Citizens League, and has contributed to programming that promotes U.S.-Japan partnerships in a diverse range of organizations. Through APAICS, Erika will work in the Office of Congresswoman Grace Meng (D-NY). Click here to read Erika's bio.
Tom Ikeda Receives Robert Gray Award
Congratulations to Council Leader Tom Ikeda, Executive Director at Densho, for being selected to receive Washington State Historical Society's Robert Gray Award in recognition of his work to preserve and broaden awareness of the history of Japanese American incarceration during World War II. This award recognizes meaningful contributions to Pacific Northwest history through teaching, writing, research, historic preservation, and service to local historical societies. Click here to read more.
Toko Serita Receives Abely Award for Leading Women and Children to Safety
Congratulations to Council Leader Toko Serita (JALD '14) for receiving the Abely Award for Leading Women and Children to Safety from the Sanctuary for Families! Born in Sapporo, Japan and raised in New York, Judge Serita is a New York State Acting Supreme Court Justice and was the first Japanese American judge in New York State. Her accomplishments were honored at the 23rd Annual Abely Awards on September 23. Click here for more details.
Upcoming Events
Japan Texas Career Fair

When: September 28, 2019 at 11:00am
Where: Houston Community College – West Loop (Houston, TX)
In collaboration with the Ministry of Foreign Affairs and Houston Community College, USJC is hosting the Japan Texas Career Fair. This one-day career fair is designed for students, working professionals and companies seeking employees to work in Houston and/or Japan. This career fair will feature dynamic speakers, networking opportunities and plenary sessions. Additionally, there will be career coaching, mock interviews and resume reviews for students entering the workforce.
Click here for more information and to register.
USJC Kansai Business Forum
When: Thursday, October 10, 2019, 6:30-9:30pm
Where: Hilton Osaka, 4F KIN Banquet Room
USJC is proud to announce the first USJC Kansai Business Forum, convening leaders spanning business, government, academia and nonprofit sectors to discuss how we can further Kansai-U.S. business ties. Discussions will cover the economic outlook of Kansai for 2025 and beyond, as well as opportunities to further the business relationship between Kansai and the U.S.
Consul General Karen Kelley will be sharing the U.S.'s mission to deepen economic and trade relations with Kansai businesses. Renowned economist Mr. Robert Feldman will explore the current economies of Kansai, Japan, and the globe, and will join fellow panelists in examining the track record of and future opportunities for the commercial relationship between Kansai and the U.S.
For more information and to register, please click here. Bios of speakers are available here.
Leading and Managing Change
When: October 14, 2019 at 5:00pm
Where: Law Offices of Lane Powell, PC (Portland, OR)
Please join Consul General Takashi Teraoka and members of USJC for a networking event titled Leading and Managing Change. This event will feature a presentation by Steve Hanamura, president of Hanamura Consulting, Inc. Leading and Managing Change will discuss principles and insights everyone can use in their professional and personal lives, from front line supervisors to C-Suite managers.
Click here for more information and to RSVP.
Opportunities
Accountant (Washington, DC)
The Accountant will have primary responsibility for day-to-day accounting functions and operational support for the U.S.-Japan Council (USJC) in the United States and Japan. This position is in the Washington, DC office, and provides direct support to the Chief Financial Officer (CFO) in managing the financial operations for the WDC and Tokyo offices, as well as staff working in California and Hawaii. The Accountant will be responsible for all accounting functions including but not limited to accounts payable, accounts receivable, month-end closing, account analysis, donor financial reporting, and general bookkeeping activities.
Click here for more information about the position.
Intern (Washington, DC)

The intern will provide support for Programs and Communications on a part-time or full-time basis. Duties will consist of program and event coordination and support, website/social media support, organization of and attendance at special events, outreach and communication, writing and translation (if able). This is an excellent internship for those hoping to gain experience in the programmatic, digital and strategic marketing and/or nonprofit fields. USJC's internship program offers outstanding opportunities for college students, graduate students and graduates who are interested in U.S.-Japan relations.

Click here for more information about the position

Intern (Tokyo, Japan)
The TOMODACHI Initiative is seeking qualified interns on a part-time or full-time basis. This internship program offers outstanding opportunities for college students, graduate students and graduates who are interested in U.S.-Japan relations. Duties generally consist of program and event coordination and support, website/social media support, organization and attendance at special events, student outreach and communication, writing and translation (as able). Duties may be tailored to the intern's interests. Interns will work with individuals from the U.S.-Japan Council, the U.S. Embassy and other key TOMODACHI team members.
Click here for more information about the position.