Asian American State Legislators Meet with Top Japanese Leaders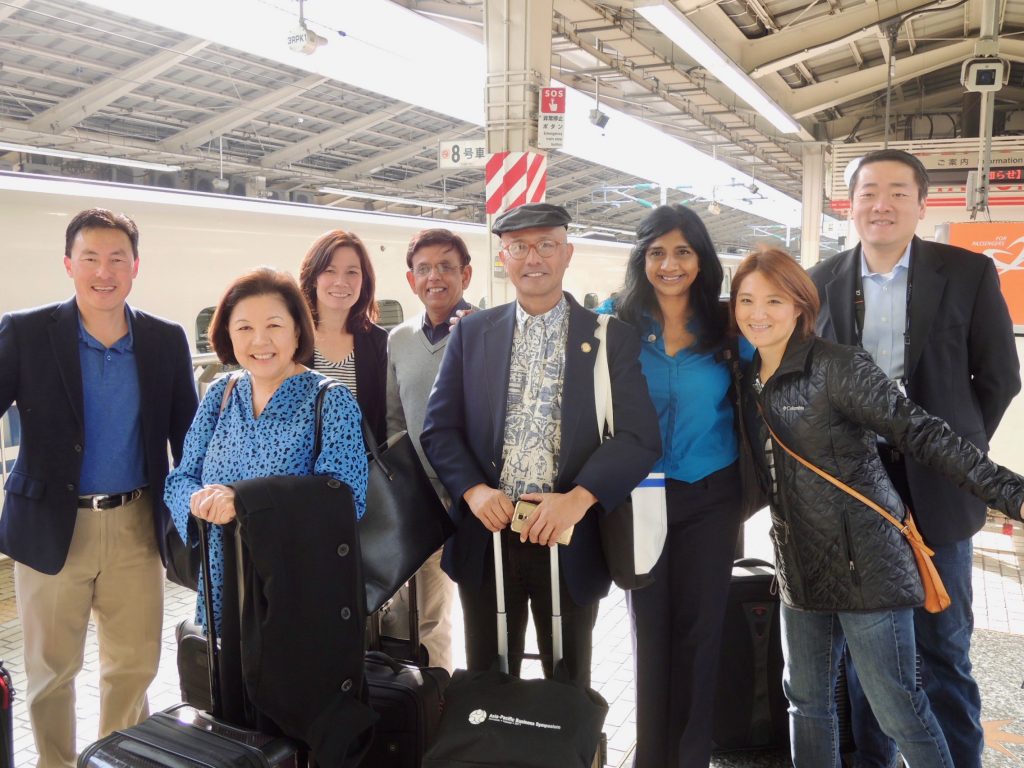 Six state elected officials from diverse Asian American backgrounds and regions recently traveled to Japan as part of the 2016 Asian American Leadership Delegation (AALD) program. From December 2 to 10, the Delegation traveled to Tokyo, Kyoto and Osaka and exchanged ideas with Japanese political and government leaders, business executives, non-profit leaders and academics, creating networks that can mutually benefit the U.S.-Japan relationship.
AALD is in its third year, and the 2016 Delegation included the following six Delegates. All were born outside of the United States. For four of them, this was their first trip to Japan.
State Senator William C. Espero (Hawaii State Legislature)
State Representative Mia Su-Ling Gregerson (Washington State Legislature)
Delegate Mark Keam (Virginia General Assembly)
Delegate Aruna Miller (Maryland General Assembly)
State Representative Prasad Srinivasan (Connecticut General Assembly)
State Representative Gene Wu (Texas Legislature)
Government leaders the legislators met included Former Prime Minister Yasuo Fukuda; Taro Kono, Lower House Diet Member (Chairman, Administrative Reform Promotion Headquarters, Liberal Democratic Party; Chief Deputy Director of House of Representatives Special Committees on Consumer Issues); Daisaku Kadokawa, Mayor of Kyoto; Makoto Kinoshita, President of the Osaka City Council; Ken Hasebe, Mayor of Shibuya Ward in Tokyo; Margot Carrington, Minister-Counselor for Public Affairs at the U.S. Embassy in Tokyo; and officials at the Ministry of Foreign Affairs. The delegates spent half a day at the Tokyo Metropolitan Government, where Yuriko Koike, Governor of Tokyo (the first woman to serve as governor of the city), shared her vision for the capital of Japan, and Members of the Tokyo Metropolitan Assembly presented their plans for the 2020 Tokyo Olympics & Paralympics.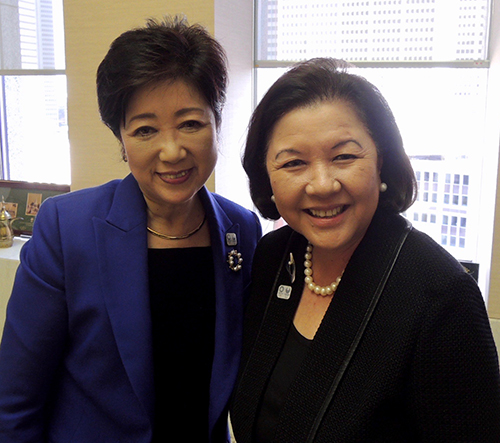 Business and nonprofit leaders included representatives of Keidanren (Japan Business Federation), the American Chamber of Commerce in Japan, Keizai Doyukai (Japan Association of Corporate Executives) in Tokyo, and Kansai Keizai Doyukai in Osaka; Yohei Sasakawa, Honorary Chairman of Sasakawa Peace Foundation and Chairman of Nippon Foundation; executives of Toyota Motor Corporation and Softbank; and journalists of Nikkei Asian Review and The Wall Street Journal. They met more corporate leaders at a networking event hosted by members of the U.S.-Japan Council (USJC) in Tokyo. This event featured Bill Ireton, Founder & President of Ireton Entertainment Inc. (former President and Representative Director of Warner Entertainment Japan Inc.), and welcomed guests like Kathy Matsui, Vice-Chair of Goldman Sachs Japan Co., Ltd.
The delegates also spoke at a panel discussion in Tokyo titled "Diversity in Leadership: The Journey of Asian American State Legislators." Addressing an audience of about 120 people, they shared their varied personal and professional journeys as Asian Americans, and spoke about the importance of diversity in politics. USJC President Irene Hirano Inouye—who accompanied the delegation along with Irene Kawanabe, Director of the National Asian Pacific American Caucus of State Legislators—served as moderator. The discussion was co-hosted by USJC and the Sasakawa Peace Foundation.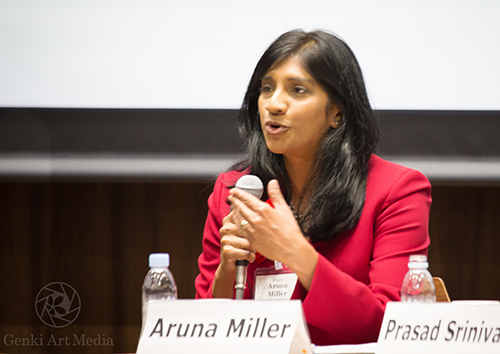 Senator Espero was born on the U.S. Naval Base at Yokosuka, Japan, to parents who are originally from the Philippines. Representative Gregerson was adopted in Taiwan as an infant, and now represents one of the most diverse districts in Washington State. Delegate Keam was born in Korea, and is the first Asian-born immigrant elected to a state office in Virginia. Delegate Miller is the first Indian American female elected to the Maryland General Assembly. Representative Srinivasan immigrated from India, and is the only physician in the Connecticut General Assembly. Representative Wu was born in China and represents Southwest Houston, where 40% of adults were born outside of the United States.
AALD is funded by the Sasakawa Peace Foundation and implemented by USJC, in collaboration with the National Asian Pacific American Caucus of State Legislators (NAPACSL). For more information on the program and full biographies of the delegates, click here.

Click here to see more photos.
Recent Events
Irene Hirano Inouye attends WAW! 2016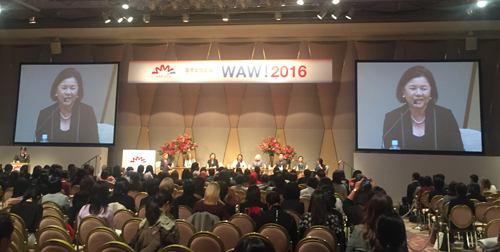 In mid-December, following an invitation from the Government of Japan, USJC President Irene Hirano Inouye attended the World Assembly for Women (WAW!) in Tokyo. WAW! invites leaders from various countries to discuss women's issues, and is part of an effort "to achieve 'A Society where Women Shine' . . . one of the priority issues of the Abe Administration."
In addition to attending the public symposium on December 13, Irene was part of a high-level round table on December 14, themed "Work-Life Management 2.0." She spoke about the benefits of volunteering, as well as the importance of people-to-people relations, as evidenced by successful USJC and TOMODACHI programs like the TOMODACHI MetLife Women's Leadership Program and the Regional Women in Leadership networking sessions, funded by the Embassy of Japan. The panel gave concrete actionable steps for improvement, such as implementing flexible working hours and having a strong network of role models, mentors and supporters. Megumi Ishimoto, who leads the NPO Women's Eye and was part of the 2013 TOMODACHI NGO Leadership Program supported by J.P. Morgan, spoke on a different panel about innovations led by women.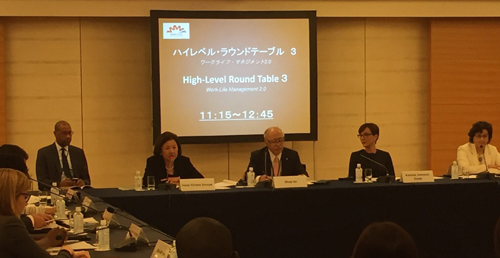 For more information on the discussions on December 14. For more information on the public symposium on December 13, which included speakers like Marne Levine, COO, Instagram; Sadayuki Sakakibara, Chairman, Keidanren; Yuriko Koike, Governor of Tokyo; and Phumzile Mlanmbo-Ngcuka, Executive Director, UN Women (as well as a video message from Aung San Suu Kyi, the State Counsellor of Myanmar), click here (in Japanese).
Japan Region Celebrates Year-End with Reception Party and Presentation on the Movie Industry in Japan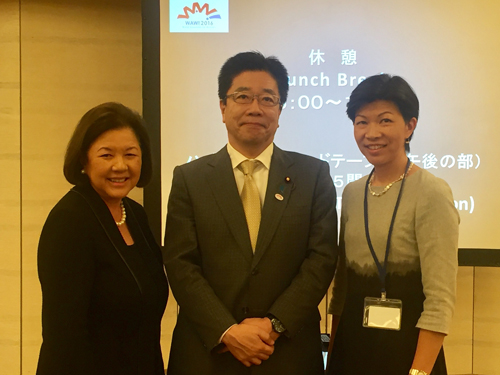 We thank Japan Region Chair Russell Kawahara for providing the following article, and for Planning Committee Member Yuko Kawahara for organizing this event!
The USJC Japan Region celebrated the year-end with a presentation on the movie industry in Japan by Mr. William Ireton and a reception party at the Tokyo American Club. The event also served as a welcome party for the six distinguished delegates of the Asian American Leadership Delegation (see above).
Japan Region Chair Russell Kawahara convened and emceed the event. Irene Hirano Inouye updated everyone on recent USJC developments and introduced the AALD delegates.

William ("Bill") Ireton, Founder and President of Ireton Entertainment and a member of the USJC (Japan)'s Board of Councilors, was the keynote speaker. Bill has been involved with all aspects of the movie industry in Japan, including theatrical production and distribution, television distribution, home entertainment, consumer products, video games and local production. Since starting his own company, Bill has been involved with the production and distribution of theatrical motion pictures, and scripted and non-scripted series for international platforms. Bill drew upon his personal experience to regale the audience for more than 45 minutes with stories from his lifelong career in the entertainment industry. Everyone commented about how much they enjoyed his presentation.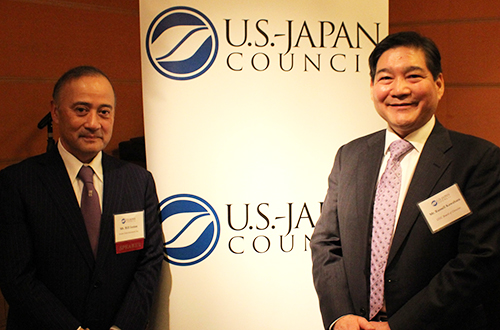 After the formal presentation, over 50 USJC members and guests enjoyed a delicious dinner and the opportunity to network with each other at a reception party. Bill's wife, Charo, and the talented Ireton family came out in full force to support the event and contribute to the warm and lively atmosphere of the reception party. Bill's daughter, Roberta, a comedian, joined the event from Osaka. Bill's son, Will Ireton (who works in Los Angeles as an interpreter for L.A. Dodger, Kenta Maeda) came to Tokyo and prepared a slide show of photos of Bill with various Hollywood celebrities that was shown during the reception. Bill's son, Matt Ireton (a disc jockey in Tokyo), put together lively background music to accompany the slide show and entertain the guests.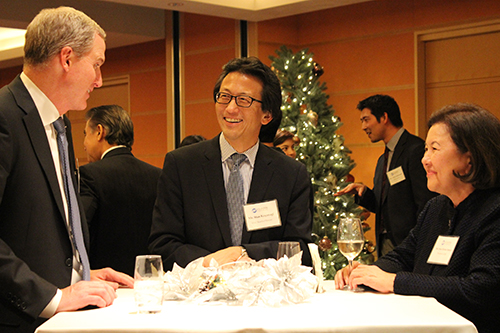 Click here to see more photos.
Regional Women in Leadership Update: Denver, Boston, Portland and DC
While the year is coming to a close and time seems to have slowed down, USJC members throughout the United States are continuing to energize their respective regions with the Regional Women in Leadership Series (RWL), generously funded by the Embassy of Japan.

USJC Associate Tim Higashide and Council Leader Robin Yasui hosted the first Denver RWL event in late November. Following their discussion, members expressed interest in hosting quarterly events in 2017, focusing on the development of Japanese American women leaders, gender equality, women supporting women, and other similar issues.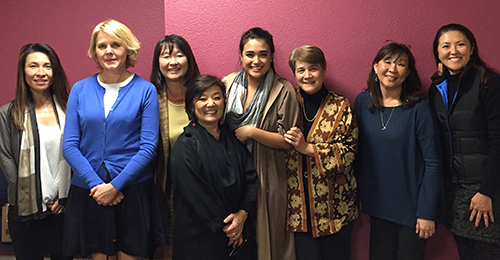 In late November, USJC Associate Kei Ashizawa hosted an event in Boston to welcome graduate students from Japan studying policy and business at Harvard University and Tufts University. During their luncheon, they reflected on the various women mentors in their lives for whom they are thankful.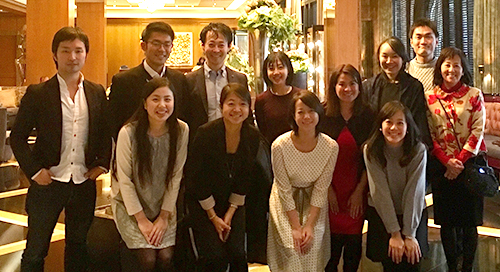 Another RWL event took place in early December, hosted by USJC Board Member Atsuko Fish in collaboration with the TOMODACHI Disability Leadership Program in Boston. Their theme was "Leadership through the Lenses of Gender and Disability." Three 2016 TOMODACHI trainees, Yui Awai, Toshiko Kudo and Tomomi Takata, as well as other guests, discussed the idea of "accessibility," noting that some people forget about unseen disabilities such as mental health, visual or auditory disabilities. They concluded their discussion by focusing on the importance of hiring diverse employees such as people with disabilities.

Council Leader Ginny Fordham (second from left); Board Member Atsuko Jenks (third from left); Council Leader Keiko Orrall (back row, fourth from right); and TOMODACHI alumnae Tomomi Takata (back row, fifth from right), Yui Awai (front row, third from right) and Toshiko Kudo (front row, second from right)
Just hours after Atsuko and her guests said their goodbyes, another RWL event began in Portland, OR hosted by Council Leader Mari Watanabe. They discussed the importance of taking risks and the need for financially accessible leadership training for women.
This week, Council Leader Janet Nuzum hosted an event in Washington, DC, themed "Women in Public Service." In light of Washington's preparation for the new administration, men and women discussed various ways that change can occur for women in leadership, highlighting not only the legal frameworks but also the need for community involvement. Ms. Nuzum concluded the event by reminding the participants that we don't need role models who are perfect, but we need role models in whom we can see ourselves.
USJC Executive Vice President & COO Suzanne Basalla (left), Council Leader Mark Uyeda (second from left), Council Leader Janet Nuzum (third from left), Council Leader Stuart Ishimaru (fourth from left)
We thank all the members who organized and hosted these events, as well as everyone who attended!
TOMODACHI News
USJC Members in Boston join the Graduation Ceremony of the TOMODACHI Disability Leadership Training Program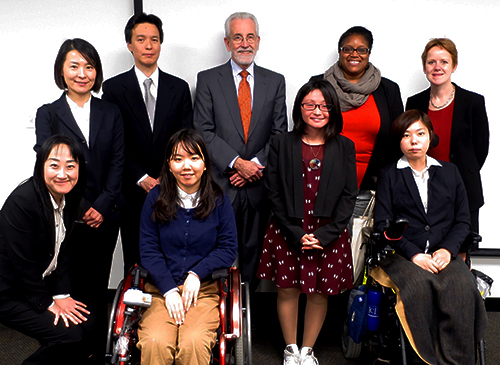 Tuesday, December 21 marked the conclusion and graduation celebration for the three trainees of the TOMODACHI Disability Leadership Program. This unique program brought three young women with physical disabilities to Boston for a five-month professional internship with organizations or government agencies focused on disability issues.

Yui Awai, Tomomi Takata and Toshiko Kudo each gave a presentation in English highlighting the projects they worked on through their internships, the lessons they learned about leadership through their experiences in the United States, and definitions of disability. They also spoke about memorable activities they took part in, including kayaking, bonfires and travel to New York City and Washington, DC. Two of the trainees performed their own poetry.

Additional speakers in the program included the Consul General of Boston Rokuichiro Michii and Northrup Grumman's Diversity & Inclusion Manager Kurby Hodges. The audience was treated to a jazz performance by a trio of musicians, two of whom are recipients of the TOMODACHI Suntory Music Scholarship and attending the Berklee College of Music. Council Leader Ginny Fordham, who works closely with the Suntory scholars, arranged for the trainees to visit Berklee and learn about the facilities available for musicians with disabilities. Ms. Fordham was in attendance, as well as Board Member Atsuko Fish and Council Leaders Paul Niwa, Patricia Neilson and Paul Watanabe. The graduation ceremony took place at the University of Massachusetts Boston's Institute for Community Inclusion. This program was made possible through Northrup Grumman's generous support.
Announcements
2017 Japanese American Leadership Delegation (JALD) Class Announced
Congratulations to the following individuals, who were selected as the 2017 delegates! They will visit Tokyo and Kanazawa from March 3 to 11, 2017, after attending a pre-trip orientation in Los Angeles from February 3 to 4. For more information on JALD, please visit the program's webpage (bios of the delegates will be posted soon).
David Boone (Alexandria, VA)
President, CB&I (Chicago Bridge & Iron) Federal Services
Jason Fujimoto (Hilo, HI)
President & COO, HPM Building Supply
Sawako Gardner (Portsmouth, NH)
Judge, 10th Circuit Court, Portsmouth District Court, State of New Hampshire
Roy Hirabayashi (San Jose, CA)
Co-Founder and past Executive Director, San Jose Taiko
Leslie A. Ito (Los Angeles, CA)
President & CEO, Japanese American Cultural & Community Center
Lynn Nakamoto (Salem, OR)
Associate Justice, Oregon Supreme Court
Patrick Oishi (Seattle, WA)
Judge, King County Superior Court
Ken Russell (Miami, FL)
Commissioner, District 2, City of Miami
Michael Takada (Chicago, IL)
Chief Executive Officer, Japanese American Service Committee
Wendy Takahisa (New York, NY)
Executive Director, Office of Community Relations, Morgan Stanley

2017-18 Watanabe Study Abroad Scholarship Application Period opens January 3, 2017!
The application for the 2017-18 Toshizo Watanabe Study Abroad Scholarship will open on January 3, 2017! Please share this opportunity with Japanese college students who are interested in studying abroad in the United States in the upcoming academic year. For more information visit the Watanabe Scholarship webpage.
Upcoming Events
Fukushima Honda TOMODACHI Concert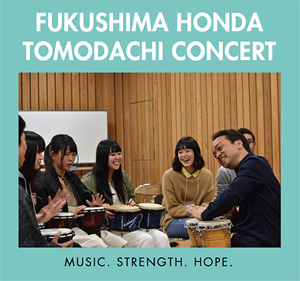 When: January 4, 2017 at 8pm
Where: Aratani Theatre Los Angeles
On January 4, 2017, TOMODACHI Honda Cultural Exchange students from Fukushima will perform a concert led by six-time Grammy Award winner Daniel Ho. The students will share their stories of fortitude and optimism and will be joined by members of Operation Tomodachi. The Grateful Crane Ensemble will also share stories from their Tohoku Goodwill Tour.
This event is presented by American Honda in association with Japanese American Cultural & Community Center.
The concert is free but please note that RSVP is required. For more information, please visit the official page.
2017 Japanese New Year Celebration (Shinshun Matsuri)


When: January 29, 2017 at 11am – 3:30pm
Where: Washington Marriott Wardman Park
The Japan Commerce Association of Washington, DC (JCAW) and JCAW Foundation, Inc. will be hosting a Japanese New Year Celebration to ring in the new year! You will have the opportunity to enjoy performances, cultural games and activities, Japanese festival food and more.
Advance tickets ($8; credit card only) must be purchased by 5:00pm on Friday, January 27. Tickets are also available at the door ($10; cash only). Children 12 and under enter free.
For more information, please visit the event website.
Japan-Hawaii Economic Summit

When: May 9-11, 2017
Where: Mauna Lani Bay Hotel & Bungalows (Big Island, Hawaii)
The Japan-Hawaii Economic Summit, presented by USJC and the State of Hawaii Department of Business, Economic Development, and Tourism (DBEDT), is being held to foster tangible, near and long term economic opportunities among Japanese prefectures, the State of Hawaii, and the U.S. mainland.
Summit attendees will explore opportunities spanning business, education, tourism and energy, and will forge one-on-one connections that will pave the way for future collaboration and trade.
The Summit will include Governors, government officials and business leaders. Governors from prefectures with State of Hawaii sister partnerships (Ehime, Fukuoka, Hiroshima, Okinawa and Hokkaido) as well as those that are part of USJC's "Governors' Circle" (Oita, Okayama, Nagano and Shizuoka) have been invited.
For more information, please click here. Registration and lodging information is forthcoming.
Opportunities
Program Coordinator (Washington, DC)
USJC is seeking a Program Coordinator to support the Programs Team.
We seek a candidate who is committed to the goals of the organization and can bring enthusiasm and commitment to program coordination, primarily with signature programs such as the TOMODACHI Initiative, the Watanabe-endowed Scholarship, our Annual Conference, and the Council's regional programs, as well as other leadership and diversity programs.
This position offers an opportunity to make an impact in a growing non-profit and network with prominent leaders at the forefront of U.S.-Japan relations. Fluency in English is required and Japanese language proficiency is desirable.

Click here for more information about the position. Click here to see a downloadable PDF. The application deadline is January 6, 2017.