USJC Establishes the Toshizo Watanabe Endowed Scholarship for Study Abroad
USJC is proud to announce the launch of the U.S.-Japan Council Toshizo Watanabe Endowed Scholarship.
Based on a generous $10 million endowment gift from Mr. Toshizo (Tom) Watanabe, President of the Toshizo Watanabe Foundation, USJC will award scholarships for study abroad between the United States and Japan. This is the largest gift USJC has ever received, and will enable the perpetual support of young people in cross-cultural education.
This scholarship will provide financial assistance to undergraduate students for a term or year-long study abroad program in the United States or Japan. Mr. Watanabe's gift funds scholarships for Japanese and American students with leadership potential, for whom study abroad would not be possible otherwise. For the inaugural program year of 2016-17, the scholarship will support Japanese undergraduate students who study in the United States. In future years, the scholarship will also support American students studying in Japan.
This scholarship is inspired in part by Mr. Watanabe's own history. As a student, he received a scholarship administered by the Government of Japan. Later, he became the beneficiary of other awards, including a prestigious endowment that allowed him to attend Brandeis University. After his life-changing experience abroad, he established his career at Nikken, a Japanese company with significant international operations, including the United States. In the spirit of paying it forward, in late 2015, Mr. Watanabe contributed $10 million of his personal funds to USJC to establish this scholarship. He seeks to open exchange opportunities for students who may not otherwise have the chance to study abroad.
The Council will recruit, select and support scholarship recipients, welcoming them to the TOMODACHI Generation as future leaders and contributors to the U.S.-Japan relationship. The scholarship will support up to the full cost of attendance to the study abroad program of the applicant's choice.
For more information, please see the Scholarship webpage or this press release. Scholarship applications can be found here, and the application deadline is April 1. The above information is also available in Japanese.
Recent Events
Donna Cole Shares Insights on Panel of Women Entrepreneurs – Washington, DC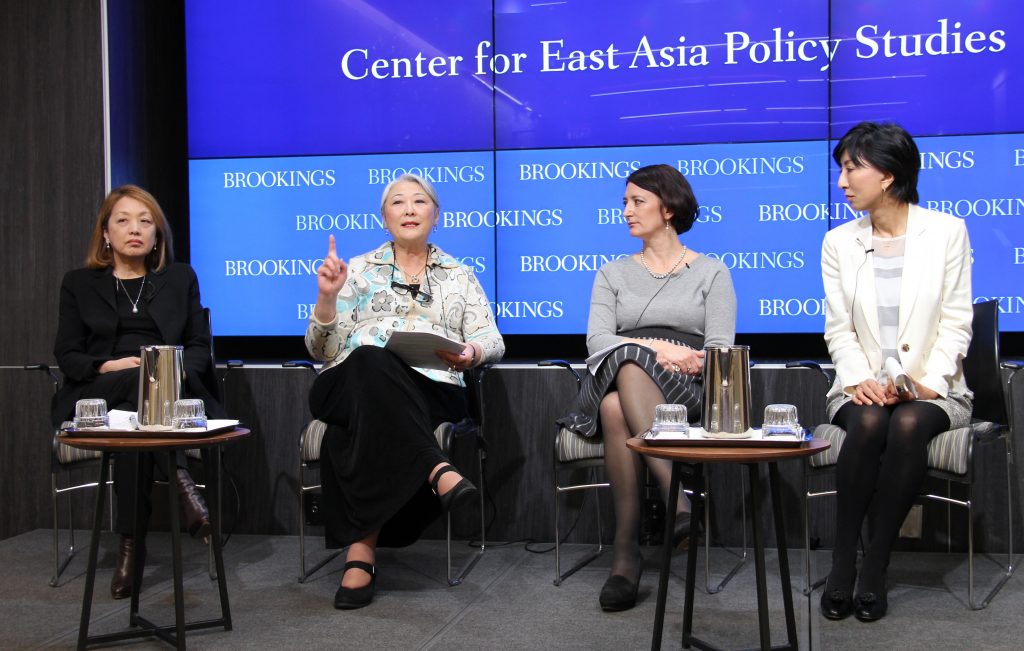 On February 8, USJC Board Member Donna Cole was one of four speakers featured on a panel discussion called "Womenomics 2.0: The potential of female entrepreneurs in Japan" at the Brookings Institution.
In her introductory speech, moderator Mireya Solis (Senior Fellow, Foreign Policy, Center for East Asia Policy Studies at Brookings) explained that female entrepreneurship was a crucial part of Womenomics, and that focusing only on the established corporate world will make the Womenomics movement incomplete.
As part of a panel of women entrepreneurs, Ms. Cole, who is President and CEO of Cole Chemical, shared what led to her successful career. Examples included having good mentors ("sometimes we just need someone to believe in us and tell us, 'Go do it'"), hiring the right employees and training them, asking questions, understanding trends, and always analyzing her business model.

She shared that she was motivated to start her own company because a Japanese company had refused to do business with her, due to the fact that she is a Japanese American woman. "I'm glad to see change is on the horizon," she said, and discussed the current benefits of working with Japanese companies, like building a lasting relationship with them.
She said that it is much easier to start a business today, due to changes in technology, service, and mindset. "Women are flexible, innovate, creative, collaborative and caring," she said. "And we just need to put ethical, caring and compassionate leaders at the table to make the world a better place."
When asked about specific measures she takes as a CEO, Ms. Cole shared that she cooks for employees when she can, and has clear communication guidelines where employees specify whether they are venting, asking for advice or requesting action. She said that when finances were tight, she took a vote and gave employees the choice of taking a few days off without pay, rather than letting people go.

The other speakers each shared their perspectives and advice based on their careers and experience. Ms. Mitsue Kurihara, Audit and Supervisory Board Member, Development Bank of Japan (DBJ), discussed DBJ's New Business Plan Competition for Women Entrepreneurs. Ms. Fujiyo Ishiguro, President and CEO of Netyear Group Corporation, shared her experience in Silicon Valley and Japan, and the importance of not putting a limit on yourself. Dr. Sachiko Kuno, Co-Founder, President and CEO of the S&R Foundation, talked about the importance of cross-pollination across sectors and creating a momentum that leads to a better world.
A full video of the event, as well as highlights, are available on the Brookings website.
For tweets from this event, see our Storify page.
TOMODACHI ELP News
The following is part of a year-long series of articles by the 2015 class of the TOMODACHI Emerging Leaders Program.
Reflection from Rei Tsuchiya (ELP 2015)
After returning from the USJC Annual Conference in Japan, the entire TOMODACHI Emerging Leaders Program (ELP) experience felt surreal. The short time spent together with my ELP class felt like weeks, and what happened only a few days prior felt like years. Our ELP class bonded and shared stories that only those of us with similar heritage could understand. With a common identity tied to both the United States and Japan, our ELP class became a close-knit family of friends. Since the Conference, I have already had the pleasure of seeing my ELP 2015 classmates Steve Sakanashi and Evelyn Tokuyama in Tokyo, and Ellen Kamei in San Jose.
Most recently, I saw David Kenji Chang and Sonya Kuki, who volunteered at the Japanese New Year Festival here in Washington, DC. Organized by the Japan Commerce Association of Washington, DC (JCAW), the festival featured various performances from taiko drums to ryuku daiko, cultural activities and games such as Japanese calligraphy (kakizome), Japanese badminton (hanetsuki) and origami. The event served traditional Japanese food and sweets, and even featured a Shinto ceremony.
Every October, the JCAW committee begins meeting once a month to plan for the event. Twenty high-level representatives of the Japanese corporate world sit in a conference room for hours, having an intense and serious discussion about . . . a festival. This effort reflects the grassroots nature of putting this event together.
The festival helps preserve Japanese cultural ties over generations for those living in the United States. One parent told me that, after attending the festival, her fifth grade son was now going to represent Japan as part of his international day school assignment. As a hockey player, his initial choice had been Canada. I think we can claim this as a small win for Japan.
The event would not have been possible without volunteers like David and Sonya. One of the most gratifying moments was seeing them enjoy being a part of the event. Among the other 80 volunteers were local high school students, JET alumni (including Nicole Uehara) and Japanese college students who are currently studying in the United States. I would also like to acknowledge current and former USJC staff members (Shiori Okazaki, Sonoko Plummer, Georgette Furukawa-Martinez, Yuri Maruyama, Emi Kamemoto, Nora Scullin) who have graciously helped at the festival.
Organizing and participating in the festival reminded me of the importance of grassroots efforts in the community. Similar events and festivals are held across the United States in New York, Boston, Chicago, Houston and Los Angeles, often with the support of USJC members. The Emerging Leaders Program connected me with these dedicated leaders from diverse backgrounds and regions. We developed ties with like-minded individuals who are not only successful professionals, but also devoted to building U.S.-Japan relations and contributing to the Japanese American community.
I hope current leaders in the USJC community continue to support us and guide us on our journey as we pursue our dreams and develop as leaders. We will continue to build upon the legacy of past generations while we create new paths for the future.
I want to thank the Council, USJC members and all the sponsors for making the ELP experience possible. Thank you also to the ELP alumni who have welcomed us with open arms, including Georgette, Yuuki Shinomiya and Ginger Vaughn. Here's to my ELP 2015 classmates!
Announcements
TOMODACHI Initiative Social Media Campaign
"Share your message. Share your support."
March 11, 2016 marks the fifth year since the Great East Japan Earthquake, and the TOMODACHI Initiative asks for your messages of support to Tohoku via social media, to be posted and shared worldwide. Please join us in encouraging and supporting Tohoku — not only for their challenges and efforts during the past five years, but also moving forward.
To get involved, take a photo with your message, and post to Instagram/Twitter with the hashtag #TOMO311, or email the photo to [email protected].
To learn more, visit the Campaign's webpage.
Or see what others have posted on their website or on their Facebook page.
Member News
Remembering Dr. Paul Terasaki
When we look back to Dr. Terasaki's numerous accomplishments, what strikes us the most is his incredible contributions to U.S.-Japan relations.
Here are reflections from two key people in the USJC community who knew him well, and worked closely with him to strengthen our bilateral relations. He is missed by all of us.
USJC President Irene Hirano Inouye
When I think of the people that I have truly been blessed to know and work with, Paul Terasaki would be among those at the top of that list. I got to know Paul and Hisako [Dr. Terasaki's wife] during my tenure with the Japanese American National Museum, but I worked most closely with Paul in the past several years, on one of the passions of his life, U.S.-Japan relations.
Much of the impetus for forming the U.S.-Japan Council came from Paul and my late husband Senator Dan Inouye. Our early planning meetings, which included Tom Iino, Henry Ota, Yuko Kaifu, and Fred Katayama were held at Paul's conference room in the Terasaki Building, where the Foundation generously provides us office space to this day. Paul and Dan agreed on the need for an organization that would encourage Japanese Americans to become involved in U.S.-Japan relations. Paul was our earliest benefactor and without his encouragement and support, the U.S.-Japan Council would not have able to take hold so quickly.
I am grateful to have gotten to know Paul, who was humble, kind, dedicated, generous, and a wonderful friend who will leave a legacy for the many lives that he impacted and touched. Someone once said, "It is up to us to live up to the legacy that was left for us, and to leave a legacy that is worthy of our children and of future generations." Thank you Paul for leaving a remarkable legacy for all of us and those who will follow.
USJC Member (and Paul's nephew) Fred Katayama
He was a pioneering scientist, inventor, professor, philanthropist and entrepreneur whose breakthroughs in tissue typing and organ transplants are credited with saving more than 100,000 lives, and his name adorns the Life Sciences building that his beloved UCLA built with his donation. I'll personally remember him as the uncle who helped reignite a passion in the study of Japan and Japanese American history. He practiced what he preached, for he took 69 of our relatives in the U.S. over to Japan for a grand family reunion replete with mandatory attendance at daily lectures over breakfast on Japanese history and culture. He had always urged me to write a book on U.S.-Japan relations. While I never did that, I'm glad I presented him a book I had co-authored on contemporary Japan when I spoke at his foundation in Los Angeles last year on the subject of getting Japanese and Japanese Americans to get to know one another better. When I asked my 9-year-old son last month what he would do were he to win the Powerball jackpot, he said, "Hold a big family reunion." We'll miss you, Uncle Paul. Thanks for the inspiration.
Janelle Sasaki and Yuta Hasumi featured in media
Council Member/Leader Janelle Sasaki and Associate Yuta Hasumi were recently featured in the Japanese magazine President Woman for their work in diversity. Here is the article with Ms. Sasaki (in Japanese only). Mr. Hasumi was featured as a male diversity champion, and emphasized that it was important that both genders be involved in discussions of diversity and inclusion.
Upcoming Events
February 27, March 2 & March 3 – Persona Non-Grata (Washington, DC & Bethesda, MD)
USJC is proud to promote the showing of Persona Non-Grata, which celebrates the life of Japanese Diplomat Chiune Sugihara and his efforts to aid the escape of more than 6,000 Jewish refugees from World War II Europe. The film screening is part of the Washington Jewish Film Festival (WJFF), "one of the largest and most respected Jewish film festivals in North America" that occurs annually. This year, WJFF is running from February 24 to March 6.
The film will be screened three times during the festival.
Saturday, February 27, 1:30 pm – DCJCC
Wednesday, March 2, 8:45 pm – Bethesda Row Cinema
Thursday, March 3, 8:45 pm – West End Cinema
If you wish to attend, please purchase tickets here.
March 1 – JAPAN in 2016 Symposium (Los Angeles, CA)
When: March 1, 2016 at 3pm – 7pm
Where: InterContinental L.A. Century City at Beverly Hills
JAPAN in 2016 Symposium features leading experts on Japan from Across the U.S. and from Japan. They will take an in-depth look and "forecast" the coming year on Japan's economy, domestic affairs, U.S.-Japan bilateral security relationship and U.S.-Japan cooperation in international affairs. The Keynote Speaker this year is Mr. Shinya Katanozaka, President & CEO of ANA Holdings, Inc. This event is presented by the Japan America Society of Southern California with the Japan Business Association of Southern California.
For more information and to register, please click here. A flier is also available here.
March 23 – 5th Anniversary Commemoration for Tohoku: Tohoku, 5 Years After (Boston, MA)
When: March 23, 2016 at 6pm – 8:30pm
Where: Christian Science Center, Reflection Hall 235 Huntington Avenue, Boston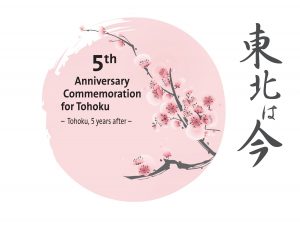 Four expert panelists will provide an update on the situation in Tohoku over the past five years. Speakers include Mayor Kimiaki Toda of Ofunato and USJC Senior Vice President Laura Winthrop Abbot. The panel will be followed by a musical tribute by Japanese students from Fukushima currently studying on the TOMODACHI Suntory Music Scholarship Fund at the Berklee College of Music. This is a USJC event, organized by Board Member Atsuko Fish in cooperation with the Fish Family Foundation.
For more information, please see this flier. Register for the event here.
Ongoing – Out of the Desert: Resilience and Memory in Japanese American Internment (New Haven, CT)
After more than a year of curatorial work, the exhibition "Out of the Desert: Resilience and Memory in Japanese American Internment" is now open at Yale University's Sterling Memorial Library. This is Yale Library's inaugural exhibition to draw from multiple archives across the university. It is also the first-ever exhibit centered on Asian American history.
The exhibit can be traced back to the 2013 USJC Annual Conference in Washington, DC. At the conference, USJC Senior Vice President Kaz Maniwa introduced Courtney Sato (ELP '13) to Council Member Delphine Hirasuna, curator of the exhibit "The Art of Gaman." After meeting Ms. Hirasuna, Ms. Sato began research to identify internment materials already housed in Yale's collections. She quickly uncovered a vast but largely unknown collection of materials related to internment.
The work features a digital touchscreen exhibit that is live at outofthedesert.yale.edu. Visitors to the website can scroll through exhibit materials, including a copy of the 1943-1944 Manzanar High School Yearbook, engineering maps of Poston, correspondence between internees and Quaker activists, and handmade Junior Red Cross scrapbooks. The exhibition will run through February 26, 2016.
Opportunities
EXECUTIVE DIRECTOR – U.S.-JAPAN COUNCIL (JAPAN)
USJC seeks a talented, dynamic individual for a newly-created position of Executive Director, U.S.-Japan Council (Japan). The Executive Director will provide leadership and oversight of the Council's general programs and activities and of the TOMODACHI Initiative. This will include responsibility for the implementation of program goals and objectives, providing leadership and oversight of program development and management, fundraising, communications and operations. The Executive Director will be based in Tokyo and manage the staff in Japan and will work closely with the U.S.-Japan Council (U.S.) staff in the United States.

For the full description, please visit the job posting on our website.
EXECUTIVE DIRECTOR – SILICON VALLEY-JAPAN PLATFORM (SILICON VALLEY)
USJC is seeking a full-time Executive Director for the Council's newest initiative, the Silicon Valley – Japan Platform (SVJP). The Executive Director position will have primary responsibility for administrative and operational support to USJC's Silicon Valley Project, including: office management; executive and organizational support for the Executive Director, Chairman and Executive Committee, SVJP; and general administrative support duties. Travel, especially between Japan and Silicon Valley, is expected.

For the full description, please visit the job posting on our website.
EXTERNAL RELATIONS DIRECTOR (WASHINGTON, DC)
The position will have primary responsibility for engagement of the approximately 400 Council Leaders/Members who comprise the membership of the organization, the majority of whom are Japanese American and all of whom are leaders committed to U.S.-Japan relations. Council Leaders/Members live and work across the United States and in Japan, represent different generations, and come from diverse professional backgrounds. Additionally, this position will be responsible for engagement and outreach of Corporate Partners, as well as leaders of other organizations with aligned mission and purpose. The position will develop outreach and engagement strategies, plan and implement regional educational programs and networking, and amplify the impact of the organization through the activities of its Council Leaders/Members. The position requires an individual who is flexible, experienced, diplomatic, able to multi-task and prioritize, well-organized, able to plan and meet deadlines, an excellent communicator in writing and verbally, and is comfortable working independently and as part of a team. Frequent short-duration travel throughout the United States and occasionally to Japan is anticipated.
For the full description, please visit the job posting on our website.