​​The Benefits of Connecting Silicon Valley and Japan
What makes Silicon Valley special, and why is it important to Japan? That was the question USJC Board Member James Higa addressed on June 8 during a discussion with members, corporate partners and supporters in Washington, DC. Touching upon his long career in technology, he spoke about the entrepreneurial and innovative culture in the region, and explained the objectives of the new Silicon Valley Japan Platform.
Mr. Higa grew up in Indiana and Okinawa, and worked in Apple for many decades. He helped negotiate the revolutionary music and phone agreements with record labels and telecommunication companies when Apple was launching iTunes and iPhones. Today, he is part of the philanthropic and venture capital community, and advises startups and rapidly growing technology companies. (Click here for his full bio.)
Among the many factors that make Silicon Valley special is how innovation takes place in leaps and bounds. Startups cannot simply make incremental improvements to what is already out there, because they will be "wiped out" once a true disruption occurs. Silicon Valley companies also know "when to ship"–i.e. the timing to begin selling a product that might not be perfect yet.
These insights that are characteristic of Silicon Valley actually came from Japan. Mr. Higa said that he admired the legacies of Matsushita (Panasonic), Morita (Sony) and Honda, who "built global brands from post-war rubble." These were the entrepreneurs he looked up to during his career. The Silicon Valley Japan Platform (SVJP), which is an initiative between USJC and the Rebuild Japan Initiative Foundation​, strives to find the next generation of leaders in Japanese companies and connect them to Silicon Valley. With an extensive network of executives and visionaries, "USJC and SVJP give you access to the top tier of Silicon Valley, helping companies become integrated into the Silicon Valley ecosystem," he said. He advised Japanese companies to send young global talent to work there, so that they can truly learn and build local networks.
SVJP also spreads the "western pioneer spirit" of Silicon Valley, which allows for failure and motivates people to try again "further West." This is in contrast to the current culture in Japan, where failure is difficult to recover from. "We try to expand the horizon for Japanese companies, showing them that they can challenge themselves again," Mr. Higa said. SVJP also aspires to help Japanese small and medium enterprises (SMEs) become global, with the conviction that this will ultimately be the engine to revitalize Japan's economy.
SVJP's activities, as well as ways to strengthen ties between Silicon Valley and Japan, will be featured in the upcoming USJC Annual Conference in Silicon Valley.
Recent Events
Chicago Women Discuss the Importance of Mentors
As part of USJC's Regional Women in Leadership (RWL) networking initiative, t​he Midwest region has organized a series of events called Womenomics in the City that Works. This was kicked off with a dinner in Chicago on May 25, themed ​"​Empowering Us: Masterminding Our Way to Success.​"​ ​The participants ​met in small​ ​groups​ inspired by the concept of "Mastermind," and discussed how to define and develop mentoring relationships​. They also shar​ed ​the ​perspectives ​of women ​mentors as well as women seeking mentors. At the end of the evening​,​ each ​individual wrote a goal for herself. ​At subsequent Womenomics dinner​s​​, ​they will reflect upon ​their ​progress towards ​their ​goals.
TOMODACHI News
TOMODACHI MetLife Women's Leadership Program Featured in the News
The TOMODACHI MetLife Women's Leadership Program (TMWLP) was recently covered in a nippon.com article. Follow this link to learn about the program and its recent Annual Conference, which was held in Tokyo in April.
2015 TOMODACHI Annual Reports Now Available
Find out about all of TOMODACHI's 2015 programs and activities through the newly released 2015 TOMODACHI Annual Report, available in English and Japanese!
TOMODACHI ELP News
The following is part of a year-long series of articles by the 2015 class of the TOMODACHI Emerging Leaders Program.
Reflection from Ellen Kamei (ELP 2015)
How fitting that this month of June, the three year anniversary of the passing of my grandfather, I am writing about my experience with the Emerging Leaders Program (ELP).
My involvement in the Japanese American community is directly impacted by my relationship with my grandfather. Interned at Heart Mountain, he worked on the railroad, moved back to the Bay Area, and was one of the founders of the Mountain View Buddhist Temple. My grandfather taught me many lessons on our flower nursery, like how to ride a tractor, how to "really" eat a mikan (all at once, in case you were wondering) and how to be an involved member of my community.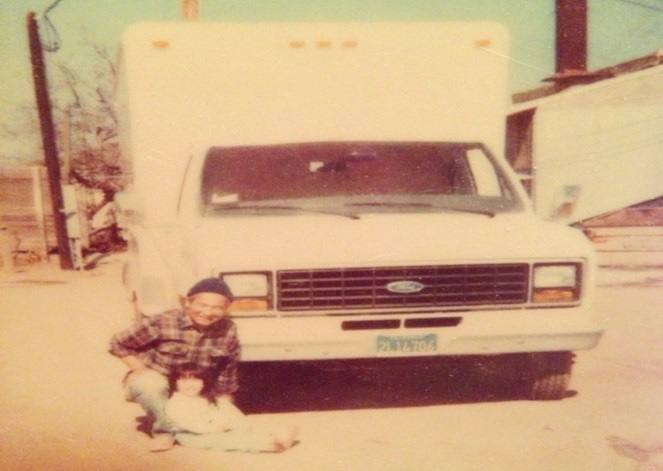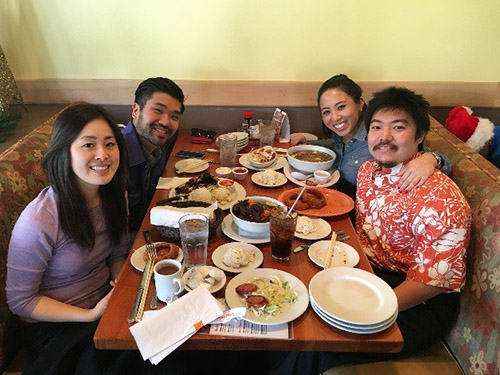 I had the unique opportunity to grow up adjacent to two of the three remaining Japantowns in the country: San Francisco and San Jose. My participation in ELP taught me a new appreciation for this experience. Growing up, it seemed natural that Girls Scouts, Judo and summer school were all done at the San Jose Buddhist Church. Through my participation in ELP, I realized how lucky I was to be yonsei and Chinese-Puerto Rican in culturally and ethnically diverse California. Numerous people in our historic Japantown encouraged me to get involved in my Japanese American community. Not everyone is so fortunate.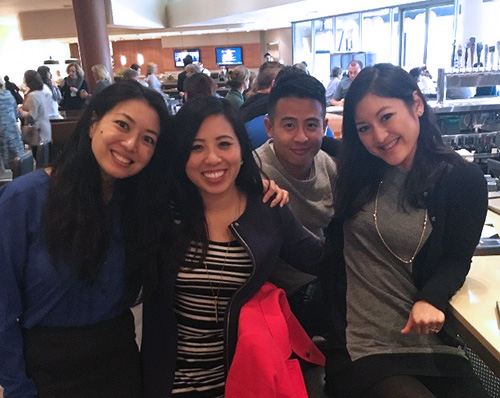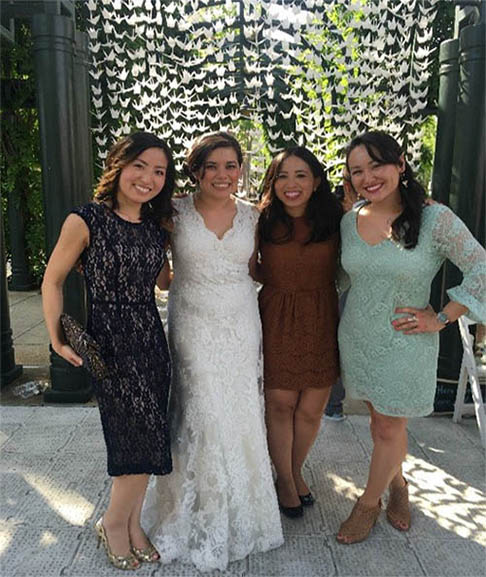 I learned through my ELP cohort that sometimes they were unsuccessful in creating a Japanese American community or lived in areas where the void cannot be filled. I am grateful to learn about this perspective. It brings a new appreciation for my experience and invigorates my commitment to the San Jose Japantown.
ELP has had an invaluable impact on my life. I now have new ideas on how to involve more Japanese American youth in the Japantown Community Congress of San Jose and the New Generation Nikkei Fund, of which I am a board member. I also made new community connections, and truth be told, an extended Japanese American family. The Class of 2015 has an unwavering bond that is made only stronger by our commitment to build bridges between Japan and the United States. I am helping plan this year's Annual Conference with my USJC mentor, and serve on the host committee. I look forward to welcoming all of you to Silicon Valley in November!
2016 TOMODACHI ELP applications are now open! For more information, visit the ELP Webpage.
Announcements
Registration Now Open: 2016 USJC Annual Conference
Monday, November 14, 2016 to Tuesday, November 15, 2016*
(*There will also be TOMODACHI Emerging Leaders programming on Nov. 12 and USJC Members Day programming on Nov. 13)
Imagine. Innovate. Inspire. – The Silicon Valley Experience
USJC is pleased to announce that registration is now open for our Seventh Annual Conference, to be held in Silicon Valley, California. Held in the center of high-tech startups and development, this year's Conference will be an opportunity to advance an innovative agenda in U.S.-Japan relations, exchange views among leaders about challenges and opportunities, and identify ways that the U.S.-Japan relationship can be strengthened. It will be attended by hundreds of distinguished American and Japanese leaders from all sectors, providing a unique opportunity for learning and networking. It will highlight innovation and entrepreneurship, and inspire the next generation of leaders.
Our featured keynote speakers this year include: Hiroaki Nakanishi, Chairman & CEO of Hitachi, LTD., and Brad Smith, President & CLO of Microsoft Corporation.
If you have questions about the 2016 Annual Conference, please contact Shane Graves, Director of Program Development, at [email protected] or +1-202-223-6855.To register, please visit the USJC Annual Conference webpage to find the proper registration link according to your registrant type: English | Japanese
We look forward to seeing you in Silicon Valley in November!
TOMODACHI Emerging Leaders Program 2016 – Applications Open!
Are you a Japanese American young professional interested in U.S.-Japan relations? The TOMODACHI Emerging Leaders Program wants you!

USJC's TOMODACHI Emerging Leaders Program (ELP) is now accepting applications. ELP identifies, cultivates and empowers a new generation of Japanese American leaders. Emerging Leaders participate in leadership education, design and implement original USJC programming, and develop powerful, lifelong personal and professional friendships. This year's participants will also attend the 2016 Annual Conference in Silicon Valley in November for multi-day workshops and programming.

Learn more and apply today on the ELP webpage! The application deadline in Sunday, July 10.
Member News
Alan Nishio Receives Award from the Government of Japan
On June 6, Council Leader Alan Nishio received the Order of the Rising Sun, Gold Rays with Rosette from the Government of Japan. Consul General Harry Horinouchi of Los Angeles presented the award, recognizing Mr. Nishio's contributions to "promoting the status of Japanese Americans in the United States and mutual understanding between Japan and the United States." Mr. Nishio has worked at the Little Tokyo Service Center for many decades, and is now Chair of its Board of Governors. For more information, please see the announcement by the Consulate General of Japan in Los Angeles here.
George Takei Receives Japan Society Award
On June 1, Member of the USJC Board of Councilors George Takei received the Japan Society Award at their annual dinner. Council Leader Fred Katayama, who is a Japan Society board member, presented the award at this event in New York. Several other USJC members are involved in Japan Society, including President (Ex Officio) Motoatsu Sakurai, who is part of the USJC Board of Councilors.

"The Gate: A Pacific Journey" Available on NHK WORLD
In the last newsletter, we covered the efforts of Friend of the Council and CEO of the The Portland Japanese Garden, Stephen Bloom, to return parts of torii gates that were damaged by the Great East Japan Earthquake to Tohoku.
NHK WORLD recently produced a documentary on the journey of the gates. To watch the full documentary, click the image above.
Upcoming Events
June 18 – 26: Pan Asian Repertory Theatre Presents: NO-NO BOY (WDC & NY)
Throughout the month of June, the Pan Asian Repertory Theatre is producing NO-NO BOY, a play adapted from John Okada's 1957 novel of the same name. Written by Ken Narasaki in 2010, the play explores the fate of Japanese and Japanese Americans during the post-Pearl Harbor internment. It gives special attention to the "No No Boys," Japanese Americans who answered "no" to questions 27 and 28 on the Leave Clearance Application Form "loyalty questionnaire."
The play will be performed in three locations:
– June 18 & 19 at The Burke Theatre in Washington, DC
– June 21 – 25 at Theatre Row's Studio Theatre in New York, NY
– June 16 at Flushing Town Hall in Flushing, NY
For more information and to buy tickets, please visit the National Tour page.
June 22: East Asian Geopolitics in the Pacific Century (San Diego)
When: June 22 at 3:40pm – 7:30pm
Where: Joan B. Kroc Institute for Peace and Justice, University of San Diego
Council Leader Tosh Minohara, Professor of U.S.-Japan Relations at the Graduate School of Law at Kobe University, will speak in San Diego on June 22 at an event titled, "East Asian Geopolitics in the Pacific Century."
The talk will feature two panels and a reception. The first panel, called "The Role of Japan and its Allies/Regional Partners in Maintaining Peace and Stability in Asia," will explore how the United States and Asia maintain regional stability in the face of China's rapid expansion. Professor Minohara will moderate the first panel. The second panel, titled "Road to the Pacific War in Recent Historiography," will discuss the events that led to Japan to enter WWII.
To learn more about the event and to register, please visit the event webpage.
Opportunities
DIRECTOR OF DEVELOPMENT – U.S.-JAPAN COUNCIL (WASHINGTON, DC)
USJC seeks a candidate who is committed to the goals of the organization and can bring experience in fundraising, primarily with corporate and major donors that have vested interest in U.S.-Japan relations. We seek a candidate who will serve as a key member of the leadership team to develop mid- to long-term strategies in fundraising and work closely with staff and board leadership in the implementation of development plans.
This position offers an opportunity to make an impact in a growing non-profit and an opportunity to network with prominent leaders at the forefront of U.S.-Japan relations. Fluency in English is required and Japanese language proficiency is desirable.
For the full description, please visit the job posting on our website.
EXECUTIVE DIRECTOR – U.S.-JAPAN COUNCIL (JAPAN)
USJC seeks a talented, dynamic individual for a newly-created position of Executive Director, U.S.-Japan Council (Japan). The Executive Director will provide leadership and oversight of the Council's general programs and activities and of the TOMODACHI Initiative. This will include responsibility for the implementation of program goals and objectives, providing leadership and oversight of program development and management, fundraising, communications and operations. The Executive Director will be based in Tokyo and manage the staff in Japan and will work closely with the U.S.-Japan Council (U.S.) staff in the United States.

For the full description, please visit the job posting on our website.