Prime Minister Shinzo Abe's Visit to the United States
In case you missed them, here are USJC's reports on Prime Minister Shinzo Abe's visit to the United States a few weeks ago. We were proud to play a prominent role in the activities, meetings and site visits
of Prime Minister Abe and Mrs. Abe.
Other Recent Events
Capitol Hill Welcome Reception for Visiting Parliamentarians – Washington, DC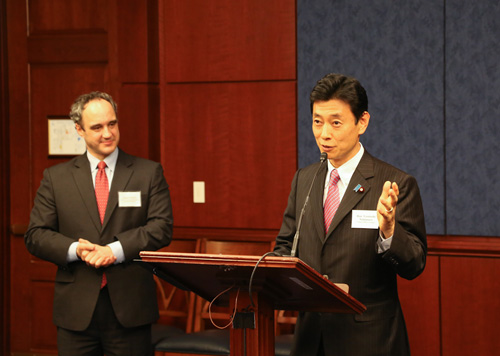 On April 30, fourteen parliamentarians from the National Diet of Japan met with national and global leaders at a reception in the U.S. Capitol. The event was sponsored by the Japan Center for International Exchange (JCIE) and the Maureen & Mike Mansfield Foundation. Further support was provided by USJC, the Japan-United States Friendship Commission, US CULCON, the Congressional Study Group on Japan, the Sasakawa Peace Foundation, and the US-Japan-South Korea Legislative Exchange Program at George Washington University.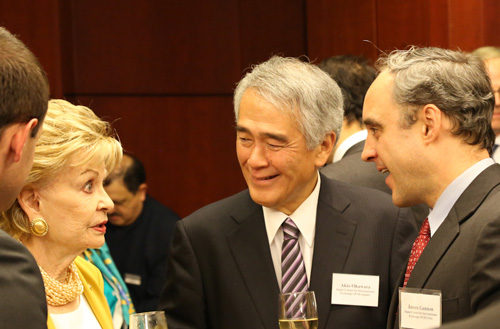 JCIE Executive Director James Gannon and Maureen & Mike Mansfield Foundation President & CEO Frank Jannuzi were the organizing hosts of the event, which included over 150 guests who gathered to celebrate U.S.-Japan relations. Speakers at the event included U.S. Senator Mazie Hirono from Hawaii, Japanese State Minister Yasutoshi Nishimura, Chairperson of the Mansfield Foundation Desaix Anderson, President & CEO of the Japan Center for International Exchange Akio Okawara, and Senator Lisa Murkowski from Alaska. They shared their thoughts on Prime Minister Shinzo Abe's visit that week and offered support for the bond between the United States and Japan.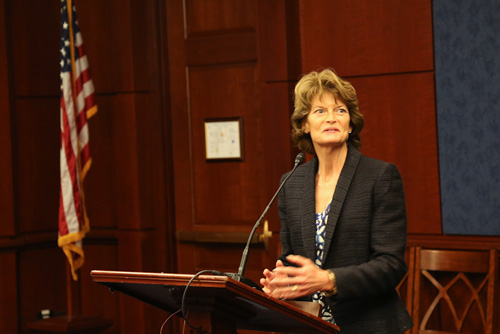 Click here to see more photos.
Networking Reception featuring Paul Yonamine – Honolulu
Many thanks to Council Member Wendy Abe and our Hawaii leadership for their support for this event! Additional thanks to 2014 TOMODACHI Emerging Leader and Associate Member Lynn Miyahira, who provided the following report.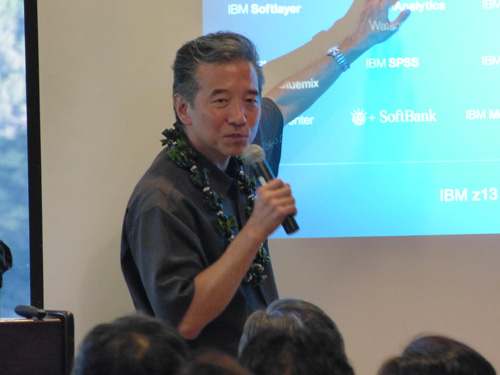 On May 5, about 100 of the who's who in the Honolulu business community gathered at the beautiful Oahu Country Club to hear from Mr. Paul Yonamine, USJC Board Member and Country General Manager and President of IBM Japan.
The event started with a great anecdote by USJC Chairman, Dennis Teranishi, who shared "what it's like to be with Paul in Tokyo."
Paul began by touching upon his deep roots in Hawaii. He talked about his background and what it was like to grow up as the son of the famous baseball legend, Wally Yonamine. He shared how his career path has taken him from being a CPA in Los Angeles to the international business consulting expert he is today.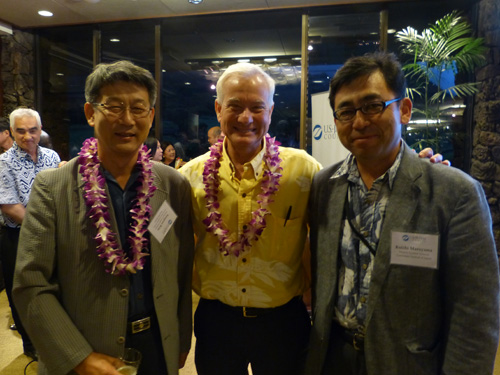 Paul's passion is to help Japanese companies globalize, and he is extremely proud of the work that IBM Japan has accomplished. He gave us some background on IBM Japan and how the company has grown and adapted since 1937. He went into detail about the product lines that he believes will keep IBM at the forefront of the tech industry and how it is all part of the emerging third generation computing platform that combines cloud, analytics, mobile, social and security.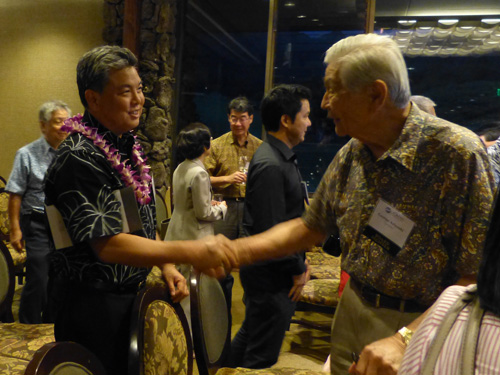 Beyond IBM, Paul is very optimistic about Japan's economic future and is thrilled to see "Abenomics" being implemented. He said, "I think Prime Minister Abe is doing a fantastic job" and suggested that Japan's economy will grow in a way that we have not seen in the past 20 years. As Japanese companies adopt more global best practices, we will see household brands like Honda, Panasonic and Toyota expand into new sectors and become more profitable and flexible, he said.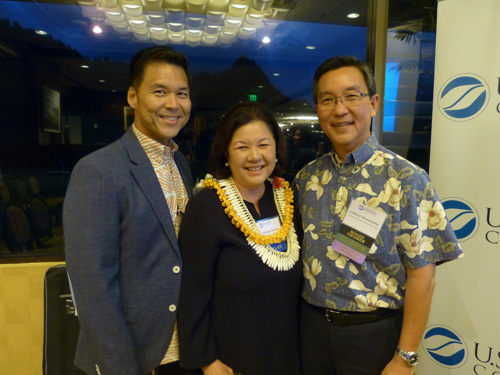 Paul concluded that he is confident that USJC is in a great position to further the people-to-people relationship building that needs to happen between our countries.
It makes me proud to be a member of USJC when I know that people like Paul, who embody the U.S.-Japan relationship, are behind our initiatives and leading the way for younger generations.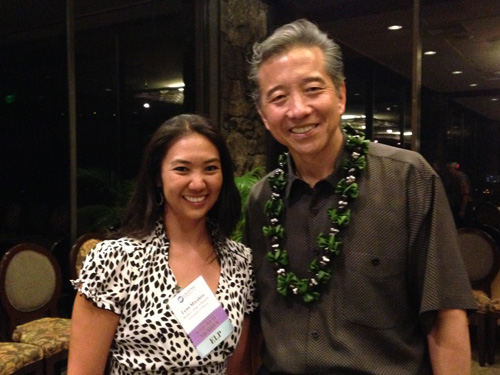 Click here to see more photos from the event.
USJC Leadership Attend Pacific Vision 21 Tokyo Meeting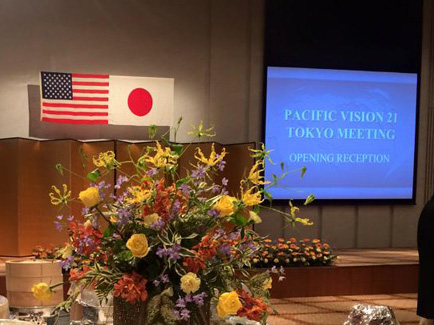 On May 9, Irene Hirano Inouye and several other USJC leaders participated in a Tokyo meeting of Pacific Vision 21, an esteemed commission led by USJC Board of Councilors Member & former Prime Minister Yasuo Fukuda. The 31 members of the commission approved the recommendations on U.S.-Japan relations over the next 30 years. Several of the recommendations are in line with USJC's values, including "expand[ing] opportunities for exchanges among youth and train[ing] young professionals." (Click here to see an article that covers the meeting.)
The other USJC leaders who took part in the panel are Members of the Board of Councilors Yorihiko Kojima (Chairman, Mitsubishi Corporation), Ichiro Fujisaki (Former Japanese Ambassador to the U.S.) and Thomas Schieffer (Former U.S. Ambassador to Japan). Several TOMODACHI alumni also attended the reception.
TOMODACHI News Corner
TOMODACHI program in Memory of Monty Dickson sends University of Alaska Anchorage students to Japan
Ten undergraduate students and two faculty members are currently in Japan as participants of the TOMODACHI University of Alaska Anchorage (UAA) – Iwate University Kakehashi Program. This faculty-led program brought students to Japan as part of a two-credit Geography and Environmental Studies Course titled "Tsunami Lessons from Japan." The program was launched by the UAA Montgomery Dickson Center for Japanese Language & Culture (MDCJLC). The center was established to commemorate Montgomery (Monty) Dickson, a UAA graduate who perished in the 2011 Great East Japan Earthquake and Tsunami while serving as a JET ALT (Japan Exchange & Teaching Program Assistant Language Teacher) in Rikuzentakata.
The group arrived in Japan on May 8 and first traveled to Rikuzentakata, Iwate, where they visited the disaster zone in the city, met with civic leaders, and learned about the reconstruction efforts. In 1964, the Anchorage area experienced a devastating earthquake (magnitude 9.2) and tsunami, and there is a high probability of such a disaster occurring again in the future. Due to the enormous scale of the devastation that Rikuzentakata and other areas experienced, much can be learned from Japan in drafting Alaska's future disaster preparedness plans. The UAA students were joined in their Tohoku activities by students from Iwate University. The group is currently in Tokyo for a day before traveling on to Kyoto, where they will visit Kiyomizu Temple to see the Buddha (Dainichi Nyorai) statue crafted from the famous Rikuzentakata pine trees that were washed away by the tsunami. The temple will also hold a special memorial service in honor of Monty Dickson.
Click here to read coverage of the group in an Asahi Shimbun article, and here to follow program participants on the MDCJLC Facebook page.
Parsons Fashion Exhibit Showcases TOMODACHI Uniqlo Fellow's Original Designs
On May 12, TOMODACHI Uniqlo Fellow Ryohei Kawanishi's work was one of 15 featured graduate projects on exhibit at the Parsons Masters in Fine Arts (MFA) Fashion Design + Society Exhibition. USJC Executive Vice President & COO Suzanne Basalla, Council Member Susan Onuma, Beverly Okada, and other friends joined the Opening Reception to celebrate the exhibition (also visited by notable fashion industry leaders such as Donna Karan).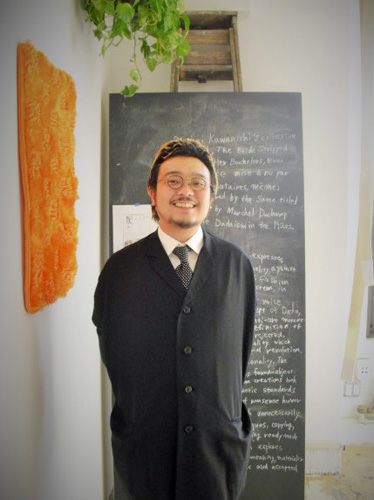 Ryohei, one of Japan's most talented young fashion designers, created eight "looks" as part of his graduate project, titled The Bride Stripped Bare by Her Bachelors, Even. This collection is a response to Marcel Duchamp's enigmatic work of the same title, and showcases Ryohei's technique, creativity and humor. Ryohei has completed two years of study in the unique "Project Runway"-style MFA program at Parsons The New School for Design, with his graduate studies fully-funded through a generous gift to TOMODACHI by Uniqlo. Ryohei is greatly appreciative of the scholarship, without which he would not have found the opportunity to study in New York's fashion scene or had been able to pursue his dream of creating his own designs.
Ryohei is one of three students in the first cohort of Fellows who entered school in September 2013. (His colleagues attended the Fashion Institute of Technology and Stanford Graduate School of Business.) In addition to his academic and studio training, Ryohei and the other TOMODACHI Uniqlo Fellows gained valuable business experience during a 2014 summer internship at Uniqlo USA's NYC headquarters, under the leadership of Uniqlo USA's Director for Corporate Social Responsibility, Mr. Jean Shein, who also attended the Exhibition's Opening.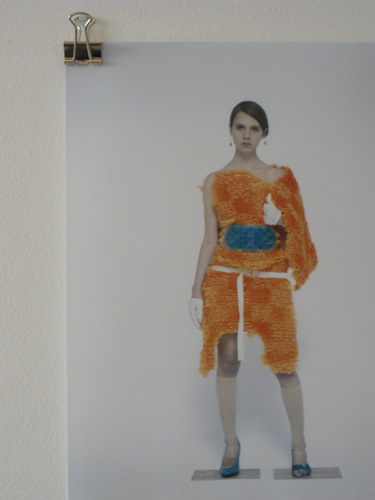 Ryohei plans to work throughout the summer to complete additional looks for the collection in time for the Parsons Fall Runway Show in September, and has invited local USJC Associate Members and the TOMODACHI Uniqlo Fellows conducting internships in NYC this summer to visit him and learn more about his designs (details to follow, NYC-based Associate Members!).
Upcoming TOMODACHI events, programs and applications
Presentations and exhibit by alumni of the TOMODACHI U.S.-Japan Youth Exchange program (June 3, 6:00-8:00p.m. (Washinton, DC)): Five DC high school students will share their experiences and insights from this two-way cultural exchange with Japan, including stories from their visit to Tohoku. More information can be found here.
Kizuna Across Cultures' (KAC) Global Classmates program is currently recruiting U.S. High School language classrooms for virtual exchange during the 2015-16 school year! Interested U.S. teachers should contact KAC at

[email protected]

for applications and additional information.
Summer is the busiest time of the year for TOMODACHI, and we are once again expecting numerous programs and participants traveling between the United States and Japan. The next newsletter will feature more upcoming programs. Please be on the look-out for announcements from USJC staff about opportunities for participation.
TOMODACHI Emerging Leaders Program News Corner
This is a year-long series of articles by the 2014 class of the TOMODACHI Emerging Leaders Program.
Reflection from Kira Teshima (ELP 2014)
Since moving to Los Angeles in 2009, I have been active with the Japanese American National Museum as a board member of the Museum's New Leadership Advisory Council (NLAC), a talented group of young professionals created to help increase the Museum's presence in the community, particularly among the 40-and-under set. This project has been especially important to me as I see many of our community's leaders grow older and pass away.
This month the Museum hosted its 2015 Gala Dinner, Silent Auction, and After Party at the Hyatt Regency Century Plaza Hotel in Los Angeles. The evening's theme was "To Boldly Go: Sharing Our Story Across the Generations." Actor, activist, and U.S.-Japan Council Board Member George Takei was honored with the Museum's Distinguished Medal of Honor for Lifetime Achievement and Public Service.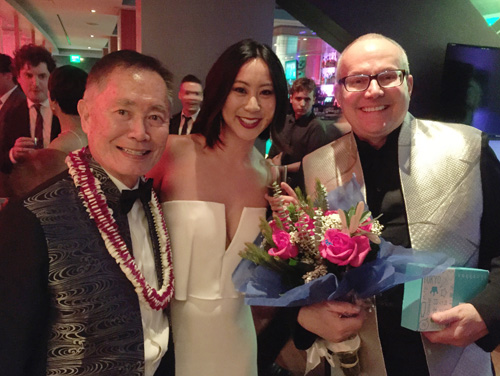 Additionally, the event featured the museum's annual "Bid for Education," a live fundraising session first launched at the 2000 Gala Dinner by the late U.S. Senator Daniel K. Inouye in response to state budget cuts that threatened bus transportation for school field trips. Money raised in the Bid now allows for some 10,000 primary and secondary school students and teachers to visit the Museum each year and learn about the Japanese American story. For the past two years, I have had the privilege to co-lead the live Bid on stage on behalf of NLAC, demonstrating my generation's passion and commitment for the Senator's "pet project".
That same evening, the Museum announced that it had successfully acquired a rare collection of Japanese American artifacts and artworks created in internment camps during World War II that was the subject of a controversial auction for private collectors. Instrumental in convincing the auction house not to go forward with the sale and instead make the Museum its home was none other than George Takei, who as a boy was imprisoned in two internment camps with his family.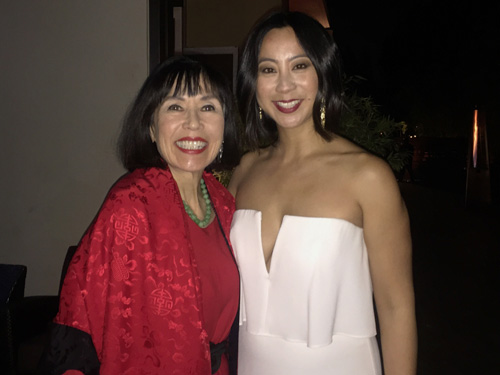 When I was growing up in Honolulu, my parents often told me that you can't know where you are going unless you know where you have been. My work with the Museum and my experience as a 2014 TOMODACHI Emerging Leader has solidified my commitment as both a cross–cultural and –generational bridge; engaging young people to explore their heritage and take on the mantle of leadership. I am honored to be a part of the Emerging Leaders Program, and am looking forward to seeing many of you in Tokyo for the Annual Conference.
Announcements
2015 Annual Conference: Early Bird Registration Rates in Effect Now!
This year's Conference will be held from November 9 to 10 in Tokyo, Japan at the Cerulean Tower Tokyu Hotel, with select Board Member activities taking place at The Capitol Hotel Tokyu. Early bird registration rates are in effect only through June 30. Secure your attendance now while space is still available! Follow the links below and feel free to contact Mr. Shane Graves ([email protected]), Program Manager, if you have any questions.

Registration (English): https://www.regonline.com/USJCAnnualConference2015
Registration (Japanese): https://www.regonline.com/USJCAnnualConference2015JP
Two-Day Rate (Early Bird)
$350 – General Public
$250 – USJC Board of Councilors, Board of Directors, Council Members (incl. Friends of the Council), Corporate Members, Business Advisory Board Members
$150 – USJC Associate Members, TOMODACHI Alumni, Young Professionals (age 40 & under)
One-Day Rate (Early Bird)
$225 – General Public
$175 – USJC Board of Councilors, Board of Directors, Council Members (incl. Friends of the Council), Corporate Members, Business Advisory Board Members
$125 – USJC Associate Members, TOMODACHI Alumni, Young Professionals (age 40 & under)
Confirmed keynote & panel speakers include:
His Excellency Shinzo Abe, Prime Minister, Japan
Mr. Nobuyuki Hirano, President & CEO, Mitsubishi UFJ Financial Group, Inc.
Mr. Futoshi Toba, Mayor, Rikuzentakata
Hon. Norman Y. Mineta, President & CEO, Mineta & Associates, LLC & Vice Chairman, USJC Board of Councilors
Mr. Masi Oka, Producer, Actor, Writer, and Director & President, Mobius Productions (Invited)
Dr. Daniel Okimoto, Director-Emeritus, Shorenstein APARC, Stanford University & Chairman, USJC Board of Councilors
Ms. Kathy Matsui, Vice Chair, Goldman Sachs Japan Co., Ltd. & Member, USJC (Japan) Board of Directors
Mr. James Higa, Executive Director, Philanthropic Ventures Foundation & Mentor in Residence, Index Ventures & Member, USJC Board of Directors
Ms. Jan Yanehiro, President, Jan Yanehiro, Inc. & Member, USJC Board of Directors
Mr. Paul Yonamine, Country General Manager and President, IBM Japan, Ltd., & Member, USJC Board of Directors
The most up-to-date Annual Conference information can be found on the USJC website.
We look forward to seeing you in Tokyo in November!
Member News
Mr. Yorihiko Kojima, Chairman of the Board, Mitsubishi Corporation, joins USJC Board of Councilors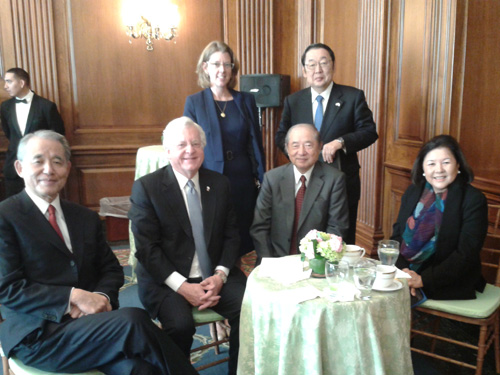 We are happy to welcome Mr. Yorihiko Kojima, Chairman of the Board, Mitsubishi Corporation, as a Member of the USJC Board of Councilors. Mr. Kojima joined Mitsubishi in 1965, and after holding several leadership positions, became President and CEO in 2004, and then Chairman of the Board in 2010. We are grateful for Mr. Kojima's support and look forward to working with him in the years to come.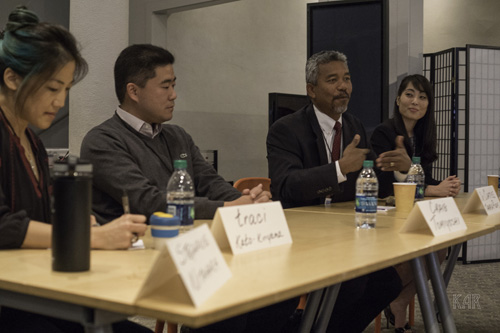 Council Member Curtiss Rooks speaks at JACL Event
On April 25, the Japanese American Citizens League (JACL) National Youth/Student Council hosted a summit on the topic of networking and business as a Japanese American, featuring our very own Curtiss T. Rooks as one of the distinguished panelists.
Dr. Rooks shared the insight he has gained from serving on the Gate Millennium Scholars Program Advisory Council, among other organizations, and shed light on the importance of balancing family, community involvement, and professional career in academia.
Other speakers discussed the following topics: Mr. David Lin, National President of JACL, reiterated the importance of youth engagement within the Japanese American community; Ms. Vanna Novak, a nationally recognized trainer, consultant and coach, shared with the crowd of over 40 young professionals and community volunteers the importance of happiness, cultural roots, and confidence in effective presentation and networking; Ms. traci kato-kiriyama, a writer, actor, and multi-platform artist, spoke on how acknowledging her cultural identity has influenced her work; Mr. Craig Tomiyoshi, who works at IW Group, said that marketing that acknowledges diversity in America will be key in the growing trend of multiculturalism in marketing and communications; and Ms. Nikki Kodama, Manager of Systems Engineering and Integration at Northrup Grumman Corporation, shared her experience as a minority both ethnically and by gender.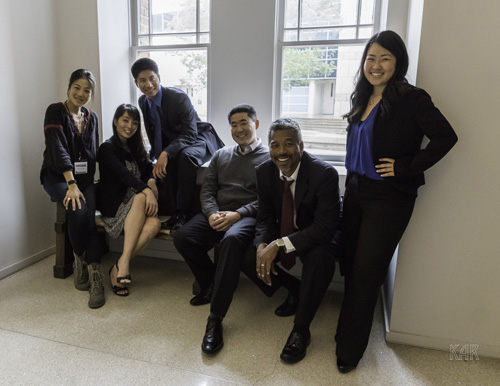 The connection that panelists made with participants and one another was palpable. Attendees walked away with stronger networking abilities, a strong sense of community, and not only new connections, but new friends.
Upcoming Events
May 15 – "Celebrating the American Experience and US-Japan Relations: Irene Hirano Inouye, Her Life, Works and Achievements" (Dallas)
Date & Time: Friday, May 15, 2015; 3:00 – 5:00p.m.
Venue: Hillcrest Appellate Courtroom, Underwood Law Library, Southern Methodist University (Dallas, TX)
USJC President Irene Hirano Inouye is the featured speaker at this event at Southern Methodist University (SMU), held in partnership with the Japan-America Society of Dallas/Fort Worth. (Click here to see more information.) This event is in conjunction with Irene's honorary degree, which she will receive the following day with two other extraordinary women as part of SMU's 100th Commencement ceremony.
June 12 – Congressional Gold Medal Dinner (San Jose)
Date & Time: Friday, June 12, 2015; 6:00p.m Cocktail Reception, 7:00p.m. Dinner
Venue: The Fairmont (170 South Market Street, San Jose, CA 95113)
This dinner supports the Congressional Gold Medal Digital Exhibition, which will highlight the stories of World War II nisei soldiers at the Smithsonian Institution in 2016. The exhibition was inspired by the 2011 awarding of the Congressional Gold Medal to three Japanese American units who fought in the war and will feature state-of-the-art digital displays.
The dinner will feature a keynote speech by Secretary Eric Shinseki (former U.S. Secretary of Veteran Affairs and 34th U.S. Army Chief of Staff) and a presentation on the exhibition planning with the Smithsonian. To purchase tickets to the dinner or to donate, please click here.
Opportunities
Controller
Reporting to the President, the Controller will be responsible for oversight of all finance, accounting and reporting activities for the U.S.-Japan Council (U.S.) and U.S.-Japan Council (Japan). The Controller will be involved in providing presentations to the Board of Directors Finance and Audit committee and will work closely with the senior leadership team and staff.
The Controller will lead all day-to-day finance operations and have functional responsibility over accounting, accounts payable, accounts receivable, payroll, and grants administration. The Controller will ensure that the U.S.-Japan Council and the TOMODACHI Initiative has the systems and procedures in place to support effective program implementation and ensure accurate audits. The Controller will work closely with program and development, not only to educate them regarding finance and accounting requirements but also to explore how the finance function can support program operations.
In addition, the Controller will work closely with the President and Executive Vice-President/Chief Operating Officer and senior Vice-Presidents, to enhance and integrate finance, HR, and IT functions.
A listing of qualifications and responsibilities is available on the USJC website.

Executive Director, TOMODACHI Initiative
The U.S.-Japan Council is seeking a talented, dynamic individual for the position of Executive Director, TOMODACHI Initiative. The Executive Director of the TOMODACHI Initiative is responsible for the implementation of the goals and objectives of the initiative, providing leadership and oversight of program development and management, fundraising, communications and operations for TOMODACHI. The Executive Director will be based in Tokyo and manage the TOMODACHI staff in Japan (currently 8 people), and will work closely with the Senior Vice-President and U.S.-Japan Council staff in the United States. The Executive Director will have the primary responsibility for day-to-day liaising with the U.S. Embassy leadership and staff.

A listing of qualifications and responsibilities is available on the USJC website.
Marketing and Communications Manager/Specialist, TOMODACHI Initiative
Working under the direction of the Executive Director of the TOMODACHI Initiative in Japan, the Marketing & Communications Manager/Specialist (exact title to be confirmed based on experience of the candidate) plays a critical role in developing and implementing a comprehensive strategic marketing strategy to build and develop the profile and brand of the TOMODACHI Initiative among a diverse audience, including senior corporate executives, government leaders, recipients of support, other donors and the press. The Marketing & Communications Manager/Specialist will work closely with teams from the U.S.-Japan Council in the United States and Japan, and the U.S. Embassy in Tokyo in the implementation of this mission. This position is offered for a one-year contract, with an option for renewal each year.

A listing of qualifications and responsibilities is available on the USJC website.