2017 USJC Annual Conference: Summary and Photos
Thank you to everyone who joined us or supported us for the 2017 Annual Conference in Washington, DC last week! Below is a brief summary. The Conference webpage will be continuously updated in the coming weeks with more information.
Conference Summary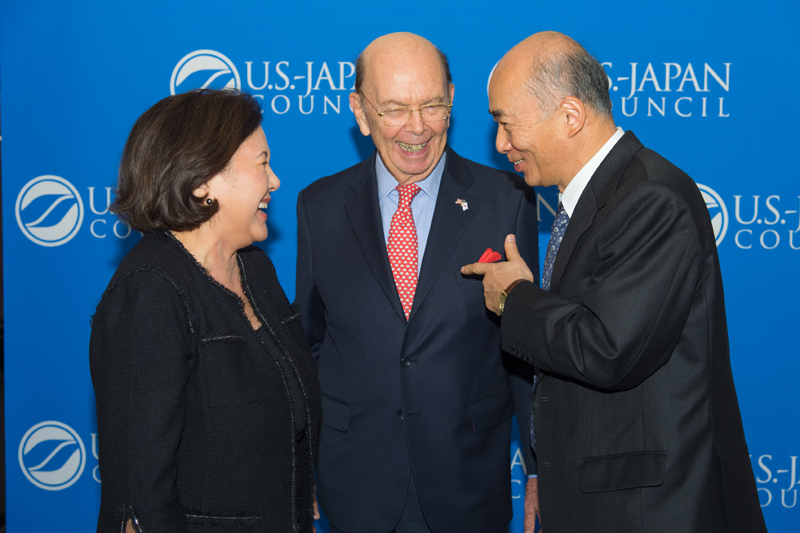 The U.S.-Japan Council held its eighth Annual Conference from November 13 to 14 in Washington, DC. More than 700 leaders from Japan and the United States attended the conference, which was themed "Unity in Diversity: Shaping the Future Together." Issues they discussed included how to continue to empower the many leaders in the U.S.-Japan arena, including Japanese Americans and other Asian Americans, millennials, and women; and strengthening economic ties between the United States and Japan.
Top corporate and government leaders from both countries—Wes Bush, Chairman, CEO and President, Northrop Grumman Corporation; Nobuchika Mori, Commissioner, Financial Services Agency, Government of Japan; Elaine L. Chao, U.S. Secretary of Transportation; Wilbur L. Ross, Jr., U.S. Secretary of Commerce; Kazuhiko Toyama, Managing Partner, Industrial Growth Platform, Inc.; and Masayoshi Yoshino, Minister for Reconstruction, Government of Japan—delivered keynote speeches, discussing further opportunities for collaboration between the United States and Japan, especially in terms of economic relations. Matthew Goodman, William E. Simon Chair in Political Economy & Senior Adviser for Asian Economics at the Center for Strategic and International Studies (CSIS); Kenichiro Sasae, Ambassador of Japan to the United States; Tom Schieffer, Former U.S. Ambassador to Japan and CEO of Envoy International; and Haruno Yoshida, Vice Chair of the Board of Councillors at Keidanren (Japan Business Federation) discussed trade relations as well as the important role states, prefectures, corporations and communities have in fostering regional partnerships between the two countries. Think tank experts, including Michael J. Green, Senior Vice President for Asia & Japan Chair at CSIS, analyzed current political issues between the United States and Japan in the areas of security and economics.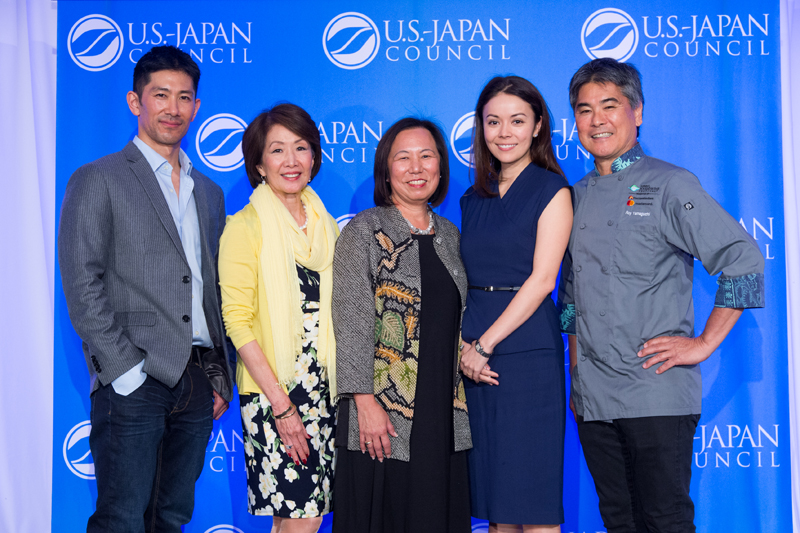 The Conference also celebrated the diversity of U.S.-Japan leaders in many ways. Asian American state legislators from six states shared their personal and political journeys, including their visit to Japan on the Asian American Leadership Delegation Program and their careers in law and medicine. In another panel discussion, seven distinguished women, including Kathy Matsui, Vice-Chair, Goldman Sachs Japan Co., Ltd., shared their experiences as female leaders serving on the boards of global companies and organizations. An annual discussion led by Jan Yanehiro, President, Jan Yanehiro, Inc., featured Japanese American leaders from a wide range of industries: Sarah LaFleur, CEO of MM.LaFleur, a fashion e-tailer for busy professional women; Judy Sakaki, the first Japanese American woman president of a four-year university (Sonoma State University); Adam Yamaguchi, the world-traveling Executive Producer and Correspondent of CBS News; and Roy Yamaguchi (no relation to Adam), Chef and Restaurateur of Roy's Restaurants.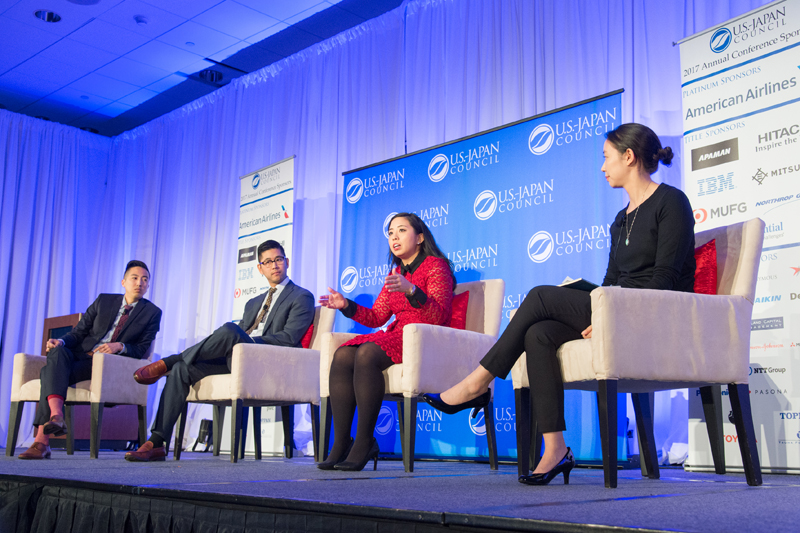 The Conference also featured several next-generation leaders. Students who participated in exchange programs of the TOMODACHI Initiative—a public-private partnership led by USJC and the U.S. Embassy, with strong support by the Government of Japan—shared how their time abroad transformed their lives. Japanese American millennial leaders who are alumni of the TOMODACHI Emerging Leaders Program shared testimonials of their success in business, academia, politics and the community, and detailed the instrumental role Japanese American values like ikigai (reason for being) and kansha (gratitude) have played along the way. In another panel discussion, speakers including Charles F. Bolden, Jr., President of the Bolden Consulting Group and the 12th NASA Administrator, shared their insight on skills that future leaders need to thrive in a global environment.
Other panel discussions, workshops and interactive fora centered on topics such as the importance and rewards of working in public service; innovation hubs in Silicon Valley, Tokyo and Boston; and discussions on the latest developments in energy, healthcare and education. TED-style talks by various industry leaders also analyzed U.S.-Japan relations through fields like medicine and public diplomacy.
Photos
Click here to see more photos from the Conference.
Recent Events
JWLI Fellows Pitch Their Action Plans in Cambridge
Many thanks to Fish Family Foundation's Aya Abe for the following article and photos!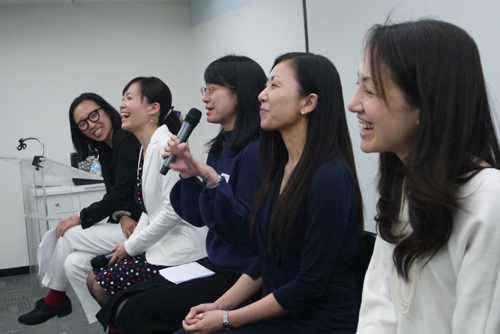 On November 2, Fellows of the Fish Family Foundation's 2017 Japanese Women's Leadership Initiative (JWLI) pitched their ideas as part of Japan Innovation Night, which took place at CIC. The event was a huge success: over a hundred people gathered to listen to the Fellows' action plans. The Havana Conference Room, one of the largest conference rooms at CIC, was packed with people who gathered to learn how the Fellows are planning to tackle social problems in Japan. The Fellows received valuable feedback from the audience on how to make their action plans a reality. Japan Innovation Night was co-hosted by CIC, Venture Café and USJC.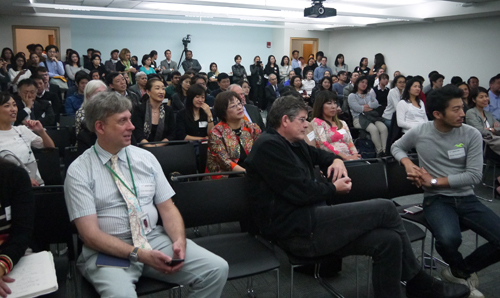 On a separate note, applications for the JWLI Spring Program are now open! JWLI looks forward to reviewing applications from more enthusiastic women leaders in Japan. For more information, please visit: https//jwli.org/application/.
Announcements
Registration Now Open for the Japan-Texas Economic Summit!
Registration is now open for the Japan-Texas Economic Summit, to be held at the Marriott Marquis Houston from May 7 to 9, 2018. Following the highly successful Japan-Hawaii Economic Summit in 2017, the Japan-Texas Economic Summit will bring together business leaders, investors, state and local officials, and economic development organizations from across the Lone Star State and Japan. Texas is a leading destination for foreign direct investment from Japan, and we will welcome government and business representatives from the Government of Japan and prefectures throughout the country to explore further opportunities to strengthen the relationship between Japan and the state of Texas.
Join us for what will be a momentous step forward in the Japan-Texas economic partnership! Please visit the event page to see more details and to register.
Watanabe Scholarship: Virtual Session and 2018 Applications Opening Soon!

Applications for the 2018-19 U.S.-Japan Council Toshizo Watanabe Endowed Scholarship Program will be available soon! This program provides financial assistance to undergraduate and graduate students for a semester or year-long study abroad program in either the United States or Japan. A generous endowment gift of $10 million from Mr. Toshizo (Tom) Watanabe to USJC makes it possible to award scholarships to students for whom study abroad would not be possible without financial support. Beginning this year, scholarships will be awarded to both American and Japanese undergraduate students who are pursuing international study in either the United States or Japan.

A virtual information session for interested U.S. and Japanese applicants, as well as university and college administrators, will be held in early December. For more information on the virtual information sessions, please see the flier and sign up here!

For information on eligibility, timeline and application requirements, please see this page.
Members News
Naomi Funahashi Wins Teacher Award
Congratulations to USJC Associate (and ELP '11) Naomi Funahashi, instructor and manager of the Reischauer Scholars Program (RSP), Stanford University, for receiving the 2017 Elgin Heinz Teacher Award! This annual award from the United States-Japan Foundation "recognizes exceptional teachers who further mutual understanding between Americans and Japanese."
For more information, please see the United States-Japan Foundation website or RSP's Facebook post.
Upcoming Events
Righting a Wrong: Japanese Americans and World War II

When: Ongoing through February 19, 2018
Where: National Museum of American History

In February, the National Museum of American History opened a year-long exhibit to mark 75 years since Executive Order 9066 authorized the internment of Japanese Americans during World War II. On display are artifacts, photographs and stories collected from Japanese American families. There will also be public programming throughout the year related to this exhibit.
For more information on the exhibit, please visit the official website.
Opportunities
TOMODACHI Marketing & Communications Manager (Tokyo)
The Marketing & Communications Manager is responsible for developing and implementing a comprehensive strategic communications program to develop the profile and brand of the TOMODACHI Initiative among a diverse audience and stakeholders, including senior corporate executives, government leaders, program participants, donors, press and the general public. The Marketing & Communications Manager will work closely with teams within the TOMODACHI Initiative in the implementation of this mission, as well as with the U.S. Embassy in Tokyo.
Click here for more information about the position.
TOMODACHI Program Manager (Tokyo)

Working under the direction of the Director of TOMODACHI Programs, the Program Manager is responsible for developing, executing, managing, monitoring and evaluating TOMODACHI programs, including managing relationships with implementing organizations. The Program Manager will work with individuals from the U.S.-Japan Council, the U.S. Embassy, TOMODACHI Initiative sponsors, and other key TOMODACHI team members in the implementation of this mission.

Click here for more information about the position.
TOMODACHI Program Coordinator (Tokyo)

The TOMODACHI Program Coordinator is responsible for providing administrative support in the development, coordination, and execution of TOMODACHI Initiative programs, directly assisting the Program Director and Program Manager, and collaborating with leaders, external stakeholders and other experts. The Program Coordinator will serve as the principal liaison between implementing partners and external constituencies on day-to-day programmatic issues.

Click here for more information about the position.
Happy Thanksgiving!
Happy Thanksgiving from all of us at the U.S.-Japan Council! As always, we are thankful for all of our wonderful members, sponsors and supporters.
We are thankful to everyone who make all our events possible, as well as the many participants and speakers. We hope you enjoy your Thanksgiving, no matter where you are!