Eighth Business Advisory Board Discusses the Power of Journalism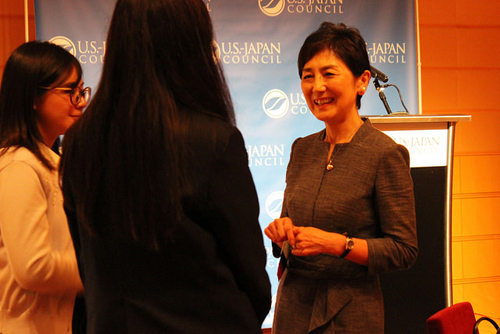 The 8th U.S.-Japan Council Business Advisory Board (BAB) was held at the Tokyo American Club on October 19, welcoming journalist Hiroko Kuniya as a featured speaker.
The event began with opening remarks by Chair of the USJC Board of Councilors Paul Yonamine, who welcomed the BAB members and USJC members. Vice Chair of the USJC Board of Councilors Masaaki Tanaka then explained the history of the BAB and emphasized the importance of people-to-people connections to strengthen U.S.-Japan relations. USJC President Irene Hirano Inouye shared information on the 2016 Annual Conference and introduced five TOMODACHI alumni who were in attendance.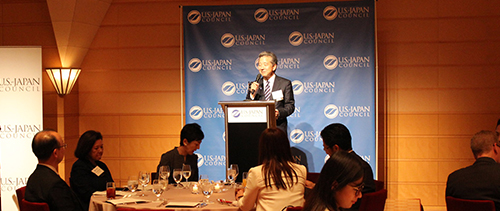 As is customary for BAB, a few special guests introduced themselves prior to the keynote speech, showcasing the diversity in USJC and BAB membership. Friend of the Council Harry Hill, President & CEO, Oak Lawn Marketing, Inc.; Hiroyuki Hioka, Executive Officer of General Affairs, Japan Airlines Co., Ltd.; and Mari Matthews, Executive Officer and Vice President, MetLife Insurance K.K., were among those who briefly discussed their career as well as their role in the context of U.S.-Japan relations.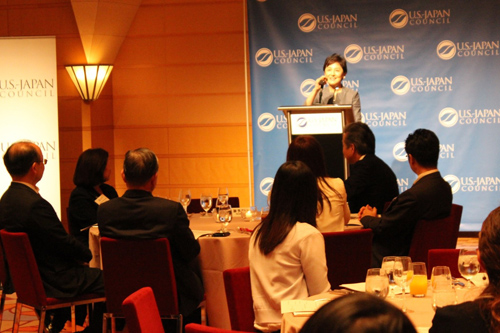 Ms. Kuniya, who is a Member of the USJC Board of Councilors, began her speech by explaining how she started her career in journalism. Before she became the anchor for the news program "Close-up Gendai," she worked as an anchor for English-language broadcasts of NHK's "Seven O' Clock News" and as researcher for the satellite news shows "NHK Special" and "Asia Now." She then began hosting "Close-up Gendai," which digs deep into the trends and various changes that take place in Japanese society. Serving as an anchor of the show for 23 years, she always believed in the power of words, and tried to seek the truth behind complex issues by asking tough questions.
After her speech, Ms. Kuniya met with the attendees and answered countless individual questions. The attendees then enjoyed networking over food and drinks.
Ms. Kuniya will also moderate a panel at the 2016 USJC Annual Conference called "Women's Advancing Leadership in the Workplace and the World." We hope to see you there!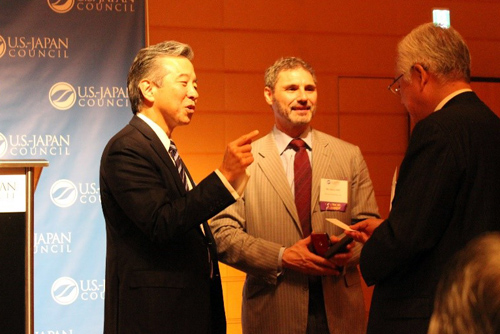 Click here to see more photos.







2016 USJC Annual Conference
Spotlight On: Leadership Innovation in the 3.11 Crisis
No one was prepared for the 3.11 Triple Disaster. Despite the odds, Operation Tomodachi supported Tohoku's relief and recovery, including the heroic reopening of Sendai Airport. Over time, this cooperation evolved into the TOMODACHI Initiative, an unprecedented partnership. What were those initial harrowing days of uncertainty like for decision makers in both countries? How did innovative leadership make a difference? What lessons apply to future crises and for the bilateral relationship? This panel invites eye witnesses of senior decision making to share their insights into the challenges, successes and lessons of the Great East Japan Earthquake.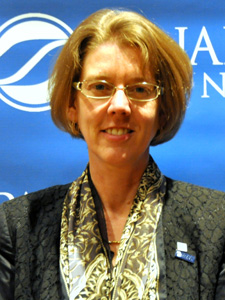 Suzanne Basalla
Chairman,
CEO and
President,
Northrop
Grumman
Corporation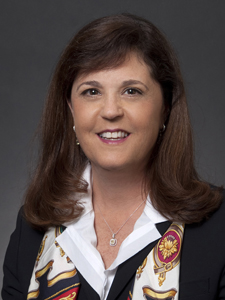 Susan H. Roos
CEO &
Representative
Director,
Industrial
Growth
Platform, Inc.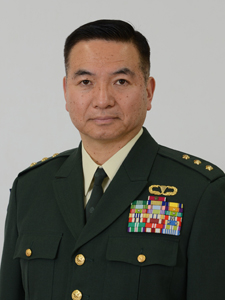 Koichiro Bansho
Commissioner,
Japanese
Financial
Services Agency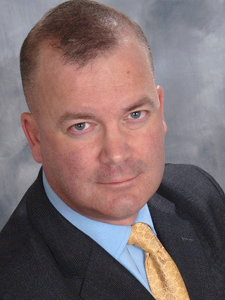 James R. Kendall
President &
Representative
Director,
BT Japan
Corporation;
Vice
Chair,
Board of
Councilors,
Keidanren
For more information about speakers, topics and activities, check out the USJC Annual Conference webpage. We hope to see you in Santa Clara in November!
Registration Closing in Four Days!
Register now before registration closes on October 31! Young Professionals (age 40 years & under) will receive a special discounted rate.

The 2016 Annual Conference will be held in Silicon Valley—the center of high-tech startups and development—from November 14 to 15, 2016 (in addition, USJC members will have the opportunity to participate in a special Members Day program prior to the Conference on November 13). With over 60 speakers across both days, the Conference will be attended by hundreds of distinguished American and Japanese leaders from all sectors, and will be an opportunity to advance an innovative agenda in U.S.-Japan relations, exchange views about challenges and opportunities, and identify ways that the U.S.-Japan relationship can be strengthened.
Want to win FREE REGISTRATION for the Conference? Check out our ongoing Social Media Contest!
Recent Events
Japanese Women's Leadership Initiative Brings Together Women Leading Social Change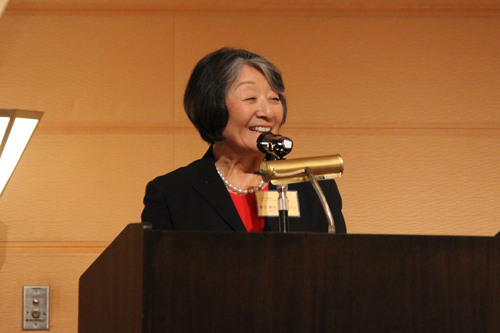 On October 18, the Japanese Women's Leadership Initiative (JWLI), which aims to empower Japanese women to become leaders who create positive social change and innovation, hosted the JWLI 2016 Tokyo Summit. Approximately 300 women from the public, private and nonprofit sectors in Japan and the United States gathered to hear from leaders and network with one another. USJC supported the Summit, and Irene Hirano Inouye, President of USJC, spoke on a panel during the plenary session.
JWLI was founded by Atsuko Toko Fish, who is Trustee of the Fish Family Foundation as well as a USJC Board Member. Every year, JWLI selects four Japanese women to participate in a four-week leadership development program in Boston, where they learn best practices of nonprofit management and operation.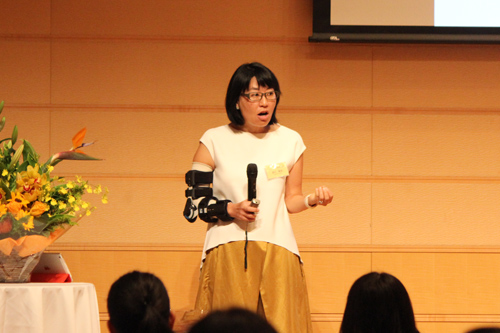 This Summit marked the tenth year anniversary of JWLI. During the Summit, women leaders in the social sector shared their success stories and challenges, and provided a unique opportunity for the participants to learn about social innovation and philanthropy. During the opening session, U.S. Ambassador to Japan Caroline Kennedy greeted the audience in a video message, and the Japanese Minister in charge of Women's Empowerment (as well as Minister of State for Measures for Declining Birthrate and Minister of State for Gender Equality) Katsunobu Kato encouraged women to continue furthering their career while leading social change in Japan.
As a panelist, Irene Hirano Inouye shared the impact the TOMODACHI Initiative has had on program participants, as well as the difference between fundraising in the United States and Japan, and the importance of developing partnerships with donors and implementers. She also discussed the importance of public-private partnerships.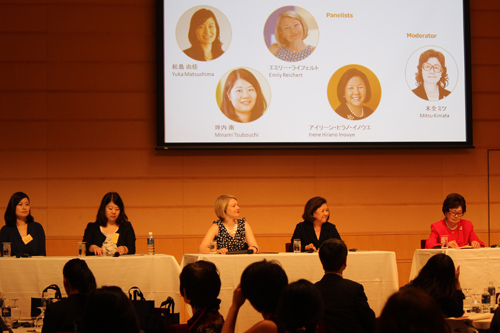 Many of the speakers discussed how it was important for Japanese women to gain confidence and expand their network in order to manage an NPO successfully. During the breakout sessions in the afternoon, the speakers touched upon fundraising skills, partnerships between private companies and nonprofit organizations, and lessons learned from their own personal experience.
Yumi Kuwana, who established Global Citizens Initiative and is a USJC Council Leader, explained that there are various ways to contribute, not only monetarily, but also by using resources such as time and talent.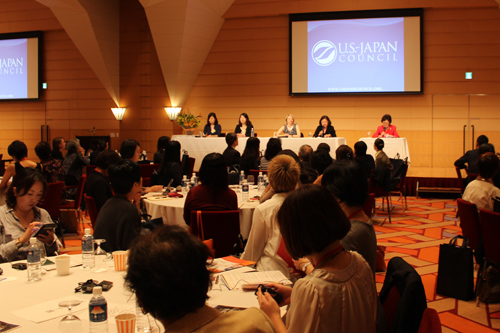 At the closing of the summit, Larry Fish, Trustee of the Fish Family Foundation, cited the inspiring quote by Mahatma Ghandi, "Be the change you wish to see in the world." Atsuko Toko Fish thanked the audience and wished the women leaders continued success.
Regional Women in Leadership Events Continue in Several Regions
A number of regions throughout the United States are hosting events as part of USJC's Regional Women in Leadership (RWL) networking initiative. On October 3, members in and around New York City organized a panel featuring Suzanne Basalla, USJC Associate and TOMODACHI Alumni Manager Kaoru Utada, and Council Leader Nozomi Terao, who each discussed how to develop youth leadership. In Texas, Board Member Donna Cole organized three events in a single week, with topics that spanned the fourth industrial revolution, the next generation workforce, the 2020 Olympics, women in government and business, new population growth in Japan, and the aging population. Likewise, on October 19th and 25th, members in Southern California and the Midwest each hosted luncheons. We look forward to the continuation of these conversations in the next few months.
TOMODACHI News
TOMODACHI Daiwa House Student Leadership Conference in DC Inspires Students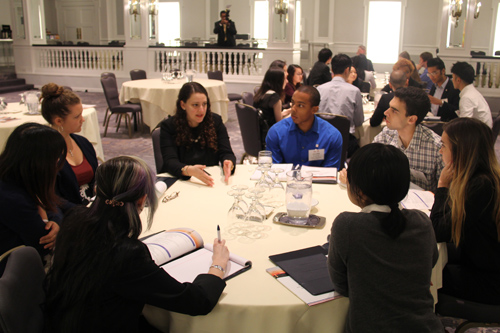 The Third TOMODACHI Daiwa House Student Leadership Conference, held from October 20 to 23, was hugely successful, inspiring dozens of American and Japanese students studying in Washington, DC and beyond. Themed "U.S.-Japan Relations in the Nation's Capital: Leadership, Legacy and Public Service," the conference welcomed students attending a college or university in Pennsylvania, Delaware, Maryland, Virginia, DC, North Carolina and South Carolina.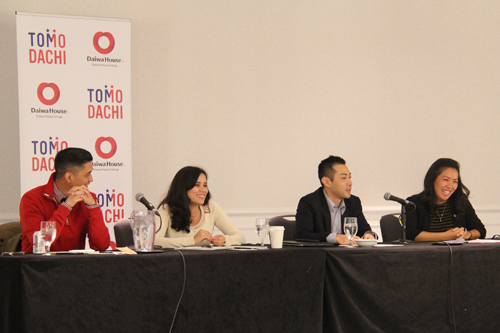 The jam-packed program included speeches by Joe Young, Director for Japanese Affairs, U.S. Department of State; David Nakamura, Staff Writer at The Washington Post; and R. Michael Schiffer, Senior Advisor/Counselor at the U.S. Senate Foreign Relations Committee, who each spoke about U.S. diplomacy, the challenges of covering the White House during the election season, and the U.S. legislative system. The students also heard from Nobuko Sasae, Conference Interpreter and wife of Ambassador Kenichiro Sasae, and learned about her work in supporting women's leadership, as well as how she balances a global career with responsibilities as the ambassador's spouse. Mary Murakami, who was interned during the war, and Lt. Col Michael J. Yaguchi (Ret.) of the Japanese American Veterans Association spoke about their experience as Japanese American leaders. Panels and a speed-dating style roundtable discussion featured dozens of DC leaders affiliated with Japan, including heads of nonprofit organizations, educators, scholars, diplomats and journalists. The students also networked with USJC staff and young professionals during meals, learning about how they came to work in U.S.-Japan relations.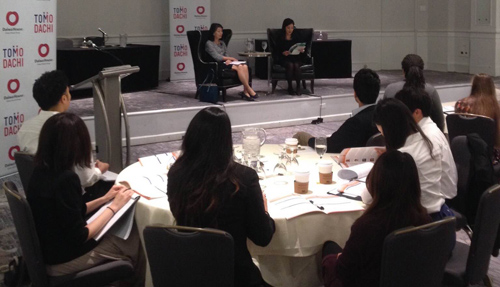 ELP alumni and USJC Associates were also actively involved, two of them traveling from Houston and Boston. Sonya Kuki, Lianna Kushi, Brandon Mita and Rei Tsuchiya spoke about their experience as young professionals and how they first began pursuing their careers. Kuriko Hasegawa Wong, Vice President at FleishmanHillard, conducted a workshop on effective communication.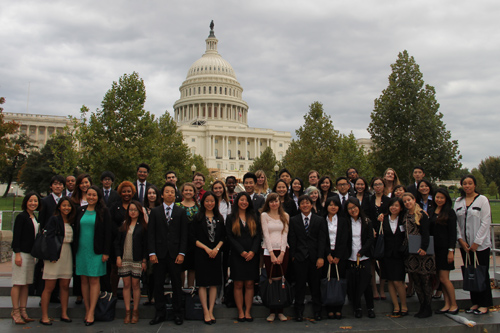 Upon the conclusion of the conference, the students said that they learned about different careers from the many leaders who spoke, as well as general advice on professionalism, pursuing your dreams, and how to contribute to U.S.-Japan relations in your own unique way. We thank Daiwa House and all the individuals and organizations that made this program possible!

Click here to see the print program, which includes the biographies of the students, speakers and supporters.
Celebrating UNIQLO's Ten Years in America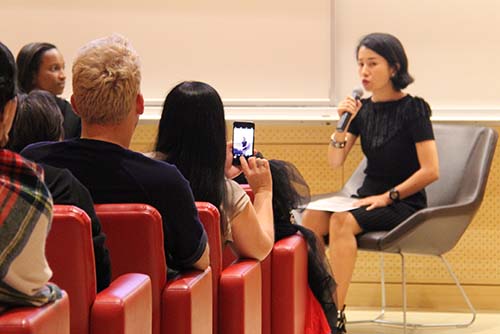 On October 18, USJC members in New York City attended an evening celebrating ten years of Japan's iconic brand, UNIQLO, in the United States. Sponsored by USJC and hosted by the Parsons School of Design at The New School, this event featured wide-ranging discussions about UNIQLO, fashion retail trends, and the interplay between creativity and commerce in design.
The opening panel was moderated by celebrated fashion journalist Lynn Yaeger of Vogue magazine. She engaged UNIQLO leaders Yuki Katsuta and Fumito Kitamura in a conversation about how UNIQLO manages to stay a "cool" brand across so many markets over the years. The speakers emphasized that UNIQLO's focus is on the individual wearing the products and not simply the products themselves. At the same time, UNIQLO applies discipline in its design to ensure that the products meet, and even anticipate, customers' needs. They added that UNIQLO's approach is to think about "style" over "fashion."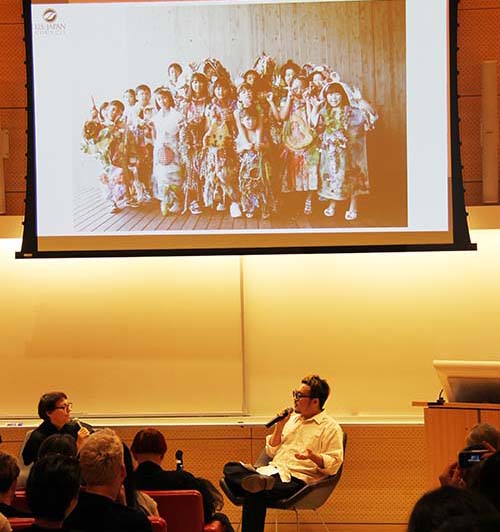 The next panel focused on the business of fashion retail, featuring two young professionals in the industry. Nicole Beach, Senior Merchandise Planner, shared her career at UNIQLO moving from store manager to her current corporate position, and provided insights into life inside the company as an American employee. Yo Douglas, a 2014 TOMODACHI UNIQLO Fellow who graduated from the Fashion Institute of Technology (FIT) in December 2015, spoke about the importance of global customers in her work at Gilt Groupe and how FIT's Global Fashion Management program helped prepare her for the globalization of the fashion retail industry.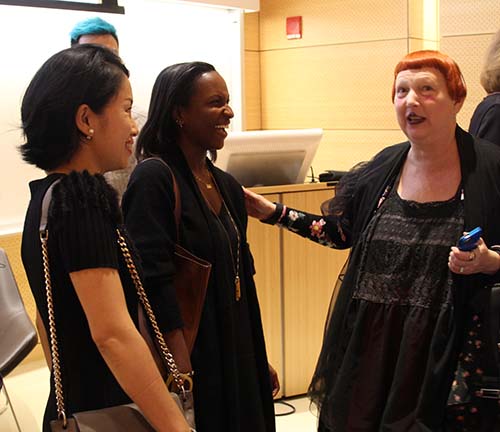 In the final panel, Ryohei Kawanishi, a 2013 TOMODACHI UNIQLO Fellow and USJC Associate who completed his Master of Fine Arts at Parsons's Design and Society program in May 2015, showed the audience images from his collections. He talked about how studying in New York City has allowed him to combine his creative, political designs with a commercial approach, leading him to launch his own menswear line, LANDLORD. He also spoke about the lessons he learned during his internship with UNIQLO and the opportunities to contribute to society through Corporate Social Responsibility (CSR) activities. The audience of students, business leaders, educators, and fans of the brand enjoyed learning about UNIQLO's history in the United States, getting insights into the brand's mystique, and learning from young professionals in the fashion world.

Click here to see more photos from the event.

Participants of the TOMODACHI Disability Leadership Program in America Welcomed in Washington, DC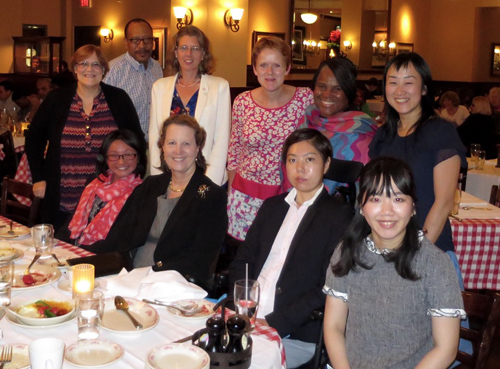 From October 19 to 20, three young women participating in the TOMODACHI Disability Leadership Program in America visited the DC region, meeting leaders of Northrop Grumman Corporation as well as local community leaders.
The TOMODACHI Disability Leadership Program, generously supported by Northrop Grumman, is implemented by the Institute for Community Inclusion (ICI) at UMass Boston. The three Japanese women are taking part in a five-month internship program in Boston, which is designed to support their future careers in disability leadership. Yui Awai, a student at Waseda University, is exploring how students with disabilities in the United States access college and how they advocate for themselves. Toshiko Kudo, a former peer counselor at the Tachikawa Independent Living Center in Tokyo, studies public transportation systems that are accessible to a diverse groups of users, including people with a range of disabilities. Tomomi Takata, a network engineer at Avinton Japan in Tokyo, examines the practical application of universal design to make public physical spaces accessible to all.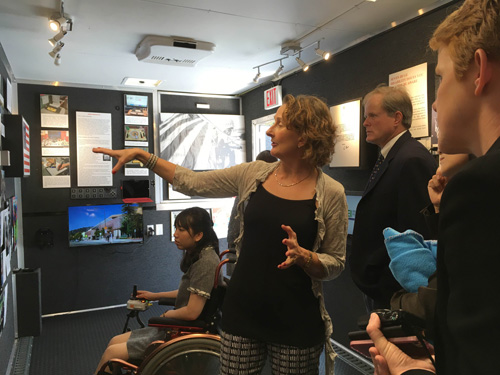 The DC trip was made possible by Northrop Grumman, which invited the young women to their Colshire Office in northern Virginia, in conjunction with a visit by the Disability Rights Museum on Wheels. Heike Boeltzig-Brown and Miwa Tanabe, Program Director and Program Coordinator at ICI, respectively, accompanied them. The women attended a DC Metro Business Leadership Network (DCBLN) meeting, where they shared their experience and heard from community leaders who are also committed to supporting disability leadership. They then participated in the event celebrating the Disability Rights Museum, which began with remarks by Sandra Evers-Manly, Vice President of Global Corporate Responsibility at Northrop Grumman; Teri Marconi, Mission Systems Vice President and executive lead for the Victory Over Impairment and Challenge Enterprise employee resource group; and Jill Houghton, USBLN CEO and President. The women then toured the Disability Rights Museum, and with the guidance of Eric Neudel and his wife Alison Gilkey, the curators of the museum who also produced the documentary Lives Worth Living, learned about the fight for disability rights in the United States.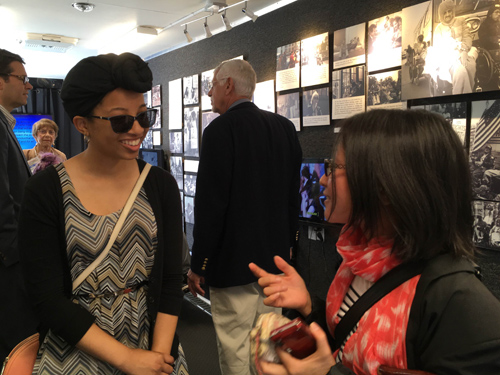 Other events that the women took part in included a dinner on October 19 with Northrop Grumman's Diversity and Inclusion team, and a meeting with Embassy of Japan officials on October 20, where they learned about the Japanese government's priorities and community activities in the DC region.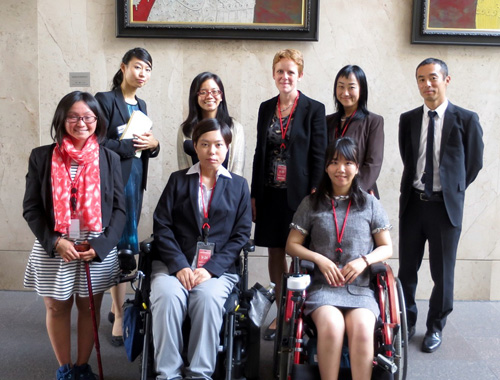 Meeting with the Governor of Fukushima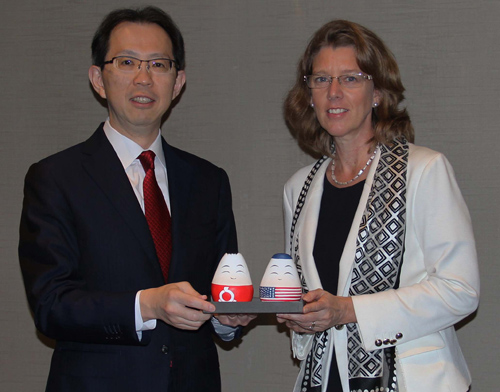 On October 18, USJC Executive Vice President & COO Suzanne Basalla met with the Governor of Fukushima, the Honorable Masao Uchibori, to discuss the TOMODACHI Initiative's support to young people in the prefecture since the Great East Japan Earthquake. Governor Uchibori expressed deep appreciation to TOMODACHI and its many corporate supporters and implementing partners for the numerous exchanges and leadership programs that have provided encouragement, opportunity and confidence to the young people of Fukushima, restoring their sense of pride in their hometown. They discussed areas of focus for future programs to further support Fukushima's long-term recovery, and reiterated their shared commitment to continue investing in the next generation of leaders from Fukushima.
TOMODACHI ELP News
The following is part of a year-long series of articles by the 2015 class of the TOMODACHI Emerging Leaders Program.
Reflection from Winston Akira Taira (ELP 2015)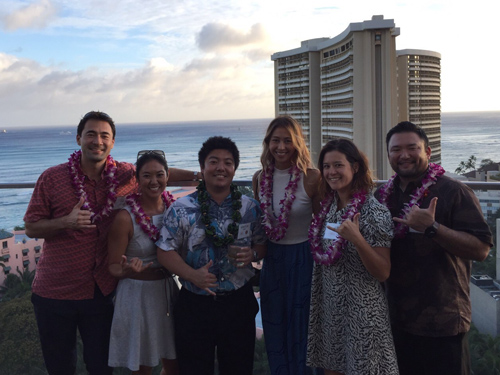 Around this time last year, I waited anxiously in preparation for attending the 2015 Annual Conference in Tokyo. Quite honestly, I didn't know what to expect. I was entrenched with work as we were entering our peak holiday season and worried about taking so much time off. Further, USJC would mark the first outside organization I would join as a working professional. Traveling internationally to meet 11 new classmates at an Annual Conference seemed nerve-wracking at the time.
But joining USJC has been one of the best decisions of my life. I've had the opportunity and privilege to connect with so many brilliant classmates and other USJC members from across the world. These are individuals who are extremely well-accomplished, always willing to lend a helping hand, and most importantly, individuals who share a passion for promoting U.S.-Japan relations.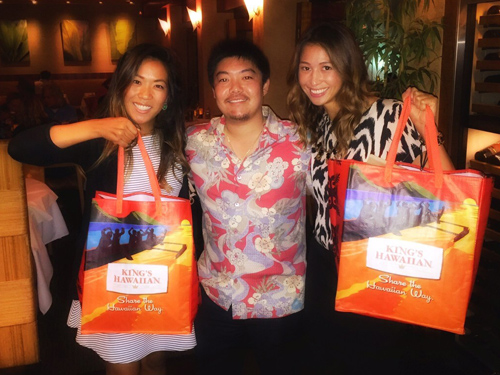 There is not a week that passes by without our classmates – our family, really – conversing over LINE, informing each other about recent life updates. But our bonds are so strong that many of us have traveled to visit each other throughout this past year. Prior to moving from Los Angeles to Atlanta earlier this summer, I had the privilege of seeing almost all my ELP class family, including many ELP alumni from previous years. From Los Angeles to Hawaii, Chicago, New York and Washington, DC, we've been able to get together to reflect on last year's Annual Conference experience – a truly life-changing experience for many of us.
It is with great honor that I close out our 2015 ELP Class Reflections. For me, moving away from family and friends to a new city across the country, keeping in touch with my ELP family has been a blessing. Much of this week's conversation has been related to the upcoming Annual Conference, organizing team outings and planning housing arrangements. While I will be unable to attend this year's Conference, I know that I will live vicariously through my fellow ELP family in what will surely be a productive and fun week.
In anticipation of the upcoming 2016 Annual Conference, I would like to usher in the new 2016 ELP Class. You will soon meet lifetime friends, forming valuable relationships that will last forever. Immerse yourselves in the Annual Conference programming, and take advantage of this once-in-a-lifetime opportunity. Welcome to the Family!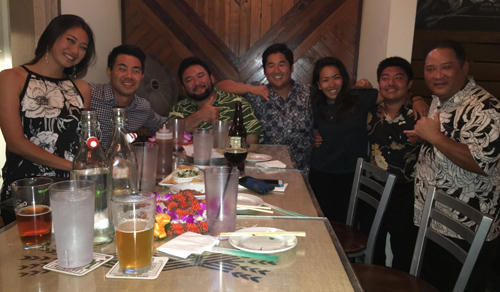 Member News
Susan Onuma Featured as a Pioneering Woman
Council Leader Susan Onuma was featured on Fujisankei Communications International as part of a series titled "Breaking Out: Pioneering Women." This series focuses on Japanese and Japanese American women who are leaders in the United States. Ms. Onuma's video discusses her career as an attorney, her upbringing in New York, and how she came to work in U.S.-Japan relations. She is now involved with seven organizations, including USJC, and is committed to giving back to the community.

Click here on the image below to see the video! (The screenshot below comes from the RWL event in New York referred in "Recent Events" above, and includes Ms. Utada (left) and Ms. Basalla (right).)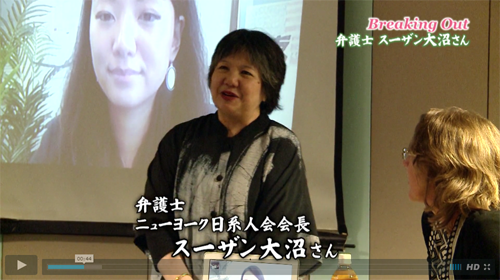 Upcoming Events
Women in Leadership: A Global Perspective
When: November 7, 2016 at Noon – 1:30pm
Where: Trade Development Alliance Of Greater Seattle (Seattle, WA)
Join the Trade Development Alliance and USJC for a lunch discussion on the rising role of global women leaders in the context of Japan's Womenomics Agenda. Vice Chair of USJC Board of Directors Phyllis Campbell (Pacific Northwest Chairman of JP Morgan Chase), USJC Council Leaders Rita Brogan (Founder of PRR) and Lori Matsukawa (News Anchor for KING5), and CEO & Co-Founder of IndieFlix Scilla Andreen will talk about the achievements and challenges they have faced throughout their careers, and discuss how to create more opportunities for women. This event is part of USJC's Regional Women in Leadership initiative.
Japanese Hidden Gems Technology Pitching & Networking Event

When: November 16, 2016, 2-6pm
Where: Plug and Play Tech Center (440 North Wolfe Road Sunnyvale, CA 94085)
At this free networking event, Silicon Valley-based companies will have the opportunity to identify and collaborate with cutting-edge technologies in Japan. Twenty-five companies from five Japanese prefectures will participate and pitch their products in five segments: ICT, healthcare, automotive, manufacturing and consumer service. Companies interested in collaborating with Japanese "hidden gems" technologies in the U.S. or expanding abroad through strategic partnerships are encouraged to attend. This event is organized by the Japan External Trade Organization (JETRO) in conjunction with Fukuoka, Hiroshima, Oita, Okayama and Shizuoka prefectures. Click here to register or to learn more.
George Takei's Allegiance on the Big Screen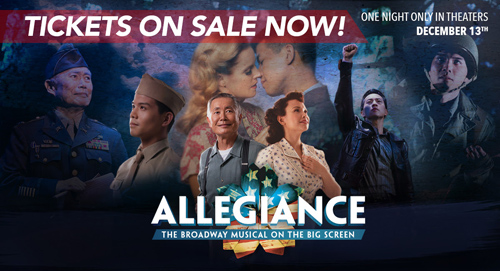 When: December 13, 2016 at 7:30pm
Where: Select Movie Theaters
More than 600 theaters nationwide will show the cinematic version of Allegiance, created by Member of the USJC Board of Councilors George Takei, on Tuesday, December 13th. It will be shown for one night only, at 7:30 p.m. local time. The film will include an introduction from Mr. Takei, as well as behind-the-scenes footage and taped interviews with the cast and creators. Allegiance is a musical inspired by Mr. Takei's own experience, and tells the story of a family upended by the internment of Japanese Americans during WWII. Tickets can be purchased at //allegiancemusical.com/article/film-theater-locations/ or at participating theater box offices (theaters and participants are subject to change).