Boston Members Discuss Security Challenges in East Asia
On August 26, the Fish Family Foundation (FFF) and the USJC New England Chapter co-hosted a lunch lecture in Boston, welcoming Dr. Shinju Fujihira, Executive Director of the Program on U.S.-Japan Relations at the Weatherhead Center for International Affairs at Harvard University, as a featured speaker.
This talk was part of the Lecture Series led by Shoko Asei, a student intern at FFF, who received a summer grant from the Fletcher School of Law and Diplomacy at Tufts University. Ms. Asei warmly welcomed attendees represented by a rich variety of professions, including scholars, nonprofit and business professionals, as well as students and their friends and families. Lianna Kushi, USJC Associate, shared USJC's goals and missions and elaborated on how the Council strives to strengthen U.S.-Japan relations through people-to-people relationships. Ms. Kushi also spoke about the USJC Annual Conference that will take place in Silicon Valley in November and encouraged the attendees to stay tuned for future events.
Ms. Kushi introduced Dr. Fujihira and expressed her enthusiasm for his presentation on such a timely topic concerning East Asia's security challenges and the future of U.S.-Japan relations. During his 40-minute talk, Dr. Fujihira detailed the history of how the U.S.-Japan Security Alliance was shaped. He also explained some of the concerning trends and patterns recently observed in politics, as well as military and economic shifts suggested by recent statistics. Dr. Fujihira emphasized how East Asia today faces a number of sensitive security challenges, including territorial disputes and nuclear threats. He concluded by stressing that these problems would likely remain for decades and that it would be critical for the parties concerned to work closely together and manage the crisis.
Despite the serious nature of the topic, Dr. Fujihira kept attendees' attention with his witty humor. After the Q&A, the attendees enjoying networking and catching up with one another over sushi. We thank Dr. Fujihira for the insightful presentation.

USJC thanks the Fish Family Foundation for this recap and for organizing the event!
2016 USJC Annual Conference
Spotlight On: Medical & Health Technology Innovations
U.S.-Japan collaborations are bringing to the world cutting-edge advancements in medical and health technology. Join leading innovators and thinkers who will discuss the current challenges and opportunities in this rapidly developing field.
Moderator: Speakers: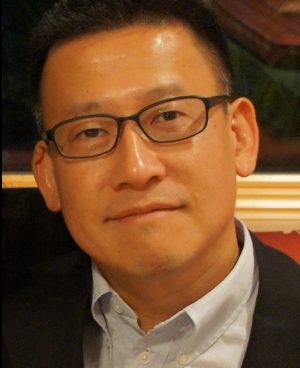 Phillip C. Yang
Associate Professor of
Medicine (Cardiovascular
Medicine), Stanford
University School of
Medicine

Kyoko Watanabe
Managing Director,
DEFTA Partners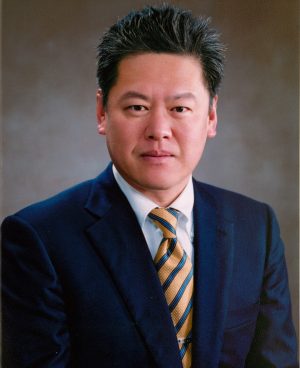 Fumiaki Ikeno
Program Director (U.S.)
Japan Biodesign, Stanford
Biodesign & Medical
Director/Research
Associate, Experimental
Interventional Laboratory,
Div. of Cardiology,
Stanford University
Tyler J. Marciniak
Director, Corporate Affairs
& Head of Product
Communications, Astellas
Americas
For more information about speakers, topics and activities, check out the USJC Annual Conference webpage. We hope to see you in Santa Clara in November!
Regular Registration Deadline Ending Soon
Register now before rates increase for the "Final Call" period beginning on October 1! Young Professionals (age 40 years & under) will receive a special discounted rate!

The 2016 Annual Conference will be held in Silicon Valley—the center of high-tech startups and development—from November 14 to 15, 2016 (in addition, USJC members will have the opportunity to participate in a special Members Day program prior to the Conference on November 13). With over 60 speakers across both days, the Conference will be attended by hundreds of distinguished American and Japanese leaders from all sectors, and will be an opportunity to advance an innovative agenda in U.S.-Japan relations, exchange views about challenges and opportunities, and identify ways that the U.S.-Japan relationship can be strengthened.
Want to win FREE REGISTRATION for the Conference? Check out our ongoing Social Media Contest!
Recent Events
Japan Region Continues Benkyokai Dinner Series with Glen S. Fukushima
On August 23, fourteen USJC members and guests gathered for the USJC Japan Region's second Benkyokai Dinner. This meeting featured Glen S. Fukushima, a member of the USJC's Board of Councilors and Senior Fellow at the Center for American Progress, a public think tank headquartered in Washington, DC. Japan Regional Chair Russell Kawahara convened and chaired the meeting, during which Mr. Fukushima shared his perspectives on the 2016 U.S. presidential and senatorial elections. In his remarks and in the Q&A discussion that followed, Mr. Fukushima explained the surprising aspects of this year's presidential election and its potential significance. He also discussed the Trans-Pacific Partnership and the "Tilt to Asia." USJC thanks Japan Region Planning Committee Member, Yuko Kawahara, for organizing this event.
Reception for Members, Supporters and Sponsors Held in New York
Gary Moriwaki, Vice Chair of USJC's Board of Directors, hosted a special reception in New York City on September 8. An exceptionally delicious buffet of Chinese fare and lively conversation included Ambassador and Consul-General of Japan in New York Reiichiro Takahashi, and top executives of Mitsui & Co. (USA), MUFG Union Bank N.A., iX Capital Partners, Kawasaki Heavy Industries (USA), The Prudential Insurance Company of America, and many more. We thank Mr. Moriwaki and all the guests!
TOMODACHI News
USJC Members and Supporters Welcome Japanese Mitsui Delegates to DC
On September 15, about 20 USJC members, supporters and staff joined ten Japanese delegates of the 2016 TOMODACHI-Mitsui & Co. Leadership Program for breakfast, welcoming them to Washington, DC.


This program enables American and Japanese young professionals to travel to each other's country for one week to engage with leaders from business and government. The American delegation traveled to Fukushima Prefecture and Tokyo in July. The Japanese delegation has just arrived in DC after visiting Detroit.
The Japanese delegates hail from regions ranging from Tohoku to Okinawa, and work in local governments and businesses. During the breakfast, the delegates discussed how they were inspired by the Detroit leaders' entrepreneurial spirit, as well as their passion for their hometown and in revitalizing the local economy. The delegates also shared their excitement in kicking off the Washington itinerary and learning more about the U.S.-Japan relationship from a political perspective.
Other speakers at the breakfast included USJC Executive Vice President and COO Suzanne Basalla, USJC Senior Vice President Kaz Maniwa, Council Leader Wesley Stockstill, Mitsui representative Rika Yoshikawa and 2016 American Mitsui delegate Leslie DeMoss. Guests included USJC members Margaret Cummisky, Peter Kelley, Edson Mori, Mark Uyeda and Dawn Yamane Hewett, as well as supporters from the Embassy of Japan and the U.S. State Department.
Click here to see more photos.
2013 Mitsui Delegate's Sake Selected as G7 Gift
In other news regarding the TOMODACHI-Mitsui & Co. Leadership Program, 2013 delegate Hiroyuki Karahashi's Aizu Homare Banshu Yamada Junmai Daiginjo sake was selected as a gift from Prime Minister Abe to G7 leaders at the 2016 G7 Ise-Shima Summit. The sake was produced by Homare Sake Brewery Co., where Mr. Karahashi is president. The brewery sits at the foot of Mt. Iide in Fukushima prefecture and is the largest sake brewery in the Aizu area. Aizu Homare has been awarded 13 gold medals in Japanese sake competitions and won first prize "Champion Sake" in the International Wine Challenge in 2015.

TOMODACHI Daiwa House Student Leadership Conference: Applications Open

Calling all American and Japanese undergraduate and graduate students attending colleges or universities in the mid-Atlantic region: we are currently recruiting for participants to join the TOMODACHI Daiwa House Student Leadership Conference. This is a 3-day leadership program that brings together Americans who are interested in U.S.-Japan relations (broadly defined) with Japanese students in the United States. It will be held from October 20 to 23 in Washington, DC this year. The deadline for applying is September 19 at 11:59p.m. Eastern time. More information about the conference and application instructions can be found here.
TOMODACHI ELP News
The following is part of a year-long series of articles by the 2015 class of the TOMODACHI Emerging Leaders Program.
Reflection from Michael Bosack (ELP 2015)
2016 has been a whirlwind year for the U.S.-Japan alliance. As the Deputy Chief of Government Relations for U.S. Forces, Japan, I have had the fortunate predicament of being in the middle of much of it, and the insights I gained during the Emerging Leaders Program was essential in my decision-making while responding to those myriad issues.

It started with the North Korean nuclear test in January, continuing with additional DPRK missile launches, the Shinzato Incident in Okinawa, ongoing maritime activity in the East China Sea and the implementation of Japan's 2015 Peace and Security Legislation. Each of these have had consequences — good and bad — that tested the strength of the alliance. Through each event and corresponding aftermath, the lessons learned from ELP contributors like James Higa, Emily Murase, Kaz Maniwa, Wally Tsuha, Colbert Matsumoto and others helped inform my responses. Though each individual has a separate legacy in their own right, I was able to take their knowledge and insight and channel it into my own interactions in supporting the U.S.-Japan relationship. I have no doubt that my fellow ELP alumni are doing the same in their respective career fields. Such was the strength of the content of the program.
I also saw the ELP network in action during perhaps the most important event for the U.S.-Japan alliance in 2016. During the first two weeks of April 2016, a series of major earthquakes struck Kyushu, and when the Japanese government declared a national emergency, something astonishing happened: at the same time that my Headquarters was responding in support of the disaster-stricken population, I received an email from fellow ELP alumni. The call was to ask for information on NGOs that were on the ground in Kyushu, so that the alumni included on the email thread could direct funding and support to organizations with an immediate impact. I was able to call directly down to our liaison officers who were on scene in Kumamoto to gather information and pass that right back to the ELPs for action. Like the response to 3.11 before, the United States' support to Japan in the wake of disaster renewed faith in our commitment to this ever-important relationship. And within this broader response, the swift and energetic activity from the ELP network when Japan was in dire need displayed the important legacy that the program has established.
Although the U.S.-Japan relationship is as important as ever, a single generation cannot hope to sustain it. Programs like ELP serve to establish a vital legacy, and it was fulfilling to see its impact firsthand over the past year.







Announcements
2016 Asian American Leadership Delegation Announced
The Asian American Leadership Delegation (AALD) Program provides the opportunity for a select group of Asian American leaders from across the United States to travel to Japan to engage with Japanese leaders in the business, government, academic and non-profit sectors. In collaboration with the National Asian Pacific American Caucus of State Legislators, USJC works with these state legislators to broaden the understanding of the U.S.-Japan relationship in United States legislative bodies and to foster connections among diverse Asian American leaders and Japanese government, business and civil society leaders.
The AALD Program began in 2014, and eleven delegates have participated to date. The 2016 Delegation includes the following six Delegates:
State Senator William C. Espero, Hawaii State Legislature
State Representative Mia Su-Ling Gregerson, Washington State Legislature
Delegate Mark Lee Keam, Virginia General Assembly
Delegate Aruna Miller, Maryland General Assembly
State Representative Prasad Srinivasan, Connecticut General Assembly
State Representative Eugene Y. Wu, Texas Legislature
This year the AALD Program will consist of a one-week trip to Japan in early December, during which the Delegation will visit Kyoto, Osaka and Tokyo to meet with Japanese national and local political and governmental officials, business executives and community leaders to exchange ideas as well as create mutually beneficial networks for short- to long-term collaboration. The AALD Program is generously funded by The Sasakawa Peace Foundation.
Apply Now for the 2017 JALD!
Applications are now open for the 2017 Japanese American Leadership Delegation (JALD) program! This program provides the opportunity for a select group of Japanese American leaders from across the U.S. to travel to Japan to engage with Japanese leaders in the business, government, academic, non-profit and cultural sectors. The Japanese Ministry of Foreign Affairs (MOFA), represented in the U.S. by the Embassy of Japan in Washington, DC and 16 consulate general offices, sponsors the program. USJC provides administration and organization for the program.
Please see the Japanese American Leadership Delegation webpage for more information. The application deadline for this year is September 23, 2016. Trip dates are March 3-11, 2017, with a mandatory pre-trip orientation (January 20-21, 2017) in Los Angeles.
Member News
Kopi Akasaka's Designs in Vogue
TOMODACHI-Uniqlo Fellow and USJC Associate Kopi Akasaka was featured in Vogue! Mr. Akasaka is a designer in the 2016 Parsons School of Design MFA class and is now working on his own clothing line, KOZABURO. On September 7, his collection was featured in a runway show. Read more here.
Upcoming Events
JWLI – Women Leading Social Changes in Japan
When: October 18, 2016 at 9am – 6pm
Where: Tokyo American Club (Tokyo, Japan)
The Japanese Women's Leadership Initiative (JWLI) is celebrating its 10th anniversary by hosting a Tokyo Summit titled "Women Leading Social Changes in Japan." JWLI is led by USJC Board Member Atsuko Fish. Among the speakers at this summit are Irene Hirano Inouye and Council Leader Mari Kuraishi.
This summit will allow participants to:
Observe successful cases of social change in Japan achieved by women leaders
Learn from the U.S experience: "What is different from Japan? What is similar? What can be learned?"
Meet role models from Japan's social sector leaders and social entrepreneurs
Explore obstacles for Japanese women leaders and how to overcome them
To learn more information, please visit the JWLI website or the summit's website.
Opportunities
EXECUTIVE DIRECTOR – U.S.-JAPAN COUNCIL (JAPAN)
USJC seeks a talented, dynamic individual for a newly-created position of Executive Director, U.S.-Japan Council (Japan). The Executive Director will provide leadership and oversight of the Council's general programs and activities and of the TOMODACHI Initiative. This will include responsibility for the implementation of program goals and objectives, providing leadership and oversight of program development and management, fundraising, communications and operations. The Executive Director will be based in Tokyo and manage the staff in Japan and will work closely with the U.S.-Japan Council (U.S.) staff in the United States.

For the full description, please visit the job posting on our website.