First Lady of Japan and Other Leaders Gather for Ocean Symposium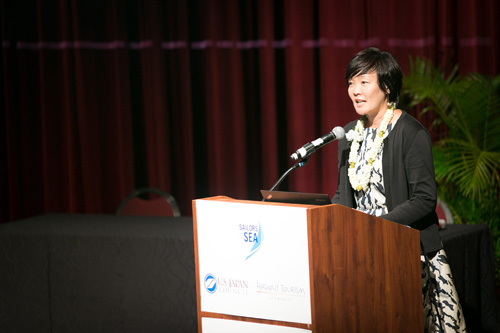 On August 22, USJC and Sailors for the Sea Japan held the Japan-U.S. International Symposium for Ocean Conservation in Hawaii. More than a dozen prominent leaders from both sides of the Pacific, including Akie Abe, the First Lady of Japan, gathered in Honolulu to discuss ocean conservation, the sustainable management of fisheries and more. The event was attended by close to 300 individuals, including leaders from government, business and the civil sector.

At this symposium, women from Japan and the United States, represented by Mrs. Abe and USJC President Irene Hirano Inouye, discussed solutions to protect the ocean. They approached ocean conservation from multiple angles, including policy, education, science and grassroots efforts to promote environmentalism.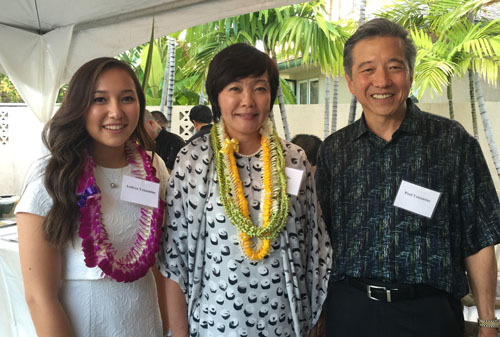 Other speakers included Julie Packard (Executive Director, Monterey Bay Aquarium); Margaret Spring (Vice President, Monterey Bay Aquarium); Meg Caldwell (Board, Monterey Bay Aquarium); Ruth Gates (Director, Hawaii Institute of Marine Biology, University of Hawaii); Takeji Mazuka (President, Sanctuary NPO) and Minako Iue (President, Sailors for the Sea Japan). Aya Higa, the wife of Ernie Higa, USJC (Japan) Board Chairman, emceed the event. A panel of students from Kyoto University, Tokyo University, University of Hawaii and University of Pennsylvania–which included TOMODACHI alumnus David Nakanishi, as well as Aya and Ernie's daughter Jennifer Higa–also provided comments from the perspective of the next generation of leaders.

This event was hosted by Mrs. Abe, Irene Hirano Inouye and Sailors for the Sea Japan, and supported by USJC, the Hawaii Tourism Authority, The David and Lucile Packard Foundation and The Nippon Foundation.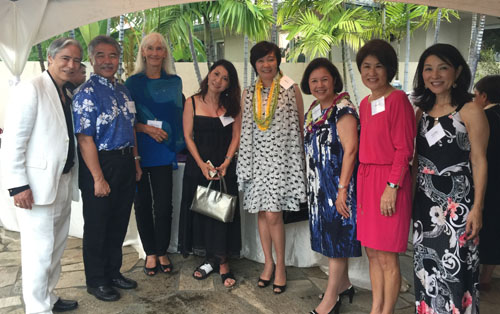 Guests at the symposium included Diet Members Fusae Ota and Yasuyuki Sakai, Members of the USJC Board of Councilors Colleen Hanabusa and Governor George Ariyoshi with his wife Jean Ariyoshi, as well as Consul General Yasushi Misawa and his wife Yoko Misawa. Following the Symposium, Governor David Ige and Mrs. Dawn Amano Ige hosted a reception at the Governor's residence, Washington Place, for 150 leaders of Hawaii and the U.S.-Japan community.

Paul Yonamine, Chair of the Board of Councilors, and his wife Lynda hosted a private reception the evening before at their Hawaii residence for the delegation from Japan. Guests included the Iges, the Misawas, Honolulu Mayor Kirk Caldwell and his wife Donna Tanouye, PACOM Commander Admiral Harry Harris, and Mrs. Jean Ariyoshi, along with many prominent Hawaii business leaders. Members of the Board of Councilors Senator Mazie Hirono, Hiro Ogawa and Chef Roy Yamaguchi (who provided great food for the evening) also joined.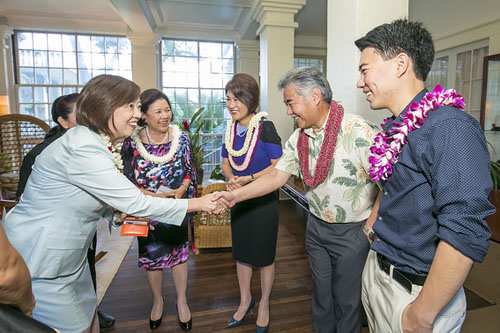 For more photos from the symposium and the two receptions, click here.
TOMODACHI ELP News
U40 Summit Brings Together Young Leaders in U.S.-Japan Community

Thank you to David Kenji Chang for the article, Ginger Vaughn for the photos, and to all Emerging Leaders and Associates who organized this event!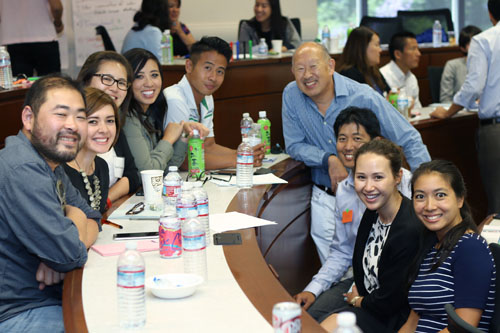 On August 19 and 20, alumni of USJC's TOMODACHI Emerging Leaders Program (ELP) hosted the inaugural USJC U40 Summit in Los Angeles. Over 50 young leaders from the U.S.-Japan community gathered for interactive programming focused on fostering leadership, engagement, and action in U.S.-Japan relations and the Japanese American community.
The U40 Summit was themed "Embracing Risk," with the aim to challenge participants in their careers and community involvement and to align the Summit with the approaching USJC Annual Conference in Silicon Valley. Backed entirely by an ELP-led fundraising campaign, the Summit was made possible through generous support from Distant Lands Coffee, the Prudential Foundation, USJC members and many others. Promotional support was also ELP-generated, including a logo and marketing materials designed by Nico Mizono (ELP '11) and a mobile app.
Programming commenced on August 19 with "Culinary Diplomacy Tours" of two food businesses operated by Japanese American owners – Hawaiian Host and Kings Hawaiian – followed by an opening reception at Loyola Marymount University made possible by Council Leader Curtiss Rooks. Participants reconvened the following morning at the USC Marshall School of Business for a full day of programming. USJC President Irene Hirano Inouye opened with remarks reflecting on her career, the history of USJC and the importance of young leaders in the community. Focus then turned inward to the Summit participants themselves for a schedule designed to "leverage the skills, creativity and astounding talent in the room," explained Summit co-chair Stacy Uchida (ELP '14). The various activities catalyzed dynamic discussion and generated an "idea bank" of initiatives for participants to take back to their home communities. Each region identified at least one idea they pledged to put into action this year.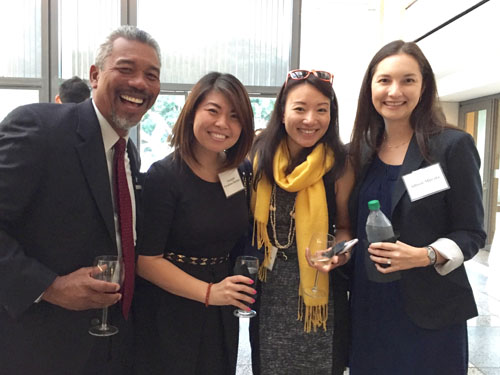 Conceptualized and planned by ELP alumni, the primary purpose of the U40 Summit was to "reach beyond the tight bonds developed among ELPs to welcome a broader community of under-forty leaders, and to create dialogue and pathways to [make a] greater impact in our community," explained Summit co-chair Kei Ashizawa (ELP '13). Attendees were a diverse mix of current and prospective USJC Associates, alumni of the TOMODACHI-Mitsui & Co. Leadership Program and TOMODACHI alumni who traveled from Japan.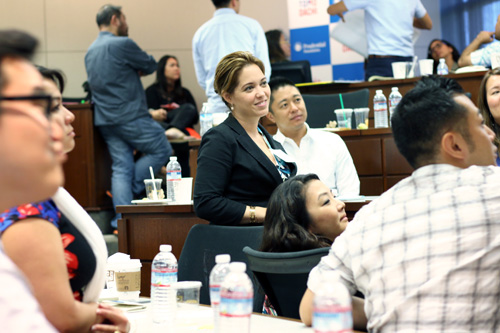 Participants expressed excitement at meeting a group of like-minded leaders. "I wasn't fully aware of the depth and breadth of the TOMODACHI community, especially the next generation . . . The U40 Summit opened my eyes," said TOMODACHI-Mitsui Leadership Program alum Newcombe Clarke. Noe Steadly of Los Angeles added, "Having the chance to see the U40 folks in action changed my view of how this organization works . . . I hadn't experienced this level of passion and enthusiasm before." Both Mr. Clarke and Ms. Steadly expressed enthusiasm about attending again next year.
The U40 Summit was a capstone for the ELP alumni, who have spent a busy 2016 working to make a greater impact within USJC. "The ELP have made remarkable progress in the last year – [becoming] fully integrated into USJC's most important committees and regional activities, and creating their own standalone conference," said USJC Senior Vice President Kaz Maniwa. "The possibilities for next year are limitless."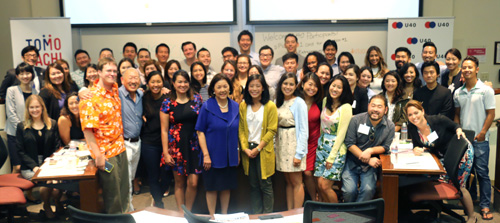 Click here to see more photos from the U40 Summit.
2016 TOMODACHI Emerging Leaders

USJC is proud to announce the members of the 2016 TOMODACHI Emerging Leaders Program. In its seventh year, the program will bring 12 Japanese American young professionals to Silicon Valley, California for the 2016 USJC Annual Conference. The Emerging Leaders will participate in a leadership orientation program, network with high level leaders, attend all conference events and participate in the Annual Members Meeting.
Please join us in welcoming:
Yuri Hongo – Program Associate, World in Tohoku (Tokyo, Japan)
Christine Kitano – Assistant Professor, Ithaca College (Ithaca, NY)
Joshua Morey – COO/EVP, The J. Morey Company, Inc. (Los Angeles, CA)
Ashley Nagaoka – Account Supervisor, Anthology Marketing Group (Honolulu, HI)
Megumi Nakamura – Co-Founder & CEO, Shift Payments (San Francisco, CA)
Kenji Negi – Account Manager, Rakuten Marketing (Chicago, IL)
Erika Ninoyu – Director of Bands, Anchorage School District (Anchorage, AK)
Russell Saito – Director, IMPACT Foundation Japan (Tokyo, Japan)
Sachi Siegelman – Financial Analyst, Worldwide Operations, Apple Inc. (Palo Alto, CA)
Andrea Sugano – Project Manager, CVS Health (Chicago, IL)
Colby Takeda – Administrator, The Plaza Assisted Living (Honolulu, HI)
Sakura Yagi – Operations Officer, TIC (New York, NY)
For more information, see the TOMODACHI Emerging Leaders Program webpage, where their full bios will be uploaded soon!
Recent Events
More than 50 Members and Friends Gather for Picnic in Northern California
Thank you to Kenta Takamori for the article, Dean Yonenaga for the photos, and to all Council members who organized this event!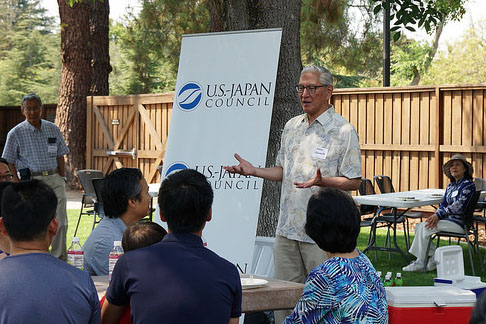 As USJC members in the Northern California region gear up to host the 2016 Annual Conference later this year, the group took an outdoor break to socialize, enjoy sushi, sip refreshing tea donated by Ito En, and network with members and guests.
The event was held on August 21 at the Stanford Campus Recreation Association, hosted by Mariko Yoshihara Yang and Phil Yang, and organized by Kenta Takamori and USJC Senior Vice President Kaz Maniwa. The reliably sunny and breezy weather reminded visitors from out of town why they would be sure to return in November for the conference in Santa Clara.
USJC Board Member Allen Okamoto provided an overview of the upcoming conference, together with Allen's conference co-chair Tasha Yorozu, and Dean Yonenaga of the organizing committee. All attendees were strongly encouraged to register for the Annual Conference early.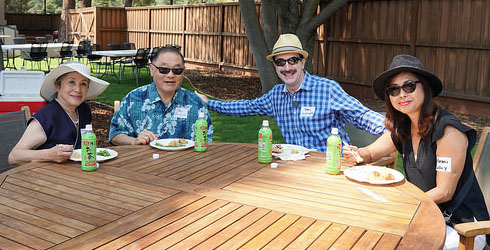 Professor Dan Okimoto, Co-Chair of the Silicon Valley Japan Platform (SVJP) and Member of the USJC Board of Councilors, updated the group on recent developments with SVJP, including fundraising progress, the initiation of monthly discussion groups, and the ongoing Governors' Circle initiative.
The outdoor summer picnic added a welcome dimension of warmth to the deepening professional relationships within the USJC membership. Over 50 members and guests were able to enjoy excellent Japanese food and the beautiful climate, with the right dose of information about the many ongoing USJC activities.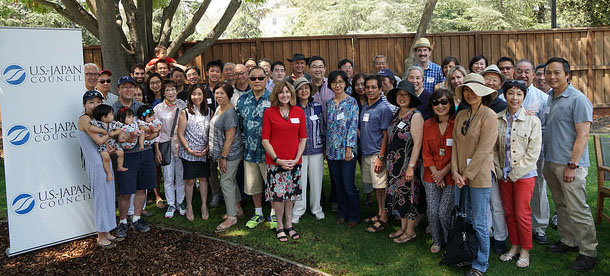 Click here to see more photos from the picnic.
Regional Women in Leadership Dinner Held in Chicago

Thank you to Council Leader Marion Friebus-Flaman for this update!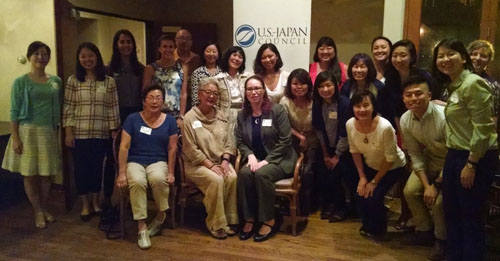 On August 25, USJC members in Chicago held a Regional Women in Leadership dinner, where 21 men and women came together to discuss the issue of work-life balance. Questions that came up were whether this was a challenge for both men and women, whether younger professionals give it higher priority, and if there is a difference for professionals who feel that their work is more of a calling than a job.
DC Summer BBQ Brings Together Members and Friends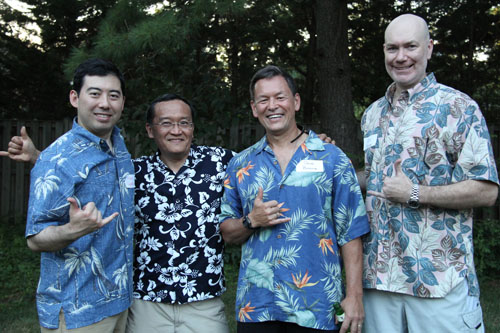 On August 27, nearly 100 attendees enjoyed a summer BBQ hosted by Council Leader Edson Mori–who is Vice Chair of the DC region–at his residence. Mr. Mori grilled traditional Brazilian picanha, and his wife Lisa prepared the side dishes and desserts, including potato salad, onigiri, cheese bread and truffles. Many members brought friends and family members, and everyone spent a relaxing Saturday afternoon over delicious food.

We thank Edson Mori and his family for hosting the BBQ, Regional Chair Mark Uyeda for organizing the event, and all the other members who helped or brought dishes, including Georgette Furukawa-Martinez, Suzanne Basalla, Dave Boone, Leona Hiraoka, Janet Nuzum, Rima Matsumoto, John Tobe and Rei Tsuchiya.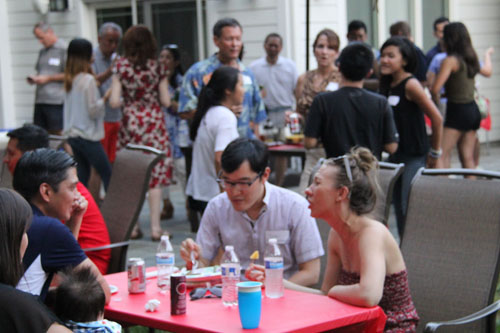 Associates Brandon Mita and Yuuki Shinomiya (with his wife Annie Bird) catch up over food
Click here to see more photos from the BBQ.
TOMODACHI News
Fukushima Students Pay Tribute to Hometown While Visiting New York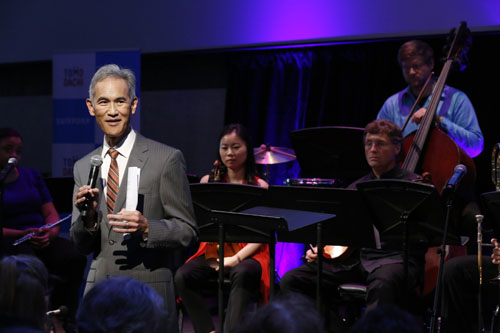 On August 20, more than 200 people gathered at the David Rubenstein Atrium at Lincoln Center to hear TOMODACHI participants from Fukushima perform with the New York Philharmonic. Greeting the audience on behalf of USJC, former Board Member Fred Katayama said, "the U.S.-Japan Council fosters and promotes people-to-people connections through our collaborative program. This program is the perfect example to illustrate our mission." Other USJC members who attended included Julie Azuma, Susan Hamaker, Yumi Higashi and Terry Suzuki.

This concert was the culmination of the week-long TOMODACHI Suntory Fukushima Mirai Music Program, in which eight students from the music club of Fukushima Futaba Mirai Gakuen High School traveled to the United States to participate in a workshop with the New York Phil (continuing the collaboration between TOMODACHI and the Philharmonic in the 2014–15 season). The program aims to help "rehabilitate the hearts" of the students through music. Futaba Mirai Gakuen is a middle and high school established in 2015 when five schools in the Futaba district in Fukushima joined forces to continue their curriculum despite the nuclear accident.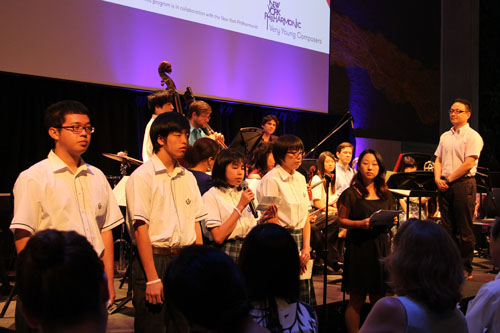 During the program, the students composed music alongside the New York Phil and engaged with very young American composers. Prior to flying to the United States, the students were taught by Takehito Shimazu, an established composer and conductor who is also professor emeritus at Fukushima University, to create a variation of the Japanese folk song "Furusato" (which means "hometown" in Japanese).
Their compilation was followed by a performance by the New York Philharmonic and other guest artists, including a jazz performance by Kumpei Iki (clarinet player) and Takeru Saito (piano player), who are recipients of the TOMODACHI Suntory Music Scholarship Program.

We thank Suntory and the New York Philharmonic, as well as everyone who supported this program!
We thank Suntory and the New York Philharmonic, as well as everyone who supported this program!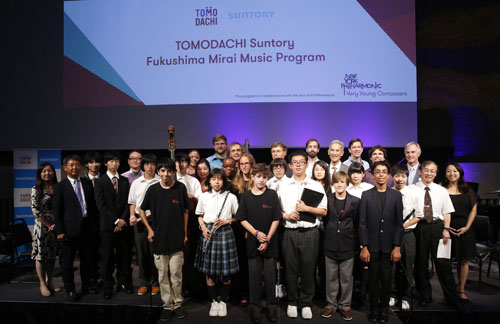 Announcements
2016 USJC Annual Conference
Imagine. Innovate. Inspire. – The Silicon Valley Experience
Have you registered for USJC's Seventh Annual Conference, to be held in Silicon Valley, California? Register now to get the best rate available!
Held in the center of high-tech startups and development, this year's Conference will be an opportunity to advance an innovative agenda in U.S.-Japan relations, exchange views among leaders about challenges and opportunities, and identify ways that the U.S.-Japan relationship can be strengthened. It will be attended by hundreds of distinguished American and Japanese leaders from all sectors, providing a unique opportunity for learning and networking. It will highlight innovation and entrepreneurship, and inspire the next generation of leaders.
Featured keynote speakers this year include Hiroaki Nakanishi, Executive Chairman of Hitachi, LTD., and Brad Smith, President & CLO of Microsoft Corporation.
If you have questions about the 2016 Annual Conference, please contact Shane Graves, Director of Program Development, at [email protected] or +1-202-223-6855.

To register, please visit the USJC Annual Conference webpage in either English or Japanese.
We look forward to seeing you in Silicon Valley in November!

Want to win FREE REGISTRATION for the Conference? Check out our ongoing Social Media Contest!
Apply Now for the 2017 JALD!
Applications are now open for the 2017 Japanese American Leadership Delegation (JALD) program! This program provides the opportunity for a select group of Japanese American leaders from across the U.S. to travel to Japan to engage with Japanese leaders in the business, government, academic, non-profit and cultural sectors. The Japanese Ministry of Foreign Affairs (MOFA), represented in the U.S. by the Embassy of Japan in Washington, DC and 16 consulate general offices, sponsors the program. USJC provides administration and organization for the program.
Please see the Japanese American Leadership Delegation webpage for more information. The application deadline for this year is September 23, 2016. Trip dates are March 3-11, 2017, with a mandatory pre-trip orientation (January 20-21, 2017) in Los Angeles.
Staffing Update: New Digital Communications Specialist
Aya Maher has joined our Washington, DC staff as Digital Communications Specialist. Ms. Maher has extensive experience working in journalism, media relations and digital media. Prior to joining USJC, Ms. Maher worked as a White House reporter for The Asahi Shimbun for six years and managed the production of a digital gastrotourism guide to Japan for Roads & Kingdoms, Microsoft and Anthony Bourdain. Ms. Maher was raised in Tokyo, Fukuoka and Virginia and is bilingual and bicultural. Ms. Maher holds a B.A. in International Relations from Waseda University.
Member News
Members Pay Tribute to Ted Namba
Several USJC members remember fondly their time with the late Council Leader Ted Namba, and spoke at his memorial service in Phoenix and his funeral service in Gardena, California. Council Leader Debra Nakatomi said: "In 2009, I met Ted as fellow delegates in the Japanese American Leadership Delegation. During our travels, he shared about his great-grandfather's journey to the U.S. to fulfill his dreams and of his own desire to help connect the people of the U.S. and Japan. Ted believed that sometimes in life, timing is everything. Ted made every day count. Although his life was far too short, he lived every day helping others with his kindness and generosity. We will all miss his warm smile and big heart." Board Member Stan Koyanagi shares that the funeral service "was quite moving in the revelations of what an amazing person Ted was. Speaker after speaker conveyed remembrances of Ted as a great husband, father, son, brother, community activist and leader in promoting US-Japan relations." To learn more about the life of Dr. Namba, please see this Rafu Shimpo article.
Film Supported by Hiroko Kuniya Shown in Tokyo
Member of the USJC Board of Councilors Hiroko Kuniya has been involved in "The Art of Gaman" exhibit, which features artwork created by Japanese Americans during World War II. Included in this exhibit is a piece depicting an internment camp, painted by the late Jimmy Tsutomu Mirikitani, the protagonist of the documentary "The Cats of Mirikitani." Mr. Mirikitani, who was born in the United States and raised in Hiroshima, lost family members in the Hiroshima bombing while he was interned at the Tule Lake War Relocation Center. The film follows an elderly Mirikitani as he continues to paint in the streets of New York, sharing his anti-war message. The film will be screened in Tokyo from August 27 through September 15 at Eurolive. Ms. Kuniya's article about Mr. Mirikitani and this documentary was featured in Nikkei Shimbun on August 17.
Upcoming Events
JWLI – Women Leading Social Changes in Japan
When: October 18, 2016 at 9am – 6pm
Where: Tokyo American Club (Tokyo, Japan)
The Japanese Women's Leadership Initiative (JWLI) is celebrating its 10th anniversary by hosting a Tokyo Summit titled "Women Leading Social Changes in Japan." JWLI is led by USJC Board Member Atsuko Fish. Among the speakers at this summit are Irene Hirano Inouye and Council Leader Mari Kuraishi.
This summit will allow participants to:
Observe successful cases of social change in Japan achieved by women leaders
Learn from the U.S experience: "What is different from Japan? What is similar? What can be learned?"
Meet role models from Japan's social sector leaders and social entrepreneurs
Explore obstacles for Japanese women leaders and how to overcome them
To learn more information, please visit the JWLI website or the summit's website.
Opportunities
EXECUTIVE DIRECTOR – U.S.-JAPAN COUNCIL (JAPAN)
USJC seeks a talented, dynamic individual for a newly-created position of Executive Director, U.S.-Japan Council (Japan). The Executive Director will provide leadership and oversight of the Council's general programs and activities and of the TOMODACHI Initiative. This will include responsibility for the implementation of program goals and objectives, providing leadership and oversight of program development and management, fundraising, communications and operations. The Executive Director will be based in Tokyo and manage the staff in Japan and will work closely with the U.S.-Japan Council (U.S.) staff in the United States.

For the full description, please visit the job posting on our website.