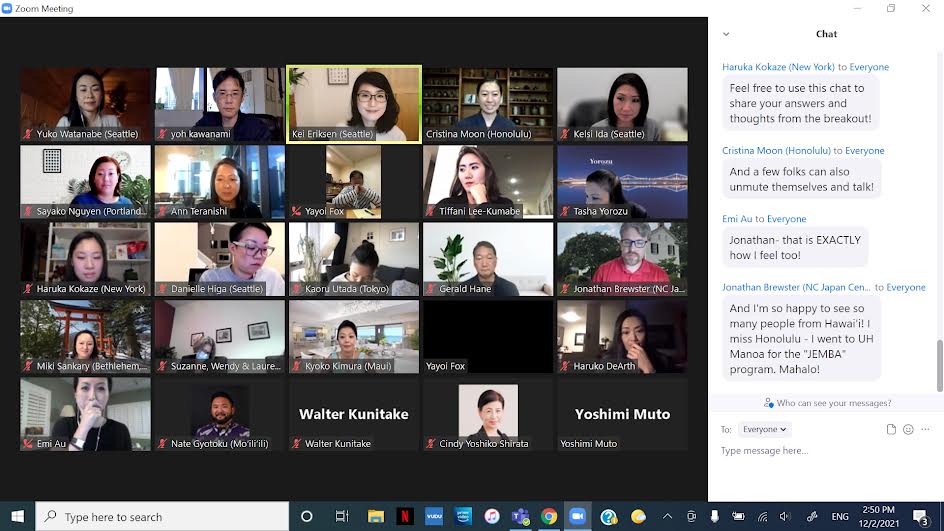 On December 2, 2021, the USJC Pacific Northwest and Hawaii Regions presented an interactive workshop focused on self-care, encouraging participants to take a deep breath and reflect on the past year. The event was led by USJC Associate Reverend Cristina Moon of Chozen-ji, an ordained Rinzai Zen priest in Honolulu, and Council Leader Kei Eriksen of iLEAP, a leadership coach and facilitator from Japan currently based in Seattle.
Approximately 30 attendees from all over the United States, Japan, and even Singapore participated in breathing exercises and facilitation, with time to quietly think and write down their thoughts and share them with others. The two regions attempted a more interactive event while providing the attendees the quiet time to reflect on this past year. USJC's strength was in full effect where people from different geographic areas and different industries were sharing their thoughts openly. A common theme that was presented was the recognition and awareness of gratefulness for each and every day we are given.
Thank you to Cristina and Kei for a wonderful session on self-care. Thank you to Yoh Kawanami and Emi Au for contributing the above article.