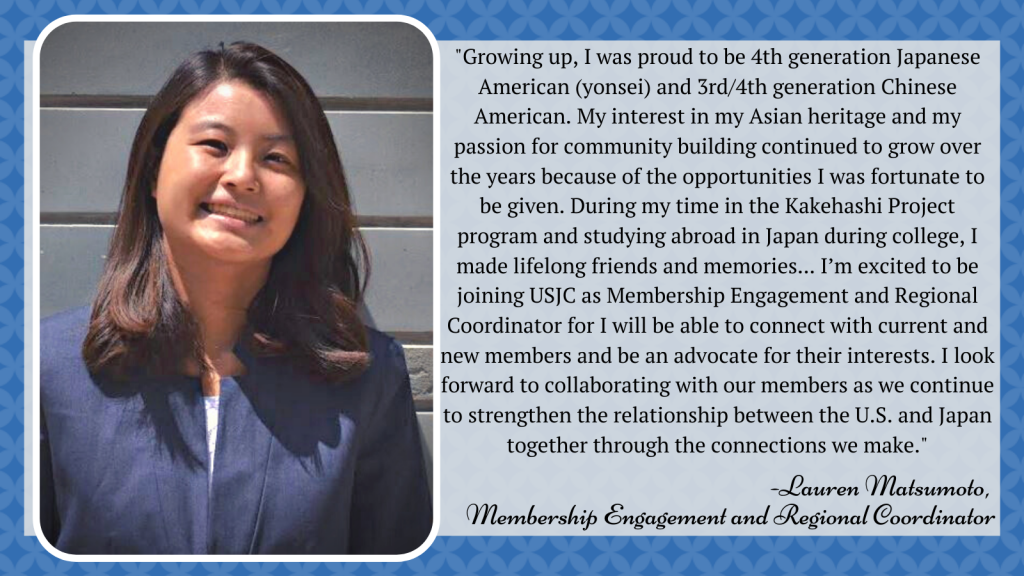 We are excited to welcome USJC's new Membership Engagement and Regional Coordinator, Lauren Matsumoto!
Lauren joins us from San Diego, California, where she works remotely. Prior to joining USJC, Lauren worked as a Senior Client Delivery Analyst at Hive AI in San Francisco. She was a Kakehashi Project participant and in her junior year of college studied abroad at International Christian University. Lauren holds a B.A. in International Studies – International Business with a focus in East Asia and a double minor in Japanese Studies and Accounting from the University of California, San Diego. 
In addition to her experience working in a startup, Lauren brings to USJC her four years of experience as a student leader for UCSD's Nikkei Student Union and student organizer for UCSD's annual NSU and JSA Matsuri. During her time at UCSD and with NSU, she served on the Manzanar at Dusk committee for three years and assisted in creating Katari with the Manzanar Committee. She also served on the advisory council as a student leader for the San Diego chapter of the Japanese American Citizen League and worked with the Pacific Southwest District of national JACL as a stand-in representative at JACL National Convention and the JACL/OCA leadership summit.
"Growing up, I was proud to be 4th generation Japanese American (yonsei) and 3rd/4th generation Chinese American. My interest in my Asian heritage and my passion for community building continued to grow over the years because of the opportunities I was fortunate to be given. During my time in the Kakehashi Project program and studying abroad in Japan during college, I made lifelong friends and memories. These experiences have inspired me to want to create and support opportunities that focus on engaging the global community and strengthening the relationship between the U.S. and Japan. I'm excited to be joining USJC as Membership Engagement and Regional Coordinator for I will be able to connect with current and new members and be an advocate for their interests. I look forward to collaborating with our members as we continue to strengthen the relationship between the U.S. and Japan together through the connections we make."