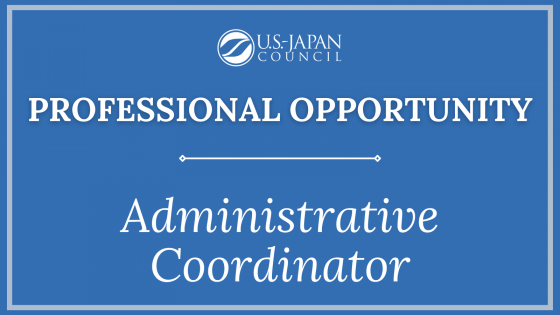 This position will have primary responsibility for operational support to U.S.-Japan Council (Japan). This position is in the Tokyo office with some remote work and reports to the Executive Director of USJC (Japan), and also requires close communication with the U.S.-Japan Council (US) staff based in Washington, DC.
RESPONSIBILITIES
Work with Executive Director of USJC (Japan) and the Development team in WDC, to implement development (fundraising) strategies to achieve annual development goals for USJC (US) and USJC (Japan).
Facilitate development activities, including arranging development meetings with donors and administering the donation processes.
Act as a point of contact for Annual Conference sponsors and provide support for sponsor benefits, registrations and other arrangements.
Coordinate USJC programs in Japan, including arranging the event venue, speaker, room layout, food & beverage, etc.
Coordinate business appointments for the USJC (US) executives when visiting Japan.
Work with USJC regional leaders and members to assist their activities. Also facilitate the enrollment processes for new membership.
Administrative support for USJC (Japan) operations, such as ordering office supplies, sending mail, etc.
Other duties as assigned.
QUALIFICATIONS
Bachelor's Degree is required.
Minimum two years of experience in administration working with senior leadership.
Demonstrated effectiveness in fast-paced environment using her/his own discretion. Commitment to professional ethics in working with highly confidential, sensitive information.
Comfort with ambiguity, the ability to respond adeptly to rapidly changing priorities, and ability to work well under pressure.
Detail-oriented and organized, with the strong ability to successfully multi-task as necessary or requested.
Demonstrated commitment to an USJC's mission and ability to present, inform and motivate individuals and groups about organizational mission and programs.
Excellent verbal and written communication skills. Fluency in English required. Native Japanese language skill is mandatory.
Extensive computer skills, including intermediate or higher level proficiency with Microsoft Office (Excel, PowerPoint, and Word) and experience working with electronic databases.
TO APPLY
Candidates should provide a cover letter, resume and 2-3 professional references to [email protected] (mailto:[email protected]). Please make sure you submit all necessary information and documents.
Successful candidates will be requested for a virtual or in-person interview. Your resume and submitted documents are kept confidential and will not be used for any other purposes than recruiting.
Annual salary will be based on experience and qualification of the candidate. The U.S.-Japan Council does not sponsor visas to work in Japan or fund relocation.