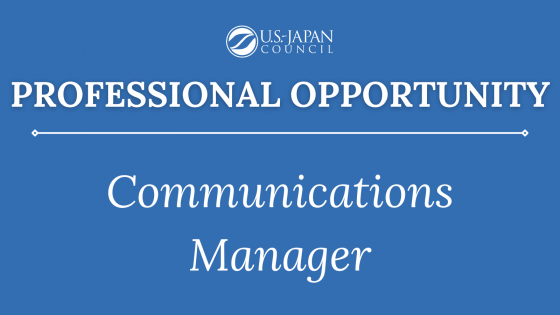 Overview of Organization
The U.S.-Japan Council develops and connects global leaders to create a stronger U.S.-Japan relationship. It is an organization whose members believe people-to-people relationships are a powerful way to bring together leaders in the U.S. and Japan to address and create solutions to mutual concerns. The Council is a 501(c)3 nonprofit educational organization that was founded in 2008 and is headquartered in Washington, DC with staff in California, Hawaii and Tokyo. In 2012, the U.S.-Japan Council (Japan) was created and in 2013, it became a Public Interest Corporation (koeki zaidan hojin). The U.S.-Japan Council (Japan) maintains an office in Tokyo, Japan.
Position Summary
The Communications Manager oversees communications and provides programmatic support to USJC by implementing a communications strategy that advances the vision and mission of the organization. The team ensures consistent presence, messaging and branding of USJC's work across multiple communication channels including social media, website, media relations and print. Partnering with staff from across the organization, the department cultivates messages and stories that propel USJC and its work forward. This position offers an opportunity to make an impact in a growing nonprofit and an opportunity to network with prominent leaders at the forefront of U.S.-Japan relations. 
MAJOR RESPONSIBILITIES:
General
Maintain and implement the USJC Strategic Communications Plan
Sync communications efforts and provide communications support as needed across the organization
Update, maintain, and monitor use of USJC brand and messaging
Publications, Presentations & Website
Draft, review, or edit written materials as requested; draft or edit presentations for President, Board members, or other staff as needed
Lead the design, creation, collection, building and review process of the Annual Conference Program and Annual Report
Manage content and distribution of newsletter; collaborate with other teams as needed in collecting content
Provide design and photography services; work with third-party vendors as needed
Update and maintain the USJC website with new information and archive old information in order to stay relevant
Work closely with the Development team to create sponsorship marketing collateral and ensure appropriate sponsor recognition on website and publications.
Social Media
Work with other departments and Public Relations Manager to create, monitor and populate certain program-specific hashtags for social media purposes
Keep track of social media statistics, prepare reports for the leadership on a quarterly basis; analyze trends and strategize appropriately
Working with the Public Relations Manager, organize and execute social media strategy over all organizational social media accounts (Twitter, Facebook, Instagram, LinkedIn)
REQUIRED QUALIFICATIONS:
Bachelor's Degree with a minimum of five years of experience is required.
Demonstrated commitment to the organization's mission and ability to present, inform and motivate individuals and groups about organizational mission and programs.
Excellent written and oral communication skills
Knowledge of and facility with social media platforms
Ability to work collaboratively with co-workers and volunteers
Comfort with ambiguity, the ability to respond adeptly to rapidly changing priorities, and ability to work well under pressure.
Commitment to professional ethics in working with confidential, sensitive information.
Experience with the use of social media for marketing and development support preferable.
Excellent verbal and written communication skills. Fluency in English required. Some ability in Japanese language is strongly preferred.
WORKING CONDITIONS:
USJC is a multi-time zone operation. The position is fully remote; however, the successful candidate will be required to attend in-person staff meetings from time to time. In addition, the position works a standard work week, but will be expected to work occasional evenings and/or weekends for outreach, socials, or other events as needed.
Requires a strong, consistent, and reliable internet connection and be able to establish an appropriate work environment within his or her home for work purposes.
May require some travel.
To apply, please send CV (resume) and cover letter to: [email protected], subject line, "Communications Manager." Applications will be reviewed upon submission, with the intention to hire as soon as possible.
The U.S.-Japan Council is an EEO/AA employer. All qualified applicants will receive consideration for employment without regard to race, color, religion, gender, national origin, sexual orientation, age, disability, protected veteran status, or any other characteristic protected by law.