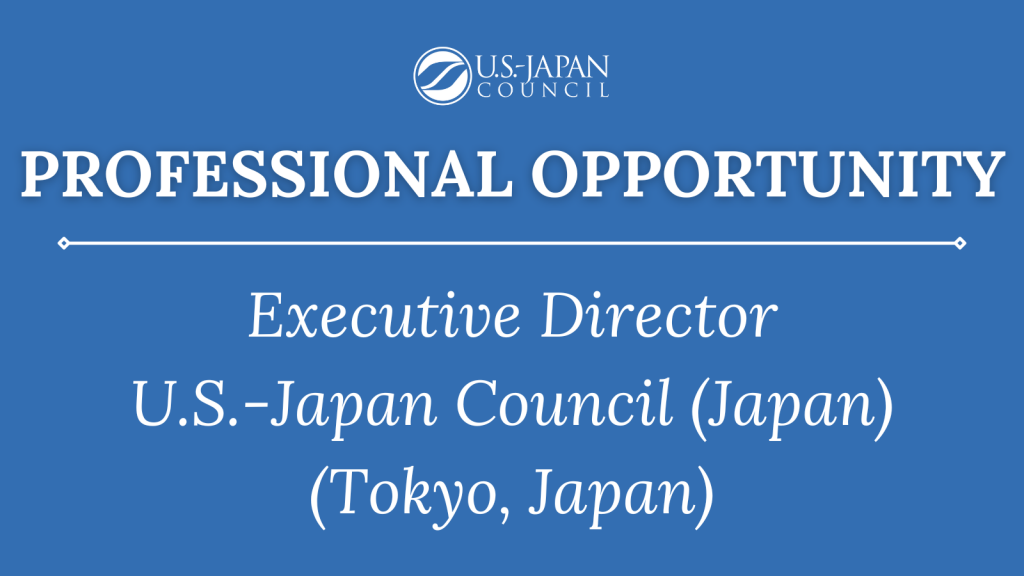 The U.S.-Japan Council (Japan) is a Koeki Zaidan Hojin (Public Interest Incorporated Foundation) in Japan. The Japan entity works closely with the U.S.-Japan Council (U.S.) which is a 501c(3) tax exempt organization headquartered in Washington, D.C. The Japan Council provides educational and networking programs and administers the TOMODACHI Initiative, a public-private partnership forged after the Great East Japan Earthquake in collaboration with the U.S. Embassy in Tokyo and the Government of Japan. The TOMODACHI Initiative invests in the next generation of Japanese and American leaders through educational and cultural exchanges as well as leadership programs. The mission of the Council is to strengthen U.S.-Japan relations through building strong people-to-people relationships.
OVERVIEW OF ROLE
The Council seeks a talented, dynamic individual for a position of Executive Director, U.S.-Japan Council (Japan). The Executive Director will provide leadership and empower the team who conducts the Council's general programs and of the TOMODACHI Initiative. This will include responsibility for the implementation of program goals and objectives, providing leadership and oversight of program development and management, fundraising, communications and operations. The Executive Director will be based in the Metropolitan area (teleworking from home is permitted) and manage the staff in Japan and will work closely with the U.S.-Japan Council (U.S.) staff in the United States.
RESPONSIBILITIES
Management
Lead the U.S.-Japan Council (Japan) and TOMODACHI Initiative in Japan, working with the USJC (Japan) Board of Directors and Board of Councilors, USJC members and USJC staff as required.
Provide support for meetings of the Board of Directors and Councilors and associated governance requirements.
Manage the day-to-day activities of the Tokyo office, including supervising staff in Japan, and overseeing the management of interns, volunteers and consultants who may be assigned to work.
Ensure compliance with Council policies and procedures.
Manage the documentation to be publicly filed as Koeki Zaidan Hojin (business plans, financial reports, business reports, etc.)
Provide information as required to professional advisors, including legal and financial counsel.
Programming
Manage program plans, budgets, etc., especially as they relate to Strategic Partner (larger, customized) programs.
Manage and oversee program assessment and participant survey process.
Ensure quality program content.
Ensure reporting and monitoring of programs.
Fundraising/Donor Relations
Lead fundraising and donor relations efforts in Japan; solicit and secure donors to support the Council's general programs and the TOMODACHI Initiative. Work collaboratively with key leadership and committee members in fundraising efforts.
Maintain ongoing donor relationships in Japan.
Develop awareness of the USJC and TOMODACHI brand and programs through public speaking and networking opportunities in Japan.
Develop events in Japan to showcase/develop support for the Council and TOMODACHI among donors.
Ensure that donor agreements and acknowledgement letters have been completed for all confirmed donors.
Communications
Provide regular updates and maintain communication with key partners (USJC members, corporate and individual donors).
Act as central liaison point for U.S. Embassy, including all requests for Embassy staff/leadership participation in events.
Act as a central liaison point for the Government of Japan, including all requests for participation by appropriate officials in events.
Ensure that activities are well publicized through social media, monthly newsletter, Annual Report etc.
Budget
Oversee the budget for USJC (Japan) and TOMODACHI. Review and approve all expenditures.
Review all financial reporting and assist in preparation for the annual audit.
Other
Other duties may be assigned.
QUALIFICATIONS
Demonstrated commitment to U.S.-Japan relations.
Professional experience working on U.S.-Japan issues.
A minimum of 10 years' experience working in Japan in a relevant field.
Experience managing and supervising staff.
Experience managing a budget.
Experience with fundraising and donor relations.
Experience managing a collaborative project preferably working with public and private sectors
Ability to work well with diverse stakeholders.
Excellent written and oral communication skills.
Strong organizational skills.
Bilingual/Bicultural Japanese and English (written and oral) skills required.
Experience with non-profit organizations desirable.
Salary will be commensurate with experience.
TO APPLY
Please send your resume to [email protected] with a subject line: USJC (Japan) Executive Director.