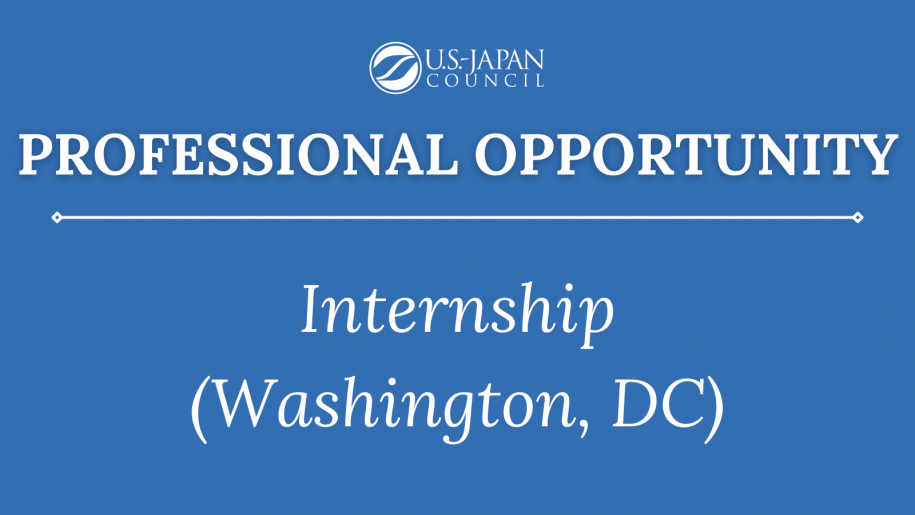 The U.S.-Japan Council (USJC) is seeking an intern in our Washington, DC office. This position will be remote. The intern will have an opportunity to participate in activities with our development, program, and communications teams on a part-time or full-time basis.
This is an excellent internship for those hoping to gain experience working in the U.S.-Japan relations arena. Projects include fundraising/donor relations, virtual program delivery, and digital and strategic marketing and communication initiatives in a nonprofit setting. USJC's internship program offers outstanding opportunities for college students, graduate students and graduates who are interested in broadening networks in U.S-Japan relations.
In general, the intern's duties may consist of fundraising support including research, development tracking and reporting, as well as program and event coordination and support.
Projects and Duties:
Fundraising support including research, tracking and reporting, and drafting correspondence for the Development Team
Event planning in a virtual setting and execution of events for the Program and Membership Teams
Researching and Drafting articles for the Communications Team
Other opportunities to learn the workings of a nonprofit may be provided.
We seek a candidate who is comfortable working with and analyzing data as well as writing/editing in English. Duties may be tailored to the intern's interests.
All internships are unpaid. Minimum length of internship is one semester.
Qualifications:
A patient, diplomatic demeanor to work as part of a diverse, virtual team
Flexibility and the ability to multitask
Technologically savvy, proficient in Microsoft Office and Google Suite
Experience with Salesforce preferred
Able to quickly learn new programs
Experience working in an office setting
Excellent oral and written communication skills
Native or near-native English
Japanese language or experience with Japan preferred
How to Apply
Please send resume, cover letter and completed application to [email protected]. Please include "Washington, DC Intern" in the subject line. Your cover letter should include details of your availability (how many hours you are able to work and for how many weeks). Applications will be accepted on a rolling basis.
The U.S.-Japan Council is an EEO/AA employer. All qualified applicants will receive consideration for employment without regard to race, color, religion, gender, national origin, sexual orientation, age, disability, protected veteran status, or any other characteristic protected by law.