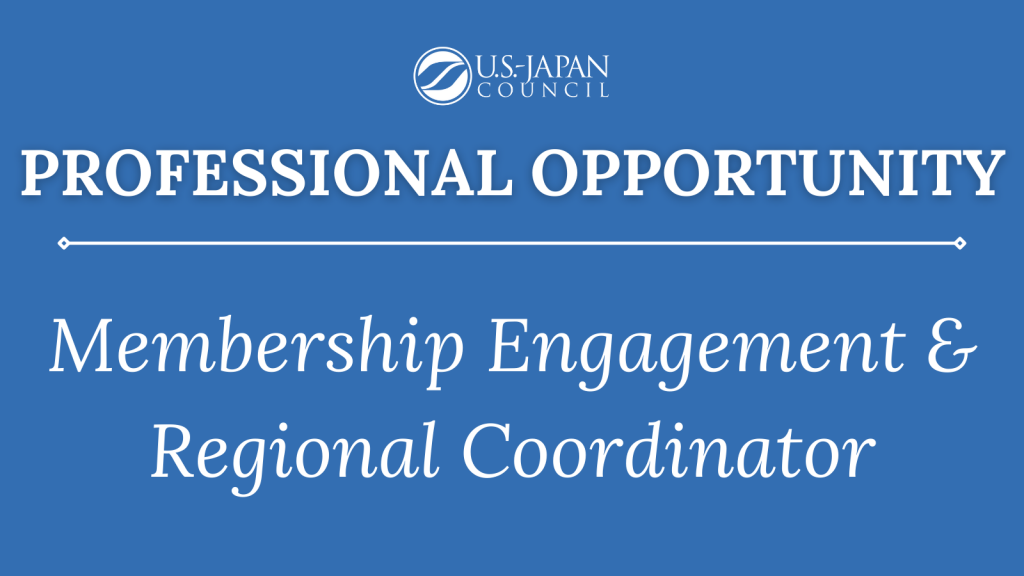 POSITION TITLE: Membership Engagement & Regional Coordinator
STATUS: Exempt
REPORTS TO: Director of External Relations
POSITION SUMMARY: The Membership Engagement & Regional Coordinator reports to the Director of External Relations and will have primary responsibility for the administrative and operational support of activities relating to the engagement of members including membership and regional activities. This position offers an opportunity to make an impact in a growing nonprofit and an opportunity to network with prominent leaders at the forefront of U.S.-Japan relations. Priority will be given to candidates based in Honolulu, Washington DC or California, but other locations may be considered.
Duties include but are not limited to the following:
RESPONSIBILITIES:
Membership:
Under the supervision of the Director of External Relations, lead all operational membership activities including recruitment of prospective members, nominations, invitations to new members; and renewal and retention of existing members.
Support the USJC Engagement Committee and regional leaders, including drafting call summary notes.
Respond to inquiries about membership and regional program activities.
Respond to and resolve in a timely manner all member/donor written and phone inquiries involving payments, changes to member profiles and other concerns.
Interface with Communications staff to ensure updated member names on website and maintains list of individual contributors for Annual Report. Maintain list and record of contributions by members.
Assist in the planning of the USJC Annual Conference Members Day, including creating materials and providing on-site support.
Assist with technical, administrative and office responsibilities as needed.
Database & Records Management
Input and maintain accurate membership-related information on the salesforce database, including members' information and payment history.
Develop and generate on-demand, quarterly and annual membership reports using the salesforce.com database.
Perform data quality control through routine audits of membership database.
Serve as a salesforce super-user to maintain and improve the functionality and integrity of USJC's database as it relates to membership.
Financial Management
Process invoices and payments for members' annual contributions and renewals.
Coordinate with Finance Manager and Development Coordinator monthly reconciliation of membership and donor contributions.
In collaboration with the Finance Manager, process and ensure timely reimbursements for regional events.
Regional Activities
Support and assist the Director of External Relations in the implementation of regional events and activities.
Provide technical and administrative support for both in-person and virtual (zoom) regional events, including planning, marketing, supporting regional chairs and members, and tracking finances. Provide technical leadership / assistance for virtual events conducted on Zoom.
Work with regional chairs on post-event tasks including reimbursements, photos and summaries of events for newsletter publications.
Together with the Director of External Relations and other USJC staff, regularly maintain regional calendar of events and activities across regions.
Other Duties as Assigned
KNOWLEDGE, SKILLS AND ABILITIES (KSA's)
Bachelor's Degree is required.
Minimum 1-2 years of experience in membership, sales, customer service or related areas required.
Strong computer skills utilizing Microsoft Office products including Access, Word, PowerPoint, Outlook, Excel; Salesforce/database management; Zoom; ability to conduct research on the Internet.
Demonstrated effectiveness in working as a member of a team and developing effective working relationships with staff, members, donors, volunteers (Regional Chairs, Board), general public.
Commitment to professional ethics in working with confidential, sensitive information.
Strong critical-thinking and problem-solving skills.
Ability to work well under pressure and multi-task.
Detail-oriented and highly-organized.
Excellent oral and written communication skills. Fluency in English required. Japanese language helpful.
WORKING CONDITIONS:
Fully remote position; will be required to meet with local staff from time to time.
Standard work week; but may work occasional evenings and/or weekends for outreach, socials, or other events as needed.
Requires a strong, consistent, and reliable internet connection and be able to establish an appropriate work environment within his or her home for work purposes.
May require some travel.
To apply, please send CV (resume) and cover letter to: [email protected], subject line, "Membership Engagement & Regional Coordinator." Applications will be reviewed upon submission, with the intention to hire as soon as possible.
The U.S.-Japan Council is an EEO/AA employer. All qualified applicants will receive consideration for employment without regard to race, color, religion, gender, national origin, sexual orientation, age, disability, protected veteran status, or any other characteristic protected by law.