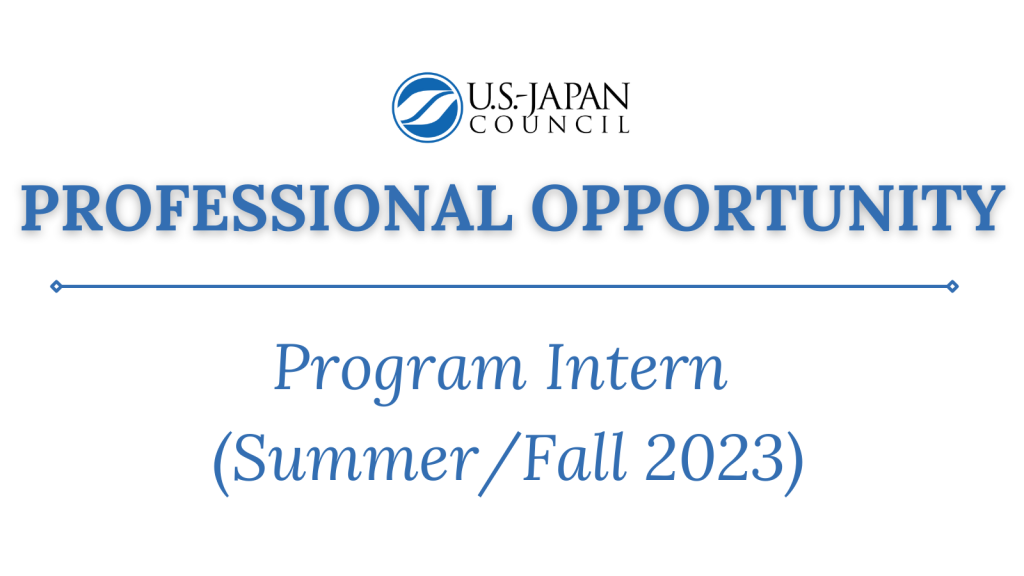 The U.S.-Japan Council (USJC) is seeking a Program intern to support the 2023 Annual Conference.
Founded by Japanese Americans, USJC brings together leaders of the United States and Japan from across backgrounds, sectors, and generations to partner for a better future for the Asia-Pacific region and beyond through various events and programs.
The Annual Conference is USJC's signature and the largest annual event that brings together regional, national and international leaders from the government, business, academia and nonprofit sectors. Conference attendees discuss the current status and future outlook of the U.S.-Japan partnership across a range of timely and relevant topics. Each year we look forward to seeing 700-800 guests across diverse backgrounds, sectors and generations to promote people-to-people connections at all levels.
This is an excellent opportunity for someone interested in facilitating U.S.-Japan cooperation by planning and implementing the high-level dialogue. This opportunity will expose the interns to the influential leaders and various efforts made by stakeholders to advance the people-to-people relations.
The 2023 Annual Conference will be held in Washington, DC at the Renaissance Hotel on November, 8-10, 2023.
The ideal candidate will;
Be available from June through mid-November.
Reside in the metropolitan DC area and can be onsite to assist at the Conference if requested.
This position is generally remote and the intern will provide support for the U.S. team on a part-time or full-time basis. Internships are unpaid but we will provide a stipend for transportation.
Qualifications:
Strong attention to detail and organization skills
Professional oral and written communication skills
Collaborative team player with a positive attitude, willing to take on projects and ask questions as needed
Flexible, with the ability to work independently and adjust to changing priorities
Proficient in Microsoft Office, Google Workspace and Adobe
Native or near-native in English and proficient in Japanese preferred
Interested in U.S.-Japan relationships, Japanese culture or experience with Japan (strongly preferred)
How to Apply
Please send: resume, cover letter and completed application to: [email protected]. Please include "Annual Conference Intern" in the subject line. Your cover letter should include details of your availability (how many hours you are able to work and for how many weeks). Applications will be accepted on a rolling basis.
The U.S.-Japan Council is an EEO/AA employer. All qualified applicants will receive consideration for employment without regard to race, color, religion, gender, national origin, sexual orientation, age, disability, protected veteran status, or any other characteristic protected by law.