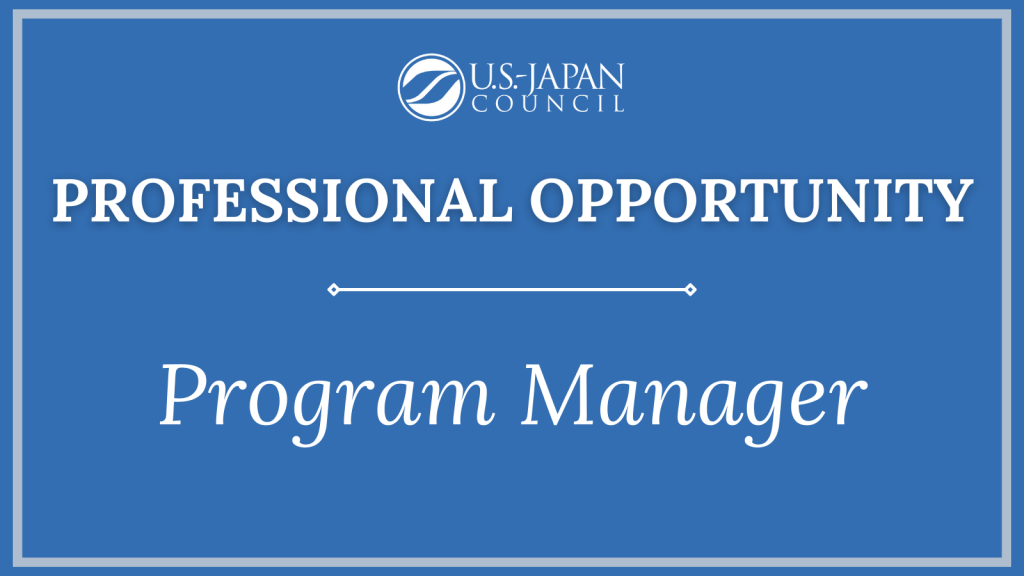 U.S.-Japan Council
Program Manager – Full Time (Remote: Greater Washington, DC area or continental U.S.)
The U.S.-Japan Council (USJC) (www.usjapancouncil.org) is an educational 501(c)3 non-profit organization that develops and connects diverse leaders to create a stronger U.S.-Japan relationship. Founded by Japanese Americans, the Council brings together leaders of the United States and Japan from across backgrounds, sectors, and generations to partner for a better future for the Asia-Pacific region and beyond. USJC also administers the TOMODACHI Initiative (https://www.usjapancouncil.org/tomodachi/), a public-private partnership between the U.S.-Japan Council and the U.S. Embassy in Tokyo, with support from the Government of Japan.
We are currently seeking a Program Manager who can offer managerial, administrative, and operational support to Council programs from concept to implementation. The Program Manager will be involved in developing, managing, and executing new and existing USJC signature, regional, and other educational programs, which may include conferences and other in-person events, webinars and other virtual activities, scholarships and academic exchanges, and more. Topical areas of work may include bilateral issues, leadership development, social impact work, and more. See our website here for a list of current programs.
Candidates should be committed to the goals of the organization and can bring experience in developing high-quality programs that educate and engage audiences who are interested in U.S.-Japan relations. Hands-on program/event management and execution experience is required, and experience working with scholarships and educational programs is highly preferred. Bilingual English & Japanese fluency is required. Candidates must be able to multitask and work efficiently in engaging various resources in a fast-paced environment. This position is full-time remote work (greater Washington, DC area highly preferred or continental U.S.). Flexible work hours and travel (domestic and international) will be required as needed. The Program Manager will report to the Director of Program Development.
Responsibilities may include:
Develop, manage, and execute signature, regional, and educational programs that support and promote USJC's mission.
Manage educational exchange, delegation, and scholarship programs.
Provide lead and back-up technical support to virtual programs and events.
Work together with the President, Staff, Board of Directors, USJC members, think tanks and other experts to develop program content and seek appropriate speakers for virtual, in-person, and hybrid events.
Create program budgets and plan resources for the implementation of programs.
Manage the day-to-day activities of programs, which involves working with program participants, speakers, staff and volunteers, and coordinating logistics, registration, marketing, and more.
Qualifications
Minimum 4-6 years program/event management, coordination, or related experience (small educational programs less than 50 participants to large-scale conferences 500+ attendees) (required).
Experience working with scholarships and educational programs (highly preferred).
Bilingual English and Japanese fluency (required).
Bachelor's degree (required).
Lives in the continental U.S. (required); lives in the greater Washington, DC area (highly preferred).
Must have excellent organizational skills and the ability to work under tight deadlines, manage multiple priorities, and delegate effectively.
Demonstrated effectiveness in working independently and as a member of a team, and developing effective working relationships with Board & Council members, donors, staff, volunteers, and external stakeholders.
Commitment to professional ethics in working with highly confidential, sensitive information.
Extensive computer skills, including intermediate or higher-level proficiency with Microsoft Office (Excel, PowerPoint, and Word) and experience working with electronic online event management and communication platforms.
To Apply
Candidates should provide a cover letter, resume and 2-3 professional references to [email protected]. Please make sure you submit all necessary information and documents. Successful candidates will be requested for a phone or virtual interview.
The U.S.-Japan Council does not sponsor visas to work in the United States nor relocation expenses.