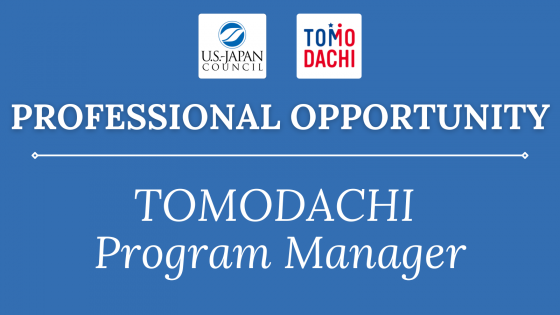 The U.S.-Japan Council (Japan) seeks a candidate who is committed to the goals of the organization and can bring enthusiasm and commitment to coordinate the programs of the TOMODACHI Initiative and other events and programs the Council offers.
This is a full-time position based in the U.S.-Japan Council Tokyo office which allows teleworking. A Japanese native and fluency in English is required. USJC does not sponsor visas for working in Japan.
OVERVIEW OF ROLE
Working under the direction of the Director of TOMODACHI Programs, the Program Manager is responsible to develop, execute, manage, monitor and evaluate TOMODACHI programs, including managing relationships with implementing organizations. The Program Manager will work with individuals from the U.S.-Japan Council, the U.S. Embassy, TOMODACHI Initiative sponsors, and other key TOMODACHI team members in the implementation of this mission.
RESPONSIBILITIES
Program Development, Selection, Implementation, Monitoring and Reporting:
Work with the TOMODACHI team to manage TOMODACHI programs in all aspects, from program development, to marketing, to implementation, and through reporting.
Work closely with key stakeholders including program participants, donors, U.S. Embassy in Japan, Government of Japan, local government, educational organization etc. to effectively manage and execute TOMODACHI programs.
Monitor and research the program performance including overseeing implementing partners, making reports, taking surveys, keeping statistics and controlling the program budget.
Provide frequent updates on status of programs to
Work with TOMODACHI Communications team and provide information to promote TOMODACHI to the public.
NETWORKING AND REPORTING:
Liaise with local and prefectural government, education board, schools and other stakeholders to raise awareness about TOMODACHI, assess needs and gather information
Liaise and maintain strong relationships with NPOs/NGOs to consider as potential partners in implementation
OTHER:
Other duties as may be assigned
QUALIFICATIONS
Bachelor's degree (required).
A native speaker of Japanese with fluency in English (required).
Excellent interpersonal, written and oral communication skills in both Japanese and English that will allow for easy collaboration with many different stakeholders, and sensitivity and diplomacy in communicating with wide range of constituencies in a diverse community including corporate leaders, senior government officials, and NPO partners.
Self-motivation and ability to excel in a fast-paced and unstructured
Exceptional organizational and project management skills, including the ability to work under tight deadlines and manage multiple
Positive attitude and
Demonstrated ability to work independently and on a
Sensitivity to maintain confidentiality of work-related information and
Demonstrated commitment to U.S-Japan relations and professional experience working on S.-Japan issues.
Experience working in educational institutions, or non-profit setting
Microsoft Word, Excel, Powerpoint skills
To Apply
Candidates should provide a cover letter, resume and 2-3 professional references to [email protected]. Please make sure you submit all necessary information and documents. Successful candidates will be requested for a virtual or in-person interview. Your resume and submitted documents are kept confidential and will not be used for any other purposes than recruiting.
Annual salary will be based on experience and qualification of the candidate. The U.S.-Japan Council does not sponsor visas to work nor does it fund relocation.
U.S.-JAPAN COUNCIL & THE TOMODACHI INITIATIVE
The U.S.-Japan Council (Japan) is a certified charitable organization (Koeki Zaidan Hojin), and administers the TOMODACHI Initiative, a public-private partnership forged after the Great East Japan Earthquake in collaboration with the U.S. Embassy in Tokyo with the support of the Government of Japan.  TOMODACHI invests in the next generation of Japanese and American leaders through educational and cultural exchanges as well as leadership programs. We seek to foster a "TOMODACHI Generation" of young American and Japanese leaders who are committed to and engaged in strengthening U.S.-Japan relations, appreciate each other's countries and cultures, and possess the global skills and mindsets needed to contribute to and thrive in a more cooperative, prosperous, and secure world.