I was grateful and honored to be selected as a 2016 Emerging Leader. USJC's mission of strengthening U.S.-Japan relations is a vital one, and participating in ELP provides me with a unique opportunity to contribute to that mission. If my first USJC Annual Conference in November taught me anything, it is that before I can contribute, I have a great deal to learn. The speakers and USJC members were so knowledgeable about such a wide range of topics that I left the conference determined to become better educated and seek broader experiences.

The prominence of women at the conference was particularly inspiring. Living in the era of Womenomics and working in the tech industry, I am acutely aware of the hurdles women must overcome in order to advance. Irene Hirano Inouye's leadership at USJC sends a strong message about the management capabilities of women. Kathy Matsui's powerful story of overcoming personal challenges to achieve great success in Womenomics deeply impressed me. Likewise, Sandy Shirai, a leader in the Bay Area technology field, spoke movingly of the family sacrifices many women must still make in order to flourish in the business world. I only wish that I had been able to hear more from the speakers.
Just as memorable were the many personal connections I made at the conference. As a new ELP, the level of warmth and encouragement I received from many accomplished people made me feel like I was contributing to strengthening the ties between the United States and Japan.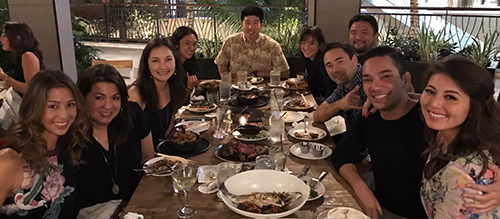 Of course, I forged the strongest bonds with my ELP class and ELP alumni. Despite our very diverse backgrounds, we still share the Japanese American experience, as well as a love for Japan, so after a few organized icebreakers we felt at home with each other. Since the conference, we have kept in touch and meet when we can. While I was in Hawaii for the holidays, the Hawaii ELP alumni organized a dinner at Roy Yamaguchi's Eating House 1849. Back home in Northern California, the local ELP group got together for dinner in February and made plans for a gathering in March. Thanks to the Emerging Leaders Program, I now have a group of friends stretching across the country, all of whom are committed to the goals of USJC.