Reflection from 

Stacy Uchida

 (ELP 2014)
As a fourth-generation Japanese and Chinese American in my mid 20's, I became curious about my identity and family history. I began asking more questions of my grandfather, who shared stories from his time in internment camp (both of my grandparents were incarcerated), his army days in Korea and what life was like resettling in Chicago. Around the same time, my grandmother's Alzheimer's disease accelerated, making these memories ever more precious.
Grandpa's stories inspired me to give back. With the help of a few remarkable partners, we created JASC Connect, an arm of the Japanese American Service Committee, whose mission is to connect younger generations to the Japanese American community in Chicago. One of the many programs in the works is StoryShare, a cooperative program with StoryCorps that captures stories and preserves the recordings in JASC's Legacy Center historical archive. You might even hear one of these stories on NPR.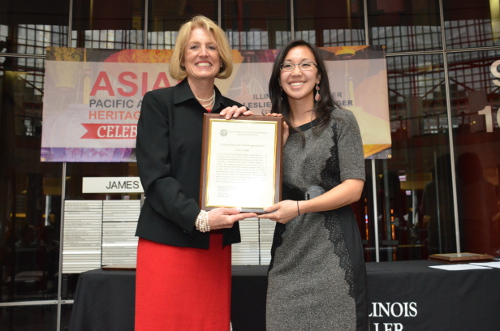 My volunteerism was met with overwhelming support from four Chicago USJC members, who championed my candidacy for ELP. When I arrived in Hawaii for the Annual Conference, I was blown away by the devotion, generosity, professionalism and energy of USJC sponsors, members, ELP alums and staff. I also had the privilege of serving on this year's ELP selection committee. USJC has strengthened one of my core beliefs in the power of connecting people.
Born and raised in Chicago, I naturally dedicated my volunteer time at the local community level, but USJC has shown me boundless global opportunities. I had never thought enough about pertinent topics such as national security in the Pacific and the economy of Japan, which hinge on a peaceful and thriving U.S.-Japan relationship. Connecting the dots from local to global helped me better understand what can be incorporated here in Chicago to facilitate positive change.
This year, Chicago hosted its inaugural USJC Culinary Diplomacy Event. We are also in the midst of USJC's three-part Womenomics in the City that Works networking series funded by the Embassy of Japan. So far, Chicago's women leaders have explored how Japanese businesses in the United States respond to Abe's womenomics initiative; how to create mentorship opportunities for women; and how to bridge and share experiences between women in Japan and the United States.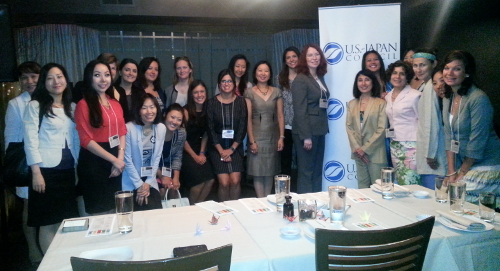 I would coin myself the "rookie" among the 2014 Emerging Leaders. I was the only class member who has never set foot in Japan and could not speak the language. Because of this, I have learned ways to engage by leaps and bounds. I cannot wait to continue the journey and hear great stories from all of you on my first trip to Japan for the Annual Conference in November.