State to Prefecture Collaboration Meeting & Reception in Hawaii
August 21, 2012 at 12pm – 3pm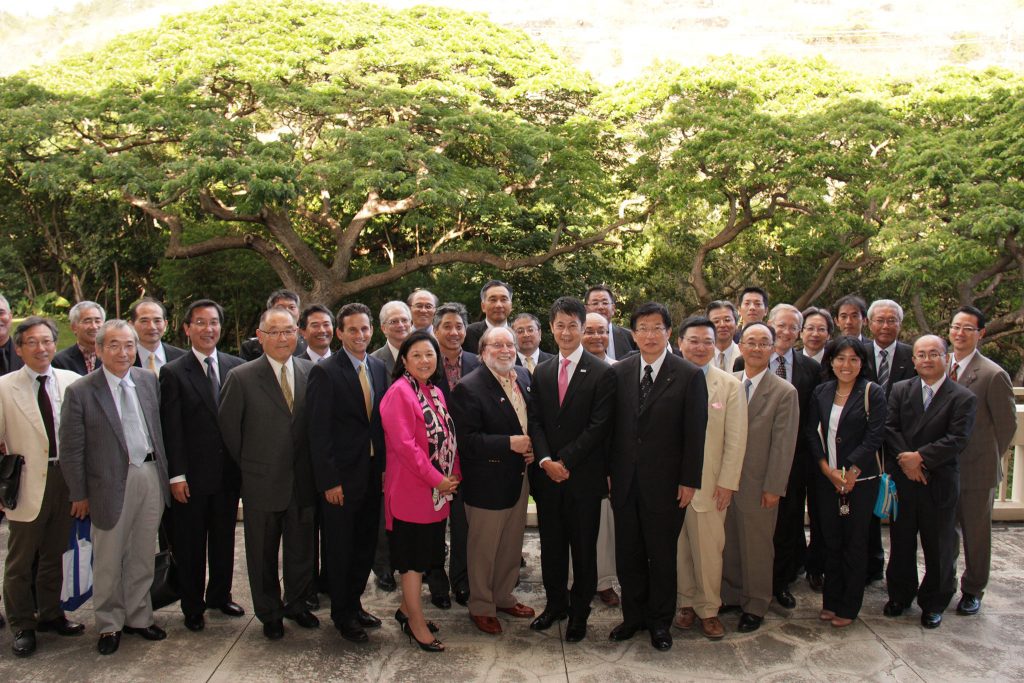 On August 21st, governors from Hawaii and Japanese prefectures of Hiroshima, Shizuoka and Saga convened in Honolulu, Hawaii to discuss regional economic collaboration in the areas of clean energy, tourism and educational exchange. The meeting was followed by the signing of Memorandums of Understanding between the governments of Hawaii and each Japanese prefecture to express the commitment for mutual cooperation at a sub-national level, creating connections beyond Tokyo and Washington, DC.
U.S. Senator Daniel K. Inouye (HI), Governor Neil Abercrombie (HI), Lieutenant Governor Brian Schatz (HI), Governor Hidehiko Yuzaki (Hiroshima), Governor Heita Kawakatsu (Shizuoka), Governor Yasushi Furukawa (Saga), USJC Board of Councilors Chairman Dr. Daniel I. Okimoto, USJC President Irene Hirano Inouye, Consul General of Japan in Hawaii Yoshihiko Kamo and USJC Board Members were among those in attendance.
The Japanese prefectures shared information on clean energy innovations at various stages of development and commercialization with the goal to reduce fossil fuel dependency and achieve efficiency. This included wave energy and hydroelectric power, biomass/biofuel technology, photovoltaic energy and combined natural & LED lighting systems. Saga prefecture also presented on high ion beam technology, which is a next generation solution for cancer treatments. Hawaii's average energy costs are 2.5 times higher than the rest of the U.S. The state has been developing various technologies in the areas of ocean wave, geothermal, photovoltaic and biofuel energy as well as smart grid systems.
USJC celebrated the meeting and MOU signing with a reception at the Wai'alae Country Club, sponsored by Lockheed Martin, the First Insurance Company of Hawaii and Hawaiian Airlines. The Japanese delegation also had a meeting with key business and healthcare leaders the following day, sponsored by First Hawaiian Bank. USJC continues to support economic collaboration networking at various levels of leadership and regions, and this meeting and MOU have already produced cooperation among Hawaii and Japanese prefectural businesses.
Photos
Click here for more photos of the State-to-Prefecture Meeting.
Click here for photos of the reception.