Event Overview
Tokyo is arguably the culinary capital of the world, and we are pleased to offer a unique dining experience for this year's Conference attendees. "Tastes of Tokyo" dinners are being organized for small groups of 8 – 15 individuals in restaurants across the city on Tuesday evening, November 10 beginning at 7:00 pm. There is nothing better to promote friendship and people-to-people exchange than sitting across a table and sharing a meal with a fellow USJC colleague. You can choose from a wide range of restaurants and price points listed below.
Registration
Please register for the event on the form below. For more information on the venue choices, please see the menu below.
Menu
Average cost guide:
¥: 5,000-10,000
¥¥: 10,000-20,000
¥¥¥: 20,000-30,000
¥¥¥¥: 30,000 and over
*Newly Added* Uzu, Japan's First Lady's Izakaya
First Lady Akie Abe took up organic farming shortly her husband resigned due to health related issues the first time he was Prime Minister in 2007. She opened an off the beaten path izakaya called "Uzu" in Tokyo's Kanda district offering organic food items and drinks from Yamaguchi Prefecture, Shinzo Abe's electoral district. Today Uzu owes its popularity through word of mouth and sources only organically grown foods and ingredients from across Japan.
In the quaint private room that has accommodated political and business leaders from around the world, the first and only 10 conference attendees to register will be able to appreciate this organic culinary experience made possible by organizer Kimi Hotta.
Kimi Hotta is Managing Director – King Street – Tokyo, a global asset management firm headquartered in New York City. Born in Connecticut to Japanese parents who moved to the United States shortly after WWII, he attended schools in both America and Japan, graduating from Yale University.
Host: Kimi Hotta
Type: Organic izakaya
Cost: ¥¥
Seats: Only 10
Website: Word Of Mouth
Andy's Fish
Andy's Fish is a wildly popular hole in the wall hidden under the Yamanote Line train tracks in colorful Yurakucho Tokyo.
His daily fish selection is limited to the seafood that he can offer with confidence, gained in his over 25 years of experience of buying fish at Tsukiji which has provided Andy with the option to purchase high quality seafood at very reasonable prices. The relationships he has developed ensure quality, availability and price that in turn benefit customers.
Andy's popularity is constantly increasing which means making a booking or reservation in advance is essential. Tastes of Tokyo are holding reservations for the first ten individuals who register for this unique Tokyo culinary experience.
Hosts: John & Annette Bradford
Type: Izakaya
Cost: ¥
Seats: First 10 to register
Website: www.andysfish.com/Shin-Hinomoto
Asakusa Imahan
For over a hundred years, Asakusa Imahan has been serving its customers with one of the best sukiyaki and shabu shabu dining experiences anywhere with wagyu beef that nearly melts in your mouth.
For the few who may be unfamiliar with sukiyaki, it is a hot grill style meal presentation with thinly sliced beef simmered right at your table, along with vegetables and other ingredients. Diners then dip in a mixture of soy sauce, sugar, and mirin. Shabu shabu is similar except beef and vegetables are simmered in boiling water and flavor added in the form of special sauces called ponzu and goma.
Asakusa Imahan is one of the more famous (if not THE most famous) restaurant to enjoy and savor these two amazing traditional Japanese dishes.
Host: Terry Suzuki
Type: Sukiyaki – shabu shabu
Cost: ¥¥
Seats: 6 – 8
Website: www.asakusaimahan.co.jp/english
Dean & Deluca
Join franchise owner Mak Yokogawa at his Tokyo Midtown deli cafe to learn about the amazing Dean & Deluca success story in Japan and how he turned the New York-based company into an upscale Japanese brand.
His story alone is worth the price of registration, food and wine tasting will nicely complement the personal presentation made by this CEO.
Hosts: Daniel Fujii & Wesley Stockstill
Type: American
Cost: ¥ for food and conversation
Seats: First 20
Website: www.deandeluca.co.jp
Gogyo Ramen
Gogyo is owned by the same company that brought you the Fukuoka-based Ippudo chain of tonkotsu ramen shops. The burnt miso ramen at Gogyo, however, is among some of the tastiest ramen anyone can experience in Tokyo.
And unlike most ramen shops in central Tokyo, Gogyo in Nishiazabu also has an open floor plan, so you can see right into the kitchen as they roast the miso, setting off some spectacular flames in the process.
While there are several ramen options at Gogyo, including a soy sauce-tonkontsu ramen, shio (salt) ramen, and tsukemen, it's the burnt miso ramen that's the star of the menu.
Burnt miso ramen comes in a big black bowl with a dark brown soup and a layer of black, char-like specks on top. The soup is actually quite smooth, with a deep, rich flavor that manages to not taste all that heavy.
If you like ramen, this one is definitely worth the trip.
Type: Japanese ramen
Host: Nate Gyotoku, Kay Fukunaga
Cost: Less than ¥, its ramen!
Seats: only 8!
Review: https://noramennolife.wordpress.com/2014/01/10/burnt-miso-ramen-at-gogyo/
Hananomai Ryogoku
Experience sumo culture in Ryogoku, Tokyo's historic sumo district, while enjoying a 'Tastes of Tokyo' culinary experience.
Yes, there's a sumo ring located inside the restaurant!
Created under the supervision of the Japan Sumo Association, it features the same size and specifications as the ring used for grand sumo tournaments. It was established so that visitors can enjoy an experience that suits the town of sumo, Ryogoku, where the prestigious sumo hall "Kokugikan" is located and sumo wrestlers are often seen.
On the evening of November 10, we've arranged to have two active sumo wrestlers to stop by and engage with USJC conference guests who register for this unique culinary and cultural experience.
The most popular item on the menu is 'chankonabe,' the sumo wrestlers main staple that contains fish, chicken, and various vegetables boiled in a Japanese dashi or chicken broth soup.
Host: Grant Tanabe
Type: Traditional sumo wrestler cuisine
Cost: ¥
Seats: 20
Website: http://r.gnavi.co.jp/g863263/lang/en/
Lab & Kitchen
The TOMODACHI FIRST (Food Innovation for Regional Sustainability in Tohoku) Program invests in the future of food innovation in Japan, with particular focus on the Tohoku region. This program grows the leadership and cross-cultural skills within the next generation of Japanese (from university students to age 35), who are committed to social innovation in the production, processing, distribution, and/or consumption of food in Japan.
In this dinner, FIRST graduates will prepare a multi-dish "pop up" dinner with ingredients from their businesses and farms–many sourced from the Tohoku region. If you are interested in BOTH having delicious and unique foods AND learning about innovation and change in the food system in Tohoku, please join us!
Hosts: Britt Yamamoto & Kaoru Utada
Type: Japanese (with a Tohoku flair)
Cost: ¥ (small one yen mark)
Seats: 15
Program Website: http://usjapantomodachi.org/programs-activities/entrepreneurship-leadership/tomodachi-food-innovation-for-regional-sustainability-in-tohoku-first-program/
Venue Website: http://www.labpaper.jp
Maru
Maru's cuisine reflects both traditional influences based on the fine 'kaiseki' cuisine of Kyoto as well as creative, contemporary styles. Diners can choose from a wide selection of a la carte dishes or opt for Maru's special course menu, featuring appetizers, side-dishes and main meals as well as the house specialty donabe, or "clay pot" rice.
The focus is on producing creative yet simply well-presented food. Maru uses the freshest seasonal ingredients that change every month, and aims to create a relaxed yet stylish environment that caters to discerning diners.
Host: Fumiho Suzawa
Type: Kaiseki at a very affordable price
Cost: ¥
Seats: 8
Menu: http://www.maru-mayfont.jp/ginza/index.html#wrap-menu
Website: http://www.maru-mayfont.jp/
Japan Times: http://www.japantimes.co.jp/life/2014/10/14/food/ginza-maru-kaiseki-courses-wont-break-bank/
Matsukawa
Matsukawa is an introduction only kaiseki restaurant, considered by many, notably tabelog.com users , as the best in Tokyo. And USJC is fortunate to have a table for this culinary experience on November 10!
Here's an example of a recent 'omakase' meal: "A celebration of matsutake mushrooms. Amazing, big chunks of snow crab in dumplings with matsutake, yuzu peel and dashi broth; Japanese beef with grilled matsutake mushrooms; wonderful al dente cold soba with grilled, shredded matsutake mushrooms"
Host: Yasumasa Yamamoto
Type: Kaiseki
Cost: ¥¥¥
Sample Menu: Omakase style menu and it is the season for Matsutake mushroom dishes!
Ninja Akasaka
It should come as no surprise that Tokyo, Japan is the mecca of theme restaurants. Ninja Akasaka is a great example and a classy immersion in Shogun-era coolness.
A featureless black doorway in Tokyo's Akasake-Mitsuke business district leads to a maze of cave-like corridors. Soon you're greeted by a ninja and given a secret password. Watch out for the disintegrating bridge, but fear not, just follow the footsteps of USJC ninjas Stan Koyanagi and Eric Takahata!
The food is spectacular modern Japanese, at very reasonable prices for a one of a kind culinary and cultural experience.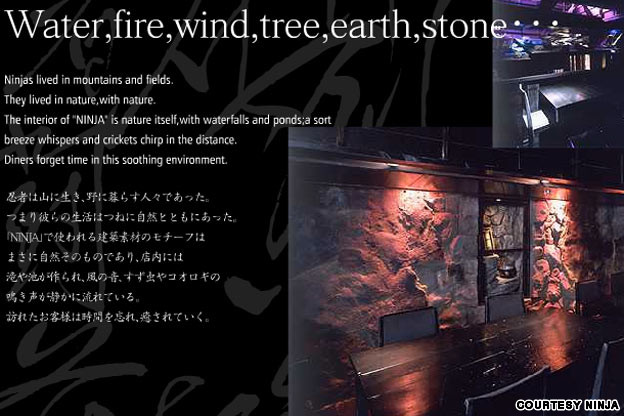 Type: Modern Japanese
Hosts: Ninja Warriors Stan Koyanagi and Eric Takahata
Cost: ¥
Seats: 12
Website: http://www.ninjaakasaka.com/
Review:http://twistedsifter.com/2011/12/bizarre-theme-restaurants-in-tokyo-japan/
Nobu Restaurant Tokyo
Nobu Tokyo is the Japanese branch of the NOBU restaurant group owned by legendary chef Nobu Matsuhisa. The restaurant showcases Nobu's new style Japanese cuisine in a lively ambiance including a waiting bar and sushi counter. Creative cuisine, complemented with attentive service for which this restaurant is famous.
Tuesday November 10 is destined to be a culinary treat for conference attendees who sign up for this meal presentation in a private setting.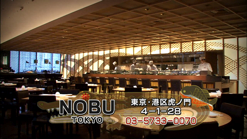 Host: June Nagao
Type: Pacific Rim
Cost: ¥¥¥
Seats: 12 lucky diners
Menu: http://www.noburestaurants.com/tokyo/menus/Dinner-2/
Ooshima Ginza
Ooshima Ginza serves a Kaga (Kanazawa) cuisine. The restaurant was first established as part of a well-known Ryokan (hotel) during Japan's Edo period. During this period, Shogun Maeda ruled the Kaga Domein area and encouraged cuisine techniques using fresh ingredients.
Ooshima serves gourmet seasonal dishes including fresh fish the Sea of Japan as well as seasonal fresh produce. During autumn, many Japanese enjoy fall dishes such as giant long leg crab, Matsutake, chest nuts, and a variety of produce. You can enjoy an authentic meal, and moreover, the art form of this Japanese cuisine style. Chief Chef Suzuki will be giving the USJC group, a personal overview.
The restaurant is approximately 15 min. via subway (or short cab ride) from the conference hotel. If interest, we can tour the many Ginza stores located across the street.
Herb & Yayoi Yamamoto reside in Portland, Oregon. Herb is a graduate of the University of California, Berkeley, and founder of BIM Connection, a 3D design firm. He and his wife, Yayoi, lived in Japan for about 10 years when Herb worked at a Toyota Motors & GM Corporation joint venture. Yayoi is a native of Tokyo and media & business consultant; she writes for a monthly Japanese magazine as well as supports Japanese firm expansions into the Portland area.
Type: Japanese, Kaga Style Cuisine 
Hosts: Herb & Yayoi Yamamoto, Portland, OR.
Cost: ¥¥ Full course includes Japanese dessert.
Website: http://www.oshima-site.com
Sasano
Sasano, located near Tokyo Midtown, captures what many love about Tokyo. Hidden on the second floor of a non-descript building with only a modest sign indicating its presence, Sasano serves traditional izakaya fare, with fresh fish taken from the tanks behind counter, artisanal sakes from throughout Japan, and a focus on seasonality. For those interested in learning more about Sasano, please refer to the following link http://tabelog.com/en/tokyo/A1307/A130701/13001895/
Hosting the Sasano dinner is Steve Doi, who has the privilege of being married to Royanne Doi (a member of the USJC board). Unfortunately for the guests attending the Sasano dinner, Royanne will not be present, but she has asked Steve to be on his best behavior.
Host: Steve Doi
Type: Izakaya
Cost: ¥
Seats: 8
Skyline Ventures Shibuya
Shibuya is an emerging Internet hub and #HiveShibuya is quickly earning a reputation as a gateway to the global startup world, right in the heart of Tokyo.
In a culinary and entrepreneurial twist, join host and venture capitalist Max Kinoshita, his colleagues, and an eclectic group of Japanese and foreign entrepreneurs as he plays host to a group of 15 conference attendees at their incubator office in Shibuya!
Host: Max Kinoshita, Managing Partner & Founder – Skyland Ventures
Type: Japanese take-out
Cost: ¥
Seats: 15
Website: https://medium.com/@svft/hiveshibuya-your-space-not-just-ours-9df22aa141d3
Steak House Hama Roppongi
Fantastic teppanyaki with 5-star service and an amazing steak experience for the lucky few carnivores who register for this iconic restaurant in located in Roppongi.
Cuisine aside, the host for this dinner is Bill Ireton who recently retired as President and Representative Director of Warner Entertainment Japan after 26 year to start his own company, Ireton Entertainment Inc.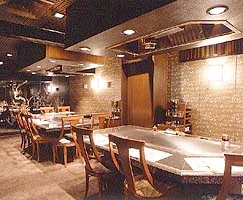 Host: Bill Ireton
Type: Fantastic teppanyaki
Cost: ¥¥¥
Menu (Japanese only): http://r.gnavi.co.jp/p8dv1jey0000/menu8/
Tofuya Ukai
Situated next to Tokyo Tower, step back in time to relive the culture of Edo at one of Tokyo's popular venues. Enjoy the exquisite taste of the tofu dishes while viewing the expansive Japanese garden.
Traditional architecture captures the spirit of Japan, forged over thousands of years, while guests are treated to a dining experience in the heart of the culinary capital of the world.
Hosts: Larry Bates
Type: Exquisite Tofu
Cost: ¥¥
Seats: 40 plus
Menu: http://www.ukai.co.jp/shiba/pdf/shiba_corse.pdf
Website: http://www.ukai.co.jp/english/shiba/index.html
Torishige
Ginza Torishige is founded in 1931 by Shigenosuke Hotate and his wife Naka beginning as a small food stall in a firewood storage area behind the Kabuki theater. The stall enjoyed the patronage of Kabuki and film actors, and filled it with crowds night after night. In 1939 they opened a full-fledged restaurant and in 1958 moved to its current location in Ginza.
Today, the restaurant is operated by the family's third generation and in Spring 2016, will celebrate their 85th anniversary. Did we mention not to forget to order dry curried rice as a last dish?
Host: Mari Maruyama
Type: Upscale yakitori at its best!
Cost: ¥
Seats: 8
Website: http://www.ginza-torishige.co.jp/E/torishige_01E.html
Uotake
At Uotake, steamed fish is served on a dish prepared with stock, shredded mizuna, onion, and other vegetables, which is then sprinkled with wasabi-flavored canola oil. Every morning, fresh seasonal fish is sent to Uotake directly, mainly from Tsukiji, but also from Odawara harbour. Uotake takes the greatest care with their stock of fish, even considering the daily temperature of the water where some species are caught. This care extends to service: surly chefs make for unpleasant dining, so Uotake strives to smile to ensure our customers are always comfortable.
Host: Kenta Takamori
Cost: ¥
Seats: 10
Website: http://ebisu-uotake.com/
Wa-China Roppongi
If you are looking for a new type of Chinese restaurant this is the place to go to. Wa-china Roppongi is a Japanese-Chinese restaurant just 4 minutes away from Azabu-juban station. (9 minutes' walk from Roppongi station)
Delicious menus are prepared by Mr. Tetsuro Niimi who has worked at many famous hotel restaurants as head cook using materials selected by the chef himself. Seasonal course menu using seasonal food that Mr. Niimi selected is something to look forward to every month. The dish uses seasoning such as white miso and wasabi, adding Japanese flavor to Chinese which makes this restaurant unique. Delicious food and the cozy atmosphere would make you want to visit this restaurant again.
Type: Japanese-Chinese
Host: Randy Wada
Cost: ¥
Seats: 16 (including 4 semi-private rooms)
Website: http://wachina.asia/
Yakiniku Jumbo Shirokane
The original Yakiniku Jumbo was established in 1988 in the city of Edogawa, Tokyo. Ever since it opened its doors, it quickly gained popularity and a loyal customer following for its use of only 'A5' rated kuroge wagyu (highest rank of Japanese beef).

Host: Stephen Suzuki
Type: Amazing yakiniku
Seats: Hungry dozen
Cost: ¥ – ¥¥
Menu: http://www.kuroge-wagyu.com/js/food_e.html
Yamada Chikara
A former veteran at elBulli, a restaurant in Spain famous for molecular cuisine, Chef Yamada combines the modern aspects of molecular gastronomy with the traditional elements of kaiseki ryori. Located in a quiet neighborhood in Azabu Juban, this intimate and unique restaurant promises its guests a memorable culinary experience.
Kathy is vice chair and chief Japan equity strategist of Goldman Sachs Japan, mother of two children, and a 'reverse import' daughter of Japanese immigrant farmers from Nara-ken. Japanese cuisine is one of the reasons she finds it hard to leave Japan.
Host: Kathy Matsui
Type: Japanese Molecular Gastronomy
Cost: ¥¥¥
Seats: 8
Menu: Always a surprise, and always delicious!
Review: http://tokyoeater.blogspot.jp/2011/07/yamada-chikara-nishi-azabu.html
Sorry, but this form is no longer accepting submissions.