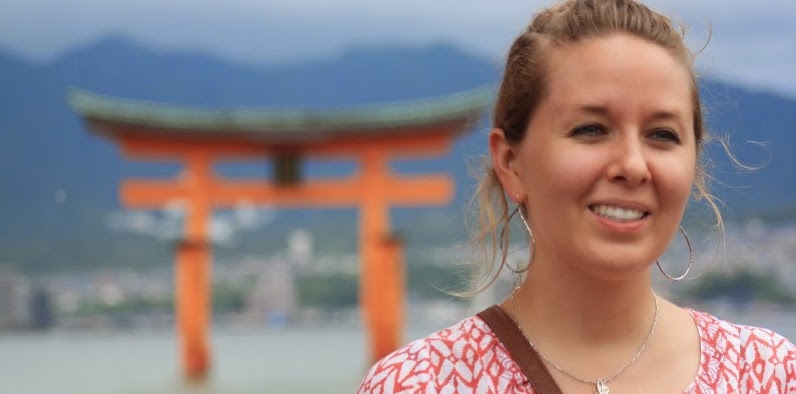 To honor the life and legacy of Senator Daniel K. Inouye, 200 youth exchanges were announced on May 28, 2013 by Foreign Minister Fumio Kishida at the U.S.-Japan Council's Symposium in Tokyo. These exchanges, the TOMODACHI Inouye Scholars Program, would take place under the Ministry of Foreign Affairs in Japan's "KAKEHASHI Project – The Bridge for Tomorrow," aimed at enhancing bilateral youth exchange and mutual understanding between the two countries.
The broad goals of the KAKEHASHI exchange project are (1) to promote deeper mutual understanding among the people of Japan and the United States, (2) to enable future leaders of U.S.-Japan exchanges to form networks and (3) to help young people develop wider perspectives to encourage active roles at the global level in the future. KAKEHASHI consists of two types of programs – invitation and dispatch – totaling exchanges of 4,600 people between the United States and Japan.
The invitation program brings 2,300 Americans total, ranging from junior high school to graduate school, who are invited on a 10-day study tour to Japan. Participants experience Japanese culture, advanced technologies, the historical heritage and natural environment unique to Japan, and engage in exchanges with Japanese students. Groups travel to Tokyo as well as another local city.
In return, 2,300 Japanese youths are sent to different destinations across the United States as part of the dispatch program to participate in homestays and exchange activities with American peers and people. Through presentations at schools and in their host communities, Japanese participants seek to heighten potential interest in Japan and enhance international understanding of the "Japan brand," as well as the nation's strengths such as Japanese-style values and "Cool Japan."
The TOMODACHI Inouye Scholars program is unique among the KAKEHASHI project programs because in addition to cultural visits and activities, both the American and Japanese participants will have opportunities to learn about the legacy of the late Senator Daniel K. Inouye. In addition to KAKEHASHI programming that includes visits to historic and cultural sites in Tokyo and various activities in cooperation with the Japanese students at the partner university, there are specialized activities and meetings centered on the legacy of Senator Inouye. Specifically, students learn about Senator Inouye's contributions to his state, his country, his heritage and to the U.S.-Japan relationship. The aim is that they will return to their schools inspired by the Senator's commitment to public service, justice and U.S.-Japan cooperation.
2017-18 TOMODACHI KAKEHASHI Inouye Scholars Program Participating Schools
George Washington University & University of the Ryukyus   |
Loyola Marymount University & Sophia University   |
University of St. Thomas & Fukushima University   |
Hendrix College, Prefectural University of Hiroshima, and Yamaguchi University   |
George Washington University (Washington, DC) and University of the Ryukyus (Okinawa)
Globalization is one of the four themes of George Washington University's strategic plan. The emphasis on globalization allows the university to focus on one of the key economic and social transformations taking place in the world today as ideas, people, and capital circulate more extensively than ever before. Through our participation in the TOMODACHI KAKEHASHI Inouye Scholars Program, our students will experience first-hand Japanese, norms, culture, and language with our partner institution thus increasing students' intercultural understanding. To this end, students will be empowered to move deftly among cultures and to navigate across their own diverse identities—an essential skill needed of citizens and leaders.
Chaperones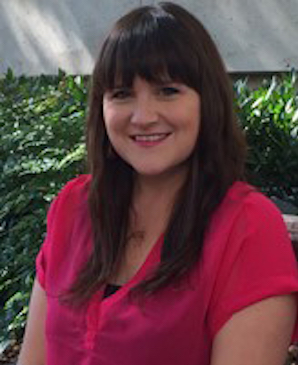 Hilary Wilson
Interim Director and Exchange Coordinator
Office for Study Abroad
Jonathan M. Walker
Assistant Dean, Student Services
Director, Diversity, Equity, and Inclusion
Loyola Marymount University (Los Angeles, California) & Sophia University (Tokyo)
The Department of Asian and Asian American Studies (AAAS) in partnership with the Ethnic and Intercultural Services (EIS) seeks to promote the leadership development of students of color at LMU. While each program serves the larger LMU community by engaging it in scholarly and social discourse on the histories and contemporary issues through a critical examination of race, ethnicity and culture, we also have a particular responsibility for the development growth of students from historically underrepresented students on our campus.
The TOMODACHI KAKEHASHI Inouye Scholars Program will provide a unique opportunity to bring together the campus student leadership of our African American, Latino, Asian Pacific American and allies communities to explore the life and service of Senator Inouye, the unique relationship between the United States and Japan, while ushering them into an active global conversation with people, places and culture of Japan. In doing so, it is our hope that they will gain an appreciation for their individual heritage, the strength of their collective heritages and an understanding of how they simultaneously view others and are viewed by others outside of the U.S., in this case Japan and the Japanese people.
The LMU TOMODACHI Inouye Scholars Program will also explore comparatively the intersections between gender and ethnic diversity in the US and Japan. In this way, the LMU TOMODACHI KAKEHASHI Inouye Scholars can engage in dialogue, through public presentation, academic seminar and person-to-person exchanges the ways in which diversity and its intersections impact our societies. These include, but are not limited to participation in public life and the economy; gender equity; violence against women; sexual identity and work-life balance.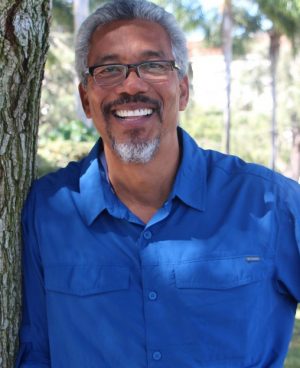 Curtiss Takada Rooks, Ph. D
Assistant Professor
Department of Asian and Asian American Studies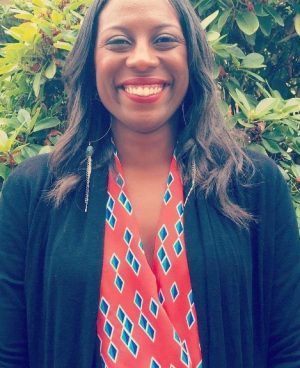 Czarina Ramsay
Assistant Dean
Ethnic & Intercultural Services
The University of St. Thomas (Houston, Texas) & Fukushima University (Fukushima)
The University of St. Thomas (Houston, Texas) is honored to participate in the TOMODACHI KAKEHASHI Inouye Scholars Program in 2018. As home to the oldest undergraduate, interdisciplinary program in international studies in Houston, the University believes strongly in promoting international dialogue, service, and building people to people bridges. As such, our participation honors Senator Daniel Inouye's legacy of diplomacy between the people of the United States and Japan, service to community, and promotion of equality, justice, and diversity.
Prior to our visit to Japan in March, students meet with Dr. Hans Stockton (Director, Center for International Studies), Dr. Chris Evans (Dean, School of Arts & Sciences), and Professor Hajime Kumahata (Professor of Japanese), to learn and discuss the values of the University, those embodied by Senator Inouye, and the TOMODACHI KAKEHASHI Inouye Scholars Program mission and how our students can live these same values through public diplomacy. We will receive a student delegation from Fukushima University prior to our departure and engage in cultural exchange and discussion of how our communities have recovered from major disasters. Dr. Evans and Professor Kumahata will lead the UST delegation to Japan.
Chaperones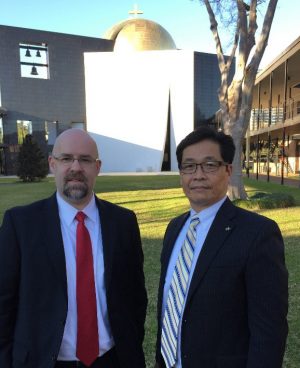 (L-R) Dr. Christopher Evans Dean, Professor Hajime (Jim) Kumahata
School of Arts and Sciences Associate Professor
Theology Department

Visiting Assistant Professor
Japanese Language
Hendrix College (Conway, Arkansas), Prefectural University of Hiroshima, and Yamaguchi University
As TOMODACHI KAKEHASHI Inouye Scholars, Hendrix students will explore Japan's rich cultural heritage, vibrant contemporary culture, and cutting-edge technology with an eye to understanding both shared and distinctive historical trajectories and identifying current and future opportunities for fruitful engagement.
Located in central Arkansas, Hendrix is uniquely situated for historical perspective on American struggles for social justice, including the plight of native Americans embodied in the "Trail of Tears" (which ran through central Arkansas), the struggle for racial integration and equality at places like Little Rock's Central High School, and the race-based incarceration of people of Japanese descent during World War II (two of the main internment camps were located in Arkansas).
In honor of Senator Inouye's commitment to social justice and service, we hope to share these perspectives as we gain a better appreciation of Japanese culture and history, seek understanding of the tragic consequences of modern warfare in events like the firebombing of Tokyo and the atomic bombing of Hiroshima, and draw inspiration from Japan's postwar recovery and technological progress.
Chaperones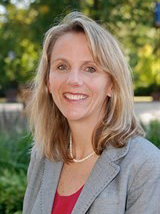 Claudia Courtway
Assistant Director
International Programs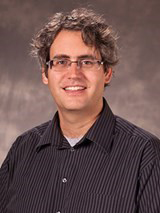 Dr. Mark Goadrich
Associate Professor of Computer Science
Program Administrators and Implementers
This program is administered by the Japan Foundation. The U.S.-Japan Council supports the implementation of this program, through coordination with the Japan Foundation and the Laurasian Institution.
The educational content about Senator Inouye's legacy that the U.S. faculty developed for these exchanges is made possible by a generous grant from the Daniel K. Inouye Institute Fund of the Hawai'i Community Foundation. USJC would like to thank the Institute for their support that allowed us to honor the legacy of the Senator.
For more information about the TOMODACHI Initiative, please visit the TOMODACHI website.