2006 Japanese American Leadership Delegation
Overview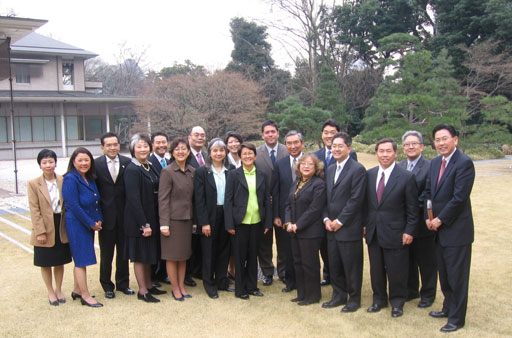 The sixth Japanese American Leadership Delegation traveled to Japan on March 10th –18th, 2006. The Delegation visited Tokyo, Kyoto and Nagoya. Highlights of the trip included meetings with high-level Japanese leaders including government officials, parliamentarians and business executives.
The 2006 delegates represented 12 cities from throughout the United States including Boston, Chicago, Denver, Honolulu, Houston, Los Angeles, Miami, New York City, Sacramento, San Francisco, Seattle and Washington, DC. The delegation represented diverse professions including business, criminal justice, design, higher education, government, journalism, law, public relations and theatre.
Symposium
The 2006 symposium, "From Art to Business: Japanese Americans in the Professional Arena" was sponsored by the Japan Foundation Center for Global Partnership and the Japanese American National Museum and coordinated by Dr. Okiyoshi Takeda of Aoyama Gakuin University and Irene Hirano Inouye. It featured Frank Buckley, Donna Fujimoto Cole, Philip Kan Gotanda, Karen L. Suyemoto and Craig D. Uchida as panelists. Click here to download the symposium report.
2006 Delegates
Frank Buckley, Southern California
Donna Fujimoto Cole, Texas
Jose Keichi Fuentes, Florida
Philip Kan Gotanda, Northern California
Kerry S. Hada, Colorado
Ann Harakawa, New York
Robert K. Ichikawa, Hawaii
Patricia A. Kinaga, Southern California
Calvin Manshio, Illinois
Eric K. Martinson, Hawaii
Sharon Tomiko Santos, Washington
Floyd D. Shimomura, Northern California
Karen L. Suyemoto, Massachusetts
Patrice Tanaka, New York
Craig D. Uchida, District of Columbia