Silicon Valley Japan Platform Benkyokai Webinar
日時
2022年8月3日 (水) 12:00 am – 11:59 pm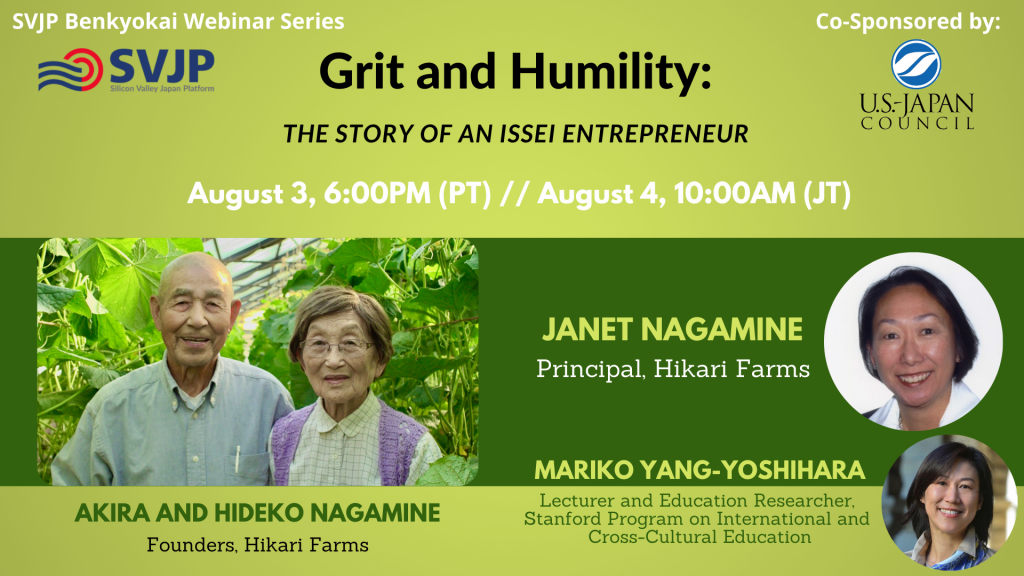 Date: August 3, 2022 (U.S.) / August 4, 2022 (Japan)
Time: 6:00pm-7:30pm (PT) 9pm-11:30pm (ET) / 10:00am-11:30am (JT)
Location: Virtual Event
Registration: This is a members-only event. If you are interested in attending or have questions, please contact Alison Harsch at [email protected].
In 1956 with just $24.32 in his pocket, Akira Nagamine ventured to the United States to fulfill a 30-month contract with a strawberry grower in Watsonville, CA, earning 90 cents per hour. After six short years, he was able to purchase five acres of land to start a wholesale floral business with his two brothers. Together they brought generations of farming knowledge from their ancestors in Kagoshima, Japan to their new American home.
When the flower industry moved largely to Central and South America, Akira transitioned to growing high quality vegetables, including their famed Japanese Cucumbers. In 2014, at the age of 88 years old, Akira decided he was not yet ready to retire. The family farm was rebranded and Hikari Farms was born, focusing on specialty organic Japanese vegetables.
On August 3 (U.S.) / August 4 (Japan) the Silicon Valley Japan Platform and U.S.-Japan Council bring you an enduring story of Issei grit, dedication, and familial bonds. Join the webinar and learn about the history of Hikari Farms from Mr. and Mrs. Nagamine's daughter, Dr. Janet Nagamine, who at the peak of her medical career, semi-retired from medicine to manage her family farm as a way to connect to her heritage and honor her parent's legacy. Akira Nagamine, now 97 years old, and his wife, Hideko, 101 years old, will join the Q&A portion of the session. The webinar will be moderated by Mariko Yang-Yoshihara .