USJC Members Forum (Virtual Event)
日時
2020年10月15日 (木) 6:30 pm – 8:30 pm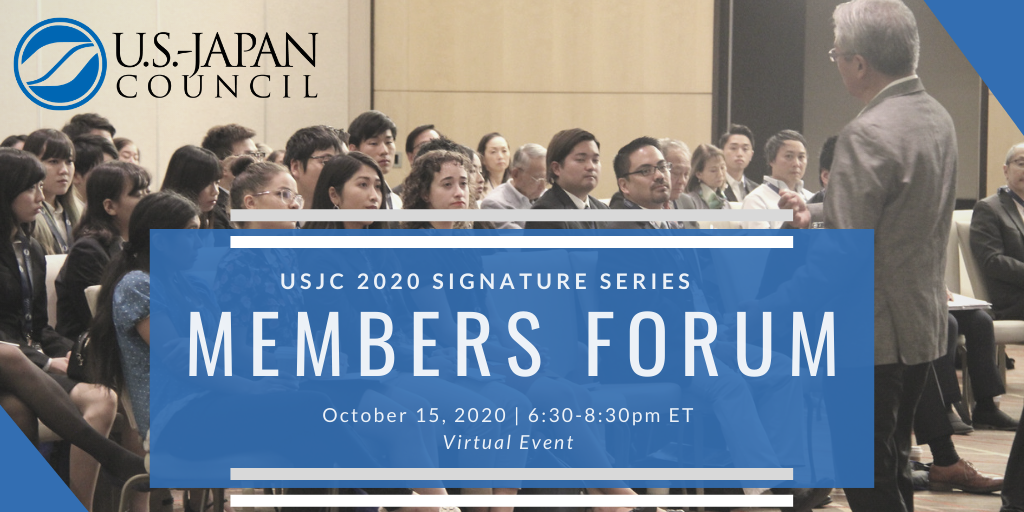 USJC Members Forum (Members Only)
Date: October 15, 2020
Time: 6:30pm-8:30pm ET
Where: Virtual Event
Registration: This event is members only. If you have not received an invitation, please contact Wendy Abe at [email protected].
Members of the U.S.-Japan Council are invited to join us for the Members Forum on October 15, as the next installment of our 2020 Signature Series that kicked off earlier this month with the Bilateral Boardroom. This virtual event will highlight a range of voices within the USJC community. Attendees will hear from USJC leadership and share their own visions for USJC's future. They will also have the opportunity to engage in a panel on bicultural Japanese American identity, hear from Jennifer Hirano, daughter of USJC's late founding president Irene Hirano Inouye, and network with other members through breakout sessions.
Agenda
Opening Remarks
Welcome Remarks from USJC Leadership
Panel: Japanese American Identity: Expanding the Nikkei Experience
Reports (Engagement Committee, Emerging Leaders Program, Mid-Career Professionals)
Board Recognition
Keynote: Jennifer Hirano
Closing Remarks
Optional: Networking Sessions (via Zoom Breakout sessions)
Speakers
–Kei Ashizawa, Attorney at Law, Ashizawa, LLC
–Suzanne Basalla, President & CEO, U.S.-Japan Council
–Phyllis Campbell, Chair, JPMorgan Chase & Co.; USJC Board Chair
–José Keichi Fuentes, Senior Government Representative, Becker & Poliakoff
–Jennifer Hirano
–Christine Kitano, Assistant Professor, Ithaca College
–George Kobayashi, President, Masuda Funai (emcee)
–Joshua Morey, President, The J. Morey Company, Inc.
–Mana Nakagawa, Strategic Operations Lead, Facebook
–Rika Nakazawa, Founder and CEO, Boardseatmeet
–Erika Ninoyu, APAICS Fellow, Asian Pacific American Institute for Congressional Studies
–Lisa Sakai, President & Owner, TransAgra International Inc. (emcee)
–Dr. Curtiss Takada Rooks, Assistant Professor, Loyola Marymount University
–Ako Williams, Vice President, General Counsel and Corporate Secretary, Ushio America, Inc.
–Tasha Yorozu, Managing Attorney, Yorozu Law Group, P.C.