Youth Perspectives and Mental Wellness – Back to School, At Work, In Transition: Dialogue with Changing Tides
日時
2023年9月7日 (木) 12:00 am – 11:59 pm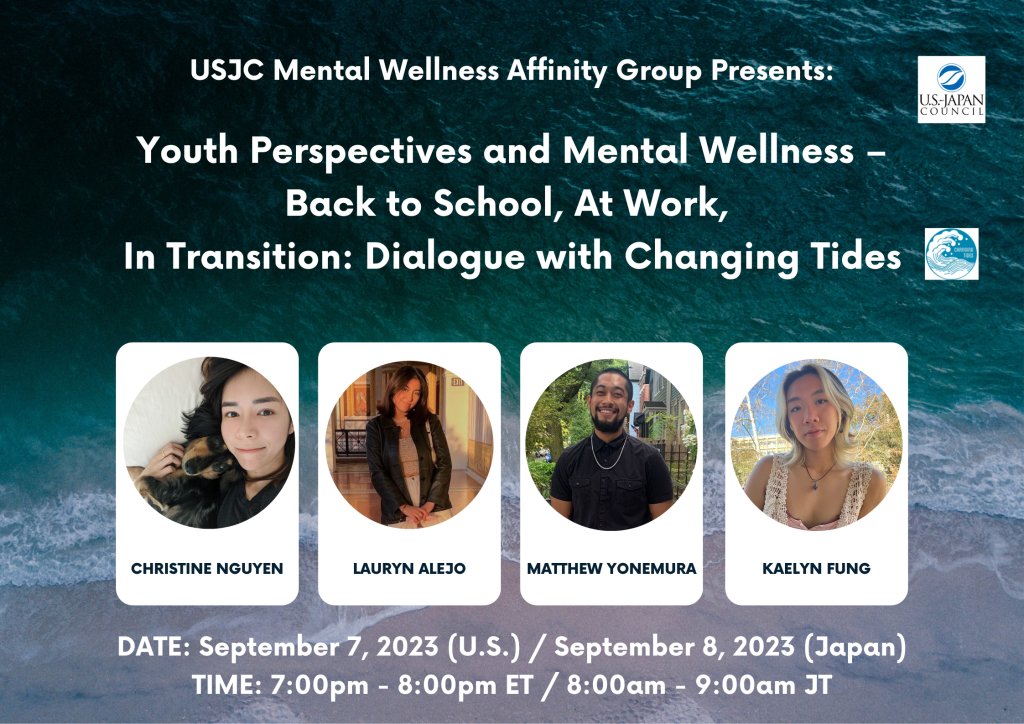 Date: September 7, 2023
Time: 7:00pm (ET) / 8:00am (JT)
Location: Virtual Event
Registration: This event is limited to members only. If you have any questions about this event or would like to attend, please email Haruka Kokaze at [email protected].
Surveys have revealed that young adults in their twenties and early thirties in both the United States and Japan struggle the most with mental wellness. During the COVID pandemic, over 40 percent of young adults in both countries reported high levels of anxiety and depression. Young adults continue to struggle with their mental wellness even in the post-COVID pandemic era, a trend that was present even prior to the pandemic.
There is intense pressure to succeed regardless of the stage of life one finds themselves in, whether it's the pressure to succeed academically, the pressure to succeed in their first full-time position or the pressure to find direction in life within competitive societies, which certainly contributes to the situation.
This event will feature representatives from Changing Tides, a program within the Little Tokyo Service Center that seeks to inspire mental health conversation within the Japanese American and the larger Asian American communities. This event will allow participants to learn more about the mental health of young adults from those within the community.
Learn more about Changing Tides here.