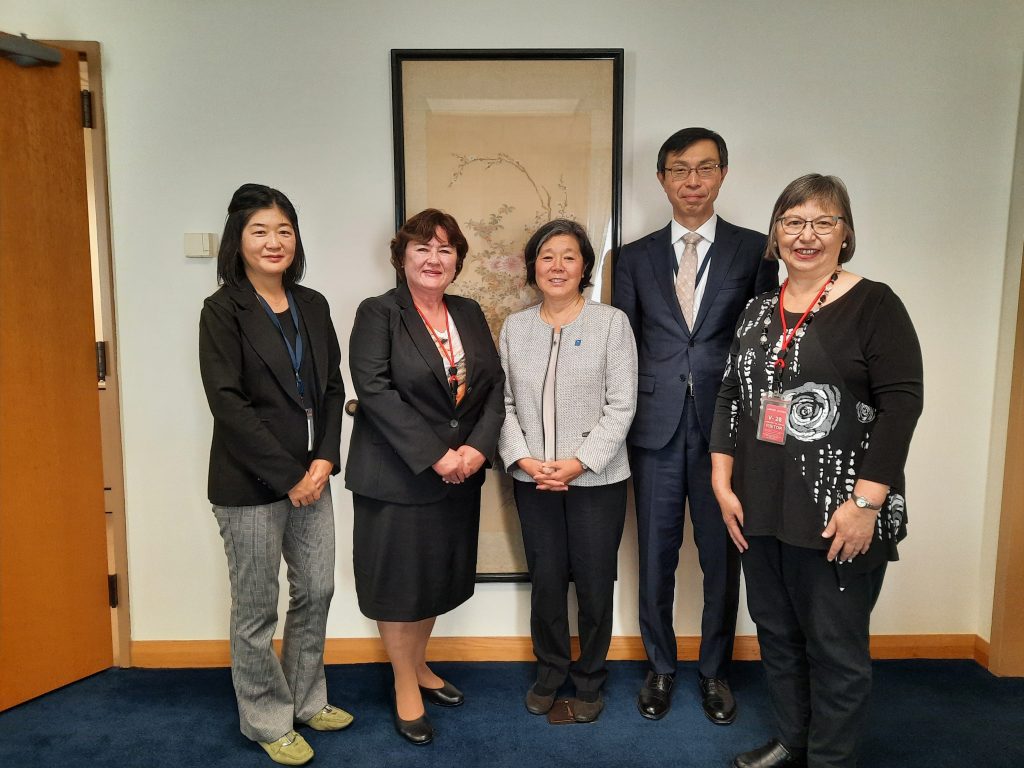 On October 12, the leadership of USJC's Washington, DC Region welcomed Minister SATO Masaru, the new Head of Chancery at the Japanese Embassy in Washington, DC. DC Regional Chair Janet Nuzum (Foreign Agricultural Service, JALD '10), DC Regional Vice Chair Margaret Cummisky (Hawaiian Airlines, JALD '04) and USJC Co-Chair Susan Morita (Arnold & Porter, JALD '11) met with Minister Sato and SUZAWA Fumiho, First Secretary in the Management and Coordination section of the Embassy. Included within the Head of Chancery position is responsibility for relations with the Japanese American community as well as the Japanese American Leadership Delegation (JALD) program. The three USJC Council Leaders, who are all alumni of the JALD program, shared their personal histories with Minister Sato to highlight the diversity of the Japanese American experience.
Minister Sato began his new duties in September, succeeding AI Koichi who was promoted to the Deputy Chief of Mission position at the Embassy. Mr. Sato joined the Foreign Ministry in 1991, and previously served in the United States in 2004 (Washington, DC) and 2017 (New York). Before his current assignment in Washington, DC, he served in Tokyo as Cabinet Counsellor (Infrastructure Export Promotion, 2019) at the Office of Assistant to Deputy Chief Cabinet Secretary, Cabinet Secretariat and as Counsellor (National Ocean Policy Secretariat, 2021) at Cabinet Office. Educated in law at the University of Tokyo, Mr. Sato also holds a Master of Public Policy degree from the John F. Kennedy School of Government, Harvard University.
Thank you to Council Leader Janet Nuzum (Foreign Agricultural Service, JALD '10) for the above content and photo!