Diversity and Impact in Corporate Boardrooms – East and West
日時
2021年6月28日 (月) 12:00 am – 11:59 pm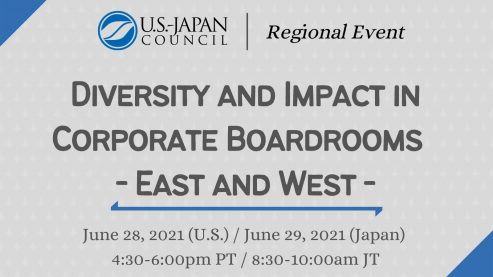 Diversity and Impact in Corporate Boardrooms – East and West
Date: 
June 28, 2021 (U.S.) / June 29, 2021 (Japan)
Time: 
4:30-6:00pm PT / 8:30-10:00am JT
Registration
: 
Click here to register
Diversity in senior-most leadership, especially the corporate Boardroom, has been a topic of hot discussion especially of late – but with different considerations for Japan Inc vs the U.S. Fortune 500. In this deep dive session, jointly hosted by the USJC Northern California and Japan regions, we will hear from experienced board leaders based both in the U.S. and Japan, and explore the current dynamics underpinning the shifts in the reality of diversity in the board room and c-suite. We will examine how quickly (or not) these shifts are happening, what is influencing the movement, and the impact of culture, policy, and community towards meaningful outcomes. Most importantly, we will have the chance to consider the ways that American and Japanese business leaders can work together to help influence change in governance in the corporate landscape.
You don't want to miss what will be a profoundly relevant discussion for the USJC community.
Featuring