日時
2023年11月10日 (金) 10:00 am – 4:00 pm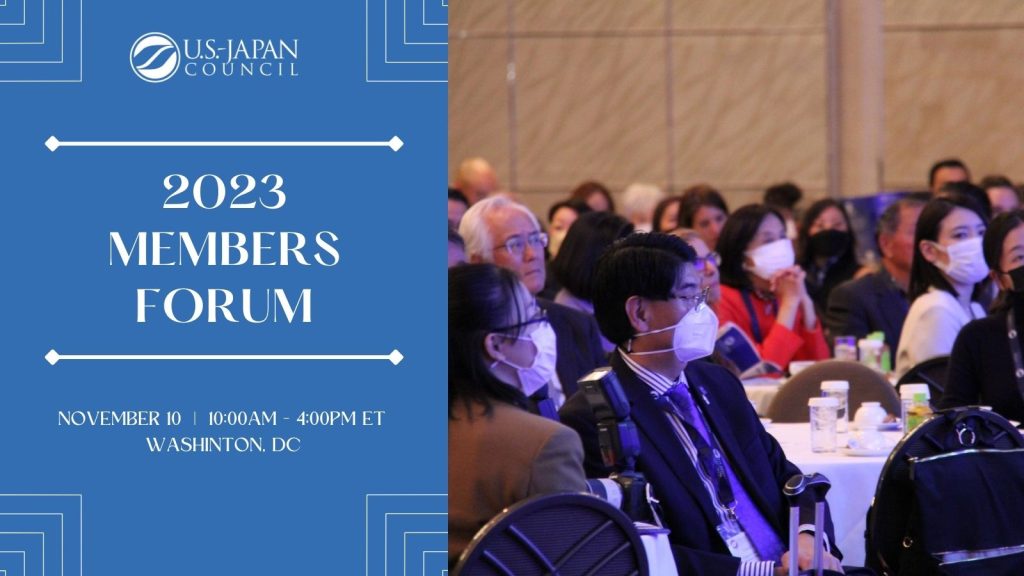 2023 Members Forum
Date: Friday, November 10
Location: Washington, DC
Registration: Click here
The Members Forum is held in conjunction with the 2023 Annual Conference, and is for USJC Members only. To join, please register for the Annual Conference.
Members of the U.S.-Japan Council are invited to join us for the Members Forum on November 10, 2023. This event will highlight a range of voices within the USJC community. Attendees will hear from USJC leadership who will share future plans for USJC's future. Participants will have the opportunity to hear from several member-led programs, and network with other USJC Members.
Agenda
7:00 – 8:30am
Breakfast
8:00 – 9:00 am
New Member Orientation & Networking
10:00 am – 4:00 pm
Main Program
Welcome
Honoring Veterans / National Anthem
Council Leaders Ginny Fordham & Steve Wilkes
USJC – View from the Leadership
Small Group Strategy Discussions
LUNCH
USJC Regional Highlights
Member Committee Reports
-Emerging Leaders Program
-Advanced Leadership Collective
What Does It Mean to Be Japanese American?
Dianne Fukami (JALD '09) & Debra Nakatomi (JALD '09)
Panel discussion with emerging Japanese American leaders
USJC Board Recognition
Joshua Morey (ELP '16)
Voices of USJC
2023 Host Committee
Janet Nuzum (JALD '10) & Margaret Cummisky (JALD '04)
Closing Remarks
The agenda is subject to change. Please stay tuned for updates and additional information.