An Insider's Take on the Pelosi Delegation's Trip to Taiwan and Japan: A Conversation with Representative Mark Takano (Invitation Only)
日時
2022年8月25日 (木) 12:00 am – 11:59 pm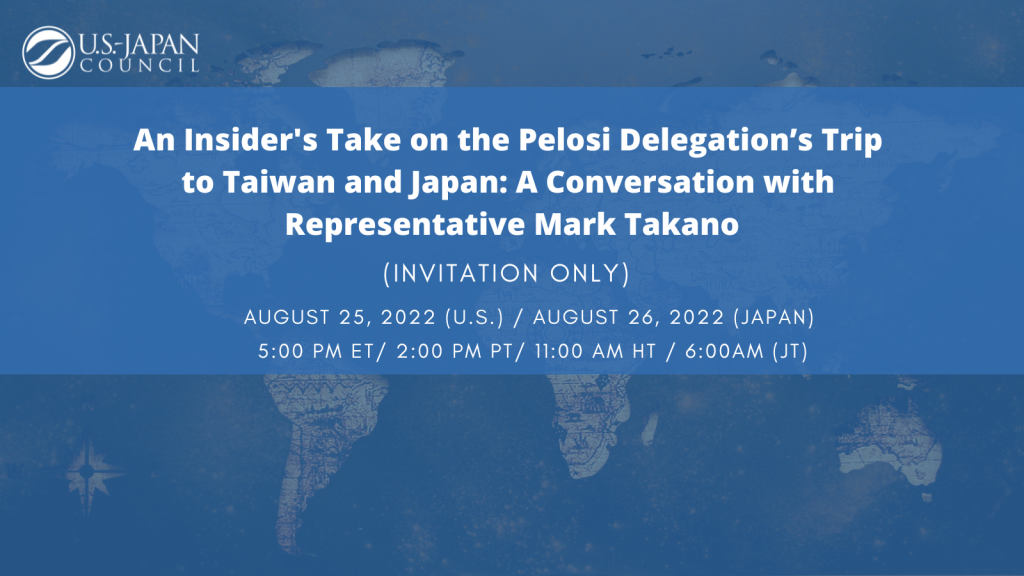 An Insider's Take on the Pelosi Delegation's Trip to Taiwan and Japan: A Conversation with Representative Mark Takano
Date: August 25, 2022 (U.S.) / August 26, 2022 (Japan)
Time: 5:00pm (ET) / 2:00pm (PT) / 11:00am (HT) / 6:00am (JT)
This event is by invitation only.
Rep. Mark Takano (D) was on the plane that landed in Taiwan, a visit that sparked headlines and a furious response from China. He will discuss the implications of that visit to Asia for U.S.-Japan relations and security in the Indo-Pacific region and address U.S.-Japan trade issues as well.
If interested in attending this exclusive event, please contact [email protected] about sponsorship.
Featured Speakers
Representative Mark Takano (D-CA 41st District)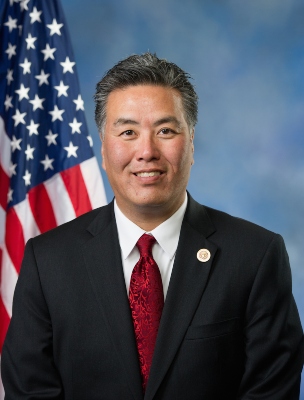 For more than twenty years, Mark Takano has worked to improve the lives of Riverside County residents, both as an elected official and as a teacher at Rialto High School.
Born and raised in Riverside, California, Mark's commitment to public service began at an early age. His family roots in Riverside go back to his grandparents who, along with his parents, were removed from their respective homes and sent to Japanese American Internment camps during World War II. After the war, these two families settled in Riverside County to rebuild their lives.
Mark attended La Sierra High School in the Alvord Unified School District, and in 1979 he graduated as the school's valedictorian. Mark attended Harvard College and received his bachelor's degree in Government in 1983. As a student, he bussed tables to help make ends meet. During his senior year, he organized a transcontinental bicycle ride to benefit the international development agency Oxfam America.
Upon graduation, Mark returned home to Riverside and began teaching in the Rialto Unified School District in 1988. As a classroom teacher, Mark confronted the challenges in our public education system daily.
In 1990, Mark was elected to the Riverside Community College District's Board of Trustees. At RCC, Mark worked with Republicans and Democrats to improve higher education for young people and job training opportunities for adults seeking to learn a new skill or start a new career. He was elected Board President in 1991 and helped the Board and the District gain stability and direction amid serious fiscal challenges.
In 2012, Mark became the first openly gay person of color to be elected to Congress.
Mark Takano represents the people of Riverside, Moreno Valley, Jurupa Valley and Perris in the United States House of Representatives. He serves as Chairman of the House Committee on Veterans' Affairs, and as a member of the Education and Labor Committee.

Glen S. Fukushima (Moderator)
Vice Chair, Securities Investor Protection Corporation, Senior Fellow, Center for American Progress.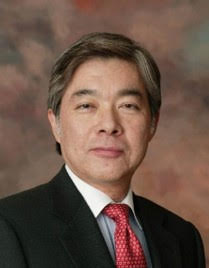 Glen S. Fukushima is Vice Chair of the Securities Investor Protection Corporation (SIPC), having been nominated to the position by President Joseph R. Biden on October 14, 2021 and having been confirmed by the United States Senate on April 6, 2022. He is also a Senior Fellow at the Center for American Progress, a public policy think tank headquartered in Washington, D.C., where he focuses on U.S.-East Asia relations.
From 1990 to 2012, Glen was a senior business executive based in Asia representing several major multinational corporations: Vice President, AT&T Japan; President, Arthur D. Little Japan; President & CEO, Cadence Design Systems Japan; President & CEO, NCR Japan; and President & CEO, Airbus Japan. He was elected twice to serve as President of the American Chamber of Commerce in Japan (ACCJ).
Before his business career, he served in Washington, D.C. as Director for Japanese Affairs (1985-1988) and Deputy Assistant United States Trade Representative for Japan and China (1988-1990) at the Office of the United States Trade Representative (USTR).
A native of California, Glen was educated in the United States at Deep Springs College, Stanford University, Harvard University Graduate School of Arts and Sciences, Harvard Business School, and Harvard Law School and in Japan at Keio University and the University of Tokyo, where he was a Fulbright Fellow.