Members Forum (Members Only)
日時
2022年10月27日 (木) 12:00 am – 11:59 pm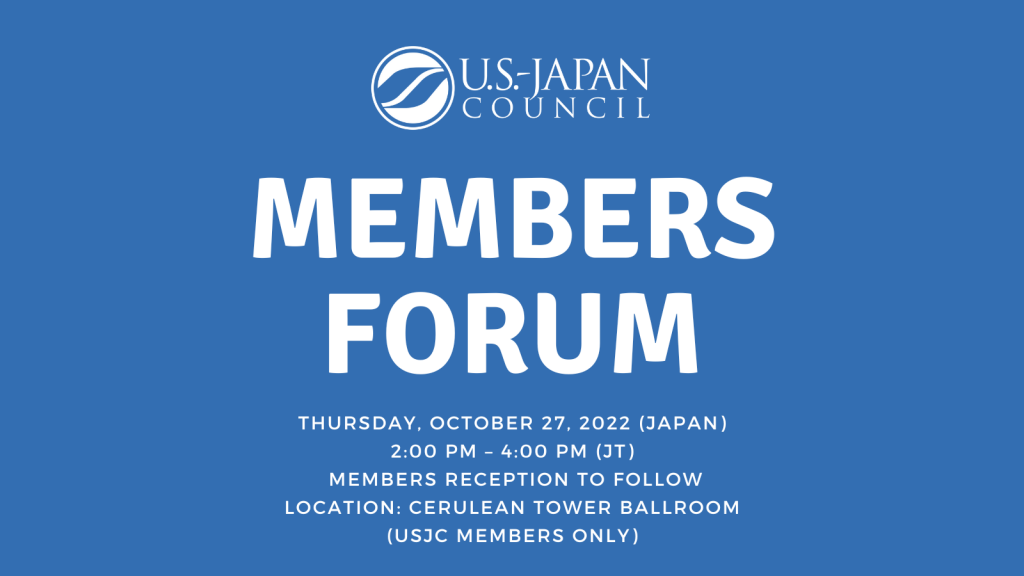 Date: Thursday, October 27, 2022 (Japan)
Time: 2:00 pm – 4:00 pm (JT),
Members Reception to Follow
Location: Cerulean Tower Ballroom
Registration: This event is for members only. If you have not received an invitation or need more information, please contact Wendy Abe at [email protected].
Members of the U.S.-Japan Council are invited to join us for the Members Forum on October 27, 2022. This event will highlight a range of voices within the USJC community. Attendees will hear from USJC leadership who will share future plans for USJC's future. Participants will have the opportunity to hear from several member-led programs, and end the day with networking at the members reception.
Agenda
Opening Remarks
Welcome Remarks from USJC Leadership
Voices of USJC Members

Shin Issei Affinity Group
Engagement Committee
Emerging Leaders Program / ELP50
Japanese American Storytelling Program

Closing Remarks
Optional: Members reception to follow
Speakers (Subject to Change)
Suzanne Basalla – President & CEO, U.S.-Japan Council 
Yuga Cohler – Emerging Leaders Program Steering Committee Member and Communications Subcommittee Lead, ELP50 Planning Committee Member; Senior Software Engineer, Coinbase 
Royanne K. Doi – Representative Director, Board of Director (Japan); Corporate Governance Specialist
Tim Higashide – Co-Chair U40 Summit; Director of Business Operations, Sakura Square LLC
Kathy Matsui, Chair, USJC Board of Councilors; General Partner, MPower Partners
Susan Morita, Vice Chair, USJC Board of Directors; Partner, Arnold & Porter
Erika Ninoyu – Chair Emerging Leaders Program Steering Committee; Senior Legislative Assistant, Congresswoman Barbara Lee
Niki Robins – U40 Summit Planning Committee Member, Co-Founder + Content Director, Spectacle Marketing
Brent Sabati – U40 Summit Planning Committee Member, Digital Curriculum Coordinator, Ent Credit Union
Scott Sato – USJC Board Member & Annual Conference Host Committee Chair; CEO, Tricor K.K. (Master of Ceremony)
Ichiro Sekimitsu – Member Shin Issei Affinity Group; Senior Vice President, Corporate Development, Central Pacific Bank
Masami Tyson – Founding Chair Shin Issei Affinity Group; Partner Attorney, Womble Bond Dickinson LLP
Amy Watanabe – Vice Chair Emerging Leaders Program Steering Committee; Managing Director, Client Services, Nakatomi & Associates Inc. 
Paul Yonamine – USJC Chairman of the Board; Executive Chairman, Central Pacific Bank