Regional Women In Leadership: Did You Really Just Say That?: NAVI-gating Critical Conversations for Women
日時
2022年6月24日 (金) 12:00 am – 11:59 pm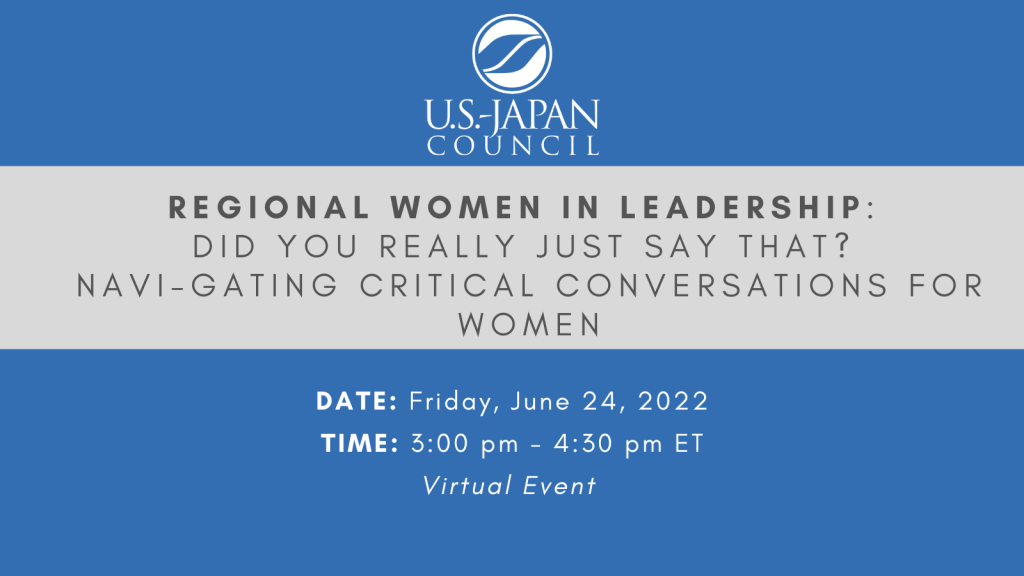 Date: Friday, June 24, 2022
Time: 3:00 pm – 4:30 pm ET
Location: Zoom (Virtual event)
Registration: Please email Wendy Abe at [email protected] if you'd like to register and for information. Please note the registration information below prior to doing so.
Please Note:
Priority will be given to registrants from outside of large cities or in areas where there are no Japan Consulate offices. Registration will be capped at 40 participants. Please register by Monday, June 20, 2022.
"I witnessed a sexist comment at work. Now what?"
"What if I'm so offended I don't know what to say?"
"What if I unintentionally offend someone?"
"How do I become a better facilitator of inclusive conversations?"
If you have ever had these questions, this session is for you. This workshop will start building our inclusive conversation muscles through:
Sharing your story: How has it felt to be in need of an ally or advocate? How have you taken on (or struggled to take on) these roles yourself?
Heightening your awareness: How can you prepare yourself to stand up as an ally? How can you act in the moment of conflict to facilitate a productive conversation?
Getting comfortable with discomfort: How can you practice sitting with, and then acting to move past discomfort?
Hosted by Dr. Mana Nakagawa, Director of Diversity Strategic Initiatives at Facebook, and co-chair of USJC's Outreach and Allyship committee, this 1.5-hour-long workshop will offer practical advice for allyship and self-advocacy in a safe, confidential, and supportive environment. Come prepared to share, listen, offer support, and participate in small-group roleplay scenarios to better prepare for the next time you are called on to be an ally or self-advocate.
The Outreach & Allyship Committee is a group of USJC members who have come together to help strengthen US-Japan ties while confronting the systemic inequities standing in the way of a just and equitable global community. Each month, members of the Outreach and Allyship Committee come together in a safe setting to hold critical conversations and support one another as we each try to make sense of the continued anti-Asian violence, mass shootings, racism in America and Japan, the model minority myth, and a range of topics.
The Regional Women In Leadership (RWL) program is in its seventh year at the U.S.-Japan Council. The program's objective is to provide opportunities for discussions on the advancement of women in leadership. RWL encourages members and collaborators to convene in a series of events to educate and discuss women's leadership in the context of U.S.-Japan relations, creating a conversation about women's issues among diverse communities and business leaders. Funding is provided by the Government of Japan's Ministry of Foreign Affairs.
Mana Nakagawa (Moderator)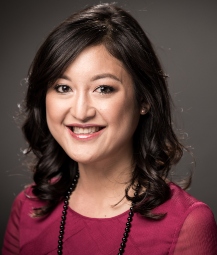 Mana leads global strategy and operations for Diversity, Equity, and Inclusion initiatives at Meta Platforms, Inc. (formerly Facebook). In her time at Meta, she has also led key efforts to advance gender equity at Facebook, from developing women's leadership programs, building global communities for women in tech, and creating programs for male allies to act as inclusive partners in the workplace.

Prior to joining Meta, Mana led international research efforts for Sheryl Sandberg's global bestseller book, Lean In: Women, Work and the Will to Lead, where she led the global research efforts for the publication of Lean In in over 50 countries. She has also held research positions at the United Nations Institute for Advanced Studies in Tokyo, UNESCO and UNICEF in Nepal, and as a Fulbright Fellow to Japan. Mana holds a Ph.D. in International Education Policy from Stanford University, an M.A. in Sociology from Stanford University, and a B.A. in Sociology from the University of Pennsylvania. She is a published author in the fields of International Comparative Sociology, International Education Policy, and Organizational Behavior.
Facilitators