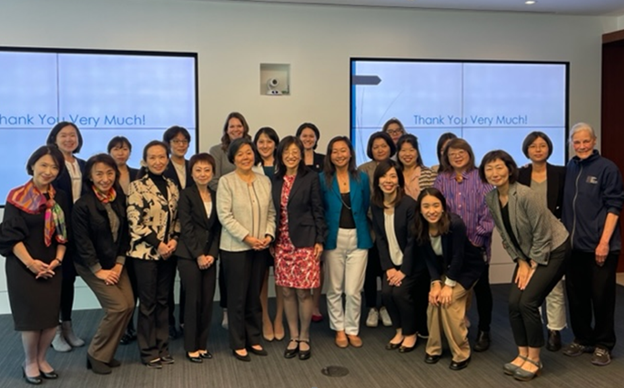 On April 24, 2023, USJC Co-Chair Susan Morita (Arnold and Porter, JALD '11) shared her life story with a Japanese audience in Washington DC. The talk was organized by J-WIP, a professional organization for Japanese women in the Washington DC area, which is part of the Japanese Chamber of Commerce of Washington DC (JCAW).
Ms. Morita organized her talk, "A Japanese American Perspective: My Journey as an Asian American Woman," into three parts. She opened by discussing her personal story, beginning with her grandparents' migration to the United States and their experiences during the mass incarceration of Japanese Americans during World War II. The trauma that Ms. Morita's grandparents and the rest of their generation suffered reverberates to this day. She also addressed the complex relationship between the Japanese American community and Japan.
In the second part of the discussion, Ms. Morita shared her views on professional Asian women in the United States, how they are perceived, and the challenges they must overcome. Lastly, Ms. Morita touched on her recent career change from attorney to social worker. She is currently studying social work at the University of Maryland because she wanted to get out of her comfort zone and focus on a completely new area. She hopes to better understand the inequities in our society and to contribute to the empowerment of marginalized communities.
The audience was mesmerized by Ms. Morita's talk, which she delivered with quiet assurance. She generously shared several photos of her family while describing how hard the previous generations of Japanese Americans worked to keep up with Japanese traditions and maintain their cultural values in their new country. The photos of her grandfather wearing a formal monk's robe, and her grandmother with all her students at the Ikebana School, along with Susan as a toddler, wearing a colorful Japanese kimono were particularly moving. Some of the members of the audience had tears in their eyes when she spoke vividly about her family's difficult experiences during World War II.
Ms. Morita noted that there were disagreements within the Japanese American community when they were forced to declare their unqualified allegiance to the United States. Everyone had different backgrounds, perspectives and struggles, and reacted differently to their incarceration in government camps and facilities as a result. Ms. Morita suggested that through this experience, the Japanese American community has a special role to play in the United States to this day. Japanese Americans must, she said, continue to advocate for freedom and diversity, and against the discrimination of other American minorities because of their heritage.
Ms. Morita emphasized the importance of speaking up when injustice occurs, and that everyone needs to be willing to contribute to society in his or her own ways. Morita's words and insights will remain with her audience, many of whom are in the country temporarily and will return to Japan when their duty is complete. She reminded the audience that everyone must make their efforts to strengthen the Japanese community with its historically complicated heritage, and to work for the betterment of U.S.-Japan relations and global relations.
Thank you to Chiyo Kobayashi for the content and photo!