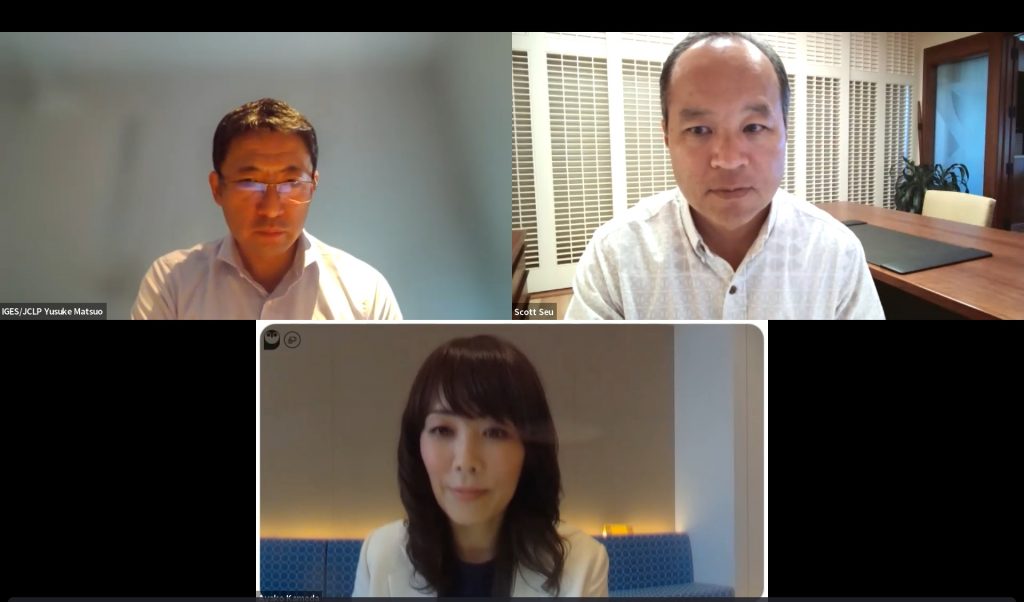 On August 29, the U.S.-Japan Council hosted a webinar titled, "U.S.-Japan Climate Partnership: Increasing the Availability of Affordable Clean Energy." This dialogue brought together multi-sector leaders to offer inspiration and practical insights into how to bridge the gap in the United States and Japan between demand and supply of low-cost renewable energy through effective engagement of key stakeholders. Representatives from the U.S. and Japanese governments provided special remarks around each administration's policy plans, while we heard from Amazon and USJC (President & CEO, Suzanne Basalla) about private and multi-sector initiatives to work with government and industry leaders to achieve sustainability goals.
The main event of the webinar was a dialogue with utility and energy company representatives. First we heard a special message from Governor UCHIBORI Masao of Fukushima Prefecture, who enthusiastically talked about decarbonization efforts in the prefecture and the numerous public-private joint development projects driving these efforts. During the live panel discussion, Scott Seu, CEO of Hawaiian Electric Industries, discussed their work to introduce renewable energy in Hawaii and the regulatory processes that are driving incentives to change the market. MATSUO Yusuke, Executive Director of the Japan Climate Leaders' Partnership (JCLP), discussed numerous issues around the supply and demand of renewable energy in Japan and the positive impact of JCLP's policy advocacy efforts. The dialogue was moderated by USJC Council Leader Aya Kameda, General Manager of Shell Energy Japan.
USJC Senior Advisor and CEO of Global Link Lab, Inc. TANABE Yasuo described the webinar as "providing constructive discussions covering comprehensive U.S.-Japan cooperation toward decarbonization and energy transitions by government officials, local governments, companies, electric utilities, and experts." He added that what stood out to him most was a "warning that the availability of cheap clean energy is essential to realize the investment necessary for growth in Japan, whether in the manufacturing or service sectors, and without it there is a risk of 'Japan passing'." He added, "Japan should listen to these friends and boldly accelerate its energy transition."
This event is part of the USJC Climate and Sustainability Initiative, made possible by the initiative's Founding Strategic Partner, Amazon. This webinar was also presented in partnership with the Japan Climate Leaders' Partnership (JCLP). A more detailed summary of the webinar will be available soon.