Overview
The Japanese American Leadership Delegation (JALD) program provides the opportunity for a select group of Japanese American leaders from across the United States to travel to Japan to engage with Japanese leaders in the business, government, academic, nonprofit and cultural sectors. The trip also allows Japanese leaders to gain a greater understanding of multi-cultural America through the experiences of a diverse group of Japanese Americans. Upon their return, delegates collaborate with program alumni, the local consulates, the U.S.-Japan Council and local and national community organizations to continue strengthening ties between the U.S. and Japan.
The Japanese Ministry of Foreign Affairs (MOFA), represented in the U.S. by the Embassy of Japan in Washington, DC and 17 consulate general offices, sponsors the program. The U.S.-Japan Council provides administration and support for the program. JALD began in 2000 and 217 delegates have participated to date.

2019 Trip
The ​ten delegates of the 201​9 Japanese American Leadership Delegation (JALD) program returned home on March 9 after a full week of meetings, discussions and networking opportunities with Japanese leaders. ​With the aim to ​strengthen and diversify U.S.-Japan relations​, the ​program build​s​ people-to-people relationships with Japanese leaders from various sectors.
The group first visited Tokyo, where they met with Foreign Minister Taro Kono (a Friend of the Council) to discuss issues pertinent to the U.S.-Japan bilateral relationship. Minister Kono has spent time with every JALD class since the program's inception in 2000. As in years past, he brought parliamentarians who are part of the Japan-U.S. Parliamentary Friendship League, and encouraged networking among Japanese and Japanese American leaders.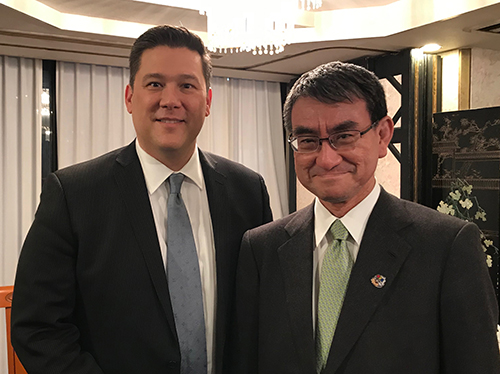 The delegates also met with many other leaders in Tokyo, including MEXT (Ministry of Education, Culture, Sports, Science and Technology) Minister Masahiko Shibayama; U.S. Ambassador to Japan William F. Hagerty; Deputy Chief of Mission at the U.S. Embassy Joseph M. Young; Special Advisor to the Prime Minister Kentaro Sonoura; and representatives from the Ministry of Foreign Affairs, Keidanren (Japan Business Federation), Keizai Doyukai (Japan Association of Corporate Executives), Forum 21, and the Japan Foundation Center for Global Partnership (CGP).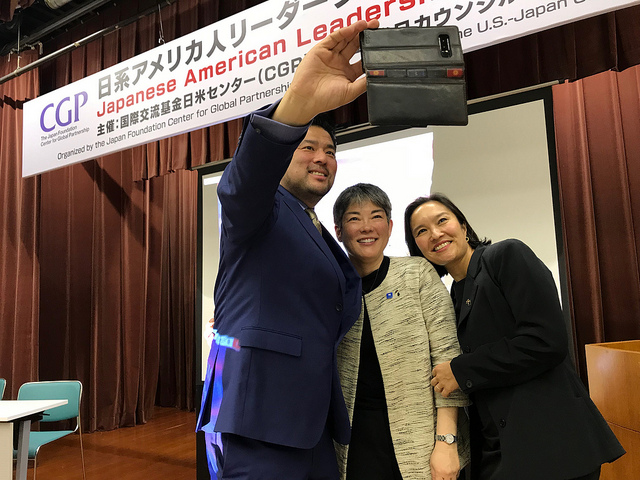 In Kumamoto Prefecture, the delegates met with Governor Ikuo Kabashima of Kumamoto Prefecture and Mayor Kazufumi Onishi of Kumamoto City. They also participated in a symposium titled "Three Sectors, Three Approaches: Cities that Attract Youth," co-sponsored by the Japan Foundation CGP, USJC and Kumamoto City, with support from the Ministry of Foreign Affairs and Kumamoto Prefecture. Based upon their own experience in academia, civil society and the private sector, panelists discussed how to create cities that will continue to draw future generations. About 120 individuals attended the symposium, which concluded with a lively Q&A.
The JALD program is sponsored by the Ministry of Foreign Affairs and organized by USJC.
Click here ​to view more photos from the trip.
2019 Delegation
Andrew Fujimoto (Meridian, ID)
CEO
Ameriben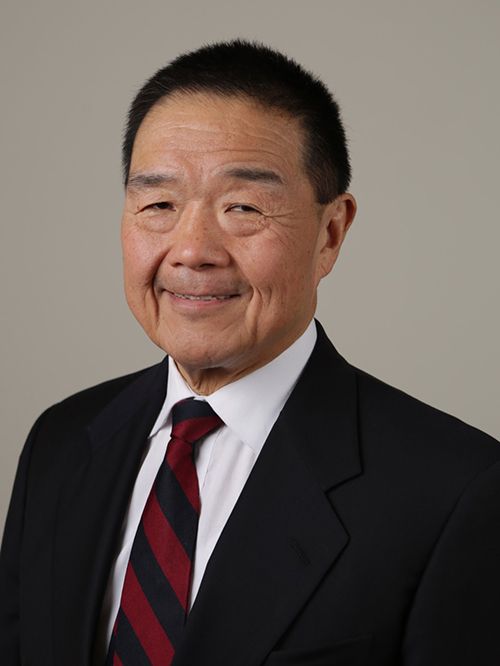 As the principal owner and CEO of AmeriBen, Mr. Andrew Fujimoto has been instrumental in growing AmeriBen Group into a widely respected group benefits third-party administrator and human resource consulting firm. Mr. Fujimoto has extensive experience as a business executive and human resource consultant. He joined the organization when there were 15 employees, but that has now expanded to over 850 employees and offices in four states. Mr. Fujimoto graduated magna cum laude from Linfield College in McMinnville, Oregon, with a bachelor's degree in Business Administration. He currently serves as Chair of the Board for Mutual of Enumclaw and is the Governance Committee Chair for the Grant 4D Farms Board of Directors. His community leadership includes Big Brothers Big Sisters of America, the Ore-Idaho Council of the Boy Scouts of America, and the Society of Professional Benefit Administrators in Washington, D.C.
Prefecture in Japan of ancestral origins: maternal side from Hiroshima, paternal side from Kumamoto.
Joy J. Goto (Fresno, CA)
Chair and Professor of Chemistry
California State University, Fresno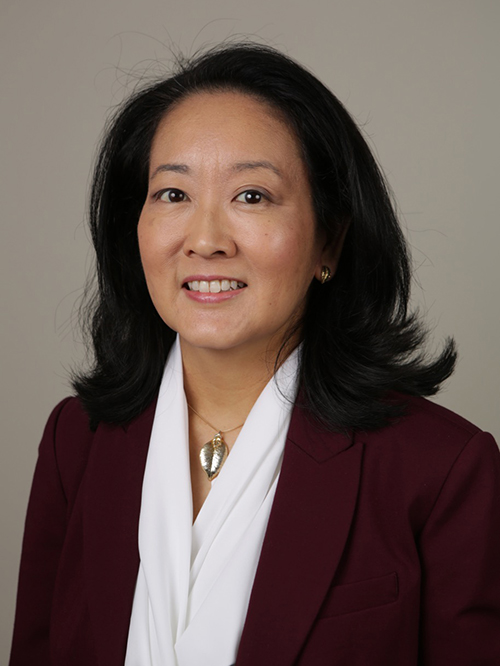 Dr. Joy J. Goto is Chair and Professor of Chemistry at the California State University, Fresno. She is Governor of the Central California District Council of the Japanese American Citizens League (JACL) and President of the Fresno Chapter of the JACL. She is committed to connecting with the local San Joaquin Valley community through her involvement in the Asian American and Pacific Islander (AAPI) campus community and her service with the JACL. Her research program at Fresno State has been supported by university and college grants, including grants from the NIH, NSF, USDA and private foundations totaling approximately $3.5 million. She earned a B.S. in Chemistry from UC Davis and a Ph.D. in Chemistry from UCLA. Dr. Goto uses her training in bioinorganic chemistry and neuroscience to contribute to the understanding of Alzheimer's Disease, Parkinson's Disease and ALS.
Prefecture in Japan of ancestral origins: Hiroshima.
Mark T. Nakagawa (Springfield, VA)
Program Manager
Department of Defense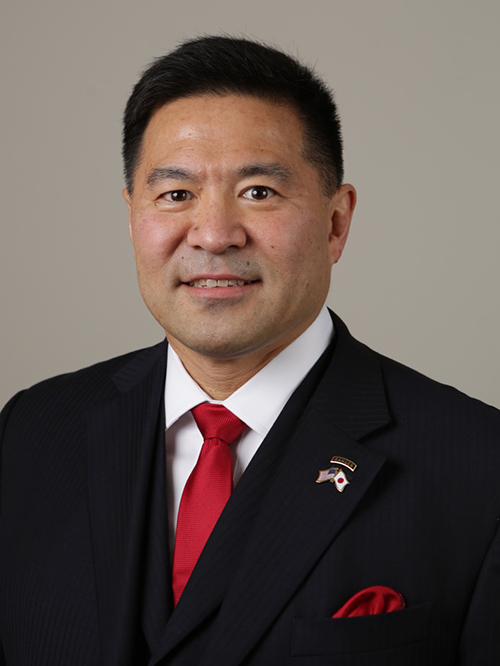 Mr. Mark T. Nakagawa serves as a Program Manager supporting the U.S. Department of Defense, where he provides commercial imagery services to the U.S. Government. Prior to this, he served the U.S. Army in various leadership and staff positions throughout the world, including Europe, Korea and Iraq. His military career culminated with positions serving the White House Military Office and the Department of Army Staff, and he retired as a Lieutenant Colonel. He currently serves as the Vice-President of the Japanese American Veterans Association, and was its past Treasurer. He was born in Okinawa, grew up in Hawaii and graduated from Iolani School, and obtained a Business Administration degree from the University of Southern California. He has three master's degrees, having graduated from the Naval Postgraduate School in Monterey, CA (National Security), the U.S. Army Command and General Staff College in Fort Leavenworth, KS (Military Arts and Science), and George Mason University in Arlington, VA (MBA).
Prefecture in Japan of ancestral origins: paternal side from Yamaguchi, maternal side from Okinawa.
Kyle Nakamoto (Dearborn, MI)
Data Scientist
Ford Motor Company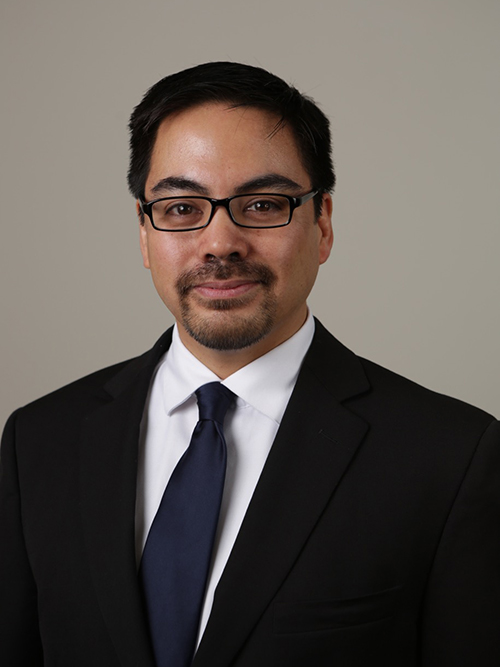 Dr. Kyle T. Nakamoto leads a team of data scientists within the Global Data Insight & Analytics Skill group at Ford Motor Company. His team develops and integrates advanced analytics (e.g. network analysis, machine learning and artificial intelligence) into the redesign of Ford's global vehicle ordering and deliver systems. His previous responsibilities at Ford included developing advanced analytics to support enterprise risk, human resources, manufacturing and product development. His work includes collaborations with Ohio State University, Michigan State University and Wayne State University. Previously, Dr. Nakamoto was a Professor of Neuroscience at the Northeast Ohio Medical University, where he was supported by grants from the National Institute of Health. He was also a fellow at the Medical Research Council Institute of Hearing Research in the United Kingdom. He holds a Ph.D. from the Department of Cognitive Sciences from the University of California at Irvine.
Prefecture in Japan of ancestral origins: Hiroshima and Okinawa.
Kurt Osaki (Honolulu, HI)
President/CEO
Osaki Creative Group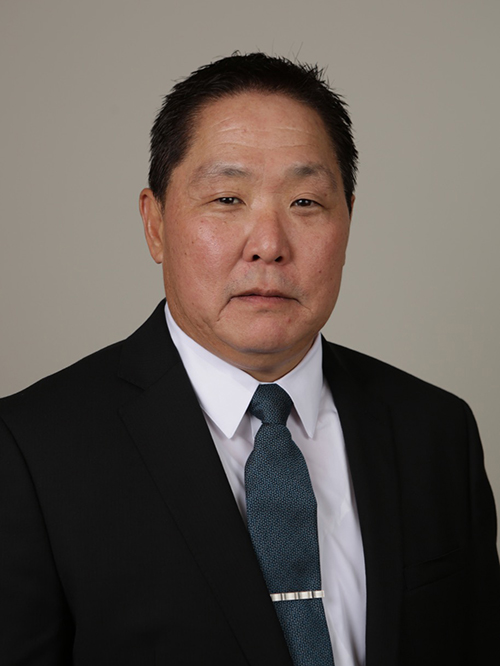 Mr. Kurt Yoshio Osaki was born and raised in Kapaa, Kauai and attended Kapaa High School. His years growing up on Kauai were spent around his grandparents' restaurants: Tony's Charcoal Broiler and Tony's Delicatessen, both located on Rice Street. He graduated from the University of Hawaii with a BFA in Graphic Design, and later attended the Art Center College of Design in Pasadena, majoring in design and packaging, with a focus on environmental design. Mr. Osaki established Osaki Design Inc. in 1995, specializing in corporate and sports branding. Currently, the company has offices in Berkeley, CA and Honolulu, Hawaii. Clients include professional sports teams, sports leagues, universities and corporations throughout the United States and Japan. One of Mr. Osaki's proudest moments came when Osaki Design was given the honor of designing the University of Hawaii's Athletics logo, an identity that represents and touches the entire State of Hawaii.
Prefecture in Japan of ancestral origins: Hiroshima.
Vickie Sakurada Schaepler (Gering, NE)
Coordinator, Japanese Hall and History Project
Legacy of the Plains Museum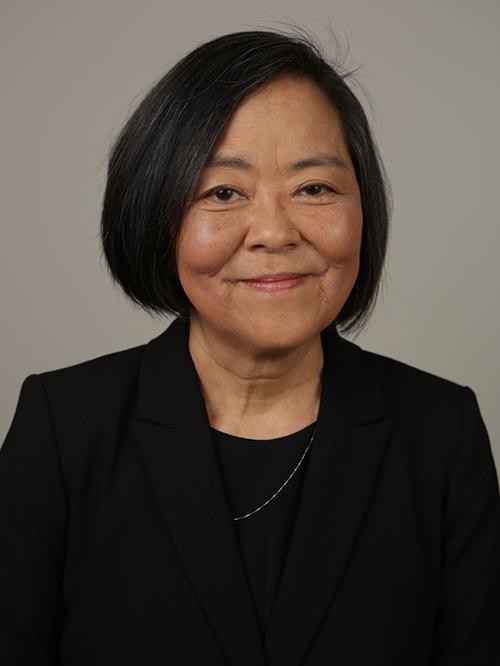 Ms. Vickie Sakurada Schaepler is Coordinator of the Japanese Hall and History Project at the Legacy of the Plains Museum in Gering, Nebraska. There, she leads an effort to preserve the history of the Japanese on the High Plains and Nebraska, and has presented on and organized a successful event celebrating this history. Ms. Schaepler has also spent her career working with individuals with disabilities and medical conditions. She has served as a director, manager and counselor at Union Pacific, Burlington Northern Railroad and the State of Nebraska's Division of Vocational Rehabilitation Services. She learned sign language and had the opportunity to provide services to people who were deaf and hard of hearing. She has served on many boards, and most recently serves as a trustee on the History Nebraska Board of Trustees. Ms. Schaepler completed her undergraduate and master's degrees at the University of Nebraska, Kearney. She is married and has raised three children.
Prefecture in Japan of ancestral origins: Kumamoto and Shizuoka.
Mariko Silver (Bennington, VT)
President
Bennington College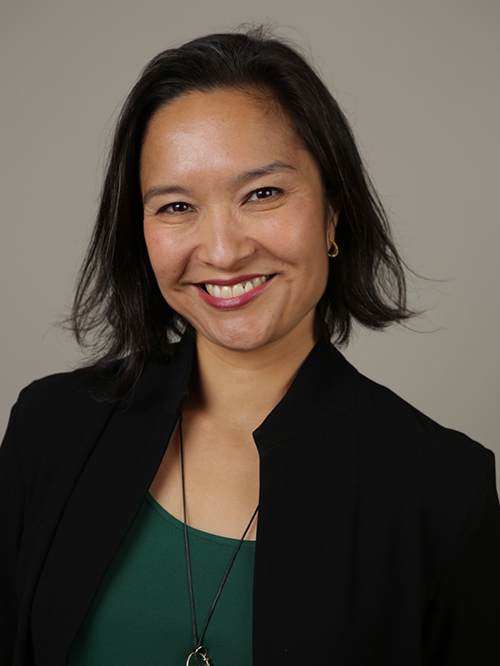 Dr. Mariko Silver is President of Bennington College. During the Obama administration, she served for the U.S. Department of Homeland Security as Acting Assistant Secretary and Deputy Assistant Secretary for International Policy, where she developed and led the Department's first strategic plan for international engagement. Dr. Silver also served for Arizona Governor Janet Napolitano as the Policy Advisor for Economic Development, Innovation, and Higher Education. Prior to her government service, Dr. Silver was instrumental in the transformation and expansion of Arizona State University, leading teams in economic development policy and metrics, science, technology and innovation policy, state K-12 and higher education policy, sustainability science, and global health. Dr. Silver is a fellow of the National Academy of Public Administration and a member of the Council on Foreign Relations. Her education includes Yale University (B.A., History); University of Sussex, UK (MSc, Science and Technology Policy); and UCLA (Ph.D., Economic Geography).
Prefecture in Japan of ancestral origins: Ehime and Osaka.
Bryce Suzuki (Phoenix, AZ)
Office Managing Partner
Bryan Cave Leighton Paisner LLP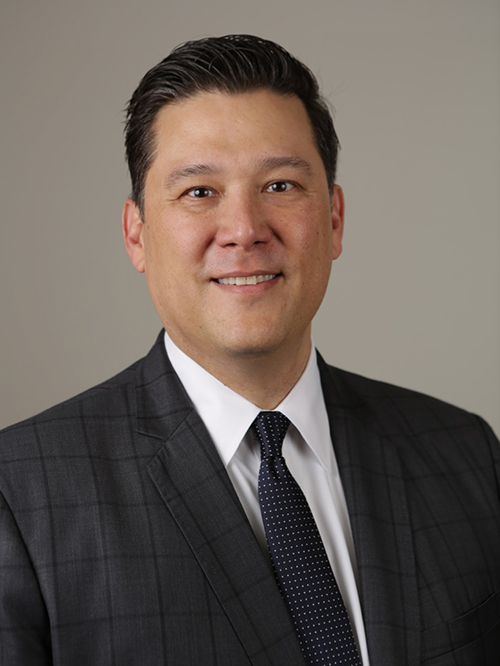 Mr. Bryce Suzuki is the Managing Partner of the Phoenix office of Bryan Cave Leighton Paisner LLP, an international law firm with more than 1,400 lawyers in 32 offices and 11 countries around the world. In his legal practice, he represents companies and lenders on financial restructuring and distressed business deals across the United States. He serves as pro bono legal counsel for the Arizona Chapter of the Japanese American Citizens League and provides pro bono legal services to indigent persons through the Arizona Volunteer Lawyer's Program. He serves on the Executive Board of TMA Global, a preeminent worldwide organization for corporate turnaround professionals, and previously served as the Chair of the Restructuring Committee of the National Asian Pacific Bar Association. Mr. Suzuki earned his B.A. and M.A. from Brigham Young University and his J.D. from the University of Iowa Law School.
Prefecture in Japan of ancestral origins: Yamagata.
Britt Yamamoto (Seattle, WA)
Founder and Executive Director
iLEAP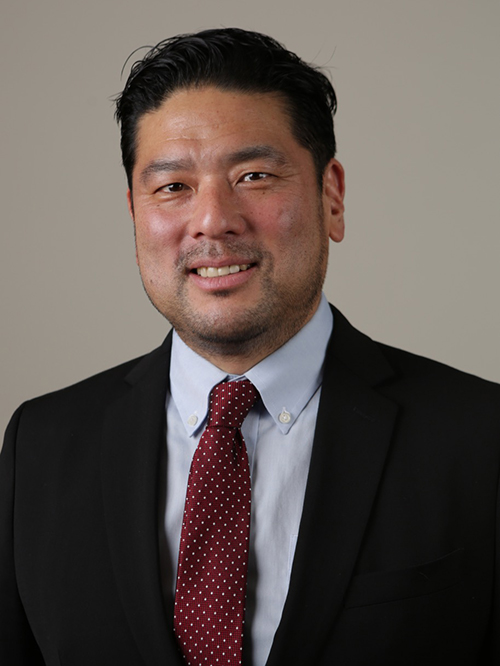 Dr. Britt Yamamoto is the Founder and Executive Director of iLEAP, an education-focused, international social enterprise based in Seattle, Washington. The mission of iLEAP is to develop a new generation of globally-minded leaders in Japan, providing them with inner and outer resources to pursue lives of purpose and to advance social good. He is also the CEO and Co-Founder of Perennial, which provides leadership development for community-based leaders in Africa, Asia-Pacific, Latin America and the Middle East. For over two decades, Dr. Yamamoto has been working in the fields of education and community development. He holds faculty appointments at the University of Washington and the University of Vermont, where he teaches courses in leadership and management, and advises graduate students. He has been a Fulbright Scholar to Japan and worked for many years as an organic farmer, including in Kumamoto prefecture at Kikuchi Youjouen with Dr. Takekuma Yoshitaka. He is also active as a Council Leader with the U.S.-Japan Council. Dr. Yamamoto holds a B.A. from the University of Michigan, an M.S. from the University of California, Davis, and a Ph.D. from the University of Washington.
Prefecture in Japan of ancestral origins: maternal side from Kumamoto, paternal side from Hiroshima.
Kelly Yamasaki (Denver, CO)
Principal
OZ Architecture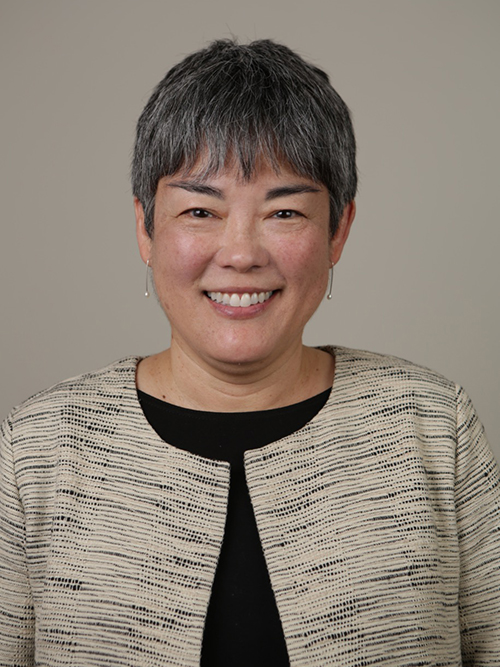 Ms. Kelly Yamasaki is an architect and a native of Chicago. After earning a business degree at the University of Pennsylvania, she studied architecture at the University of Illinois. She moved to Denver in 1990, and began her career at OZ Architecture, where she helped grow the firm from 15 to 165 employees. Ms. Yamasaki has been a Principal of the firm since 1997, and has been on its Board of Directors for the past few years. She specializes in educational design. She has been on the board of the Association for Learning Environments (A4LE) local chapter for seven years, and is currently completing her tenure as chapter President. Once her sons became teenagers, Ms. Yamasaki became more involved in the Japanese American community, joining the Sakura Foundation Board in 2014 and the Sakura Square LLC Board in 2016.
Prefecture in Japan of ancestral origins: Fukuoka, Aichi and Kumamoto.
Background
The relationship between the U.S. and Japan is considered by many as the most important bilateral relationship in the world, and Japanese Americans are uniquely positioned to help shape it. The connections between Japanese and Japanese Americans are complex. While World War II played a major role in severing ties between Japanese Americans and Japan, today's opportunities for collaboration and mutual benefit are great and demand a renewed commitment to involving Japanese Americans in U.S.-Japan relations.
The Japanese American Leadership Delegation provides Japanese American leaders with the opportunity to become acquainted or re-engaged with Japan and participate in discussions related to the role that Japanese Americans can play in addressing key issues that face both countries, now and in the future.
The first delegation was invited by the Ministry of Foreign Affairs (MOFA) to visit Japan in 2000. It included third and fourth generation Japanese Americans selected from various professional fields including the educational, cultural, philanthropic, legal and political sectors. Since the initial trip, delegations of Japanese American leaders from throughout the United States have visited Japan every year since 2002.
Program Alumni
JALD Alumni have created a network to ensure that the commitment to strengthening U.S.-Japan relations is maintained. There have been JALD national reunions and several alumni groups have traveled back to Japan together to build on and sustain important relationships built on the program. Alumni of the program are invited and encouraged to join the U.S.-Japan Council's international network of leaders and participate in Council programming and events.
Archives
2018 Japanese American Leadership Delegation
2017 Japanese American Leadership Delegation
2016 Japanese American Leadership Delegation
2015 Japanese American Leadership Delegation
2014 Japanese American Leadership Delegation
2013 Japanese American Leadership Delegation
2012 Japanese American Leadership Delegation
2011 Japanese American Leadership Delegation
2010 Japanese American Leadership Delegation
2009 Japanese American Leadership Delegation
2008 Japanese American Leadership Delegation
2007 Japanese American Leadership Delegation
2006 Japanese American Leadership Delegation
2005 Japanese American Leadership Delegation
2004 Japanese American Leadership Delegation
2003 Japanese American Leadership Delegation
2002 Japanese American Leadership Delegation
2000 Japanese American Leadership Delegation