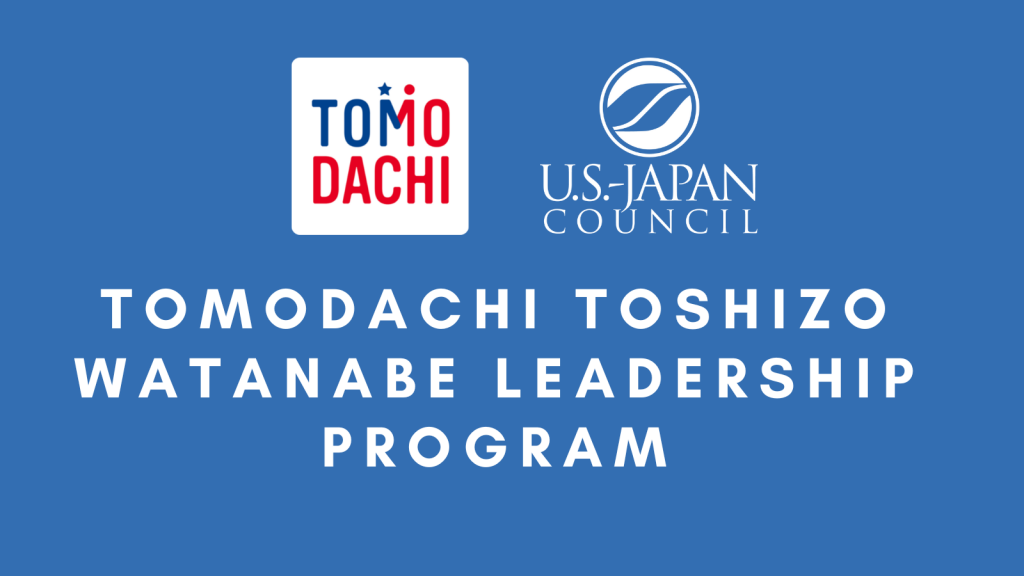 The U.S.-Japan Council and The Toshizo Watanabe Foundation have established the TOMODACHI Toshizo Watanabe Leadership Program, a training program in the United States for Japanese high school students. Made possible by a $10 million dollar endowment from The Toshizo Watanabe Foundation, this program has selected fourteen students for participation in its inaugural year.
As the newest program of the TOMODACHI Initiative, the TOMODACHI Toshizo Watanabe Leadership Program aims to promote a greater understanding between the United States and Japan and to foster an international mindset within the next generation leaders of both countries. Through a rigorous selection process, participants from all over Japan have been chosen to travel to the United States to take part in the program's 12-day training sessions this August. During their stay in California, they will engage with the local community, visit the Japanese American National Museum, learn more about American history and its diverse cultures, visit educational institutions, and acquire different perspectives and leadership skills through homestays and site visits.
"Being exposed to other countries and broadening horizons in their youth is such a valuable experience," said Mr. Toshizo ("Tom") Watanabe, Chairman of The Toshizo Watanabe Foundation. "I expect this program to provide promising Japanese high school students with discovery and opportunities."
This program is made possible by Mr. Watanabe's generous gift of a $10,000,000 endowment, which the U.S.-Japan Council received in March of this year. This follows a previous gift of $10,000,000, which created and continues to fund the Toshizo Watanabe Study Abroad Scholarship, a financial aid opportunity supporting high school, graduate and undergraduate students to study abroad across Japan and the United States. Since its inception in 2016, it has supported 140 students to participate in exchange programs.
Born in a small town in Kanagawa, Mr. Watanabe's father died when he was only one year old, leaving his widowed mother to raise him by herself. She had never attended college, but recognized the importance of education, and instilled this value within the young Toshizo as well. The Olympic Games were held in Tokyo when he was 15 years old, and Mr. Watanabe credits this as the seed of his interest in studying in America – a dream that was realized when he received a full scholarship through the Wien International Scholarship Program to study in Massachusetts during his undergraduate program at Keio University. With two years studying in the United States on his resume, he was able to get a job at an American company in Japan. At age 26, he started his own company, and his career quickly expanded into managing a highly successful global business.
The scholarship that had enabled him, the son of a single mother, to study abroad and jumpstart a successful international career, inspired him and shaped his values. Mr. Watanabe decided that he, too, would establish a scholarship program to give the gift of international education to students of financial need to embark on exchange programs between the United States and Japan. In 2016, the first class of students studied abroad through the U.S.-Japan Council's "Toshizo Watanabe Scholarship Program."
To a class of previous scholarship recipients, he stated, "My goal, for the rest of my life, is to support students who would not be able to receive a decent education without financial aid. To me, this is what matters."
Watch Mr. Watanabe share his story with a class of Watanabe Scholars here.
"I would like to express my sincere gratitude to Mr. Toshizo Watanabe for his support to the U.S.-Japan Council and the TOMODACHI Initiative over the years," said Suzanne Basalla, President and CEO of the U.S.-Japan Council. "Since its inception, the TOMODACHI Initiative has aimed to develop next-generation leaders who will lead the future of Japan and the United States. I expect that the high school students who will participate in the newly established program will lead U.S.-Japan relations in the future."
The U.S.-Japan Council is deeply grateful for Mr. Watanabe's incredible support for the mission of strengthening bilateral bonds and empowering the next generation, and his trust in the Council to carry out this important work.