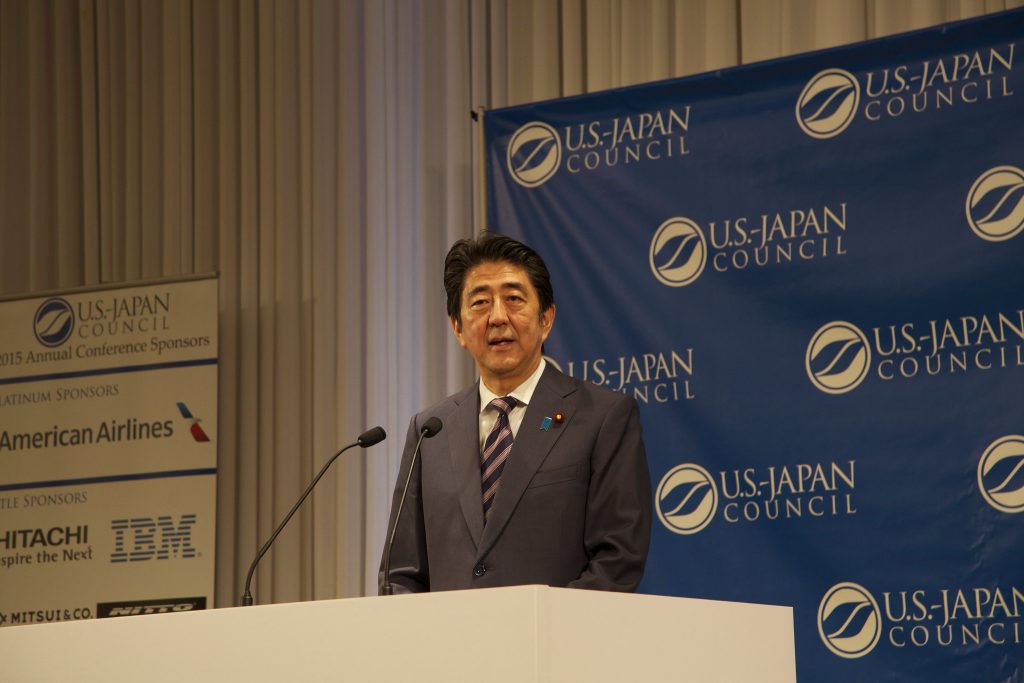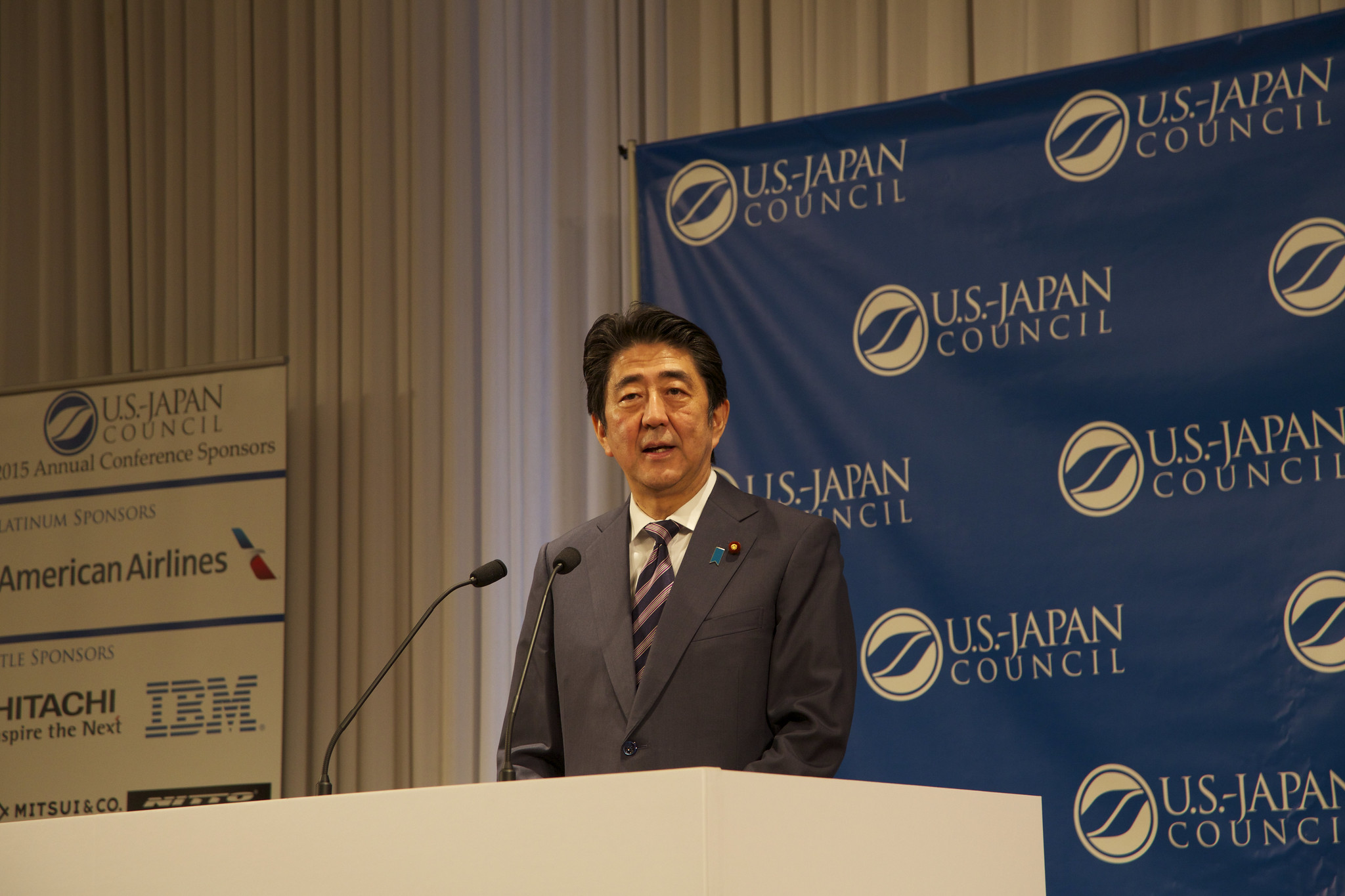 On July 8, USJC joined the chorus of voices worldwide expressing shock and grief at the unimaginable killing of Prime Minister Abe in broad daylight as he campaigned in Nara. As we reel from the senseless violence and attack on democratic values, we also commemorate Mr. Abe's legacy and accomplishments as a leader both within Japan and around the world.
Many of our members have issued statements, posted reflections, and spoken to the media to help characterize Prime Minister Abe's legacy. Here are just a few of those:
These messages reinforce our belief that we best honor Prime Minister Abe by building on his legacy and helping to realize the world he helped make possible through his leadership. We all have a role to play in that through our individual contributions, the organizations we lead, and by advancing USJC's mission.
In addition to being a champion of the Alliance, laying out a vision of a Free and Open Indo-Pacific, and raising Japan's global stature, Prime Minister Abe understood and committed to people-to-people relations. He pushed for greater participation of women in the economy and leadership roles across all sectors. He called for a bridge of innovation between Silicon Valley and Japan to support our economies. He honored the historic role of Japanese Americans in U.S.-Japan relations and elevated the status of Japanese Americans as players who served to connect our two countries. And he encouraged the next generation of leaders in U.S.-Japan relations through TOMODACHI and other programs.
Mr. Abe was also a dear friend of the Council. Time and time again, he offered his support and encouragement for our work and mission.
One of the first and enduring legacies stems from his concern for women's empowerment, even adopting the term "Womenomics" coined by our own Board of Councilors (Japan) Chair Kathy Matsui. When Abe joined the 2014 Women in Business Summit in Tokyo in 2014, co-chaired by USJC and the American Chamber of Commerce in Japan, his participation amplified the Council's own work in this area.
Abe's historic visit to the United States in April 2015 also had a lasting impact on the Council. USJC was proud to play a prominent role in the activities, meetings and site visits of Prime Minister Abe and First Lady Akie Abe as they traveled from Boston to Washington, DC, and on to the Bay Area and then Los Angeles, connecting with USJC leaders in every location.
In 2015, Abe headlined USJC's first-ever Annual Conference held in Tokyo. He strengthened his government's commitment to the TOMODACHI Initiative and commended the Council, saying, "Under its Japanese American leadership, the U.S.-Japan Council is promoting bilateral human exchange across all generations and fostering the leaders of the next generation." He again underscored the contributions of Japanese Americans in a recorded message he shared at the 2018 Annual Conference.
In 2020, while planning his own resignation from his post as Prime Minister due to health concerns, Mr. Abe still took the time to record a video message for the Council's virtual Bilateral Boardroom event that would be broadcast just one day after his historic tenure as Prime Minister had come to an end.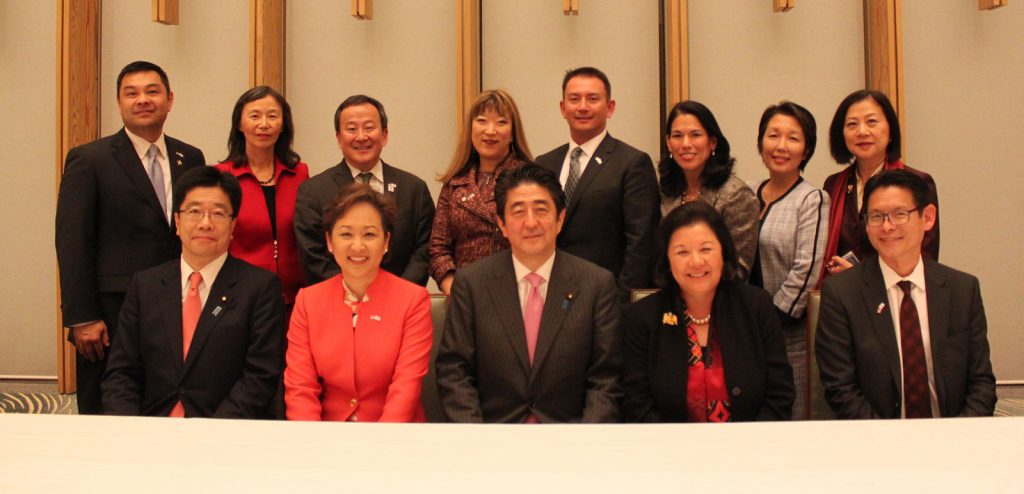 What's more, Prime Minister Abe dedicated time out of his busy schedule to personally meet with USJC's Japanese American leaders by hosting almost every annual Japanese American Leadership Delegation during his tenure. He also arranged to meet Japanese American leaders in the States at his very memorable visit to Hawaii in December 2016.
We join a global community in mourning his death. In times of crisis, we cherish more than ever the strong bonds of friendship between the United States and Japan. For those in the States or overseas, I encourage you to visit your local Japanese Embassy/Consulate to register your condolences. For those of you in Japan, I hope you can feel the outpouring of sympathy and grief from throughout the United States in support of you during this confusing and painful time. I am reminded again just how special the unique ties are that bind our two nations through our people.
Many Americans didn't know much about Prime Minister Abe as a person until last week's shocking news, and we have an opportunity to help people know the side of him we got to know through his respect and engagement with the Japanese American and other communities of importance to people-to-people ties. Please amplify and share messages about Prime Minister Abe that resonate with you. Through sharing who he was, we have an opportunity to build on his legacy as a champion for the friendship between our two nations.
Among the USJC membership, many have been touched by Prime Minister Abe's life. There are some of you for whom this is an even more painful personal loss–of a colleague, of a mentor, and in some cases, of a friend.  Please know that your USJC family cares about you in this time of loss. 
Suzanne Basalla
President & CEO, U.S.-Japan Council