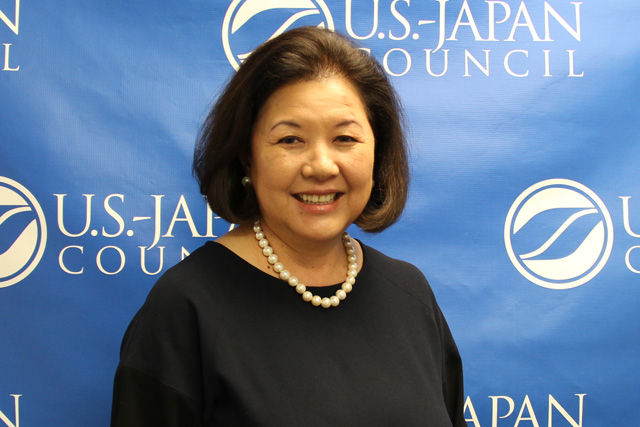 U.S.-Japan Council President Irene Hirano Inouye passed away on April 7, following an extended illness. The USJC Board of Directors and USJC staff extend their deepest condolences to her family.
In a special letter to USJC members, Board Chair Phyllis Campbell wrote, "I know we are all devastated by this news. Irene was a singular figure in U.S.-Japan relations, respected by leaders on both sides of the Pacific as she carried out the mission of USJC. Since the founding of the Council, she infused the organization with her wisdom and entrepreneurial spirit, kept her pulse on every aspect of USJC while keeping her eye on the strategic vision, and managed to approach every challenge with fearlessness and determination."
President Hirano Inouye had announced in January that she planned to retire later this year and assist in the Board of Directors' search for a new CEO. She expressed the hope that her leadership of USJC will have made a lasting contribution to the U.S.-Japan relationship. She added that serving as president of the U.S.-Japan Council "has been an honor of a lifetime."
In addition to her leadership of USJC, President Hirano Inouye served as the President and founding CEO of the Japanese American National Museum for twenty years. Her professional and community activities also included serving as the Chair and Trustee, Ford Foundation; Chair and Trustee, Kresge Foundation; Chair, Smithsonian Institution Asian Pacific American Center; Chair of the Advisory Board, Terasaki Center for Japanese Studies, University of California at Los Angeles; Trustee, Washington Center; Trustee, Independent Sector, and member, American Academy of Arts and Sciences; member of the Advisory Board, Center on Philanthropy & Public Policy, Price School of Public Policy, University of Southern California; Chair, Board of Directors of the American Association of Museums; Board Member, National Trust for Historic Preservation; Member, National Board Smithsonian Institution; member, Toyota Corporation's Diversity Advisory Board; member, Business Advisory Board of Sodexho Corporation; President's Committee on the Arts and Humanities by Presidential appointment; and Chair, California Commission on the Status of Women.
On May 18, 2020, Ms. Suzanne Basalla, former Chief of Staff at the Toyota Research Institute (TRI) and former USJC Executive Vice President and Chief Operating Officer returned to USJC to assume the CEO position.
Plans for any future memorial service will be made and announced after the current global COVID-19 crisis has ended. President Hirano Inouye's family has asked that, in lieu of flowers or cards, donations be made in her name to the U.S.-Japan Council.