Government Briefing: A Conversation with SEC Commissioner Mark T. Uyeda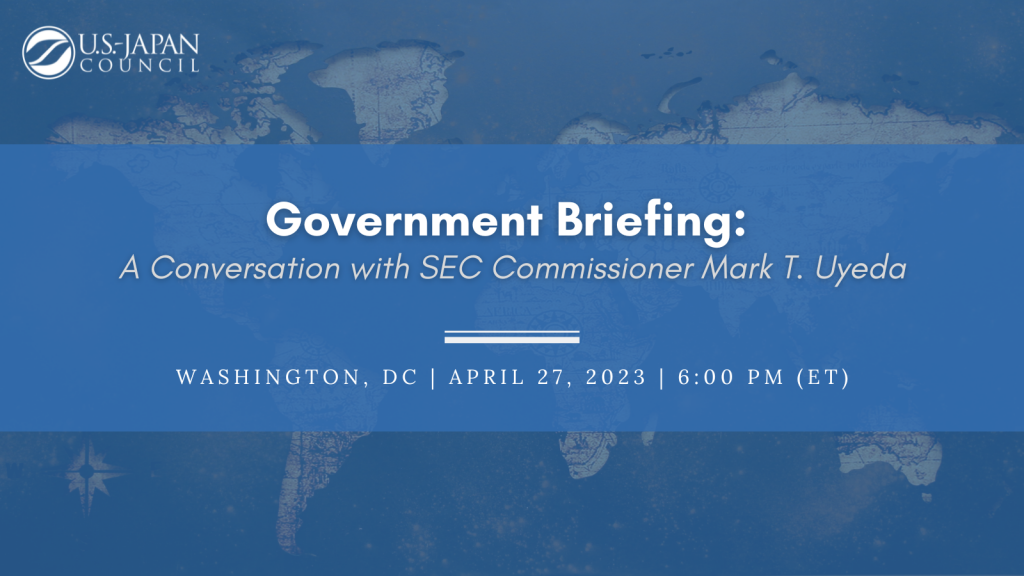 Fireside Chat on Climate Rules, Crypto and the Capital Markets: A Conversation with SEC Commissioner Mark T. Uyeda
Date: April 27, 2023
Location: Washington, DC
Time: 6:00pm (ET)
This hybrid event is by invitation only. Please note that there is an in-person capacity of 35 people, to be filled on a first-come-first-serve basis.
Join us for a special meet-and-greet with Commissioner Mark T. Uyeda! Hosted in Washington, DC, this event will be held in a hybrid in-person and virtual format. During this exclusive fireside chat-style conversation, Commissioner Uyeda will discuss what it's like to be at the top level of the regulatory world as a Japanese American, and topics such as cryptocurrency, climate rules and capital markets. Light refreshments will be served.
Commissioner Uyeda has been a member of the U.S.-Japan Council since our organization's inception nearly 15 years ago. He was also a delegate in the 2004 Japanese American Leadership Delegation (JALD).
Please note that this event has an in-person attendance capacity of 35 individuals. Individuals will be granted attendance on a first-come-first-serve basis. The event is by invitation only. If you would like more information, please contact [email protected].
Featured Speakers
Commissioner Mark T. Uyeda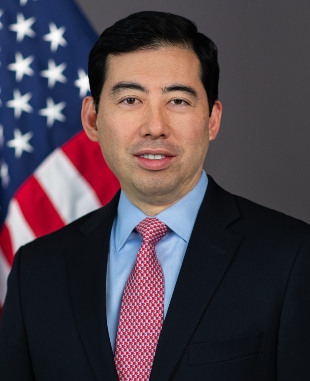 Mark T. Uyeda was sworn into office on June 30, 2022. He was nominated by President Joseph Biden earlier this year and confirmed by the U.S. Senate on June 16.
Commissioner Uyeda has served on the staff of the SEC since 2006, including as Senior Advisor to Chairman Jay Clayton, Senior Advisor to Acting Chairman Michael S. Piwowar, Counsel to Commissioner Paul S. Atkins, and various staff positions in the Division of Investment Management. He most recently served on detail from the SEC to the Senate Committee on Banking, Housing, and Urban Affairs as a securities counsel to the committee's minority staff.
Prior to joining the SEC, Commissioner Uyeda served as Chief Advisor to the California Corporations Commissioner, the state's securities regulator. He also worked as an attorney at the law firms of K&L Gates (formerly known as Kirkpatrick & Lockhart LLP) in Washington, D.C., and O'Melveny & Myers LLP in Los Angeles.
Commissioner Uyeda earned his bachelor's degree in business administration at Georgetown University and his law degree with honors at the Duke University School of Law.
He is the first Asian Pacific American to serve as a Commissioner at the SEC.
Fred Katayama (Moderator)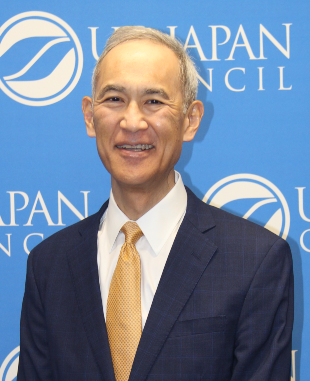 Frederick Hiroshi Katayama is a community leader, communicator and former multimedia journalist. He leads development as the Executive Vice President of the U.S.-Japan Council. In his earlier career as a journalist, he won numerous awards for his coverage of business and general news in print, television and digital media. As an anchor and producer at Reuters, he hosted various TV and video shows ranging from world news to technology, business, and personal investing. Earlier, at CNN, he reported for "The Moneyline Newshour" and anchored several shows, including "Business Asia." As a reporter at Seattle's CBS affiliate, KIRO-TV, he covered the Great Hanshin Earthquake in 1995. He began his career in television news in Tokyo reporting for the NHK show, "Japan Business Today." Prior to that, he wrote a new products column at Fortune magazine in New York and covered Japan's economic rise as its Tokyo correspondent. He started his career at the Associated Press.
Outside of the newsroom, Katayama serves on the boards of Japan Society and the Manjiro-Whitfield Center for International Exchange. He was a founding Board Member of the U.S.-Japan Council. A book written by his teacher, Columbia Professor Donald Keene, kindled his lifelong interest in Japan. He graduated magna cum laude with a B.A. in East Asian Languages and Cultures from Columbia College and earned his M.S. as an East Asia Fellow at Columbia's Graduate School of Journalism. He and several others co-wrote the book, Japan: A Living Portrait (Kodansha International).