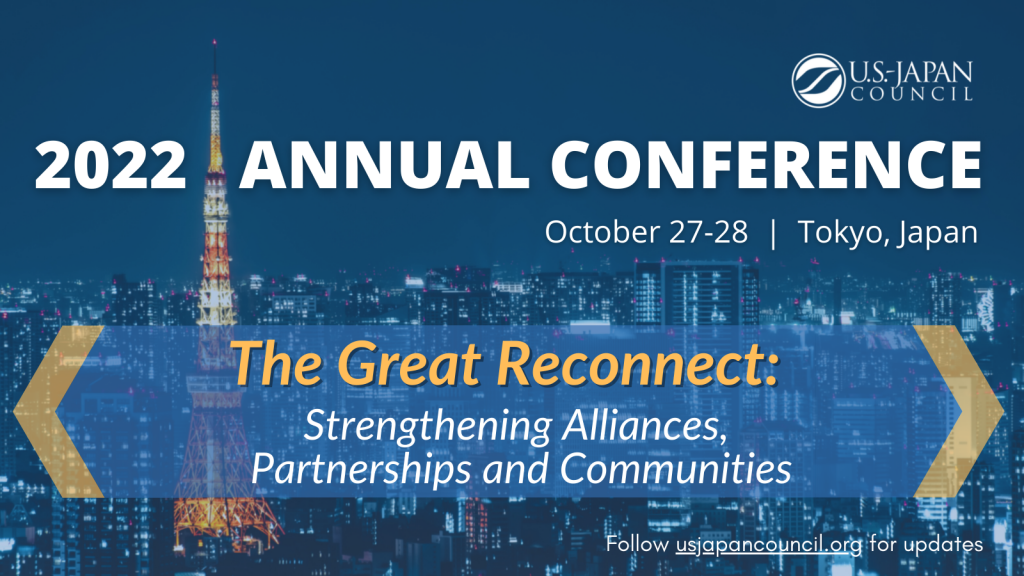 The U.S.-Japan Council Annual Conference is a yearly event that brings together regional, national and international leaders from the government, business, academia and nonprofit sectors to discuss the current status and future outlook of the U.S.-Japan partnership across a range of timely and relevant topics. Each year we look forward to seeing our Council members, program alumni, sponsors, and friends across diverse backgrounds, sectors and generations, and uncovering new avenues of cooperation between our two countries through informed discourse, leadership development and people-to-people connections at all levels.
New challenges posed by the pandemic have given rise to novel thinking and actions as people actively examine our prevailing systems and relationships across multiple sectors including government, business, education and technology. The U.S.-Japan Council is pleased to present "The Great Reconnect: Strengthening Alliances, Partnerships, and Communities" as the theme for our first in-person conference since 2019. This gathering of Council Members, alumni, sponsors, friends and other stakeholders will feature leaders and experts who will discuss lessons learned as a result of navigating a newly interconnected world with both inherent risks and emerging opportunities. In this year that marks the 150th anniversary of the Iwakura Mission that sent over 100 leaders of Meiji Japan to the United States, join us in Tokyo to reconnect with the USJC community and take part in a bilateral dialogue as we forge ahead in a new era together!
Look out for more information on this year's Annual Conference. In the meantime, please consider sponsoring and supporting the U.S.-Japan Council. Click here to make a tax-deductible donation, or here to explore year-round sponsorship opportunities which provide numerous exclusive benefits.