In the Room Where it Happened – Insights on the Biden-Kishida Summit by White House Director of East Asia, Chris Johnstone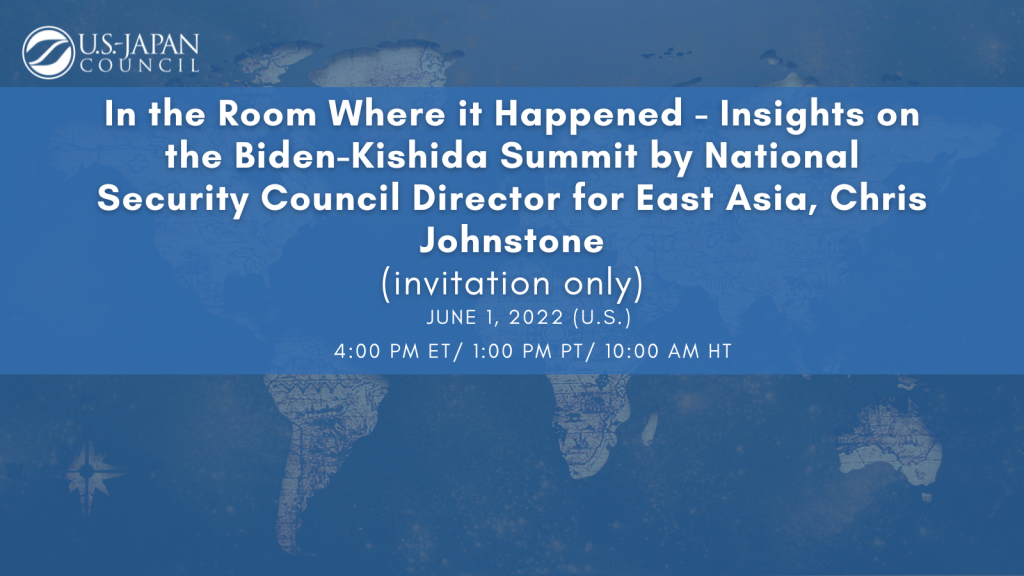 Date: June 1, 2022
Time: 4:00pm ET / 1:00pm PT / 10:00am HT
This event is by invitation only.
If interested in attending this exclusive event, please contact [email protected] about corporate membership and sponsorship.
Featuring:
Christopher B. Johnstone has worked on foreign policy issues related to the Indo-Pacific region for more than 20 years, in positions at the White House, the Department of Defense, and the Central Intelligence Agency. He is currently Director for East Asia on the National Security Council staff, with responsibility for Japan, Australia, New Zealand, and a range of regional defense issues. He previously served on the NSC staff from 2014-2016 under President Obama, as Director for Japan and Oceanian Affairs. Prior to assuming his current role, Mr. Johnstone was the Principal Director for South and Southeast Asia in the Office of the Secretary of Defense, where he led an office charged with building U.S. defense ties with 16 countries in a vital region for the United States. From 2010-2014, he was the Director for Northeast Asia in OSD, where he was responsible for efforts to strengthen U.S. alliance relationships with Japan and South Korea. He began his government career as an analyst at the Central Intelligence Agency, and served overseas in a CIA field station. Mr. Johnstone has a Masters Degree from Princeton University's School of Public and International Affairs, and a Bachelor of Arts from Swarthmore College. He speaks Japanese.