International Mental Health Support in Japan – the Story of TELL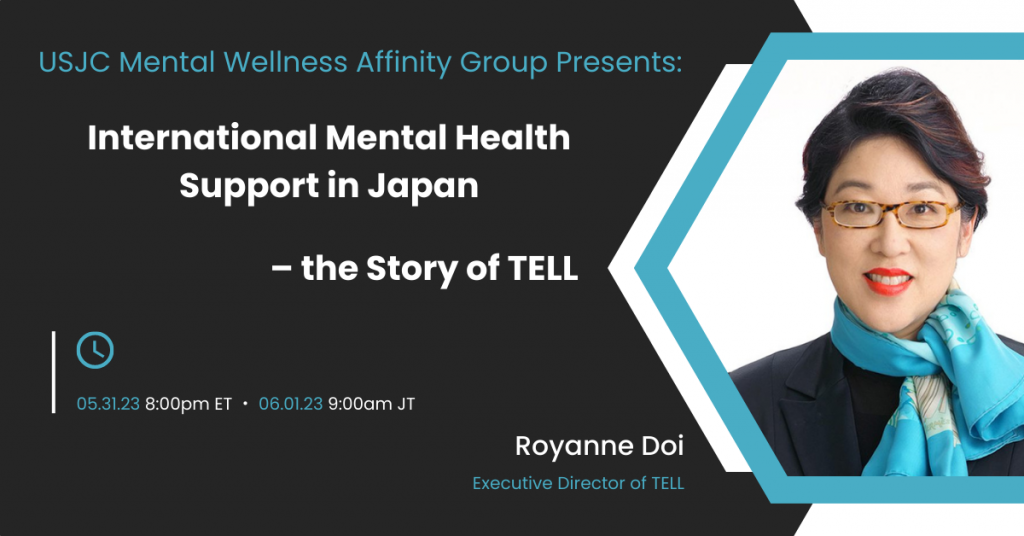 Date: May 31, 2023 (U.S.) / June 1, 2023 (Japan)
Time: 5:00pm (PT) / 8:00pm (ET)
Location: Virtual Event
Registration: This event is restricted to members only. Please contact Lauren Matsumoto at [email protected] if you have any questions or would like to register.
Crossing borders to immerse in the culture of another country offers experiences that can be both enriching and stressful. Different languages, expectations and social norms can place a strain on our mental well-being. For 50 years, TELL has been addressing this challenge by providing mental health support to the international community in Japan.
The U.S.-Japan Council's Mental Wellness Affinity Group will host a discussion with Legacy Council Member Royanne Doi (TELL) on May 31, 2023 to conclude Mental Health Awareness Month in the United States. Ms. Doi will discuss the evolution of TELL, the organization's willingness to address topics that many in Japan may have initially hesitated to address as well as the new challenges that TELL takes on as it serves Japan's growing international community.
About TELL
TELL is an accredited and certified non-profit organization in Japan, dedicated to providing world-class, effective support and counseling services. TELL practices state-of-the-art standards of care in the mental health field through professional face-to-face and virtual counseling services.