Japan ESG: Evolution of G Strengthens E and S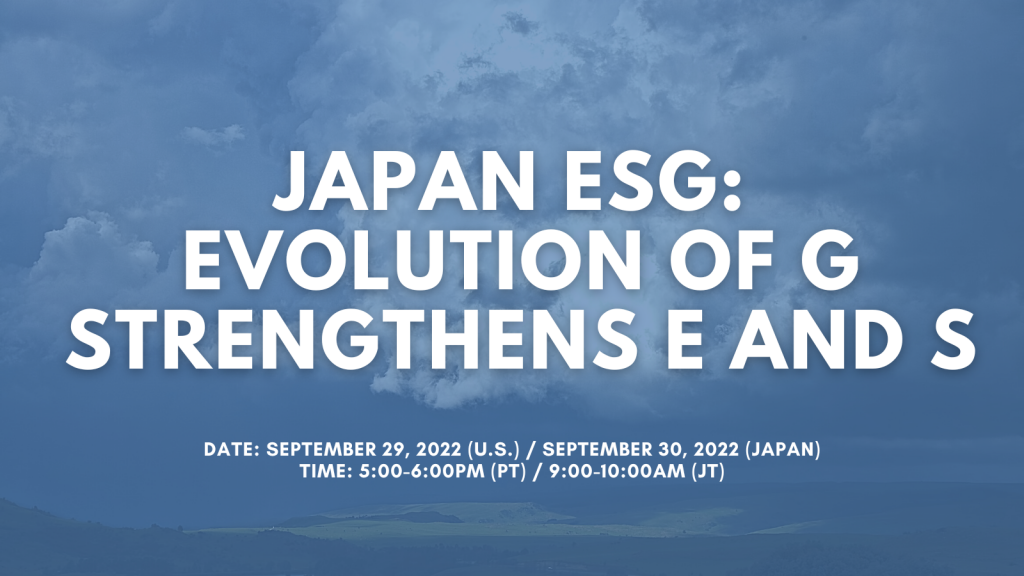 Japan ESG: Evolution of G Strengthens E and S
Date: September 29, 2022 (U.S.) / September 30, 2022 (Japan)
Time: 8:00pm (ET) / 5:00pm (PT) / 9:00am (JT)
Location: Virtual Event
Registration: This is a members-only event. If you are interested in joining, please contact Lauren Matsumoto at [email protected]
Want to be smarter about how environmental and social change might happen in Japan? Understanding the dynamics on governance in Japan is critical. We are pleased to have Jamie Allen, Secretary General for the Asian Corporate Governance Association, and Kei Okamura, investment portfolio manager for Neuberger Berman, help us understand those dynamics. They will discuss how Japan's corporate governance has been evolving and what role it has in shaping environmental and social issues. This will be a great opportunity to enhance your foundational knowledge on sustainability and ESG ahead of our annual conference.
Featured Speakers
Jamie Allen
Secretary General, Asian Corporate Governance Association
Secretary General, Asian Corporate Governance Association
Jamie Allen is responsible for overall management of the association, as well as directing ACGA's research, advocacy and educational work in 12 Asia-Pacific markets.
He is a published author and has more than 30 years' experience as a writer, editor and analyst covering the economies of Greater China and East Asia from Hong Kong. Prior to the establishment of ACGA in mid-1999, he ran his own consulting firm and carried out customised economic research on mainly finance-related topics, including corporate governance, for multinational clients in Asia. From 1992 to 1995, he worked for the Economist Intelligence Unit (EIU) as editor of Business Asia, a regional management newsletter, and was a contributor to The Economist from 1994 to 1996. Mr Allen began his journalistic career in the late 1980s as a reporter for the South China Morning Post in Hong Kong.
From 2001 to 2007, Mr Allen was a member of the Public Shareholders Group, a committee formed by the Hong Kong Securities and Futures Commission to advise it on shareholder rights and corporate governance matters in Hong Kong. He served on the Listing Committee of the Stock Exchange of Hong Kong (SEHK) from 2006 to 2010.
From 2013-2019, Mr Allen served on the Operations Oversight Committee (OOC) of the Financial Reporting Council (FRC) in Hong Kong. The FRC, a statutory body, has responsibility for investigating auditing irregularities in the accounts of Hong Kong listed companies. The OOC reviews and approves the FRC's audit investigation work.
In July 2017, the International Corporate Governance Network (ICGN) awarded Mr Allen an "ICGN Lifetime Achievement Award 2017", in recognition of his dedication to implementing effective corporate governance practices and promoting shareholder rights throughout Asia.
In March 2022, Mr Allen received the Market Reform Award from IFLR Asia-Pacific, in recognition of his work in developing market frameworks to improve the investment landscape.
He is a graduate of the Australian National University, Canberra where he received a Bachelor of Arts (Honors) in Political Science and Chinese language. He studied Mandarin for two years in Taiwan during 1983 and 1984.
Kei Okamura
Portfolio Manager, Neuberger Berman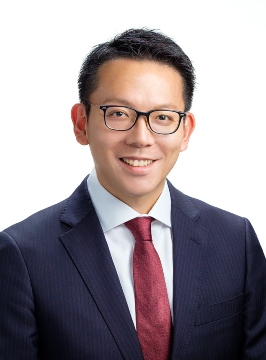 Kei Okamura, Senior Vice President, joined Neuberger Berman in 2020. Kei is a Portfolio Manager on the Japanese Equities team at Neuberger Berman. Before joining Neuberger Berman, he was a Vice President of Stewardship at Goldman Sachs Asset Management in Tokyo overseeing ESG engagement campaigns to Japanese companies on behalf of public and corporate pension funds and conducting bottom-up ESG research for the fundamental equity team. Prior to GSAM, Kei was a Fund Manager at Amundi Asset Management and an Assistant Investment Manager at Aberdeen Asset Management where he helped to manage concentrated Japanese equities portfolios. Kei began his career covering Japanese and Asian companies for Reuters and Bloomberg as a Reporter and Producer. Kei graduated magna cum laude from Tufts University with a Bachelor's degree in International Relations and French. Kei also serves as the Chair of the Asian Corporate Governance Association's Japan Working Group as well as Board Member of the 30% Club Japan Investor Group.