Japan-Houston-Texas Climate and Environmental Initiative: Sharing Best Practices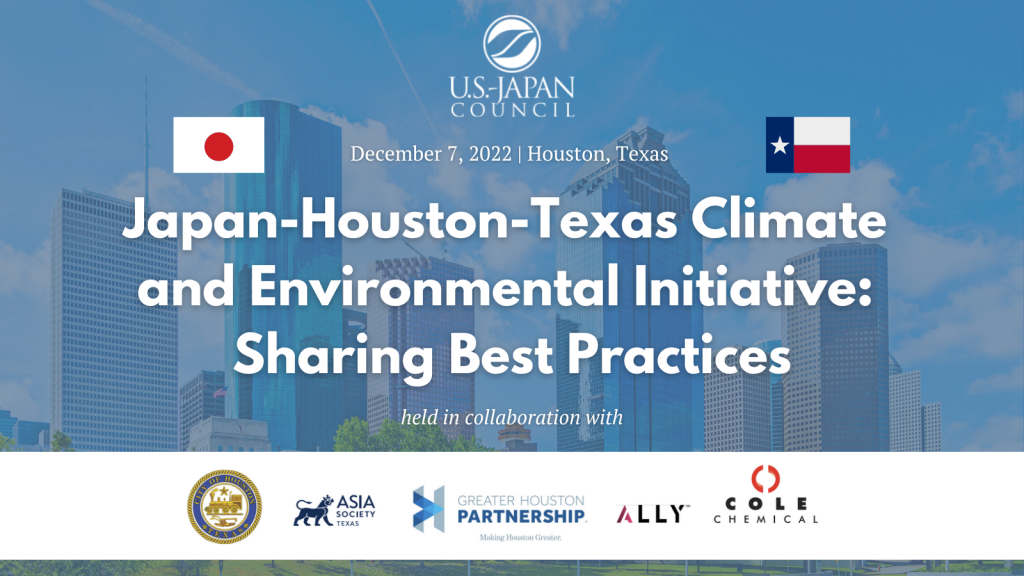 Date: December 7, 2022
Time: 4:30pm – 8:30pm
Location: Asia Society Texas Center (1370 Southmore Blvd, Houston, TX 77004)
Registration: Register here
USJC's Texas region is hosting an in-person event in Houston, TX focused on sustainable climate and energy solutions. As the world is experiencing severe climate change and environmental erosion, we find ourselves looking for best practices, innovation and new technology to reverse the damage done to the environment and the harm done by people and industry.
The evening will open with a documentary ("Beyond Zero") about Ray Anderson of Interface, Inc., who twenty years ago demonstrated his personal understanding of industry's negative impact on the climate and environment, and led his company to find the cost savings at a Japanese owned hotel as the start of reducing its waste and carbon footprint. It is a success story that exemplifies a CEO's ability to change the culture of the company to put the greater good ahead of short-term profits.
Following the documentary showing will be a catered networking reception for people to discuss climate and environmental sustainability. A special guest at the reception will be Houston Mayor Sylvester Turner, who recently returned from a trip to Japan to learn what Japanese companies are doing to reduce their carbon footprint and share best practices (including speaking at USJC's 2022 Annual Conference in Tokyo).
The evening will conclude with a dynamic panel discussion on climate and environmental best practices in Houston and across Texas and Japan, and the opportunities that lie ahead for the world when we are open to reducing our carbon footprint together in this global economy for generations to come.
This event is part of the USJC Climate and Sustainability Initiative, supported by the initiative's Founding Strategic Partner, Amazon. This event is also being presented in collaboration with the City of Houston, Asia Society Texas, Greater Houston Partnership, Ally, and Cole Chemical.

Speakers
Donna Fujimoto Cole, CEO & President, Cole Chemical and Distributing, Inc. -Emcee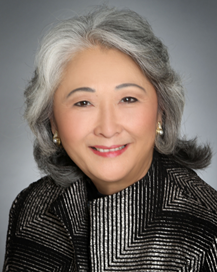 After four years in the chemical industry, Donna Fujimoto Cole founded Cole Chemical in 1980 at the age of 27, divorced with a four-year old daughter with $5,000 from savings at the encouragement of the chemical buyers at Exxon, Shell, Monsanto and Dupont to start a certified minority and women owned business to help them meet their government purchasing goals.
After 42 years, Ms. Cole has started, sold, invested and divested many types of businesses; from civil construction, to drilling loss circulation materials, chemical manufacturing, real estate, promotional advertising, distribution, warehousing, blending and packaging, to provide financing alternatives, back office support and IT integration with supply chain management services.
She has served on many national and regional boards and currently serves as Trustee of the Rockwell Fund, Boards of the Center Asian Pacific American Women, Executive Advisory Board of ISM Houston, The National Veterans Network, the Women's Home and Capital Campaign for Asian Health Coalition dba Hope Clinic. Autumn 2021 Ms. Cole received the Japanese Imperial Decoration of the Order of the Rising Sun, Silver Rays for her contribution to promote regional exchange and mutual understanding between Japan and the United States.
Ms. Cole attended University of Texas – Pan American and graduated from Manpower Business Training Institute in Computer Operations and Programming in 1972.
She is also Co-founder of the Pantheon of Women, a production company telling great stories about strong women and supportive men in film, television, plays and musicals to change the way men treat and perceive women and how women see themselves. POW provides an opportunity to mentor millions while inspiring people to improving the quality of life for themselves and others.
Bonna Kol, Executive Director, Asia Society Texas Center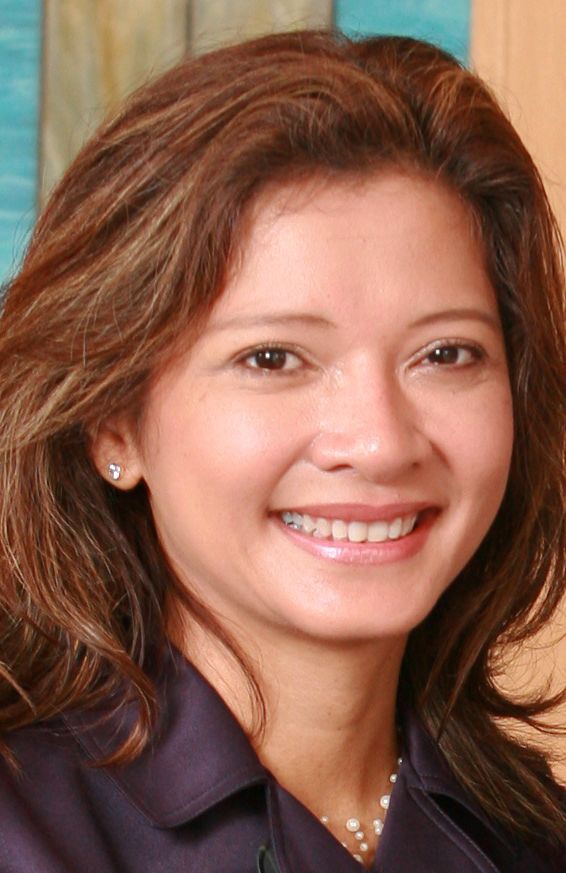 Bonna Kol is a nonprofit executive with 20 years of experience in the development and implementation of multi-million dollar projects. Prior to her current role as Executive Director of Asia Society Texas Center, she was the Chief Advancement Officer at KIPP Houston Public School, a charter school serving more than 10,000 students in the Houston area. As a member of their executive team, she managed the operations of development, marketing, community relations, and advocacy for the organization. She has also served as the President and CEO of Catholic Charities, an agency dedicated to providing social services to more than 90,000 people annually. There, she helped to oversee the development of a strategic plan for geographic expansion, service to seniors, and housing development. From 2001-2005, she was the Executive Director of Mended Hearts in Dallas, the nation's second largest support organization offering hope to heart patients, their families, and caregivers. She was also the Director of Operations at the Houston Downtown YMCA from 1999- 2001. Bonna's Cambodian heritage has facilitated her interest in all cultural aspects of the country. She graduated from the University of Houston and received her MBA at Our Lady of the Lake University.
Consul General MURABAYASHI Hirofumi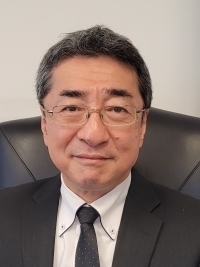 Mr. Murabayashi is the Consul General of Japan in Houston, having assumed that role in November 2021. As Consul General, he acts as the Government of Japan's representative in the Texas-Oklahoma region, and heads its consulate in Houston.
During his 38 years in the Japanese Ministry of Foreign Affairs (MOFA), Consul General Murabayashi has gained considerable experience as a specialist in the United States, starting with his post-graduate education in political science at the Massachusetts Institute of Technology and Harvard University. Previously, he has been stationed in Japan's consulates in New York City and Portland, Oregon, and has also served in MOFA's North American Affairs Bureau in Tokyo on three separate occasions.
Beyond the United States, Consul General Murabayashi has served abroad in many other nations, such as the Philippines, Pakistan, Hungary, Trinidad and Tobago, Yemen, Oman, Albania, and Malawi. Prior to assuming his current office, he served as the Director of MOFA's Recruitment Center for International Organizations, after being engaged in the training of Japanese diplomats at MOFA's Foreign Service Training Institute.
Frederick H. Katayama, Executive Vice President, U.S.-Japan Council – Moderator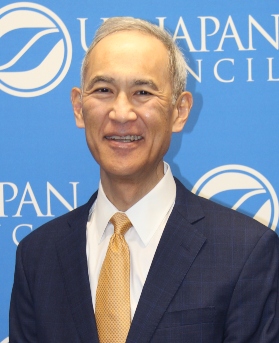 Frederick Hiroshi Katayama is a community leader, communicator and former multimedia journalist. He leads development as the Executive Vice President of the U.S.-Japan Council. In his earlier career as a journalist, he won numerous awards for his coverage of business and general news in print, television and digital media. As an anchor and producer at Reuters, he hosted various TV and video shows ranging from world news to technology, business, and personal investing. Earlier, at CNN, he reported for "The Moneyline Newshour" and anchored several shows, including "Business Asia." As a reporter at Seattle's CBS affiliate, KIRO-TV, he covered the Great Hanshin Earthquake in 1995. He began his career in television news in Tokyo reporting for the NHK show, "Japan Business Today." Prior to that, he wrote a new products column at Fortune magazine in New York and covered Japan's economic rise as its Tokyo correspondent. He started his career at the Associated Press. Outside of the newsroom, Katayama serves on the boards of Japan Society and the Manjiro-Whitfield Center for International Exchange. He was a founding Board Member of the U.S.-Japan Council. A book written by his teacher, Columbia Professor Donald Keene, kindled his lifelong interest in Japan. He graduated magna cum laude with a B.A. in East Asian Languages and Cultures from Columbia College and earned his M.S. as an East Asia Fellow at Columbia's Graduate School of Journalism. He and several others co-wrote the book, Japan: A Living Portrait (Kodansha International).
Maynard Holt, Founder & Chief Executive Officer, Veriten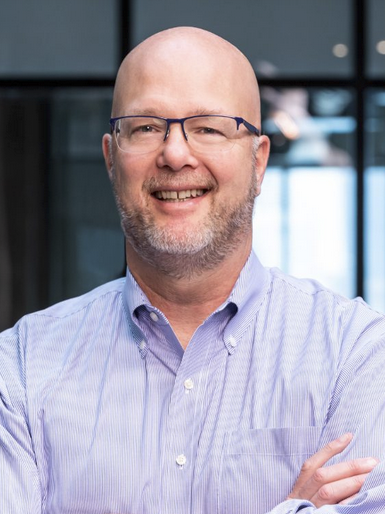 Maynard Holt is the founder & CEO of Veriten. Built off the momentum created by the "Close of Business Tuesday" podcast, Veriten is an energy-focused knowledge platform that brings diverse perspectives to the energy transition discussion, improving the ability of industry leaders, policy makers, and investors to make investment and strategic choices. Maynard previously served as Chief Executive Officer of Tudor, Pickering, Holt & Co. from 2016 to 2021 and has over 27 years of experience in energy investment banking and strategic advice. A co-founder of TPH, Maynard functioned as Co-President from 2007 to 2016 and prior to joining TPH, Maynard worked at Goldman Sachs & Co. At Goldman from 1994 to 2007, Maynard worked in Leveraged / Structured Finance and was last a Managing Director in and Energy & Power / Natural Resources.
Maynard launched Veriten to convene the brightest minds in and around energy in a civil, inclusive, and intellectually honest discussion to address the most pressing topics across the space. Like too many of us, he passionately believes there are better ways forward in energy and he wants to find them. Maynard is an avid classic Jeep collector and dedicated patron and supporter of youth sports and holds a BA in Economics and Russian from Rice University and a Master's in Public Policy from the John F. Kennedy School of Government at Harvard University.
Uday Turaga, Chief Executive Officer, ADI Analytics LLC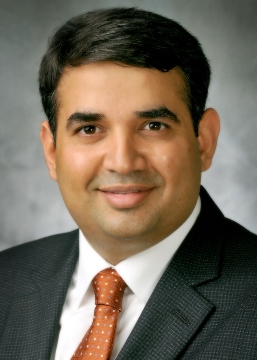 Uday Turaga is Founder & CEO of ADI Analytics, a consulting and research firm based in Houston, Texas, and specializing in oil and gas, energy, chemicals, and industrials. With 20+ years of experience at ExxonMobil, ConocoPhillips, Booz, and ADI, Turaga is an expert in oil and gas, energy transition, and chemicals. He has led ADI Analytics since 2009 through 500 projects for 200 clients including ExxonMobil, Shell, Aramco, BASF, GE, KKR, and U.S. Department of Energy. He has a PhD in fuel science from Penn State and an MBA from the University of Texas at Austin. Turaga has published over 100 papers, holds two U.S. patents, and has won awards from U.S. National Academy of Engineering, American Chemical Society, and Penn State. Finally, he has been featured in the Wall Street Journal, National Public Radio, and Bloomberg. Turaga has spoken and moderated panel sessions at a number of oil & gas, energy, and chemical conferences around the world.
Nathan Walker, Senior Vice President, Environmental Promotion Office, Daikin Comfort Technologies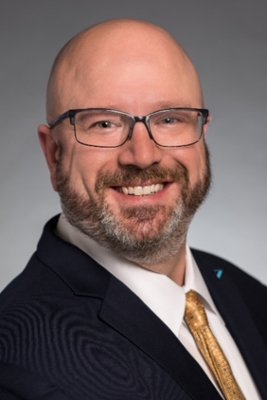 As leader of the Environmental Promotion Office, Nathan Walker is responsible for driving Daikin's goal of steering the North American Heating, Ventilation, and Air Conditioning (HVAC) industry toward more environmentally advanced products using Daikin's core technologies. Mr. Walker's unique background that includes both technical development and market expertise is well-suited to lead this new function at Daikin Comfort Technologies.
He earned his Bachelor of Science in Mechanical Engineering at Tennessee Technological University (Cookeville, TN) and a Master of Business Administration at the University of Texas (Austin, TX). Mr. Walker was born and raised in Tennessee, but has been in the Houston, Texas area for the last twenty years. He has four children and enjoys golf and other outdoor activities.