Regional Women in Leadership: Stories of Women in the South and Beyond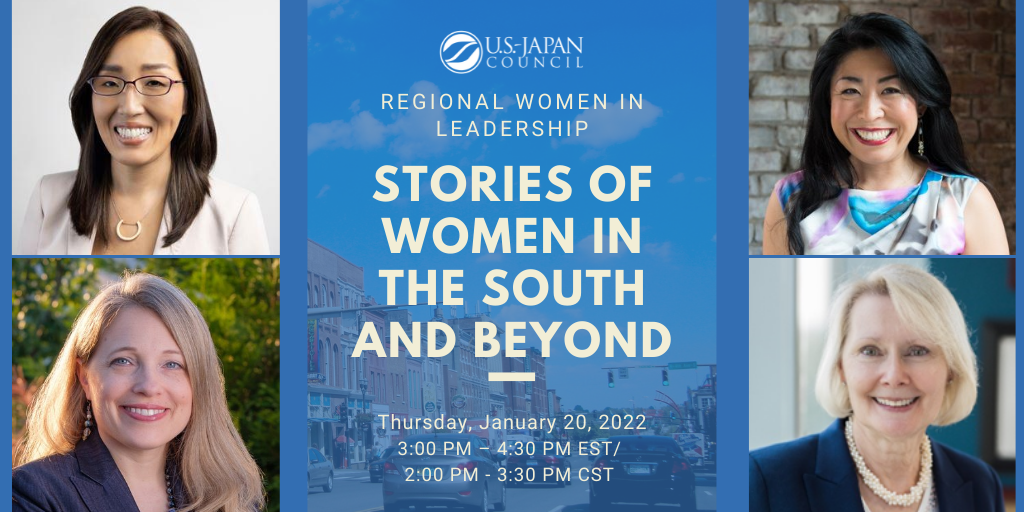 Regional Women in Leadership: Stories of Women in the South and Beyond
Date: January 20, 2022
Location: Zoom (Virtual event)
Time: 3:00 PM – 4:30 PM EST/ 2:00 PM – 3:30 PM CST / 12:00 PM -1:30 PM PST
Registration: Click here
About
As a sequel to the similarly titled program from last year, this webinar will be an honest and enlightening conversation by four women leaders. The speakers will discuss their journeys to success and becoming leaders and mentors. They will also share how and why they reached their accomplishments and will also reflect on the struggles and detours they faced along the way. Part I will consist of a panel discussion of three business leaders involved in U.S. and Japan relations in varying industries, and Part II will consist of an interview of a recently retired senior executive of a major Japanese corporation.
The Regional Women In Leadership (RWL) program is in its seventh year at the U.S.-Japan Council. The program's objective is to provide opportunities for discussions on the advancement of women in leadership. RWL encourages members and collaborators to convene in a series of events to educate and discuss women's leadership in the context of U.S.-Japan relations, creating a conversation about women's issues among diverse communities and business leaders. Funding is provided by the Government of Japan's Ministry of Foreign Affairs.
Speakers
Please click on the speaker headers to read their bios.
Masami Izumida Tyson (Host & MC)
Global Director of FDI and Trade, State of Tennessee Department of Economic and Community Development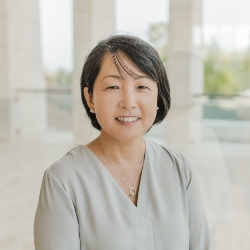 Masami Izumida Tyson serves as the Global Director of Foreign Direct Investment and Trade for  the State of Tennessee Department of Economic and Community Development. Tyson works to  create jobs for Tennesseans by recruiting and supporting foreign businesses to and in the State. 
Ms. Tyson manages and develops strategy for Tennessee's offices in five worldwide locations whose mission is to identify and recruit companies to invest in Tennessee. Ms. Tyson interfaces with international delegations as well as various diplomatic offices and organizations located domestically and abroad in order to promote economic development in the State of Tennessee. Ms. Tyson is also the state's trade director.
Ms. Tyson was born and raised in Yokohama, Japan, and has lived in the United States since age 18. Ms. Tyson received her B.A. and M.A. in the Writing Seminars at Johns Hopkins University, where she was a recipient of the Sudler Prize in the Arts. After teaching creative writing at Johns Hopkins and in high schools in Tennessee, she received her law degree from Vanderbilt Law School. Thereafter she worked as a federal law clerk, a litigator at law firm, and in various in-house positions such as at Mentor Graphics Corporation and at Nissan North America. Ms. Tyson assumed her current position in October 2018.
Ms. Tyson serves on boards and committees of several organizations, including the International Business Council and Tennessee District Export Council, and she is also the chairperson of the board of the Japan-America Society of Tennessee. Ms. Tyson is also a Council Leader of the national organization, U.S.-Japan Council. Tyson lives in Nashville with her husband, Dr. Rich Tyson who is a native of the UK, and their three children.
Jessica Kennett Cork
Vice President of Community Engagement and Corporate Communications, YKK Corporation of America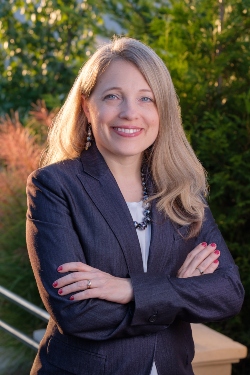 As Vice President of Community Engagement and Corporate Communications at YKK Corporation of America, Jessica Cork has responsibility for all aspects of corporate communications – creating, developing and executing the internal and external communications strategy – for the YKK Americas Group, which spans from Canada to Chile. This includes message development, owned and digital content creation, media relations, and employee engagement with a focus on defining and activating corporate character and providing leadership on values and culture.
Ms. Cork is also responsible for community engagement – communicating the YKK societal value story, corporate purpose, and ESG/sustainability goals to key stakeholders, as well as developing, implementing, and showcasing YKK America Group's corporate donations and community relations strategy. Ms. Cork also leads the government affairs strategy – driving consistent messaging and engagement with local, regional and national elected officials and community leaders, community organizations, think tanks, and advocacy groups.
Ms. Cork is fluent in Japanese and has more than two decades of experience working in Japanese organizations. Ms. Cork has B.A. in Japanese Language and Literature from the University of Massachusetts, and an M.A. in Advanced Japanese Studies from the University of Sheffield in the U.K. Prior to joining YKK, she was the Adviser for Educational and Cultural Affairs at the Consulate General of Japan in Atlanta. Previously, she spent 3 years working as a Coordinator for International Relations in Hiroshima, Japan.
Ms. Cork currently serves as Chair of The Japan-America Society of Georgia and Secretary of the Governing Board of International Charter Academy of Georgia, Georgia's first Japanese-English dual language immersion charter school. Ms. Cork is also a member of the Communication Committee of The Georgia Council on Economic Education. She has four children, all of whom have attended Japanese-English bilingual immersion schools in the Atlanta area and has traveled to 25 countries around the world.
Nozomi Morgan
CEO and Founder, Michiki Morgan Worldwide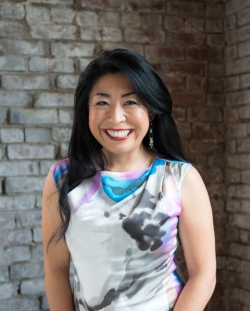 Nozomi Morgan is the CEO and Founder of the international consulting firm Michiki (Mee-Chee-Kee) Morgan Worldwide and creator of the Reason of Being and Boundaryless Leadership programs, offering global organizations solutions for their multicultural workforce so they can create the best place to work. She is known as the bridge-builder helping global leaders, teams, and corporations to overcome the tension and frustration that arise from cultural differences.
Ms. Morgan leads a team of experts in developing global leaders. Her team helps organizations develop Co-created Culture which she believes is the foundation for individuals and organizations to fulfill their purpose in this world. Her diverse international background — having lived and worked in Asia, Europe, and North America — gives her a wealth of experience and knowledge as a trusted partner to multinational organizations. Born and raised in Japan, she values integrity, professionalism, and respect, all of which are core tenets of her deeply ingrained heritage.
For more than 15 years, Ms. Morgan garnered expertise as a corporate marketer, working for top companies such as Delta Air Lines, Johnson & Johnson, BBDO, and working with industry-leading clients in the automotive, consumer package goods, fashion, finance, entertainment, IT, lifestyle, and airline sectors. Earlier in her career, she was appointed to open the Japan office for a U.S. firm and she continued to lead international teams and projects for industry-leading global companies through complex situations such as mergers and acquisitions.
Chosen as one of LinkedIn's "50 Great People to Follow", Ms. Morgan frequently appears as a speaker and guest at conferences, association meetings, and on podcasts. Specializing in intercultural workplaces, her expertise has been featured in Forbes, HuffPost, Japan Times, Japan Today, and Tara Powers' "Virtual Teams for Dummies".
Ms. Morgan currently lives in the Greater Atlanta Area and is passionate about contributing to her community through serving on the Board of Japan America Society of Georgia and the Japanese Chamber of Commerce of Georgia. She holds an MBA from Yale School of Management.
Maki Futami
Managing Director, Trust Solutions, PricewaterhouseCoopers LLP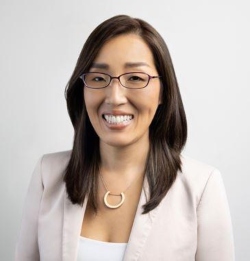 Maki Futami is a managing director focusing on serving private companies mainly in automotive and manufacturing industries. She has 19 years of experience providing audit and non-audit services to public and private entities. Ms. Futami's areas of expertise include complex accounting and financial reporting matters, revenue recognition, IFRS and GAAP conversion and impact assessments, internal audit, compliance review, and enterprise risk management. Ms. Futami's key accomplishments include leading Japan's first IFRS foreign private issuer GAAP conversion project and serving as a member of PwC's global inspection team focusing on compliance and application of regulatory requirements and PwC policies and procedures. In addition, Ms. Futami maximized diversity and inclusion among the workforce by offering intricate mentorship to cross-functional team members as a Midwest Pan Asian Cultural Inclusion Network leader, engaging in various multicultural women's events.

Ms. Futami currently lives in Cincinnati and has an almost 9-year-old boy. Prior to moving to Ohio, she worked in various PwC offices including New York, Tokyo – Japan and Washington DC Metro area. Ms. Futami served as a board member and treasurer of District Advocate for Safe Housing until June 2021. Additionally, she is a Council Leader at the U.S.-Japan Council.
Christine Karbowiak Vanek
Former Vice Chair, Chief Administrative Officer, Chief Risk Officer, and Executive Vice President, Bridgestone Americas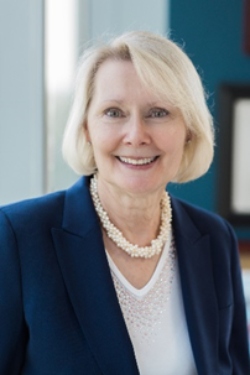 Prior to her retirement in 2020, Christine Karbowiak oversaw all of Bridgestone Americas' risk and reputation management departments, including communications, environmental, corporate security, safety, industrial hygiene, and internal audit, as well as government relations, sustainability and the Nashville office facilities. A member of the Bridgestone Americas Executive Committee, she also chaired the Bridgestone Americas Board Audit Committee and served on that Board's Governance and Risk Committee and was Chair of the Bridgestone Americas Trust Fund. Ms. Karbowiak led the team that was responsible for negotiating and executing Bridgestone's TOP Sponsorship Agreement with the International Olympic Committee (IOC) in 2014 and was a member of the Bridgestone International Organizing Committee, the global executive team charged with overseeing Bridgestone's activation of its TOP partnership with the IOC. In 2019, she was named G-Chief Sustainability Officer (G-CSTO) for Bridgestone Corporation, a role that reported through the company's Tokyo-based Global Head Office (GHO).
Ms. Karbowiak continues to support Bridgestone Corporation as a consultant in connection with the company's participation in the World Business Council for Sustainable Development (WBCSD) and the Tire Industry Project (TIP), an initiative of the WBCSD. Ms. Karbowiak remains active in community organizations and volunteer efforts and currently serves on a number of boards and committees, including: Middle Tennessee State University, Board of Trustees and the Japan America Society of Tennessee. Among other recognitions, in 2020, Ms. Karbowiak was awarded The Order of the Rising Sun, Gold Rays with Rosette by the Government of Japan for her contribution to promoting friendly relations and mutual understanding between Japan and the United States and the Champion of Commerce Award from the Tennessee Chamber of Commerce and Industry.