U.S.-Japan Climate Partnership: Increasing the Availability of Affordable Clean Energy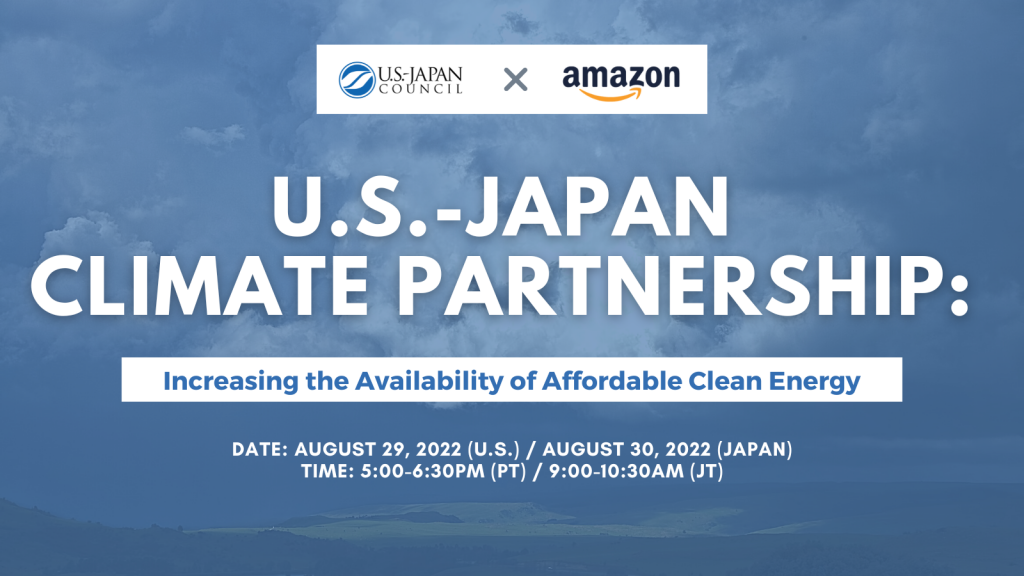 U.S.-Japan Climate Partnership: Increasing the Availability of Affordable Clean Energy
Date: August 29, 2022 (U.S.) / August 30, 2022 (Japan)
Time: 8:00-9:30pm (ET) / 5:00-6:30pm (PT) / 9:00-10:30am (JT)
Location: Virtual Event
Registration: Click here
Climate ambitions in both the United States and Japan require moving the needle on the availability of affordable clean energy. Governments, corporations, utilities and communities all seek success stories and roadmaps to follow. This dialogue brings multi-sector leaders to offer inspiration and practical insights into how to bridge the gap in Japan between demand and supply of low-cost renewable energy through effective engagement of key stakeholders.
This event is part of the USJC Climate and Sustainability Initiative, supported by the initiative's Founding Strategic Partner, Amazon. This webinar is also being presented in partnership with the Japan Climate Leaders' Partnership (JCLP).
Speakers
Panel Discussion
Yusuke Matsuo, Executive Director, Japan Climate Leaders' Partnership
Yusuke Matsuo​ ​leads the work​ ​at IGES​ ​to support corporations and policy actions with his expertise on climate change and business actions. He is also the director of the secretariat of Japan Climate Leaders' Partnership (JCLP), an independent business coalition for which IGES provides the secretariat role.​ He has been leading the team to support the business group​ ​which ​convenes more than 190 companies from across various sectors​ ​in Japan to jointly drive corporate ambition for the transition to​ ​a net zero​ economy.​ Previously, he was a senior analyst at the Good Bankers Co., Ltd, an investment advisory firm, and has worked at Sanwa Bank (currently MUFG Bank). He had received​ the Kaya Award from the Japan Society of Energy and Resources in 2008 and awards from the Ministry of Environment in Japan in 2007 and 2010 on his climate ​and energy ​policy proposals. Hs is also a member and judge for the RE100 readership award, visiting lecturer at Kobe University, and a climate-related committee member at local governments and other climate related councils. He has a MSc in Environmental Management and Policy from the International Institute for Industrial Environmental Economics (IIIEE), Lund University.
Scott Seu, President & CEO, Hawaiian Electric Industries
Scott Seu is president and CEO of Hawaiian Electric Industries (HEI). The HEI family of companies provides the energy and financial services that empower much of the economic and community activity of Hawai'i.
HEI's electric utility, Hawaiian Electric, supplies power to approximately 95% of Hawai'i's population. HEI's banking subsidiary, American Savings Bank, is one of Hawai'i's largest financial institutions. HEI helps advance Hawai'i's sustainability goals through investments by its non-regulated subsidiary, Pacific Current.
Prior to assuming his current role in January 2022, Mr. Seu was president and CEO of Hawaiian Electric. He joined Hawaiian Electric in 1993 and held numerous leadership positions across the company, including in the areas of environmental management, renewable energy development, electric system operations, and government and community affairs.
Mr. Seu also worked as a mechanical and environmental engineer in California and worked abroad in China before returning home to Hawai'i.
In addition to his work at HEI, Seu is a board member of the Electric Power Research Institute and the Edison Electric Institute. He is very active in the community, serving as board chair of Hale Kipa and as a board member of Teach for America-Hawai'i and Partners in Development Foundation.
Born and raised in Hawai'i, he received his Bachelor's and Master's degrees in mechanical engineering from Stanford University, and is a licensed mechanical engineer in the State of Hawai'i.
Masao Uchibori, Governor of Fukushima Prefecture (video message)
Born in 1964, UCHIBORI Masao graduated from the Faculty of Economics, the University of Tokyo. He entered the Ministry of Internal Affairs and Communications (prev. Ministry of Home Affairs) in 1986. After working as Deputy Director of the Local Bond Division, he joined the Fukushima Prefectural Government in 2001. He assumed office as Governor in November 2014. Prior to becoming Governor, he served as Vice Governor from 2006.
Since the Great East Japan Earthquake, the nuclear accident, and subsequent natural disasters, he has been taking on challenges head-on towards reconstruction and revitalization in Fukushima as well as regional development unique to the prefecture. He has also been working hard dealing with the COVID-19 pandemic. He is committed to initiatives that will connect to the future such as expanding the adoption of renewable energy, clustering relevant industries and building a model for a hydrogen society in order to make Fukushima a pioneer region of renewable energy.
(Moderator) Aya Kameda, General Manager, Shell Energy Japan
Versatile and strategic leader with over 18 years of experience in the Energy industry, Aya Kameda is currently the General Manager of Shell Energy Japan, where she leads Shell's power trading and clean energy solutions in Japan. Prior to her current role, she was Shareholder Representative and Directors of four joint ventures in Brunei, overseeing Shell's gas value chain business. She was also part of the Brunei Energy Transition decision review board for Shell, steering various new energy projects to be progressed in Brunei. Before moving to Asia, Ms. Kameda was the Governance and Economics Manager for a multi-billion-dollar LNG Canada project, which was the largest private sector investment and first LNG export project in Canada to be sanctioned. She was also the Business Advisor to Shell's Executive Vice President of Upstream Americas Exploration, overseeing internal and external communication, strategy, and financial decisions supporting the EVP.
Ms. Kameda has a Ph.D. in Geophysics from Stanford University; and started her career as a Geophysicist in Houston, TX, before moving into more commercial roles. She has differentiated Shell as a company leading in diversity and inclusiveness-as President of Shell's Asian Employee Network Group (2010-2011), she led 1000 constituents, and spoke at various community and media engagements / D&I conferences. Her passion is in leveraging diversity and bringing the competitive edge within the organization. Her current passion is to bring women from Asia and the U.S. together for leadership in sustainability.
Special Remarks

Suzanne Basalla, President and CEO, U.S.-Japan Council
Aaron P. Forsberg, Minister Counselor for Economic and Scientific Affairs, U.S. Embassy Tokyo
Aaron P. Forsberg began duty as Minister Counselor for Economic and Scientific Affairs at U.S. Embassy Tokyo on July 1, 2022. Previously he served as Counselor for Trade and Economic Policy in Tokyo starting in August 2020 and he also served temporarily as U.S. Representative on the Council of the International Civil Aviation Organization in Montreal in the autumn of 2021.
Prior positions in Washington, DC included Director and Deputy Director of the Office of Aviation Negotiations in the State Department's Bureau of Economic and Business Affairs, 2017-2020, where he negotiated resolution of disputes and modern air transport agreements with Argentina, The Bahamas, Belize, Kazakhstan, Qatar, the United Arab Emirates, and the United Kingdom (for after Brexit), among others. Other assignments in Washington were Japan Desk Economic Unit Chief, Office of the Chief Economist Executive Assistant, and Indonesia/Timor-Leste Desk Officer. He has served overseas at embassies in Baghdad, Bangkok, Doha, and Tokyo. He speaks Japanese and French.
Before joining the Foreign Service in 2001, Mr. Forsberg worked at a law firm in Tokyo, taught history in the University of Maryland system and researched U.S.-Japan relations, publishing America and the Japanese Miracle (2000) on Japan's postwar economic revival. Forsberg graduated with a B.A. in history from Whitman College in Washington State and a Ph.D. from the University of Texas at Austin. He is married and has one adult daughter.
Izuru KOBAYASHI, Deputy Commissioner for International Affairs, Agency for Natural Resources and Energy (ANRE), Ministry of Economy, Trade and Industry (METI)
Yukiko Sato, Head of Japan Business Development, AWS Japan
Yukiko Sato oversees AWS Japan's overall Commercial Sales Go-To-Market approach across large enterprises, digital native customers, independent software vendors, and small and medium-sized customers. She is also one of the spokespersons for Amazon / AWS sustainability initiatives, participating in multiple events. Prior to joining AWS in 2019, Ms. Sato worked for major technology companies such as Apple and Motorola. In her last position at Intel, she led the Automotive Global Account, managing all deliverables and strengthening executive relationships.
Registration
Please fill out the form below. If you experience technical difficulties, please click here to register.