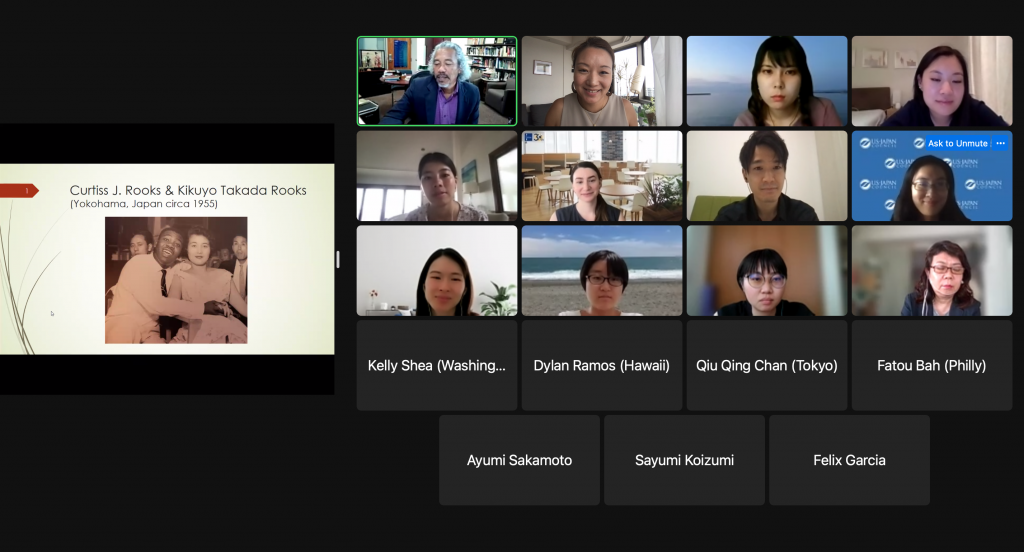 On June 20 (June 21 in Japan), the TOMODACHI community welcomed USJC Program Development Committee Chair and JALD '04 alum, Dr. Curtiss Takada Rooks (Assistant Professor, Department of Asian and Asian American Studies and former Associate Dean of Bellarmine College of Liberal Arts at Loyola Marymount University) as part of the monthly TOMODACHI Career Talk series.
Dr. Takada Rooks shared with the TOMODACHI community how growing up as the son of an African American father and a native Japanese mother during times of great social and historical change in both the United States and Japan impacted his sense of identity. As a young man, he moved frequently, both within the United States itself and between Japan and the United States, something that enabled him to learn how to adapt to different cultures and how to get one's needs met within those different communities and cultures.
The combination of these two key factors, he noted, made becoming a cultural anthropologist something that was "cooked into" his lifestyle as he "tried to make sense of who I was and where I was within those different places."
As an ethnic studies and critical mixed race scholar, Dr. Rooks acknowledged that his profession allows him to make sense of his experiences and understanding of "home" while simultaneously articulating existing knowledge in new ways.
In response to a question from the audience pertaining to navigating multiple identities, Dr. Takada Rooks acknowledged that individuals of mixed race or those who have multiple identities are afforded a level of fluidity that allows these individuals to develop a unique viewpoint on a multitude of issues and navigate multiple cultures and systems. Dr. Takada Rooks advised the audience to "live your truth, whatever that is. Own it. Live it. Live your truth. Be willing to speak your truth…whatever sphere that you're in, whatever level you're called to, be willing to speak that truth. Be your truth."
The need people have to "place you, to fix you, to put you into some categorization" he continued, allows you to understand their need to know and understand that the confusion is not within you, but instead, stems from an external source. That understanding, he concluded, allows you to be your truth.
He encouraged the audience to cultivate a group of like-minded individuals around them in order to serve as a source of motivation, find mentors in their chosen fields that care more about your success than you yourself, and rest assured in the knowledge that in the quest to create space for the next generations, your personal experiences add value to that space and narrative.
We at the Council thank Dr. Takada Rooks for his time and his willingness to share his experiences with the TOMODACHI community.